1970 America's Cup Winner Bill Ficker Dies at Age 89
(Mar 15) Bill Ficker, Skipper of the 1970 America's Cup defender Intrepid, died Monday in Newport, CA, at the age of 89. A member of the America's Cup Hall of Fame, Ficker also belongs to the even smaller fraternity of skippers who have successfully defended the Cup with (what many believed to be) a slower boat than the opponent, Gretel II. Ficker was also lined up to skipper a defender candidate in the following America's Cup cycle, but had to give in to professional commitments as the date slipped from 1973 to 1974. An accomplished sailor in Star class since his teens, Ficker was dedicated to developing other young sailors throughout his life.
Stories:
Eight Bells at Scuttlebutt Sailing
Also:
The Log: Ficker Honored by Newport Sea Scouts (2012)
America's Cup Hall of Fame: Bill Ficker
---
5 of 6 Teams Agree on Plans for America's Cup Matches in 2019 and 2021
(Jan 25) Challenger teams from France, Sweden, Japan, England and the Defender, Golden Gate YC announced today that they have reached a broad ranging agreement on the format and timing of America's Cup racing for four years following the match scheduled for next June. The agreement establishes the yachts that will be used, the format of racing in the period between defenses, and sets restrictions intended to reduce costs and entice more entrants for future regattas. Today's agreement extends an earlier understanding to continue using foiling multihulls. One current challenger, Emirates Team New Zealand has not formally signed on.
Among the highlights:
The next America's Cup Match, AC36, will be held in 2019, and the following, AC37, in 2021. Locations for AC36 will be determined by the winner of the Cup next June.

The AC45F yachts currently sailed in the ACWS will be used for 2018 ACWS racing, then retired and replaced by the ACC foiling cat class that debuts in challenger selection and the America's Cup this May and June.

Training on surrogate AC45F boats won't be permitted, with a cost target for future teams of US$30-40 million.
---
Paul Elvstrom, Legendary Sailor, 1928-2016
(Dec 9) Danish sailor Paul Elvstrom, a leader in the sport of sailboat racing for generations, died December 7 at the age of 88. A four-time Olympic Gold Medalist (once in the Firefly and three times in the Finn) and 13-time World Champion, "The Great Dane" developed faster sailing techniques, invented new yacht hardware, designed better sails, and wrote popular books on racing. One of his greatest influences, though, may have been the example he set for the sport, a defining intensity, both mentally and physically.
Elvstrom's connection to the America's Cup was tenuous, primarily an ill-fated arrangement in which the Dane was to lead a French challenge effort under Baron Bich for the 1974 America's Cup. They parted ways before ever starting a race.
---
Harvey Schiller Resigns as America's Cup Commercial Commissioner
(Aug 22) Dr. Harvey Schiller, who has served as the Commercial Commissioner for the America's Cup, handling many areas of responsibility that are not directly racing related, will step down from the position at the end of this month, the Associated Press reports. The departure is said to be Schiller's decision.
Read AP story by Bernie Wilson
---
Bertarelli and Dunraven to Join America's Cup Hall of Fame for 2016
(July 19) Ernesto Bertarelli, patron of Switzerland's Alinghi team, and Britain's Lord Dunraven will be the Class of 2016 inductees to the America's Cup Hall of Fame, the organization announced Tuesday.
Bertarelli's team won the America's Cup in his first campaign, the only challenger ever to do so, beating Team New Zealand. Bertarelli then defended the Cup successfully in 2007, again defeating Team New Zealand, before losing to the Golden Gate YC/BMW Oracle trimaran effort in 2010.
Windham Thomas Wyndham-Quin, holding the title of Lord Dunraven, challenged in 1893 with Valkyrie II, losing to Vigilant, and challenged again in 1895 with Valkyrie III, losing to the yacht Defender.
The Hall of Fame induction ceremony will take place this fall, October 21, at the New York YC.

---
New America's Cup Boats Launched
Long awaited, with the approach of competition beginning this May, the five America's Cup challengers and the Defender have begun launching their new America's Cup Class catamarans.
A number of restrictions apply: The challengers are allowed to build one boat while the defender is allowed to build two. The window for launching the boats began in late December, by rule 150 days before racing, though the teams also have to observe a 28-day 'no sail" period on dates of their individual choice. Additionally, the teams may not sail against each other in a "coordinated manner" without special permission from race management.
America's Cup Class multihull launchings:
Challengers:
Land Rover BAR (GBR): Launch
SoftBank Team Japan (JPN)
Groupama Team France (FRA): Pics at Twitter
Artemis Racing (SWE) Launch and First Sail
Emirates Team New Zealand (NZL):
via NZ Herald: Launch | Pedals
Defender:
Oracle Team USA Launch and First Sail

---
---
A Brief History of the Challenger of Record
(July 28) Since 1970 there have been 13 matches with multiple challengers, with 12 teams serving as the initial Challenger of Record (COR). Historically, one-third of the original COR's have resigned their position. Including the upcoming 35th Defense of the America's Cup scheduled for 2017, the initial COR has resigned four times; three times also withdrawing from competition, and one time remaining a challenger.
Read more at CupInfo, including a table listing all CORs since 1970
---
(Dec 15) The story of sailing for the 2013 America's Cup is told in a new 224-page book, from McGraw-Hill/International Marine. Winging It focuses on the sailing and racing of the 34th America's Cup, including selecting the AC72 yachts for the event, the races of the Louis Vuitton Cup, and the epic America's Cup Final that featured a stunning comeback and gut-wrenching loss. Authors Diane Swintal and Robert Kamins covered the event in San Francisco for CupInfo, and Steve Tsuchiya witnessed the match on the water from start to finish.
---
2013 America's Cup Highlights on CupInfo:
ETNZ/Oracle Team USA statistics for Boatspeed, VMG, Leads, Gains, Winds, Speed Maps, and more.
Updated through Race 18: See CupStats
Also: Daily Race Coverage | Race Results
America's Cup 2013: 34th Defense: The Basics
Rules: A Basic Guide to America's Cup 2013 Rules
The Boats:
AC72 & AC45 Cats | New AC72's Launched
Track AC72 Sailing Days | Wind Limits: Some History
Foils that Re-Shaped the America's Cup:
Part 1: Pete Melvin | Part 2: Gino Morrelli
Optimizing America's Cup Cats: Andrew Mason

---
America's Cup Match 2013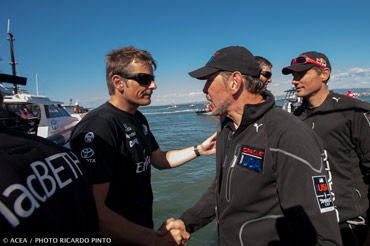 Larry Ellison and Dean Barker as the two teams shake hands following the Match. Ellison, Spithill, and Oracle crew had the highest praise for the skill and toughness of their opponent. Photo:©2013 ACEA/Ricardo Pinto.
From Stuart Alexander at The Independent: "There have been several races going on. One was on the San Francisco Bay track. One was in the design offices. The third is the management game, without which no America's Cup team will be successful. Both teams were in the lead in all three at one time or another but the Americans were in the lead when it mattered, at the finish." Read More
More Post-Match Stories:
Oracle Completes Voyage to History: NY Times

"Team New Zealand Have Made Us Proud": NZ Herald

"Team New Zealand did such a bloody good job that I'm sure the whole world feels for them": Reuters
How Oracle Did It: Wall Street Journal

A Gripping Spectacle: Reuters

A Big Win: Kimball Livingston

Bob Fisher "Let It Be": Yachts&Yachting

SFGate: Host Again? | Thousands Line Waterfront
ETNZ's Future: Washington Post

At the Golden Gate YC: NY Times
Quotes of the Final Day:
Ray Davies, Tactician, ETNZ: "They had to sail well to beat us today, and they did. ...We feel like it's been a tough regatta. We were going well. We were getting all we could out of the boat. We had it optimized at the beginning of the regatta. We couldn't do much more with it, we were really happy with the boat and equipment we had. The Oracle boys just found another couple of gears through the regatta. Hats off to them, they did a fantastic job. We've had incredible support network within the team. The guys have really really worked hard the whole way through. Everybody's really proud to be part of the team and the effort that's gone in."
Dean Barker, Skipper, Emirates Team New Zealand: "We went out there today to give it our absolute best shot, and we felt we didn't leave anything on the table. We got a good start, led around Mark 1, led at the bottom, and that's all we could ask for. We knew that upwind we had a fight on our hands. When they are sailing a boat that's going that fast, it's very hard to swallow."
Dean Barker: "I am incredibly proud of our team and what we've achieved. I'm gutted that we didn't get the last win that we need to bring this cup back to New Zealand."
Matteo de Nora, Emirates Team New Zealand: "I've never been more proud to be part of this team, and I've never felt more Kiwi than I feel today."
Jimmy Spithill, Skipper, Oracle Team USA, about his competition ETNZ: "Man, they are a tough team, they are a champion team."
Recommended Post-race press conferences with both teams on America's Cup YouTube Channel
---
America's Cup 2013 Complete Match Coverage, Race Reports, and Photos: See all on CupInfo's America's Cup Match Main Page or jump to content below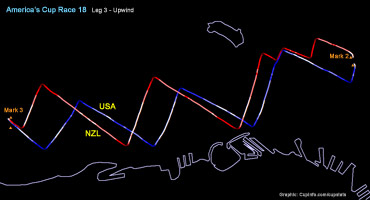 Click image to view Race 18 Speed Maps at CupStats
Previous Races:
Races 1-2 (Day 1):
Race Reports and Preview | Post-Race and Quotes
Races 3-4 (Day 2):
Race Reports and Preview | Post-Race and Quotes and Photos: Chris Cameron/Gilles Martin-Raget
Race 5 (Day 3):
Race Report and Preview | Post-Race
and Day 3 Photos from Jan Pehrson
Races 6-7 (Day 4):
Race Report | Quotes of the Day
Race 8 (Day 5):
Race Report
Races 9-10 (Day 6):
Race Report | Quotes of the Day
Day 6 Photos from Chris Cameron
See Day 6 photos from Jan Pehrson
Day 6 (Races 9 and 10) Quotes:
Dean Barker, Skipper, NZL: "I think if you didn't enjoy today's racing out there, you probably should watch another sport."
Ben Ainslie, Tactician, Oracle Team USA, on the final run downwind in Race 10: "We elected to go behind them and try to set up where we might be able to get a piece on starboard when they gybe back, and it's really hard to judge that right when you're going along at almost 40kts, but we didn't do too bad of a job. But it wasn't quite enough to get back into it."
Read more Day 6 quotes
Day 7 (Postponed):
Photos from Jan Pehrson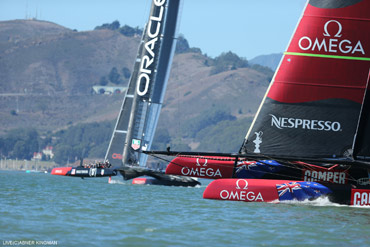 Day 13, ETNZ chasing. Click image to view large.
Photo:©2013 ACEA/Abner Kingman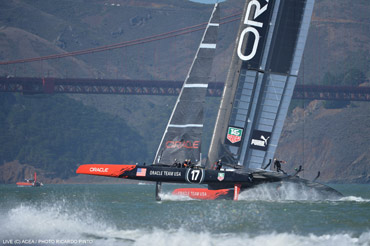 Oracle had upwind speed on Day 14. Click image to view large. Photo:©2013 ACEA/Photo Ricardo Pinto
Data and Analysis: Boatspeed, windspeed, True-Wind-Angles, SOG/VMG Polar Plots for both boats, leads/gains, and more: Visit CupStats at CupInfo