Challenger Commission at Work
The CC's latest meeting in San Francisco addressed a number of issues, some procedural and some offering a glimpse into the give-and-take between stakeholders. Sliding keels and centerboards are definitely out, more advertising on the boats is likely on the way, questions about the permitted number of sails and downwind "pumping" and other regattas rules are being clarified. Particularly notable is that the challengers spurned an offer by Alinghi to exchange GPS data between opponents during match races.
Read more details at the Challenger Commission
---
2011 Challenge
Forward Thinking: Russell Coutts and Peter Gilmour to mount a Cup challenge for Malaysia? A news report out of Kuala Lampur says it might be in the works.
"There is a good chance of both of us working together to get into motion a tangible challenge to compete in the race and even bring the Cup to Malaysia," Gilmour told the New Straits Times.
Read Story at New Straits Times
(currently unvailable)
---
America for Sale
The most authentic floating replica of the 1851 schooner America will be sold at auction December 14th. The yacht was built in 1967 for Rudolf Schaefer at the Goudy and Stephens yard in Boothbay, Maine, under the watchful guidance of Sparkman & Stevens, closely following the famous design of the original low black schooner.
The yacht is in New Zealand, about to be re-fit in time to be present for the 32nd Defense of the America's Cup (or, as it was once called, "The Royal Yacht Squadron Cup").
Read more at saleofamerica[dot]com (site removed)
---
Mascalzone is Building
Mascalzone has begun the construction of their first new construction hull. Read Press Release
This brings the known number of ACC boats underway to five including ETNZ, Desafío Español, +39, and BMW Oracle. The South Africans completed the first new generation boat, RSA-83, earlier this year in time to sail her in Louis Vuitton Act Four in June. China Team and UIT Germany are also believed to be in progress for launches next spring.
See Mariantic's ACC page for more details
---
ETNZ Back on the Gulf
Sailing Director Kevin Shoebridge: "Over the next few months we will be looking for real-life confirmation, or otherwise, of design ideas and theory. We will also be testing gear to breaking point as part of the continuous search to reduce weight but retain strength. The aim to achieve total reliability by the time we start racing in Valencia in May 2006."
Read more at the ETNZ web site
---
BMW Oracle Begins New Boat
Among the latest crop of ACC's is BMW Oracle's first of two new boats for 2007. Construction has begun in Anacortes, WA.
"Last campaign we built the tooling at Janicki and the hulls in California. This time we consolidated our operations by building the hull in nearby Anacortes. This is a far more efficient approach, said BMW Oracle's Mark Turner.
Read the Yachting World story
and
Read more at the BMW Oracle Racing site
---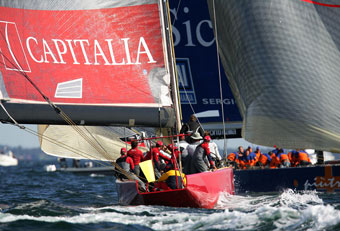 Photo ©2005 Mascalzone Latino - Capitalia Team
Talking to the Rascals
Mascalzone Latino - Capitalia Team: CupInfo interviewed Team Manager Tom Weaver about the design and sailing challenges of Louis Vuitton competition.
Tom Weaver: The rig and aero package will be the area most teams will be looking to make gains, mostly subtle changes, but it all adds up. Reducing weight in the boat to put this in the bulb is pure speed.

Alinghi Win Wraps Up Louis Vuitton for 2005
| | | |
| --- | --- | --- |
| Place | Points | Team |
| | | |
| 1 | 56 pts | Alinghi SUI-75 |
| 2 | 56 pts | Oracle USA-76 |
| 3 | 46 pts | ETNZ NZL-82 |
| 4 | 40 pts | Desafio ESP-67 |
| 5 | 37 pts | Shosholoza RSA-83 |
| 6 | 34 pts | Luna Rossa ITA-74 |
| 7 | 26 pts | +39 ITA-59 |
| 8 | 24 pts | Victory SWE-63 |
| 9 | 22 pts | UITG GER-72 |
| 10 | 19 pts | Mascalzone ITA-77 |
| 11 | 16 pts | China Team CHN-69 |
| 12 | 12 pts | K Challenge FRA-60 |
Winning 3 of 5 races, Alinghi took Act 9 - capping a very successful 2005 season. BMW Oracle also impressive, grabbed four 2nd place finishes and one 1st place in the last Louis Vuitton Act of the year.
Read the summary at AmericasCup.com
---
Alinghi Wins Act 8
Sometimes You Win, Sometimes You Lose. Sometimes you do both!
Racing concluded Tuesday with a few unexpected deviations from the script. Alinghi lost both flights, BMWO lost once. K-Challenge snapped Alinghi's 2005 winning streak. Alinghi won Act 8 anyway.
Read more at CupInfo's Act 8 page
Daily Louis Vuitton Act 8 results, overall standings, photos, and more.
Click for Full Standings
or Chronological Results
---
Shake-up for Germany
Reaction to the team's disappointing performance has shuffled the deck for UITG. According to the team's web site, Michael Scheeren is now Head of Syndicate, the position formerly held by Uwe Sasse, who was also a Founding Shareholder of UITG. Following extensive meetings Thursday with management and crew, Jesper Bank offered a guarantee that the team will do better in Act 9 than it did in Act 8.
Read the story at Yacht.de
(Original in German)
Read Google's attempt at translation
---
+39 to Launch ITA 85
The Italian team's new construction ACC yacht is expected to be launched next March. Shosholoza launched the first new generation boat, RSA-83, last spring, but no word yet on who has number 84 in the works.
Read the story on +39's web site
(Italian language only for now)
---
Alinghi House
Alinghi unveiled their spectacular new base in Valencia with a dedication party over the weekend.
---
UITG Settles Control Issues
In a move that should help the team move past the recent turmoil surrounding their top managers, Uwe Sasse has sold his stock to Ralph Dommermuth and withdrawn as sponsoring manager and official supplier, according to the team's web site. Financial terms of the sale were not disclosed.
Read more at the Team Germany web site
---
Hall of Fame Ceremony
George "Fritz" Jewett Jr., Alan Payne, and Jack Sutphen were inducted to the America's Cup Hall of Fame in a ceremony Friday night at the St. Francis YC. Jewett led five US efforts including the Stars&Stripes campaigns, Payne designed Australia's 12-meters Gretel and Gretel II, and Sutphen's America's Cup career spans from 1958 to 2000.