More America's Cup News
May 7: Italy's Venezia Challenge confirms that they have paid their Performance Bond for the 2011-12 America's Cup World Series and expect delivery of the team's AC45 on May 8:
Press Release
May 6: How do you like your steak? Kimball Livingston reviews a work in progress, also known as the 2013 America's Cup, and the future for sacred cows:
Blue Planet Times
May 5: 15 becomes 14: Sail-World reports that Golden Gate YC has declined to accept one of the 14 Notices of Challenge it received before the Mar 31 deadline, though the specifics of which challenge and why it was rejected are yet to be disclosed:
Sail-World
May 5: Based on statements by Bruno Peyron reported at Course Au Large, Energy Team may not be ready to compete in AC45's for the America's Cup World Series, raising questions of their participation as a challenger:
Course Au Large
(in French)
May 4: America's Cup offspring: Could an AC18 bring the wing to Olympic Sailing?
Sail-World
May 2: The Winged Optimist: Trickle-down wings from the America's Cup. It's not class-legal, but it is slick:
Oracle Racing Site
May 1: Tom Blackaller's Boat: The death of a 12-meter: Photos of 12 US 49's scrapping back in 2008
April 25: Putting the America's Cup on TV: Gary Lovejoy is tasked by ACEA with doing it right. Michelle Slade talked with him to see what he's planning:
Sailblast Blog
Apr 24: Profile of Kyri McClellan, Executive Director of the San Francisco America's Cup Organizing Committee, tasked with making good on promises for the 2013 Defense:
Marin Independent Journal
Apr 20: Emirates Team New Zealand may confirm their challenge for the 2013 America's Cup today:
NZ Herald
Apr 20: ETNZ capsizes their AC45 yacht in practice, no injuries and minor damage: Sail-World
Apr 20: America's Cup World Series in Sydney? Nothing is official yet, but plans are taking shape: isailsl.blogspot.com
Apr 18: China Team, a challenger for the 34th Defense, launches new web site:
Team Site
Apr 12: Closing the Golden Gate: Kimball Livingston looks at the arrangements that will need to be made to hold the 2013 America's Cup in the middle of San Francisco's very active shipping lanes:
Blue Planet Times
Apr 12: America's Cup Challengers in China: Artemis Racing and Emirates Team New Zealand get ready to race in x40 catamarans at the Extreme Sailing Series April 13-17 in Qingdao, China:
Extreme Sailing Series
Apr 7: Venezia Challenge adds Dario Valenza (UITG '07, Victory '03) as Operations Manager:
Team Web Site
Apr 4: Plymouth starts to prepare for the America's Cup World Series next September:
Yachting World
Apr 1: Oracle Racing welcomes 14 Challengers for 2013 America's Cup, looks forward to racing soon:
Team Press Release
Apr 1: Venezia Challenge is officially confirmed as a Challenger for the 2013 America's Cup:
Team Press Release

ETNZ Asks Review of Artemis Racing's Succession to Challenger of Record
(May 27) Although the Protocol in Article 6.4 appears to have directed the order of succession, Emirates Team New Zealand has asked the America's Cup Jury to "clarify" the process that passed the title of "Challenger of Record" to Artemis Racing in the wake of Club Nautico di Roma/Mascalzone Latino's decision to resign.
Statement From ETNZ: Emirates Team New Zealand is asking the America's Cup jury to clarify the method of selecting the Challenger of Record for the 34th America's Cup. Mascalzone Latino, the original Challenger of Record, announced on May 12 that it could not proceed with its challenge. Golden Gate Yacht Club appointed the Swedish team Artemis to fill the role which involves representing all challengers in negotiations with race management.
Emirates Team New Zealand managing director Grant Dalton said that with so much public money and sponsorship involved in the New Zealand challenge it was reasonable to seek clarification on how Artemis was selected. Dalton likened the move to a rugby team going to the referees' association to get clarification of a change to the rules of rugby.
"We can see circumstances arising where the smaller commercial teams could be disadvantaged by the marriage between these two 'super powers' – Oracle as the Defender and Artemis as the Challenger of Record.
"The team is seeking clarification now rather than waiting for that to happen."

---
Australia Expects Their AC45 This Month
(May 23) The Australian challenger for the 2013 America's Cup announced Tuesday that they are expecting to take delivery of their AC45 catamaran, the ninth one built, by the end of this month. The statement appears to be a confirmation that TA is one of the teams that has met financial obligations for performance bonds, and should be competing in the America's Cup World Series in Cascais, Portugal, in August.
Team Australia also continues to work with America's Cup organizers to possibly bring an ACWS regatta to Sydney next year.
Read Team Australia Press Release

---
AC45 Class Rule Published
(May 23) The Class Rule for the America's Cup AC45 multihull has been published. As a one-design class, the rule is not as pivotal as it is for the AC72, but the AC45 rule does lay out the basic restrictions, and confirms that the AC45s will carry instrumentation.
Download the AC45 Class Rule (pdf, 3.9MB)
Note: The title page of the document declares this as Version 1.0, adopted May 4, but the filename and header, plus a separate letter from ACRM refer to this as Draft 8.4. Clarification may be forthcoming.

---
In Review
From photographer Gilles Martin-Raget: A slideshow of images from the AC45 tests in Auckland, at YouTube.

---
Artemis is the New Challenger of Record
Official Press Release: (May 17) The Royal Swedish Yacht Club (Kungliga Svenska Segel Stallskapet, KSSS), represented by Artemis Racing, has become the Challenger of Record for the 34th America' Cup.
"We welcome KSSS and their team Artemis Racing into this role,"AC34 Regatta Director Iain Murray said. America's Cup Defender, Golden Gate Yacht Club, informed Murray of the withdrawal by the Italian yacht club Club Nautico di Roma (CNR) earlier today.
"We also thank CNR and their team Mascalzone Latino for their efforts in the important start-up phase of the 34th America's Cup. While we are disappointed to lose a great Italian contender in Mascalzone Latino and CNR, we are confident in the leadership we anticipate from the KSSS and Artemis Racing."
CNR filed the first challenge for the 34th America's Cup and thereby became the Challenger of Record. KSSS was the second challenger to enter, and under America's Cup rules, automatically succeeds as Challenger of Record.

---
Artemis Racing Expected to Become New Challenger of Record
(May 12) Mascalzone Latino and Club Nautico di Roma's resignation from the 2013 America's Cup would cause the mantle of Challenger of Record (COR) to pass to Artemis Racing representing the Royal Swedish YC, as per Article 6.4 of the Protocol for the 34th Defense, Artemis being chronologically the next challenger in order of acceptance.
See Official Order of Entries for more on the COR succession process and the Protocol.
The duties of the Challenger of Record at this stage of the 34th Defense are limited. Major rules changes would involve amending the Protocol, which requires approval by a majority of the competitors, not simply the agreement of the Defender and COR. Replacing Jury members, too, requires majority consent. The COR also appoints one member to the five-member board of the Race Management organization. But most of the COR's work is already done, having agreed to the terms of the Match with the Defender and drafted the initial Protocol.
In addition to negotiation of Match terms, in the early days of multiple challenges which began only in 1970, the COR's role also included the responsibility for organizing and conducting the challenger selection regatta. The 1974 COR, Royal Thames YC, withdrew from competition before they ever raced, but still conducted the regatta for the remaining challengers from France and Australia. In the 1990's the COR's race duties were fulfilled by a Challenger of Record Committee, with the nominal COR elected by the challengers. America's Cup Race Management (ACRM) will run the regattas for 2013, acting as a neutral body, though the challengers as a group will decide on their selection format.
Mascalzone's resignation as COR, while a loss from the sporting and cultural perspective, is unlikely to affect the course of the 2013 America's Cup.

---
Mascalzone Latino Resigns from 2013 America's Cup
(May 12) The Italian team, a partner with Oracle Racing and GGYC in many changes to the America's Cup, has withdrawn their challenge. The news is disappointing to America's Cup fans who have watched the team's journey from a struggling upstart in Auckland in 2003 to a near semi-finalist in 2007 in Valencia before becoming Challenger of Record for the 34th Defense. The team says funding limitations are preventing them from mounting a sufficiently competitive campaign for 2013.
From Vincenzo Onorato:
Dear Friends and Supporters,
With deep sorrow I have to announce my decision to withdraw my team from the 34th America's Cup.
Since the very beginning of our role as Challenger of Record, I have been working on this project focused to bring the Cup in our Country.
Larry deeply loves Italy and he was excited about this idea. The Cup in Italy would have been the greatest worldwide promotion for our beautiful coasts. There have been some very high level and important meetings that made us believing in this dream, but the things went in a different way.
As Challenger of Record, we have worked with humility next to Oracle and I am satisfied of the result we have reached: a new Cup, spectacular, with new boats, the catamarans, that will launch on the international scene a new generation of sailors.
With Russell we have discussed for long time on the most difficult challenge that the next Cup must face: an international situation with big economic crisis and therefore huge difficulties to find sponsor. This is the only, true, real enemy of the next Cup. We have then thought of the idea to create the class AC45, a concrete way to make lot of teams get involved in the event reducing costs, at least in the delicate period of the start-up.
On our side, I must thank the two Italian sponsors that believed and confirmed us their trust. We are not able, however, to reach a budget that allows us to be a competitive team.
In our sport, men in blazer have overcome by now those in oilskins, I'm a man in oilskin and when I go in the sea, I want to win. I'm not interested in a hopeless challenge, I would lie to the sponsors, to our fans and last but not least also to myself.
I would like to thank our friends from Club Nautico di Roma. I am sure that we will have new exciting adventures together.
The sailing adventure of Mascalzone Latino doesn't end anyway with the Cup, but it continues with the sailing school in Naples, free of charge, for those children coming from the most difficult areas of this town. A daily challenge, and, who knows, maybe someday we will see a new America's Cup champion coming out from one of them.
Fair wind to all of you.
Vincenzo Onorato

---
Tides For the Bay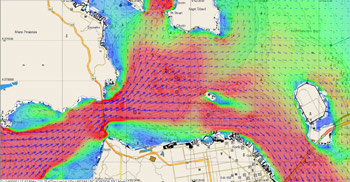 Image:©2011 TideTech
(May 11) To help navigate the complicated conditions of San Francisco's tides and currents, the 2013 America's Cup competitors will use modeling and prediction tools from Tidetech, just announced a supplier to the teams.
Tidetech's press release mentions that they have spent the past 12 months mapping the Bay in detail to provide a model with increased accuracy. An video animation of their analysis for the America's Cup race area in San Francisco is available on the company's website. Also of interest for America's Cup fans: What if back in 1851 there was such a tool for racing round the Isle of Wight, when the schooner America won the trophy for the first time? Tidetech has animated the currents of the Solent, too.

---
Artemis to Race Decision 35, Too
(May 5) Press Release: Artemis Racing, the Swedish Challenger for the 34th America's Cup, has a new addition to the team's fleet of multihulls, a Decision 35. This high-tech, one-design catamaran built purely of carbon fibre was designed especially for lake racing, well suited to the conditions on Lake Geneva. Artemis Racing will line up against 11 other teams in this competitive one-design class, including Ernesto Bertarelli's Alinghi.
The team's inaugural regatta will be the Grand Prix Les Ambassadeur event that takes place from 6-8 May on Lake Geneva. Artemis Racing Chairman Torbjorn Tornqvist will helm the D35 for the majority of the regattas this season including the prestigious Bol d'Or on 18 June.
"The D35 is yet another opportunity for Artemis Racing to broaden the team's multihull experience. We are looking forward to meeting all of the great sailors in the fleet," said Paul Cayard, CEO of Artemis Racing.
The crew onboard Artemis Racing for the Grand Prix Les Ambassadeur regatta includes Paul Cayard (Helmsman), Julien Cressant, Rodney Ardern, Yvan Ravussin and Pierre Pennec.

---
Learning From Auckland: John Craig
(May 4) John Craig, Principal Race Officer (PRO) for the 2013 America's Cup talked with Michelle Slade of SailBlast Blog about how the AC45's are performing, especially in critical match racing situations like starting.
Question: The 45's stop and start pretty quickly -- how much can they handle in the start, and what will the start sequence be?
John Craig: I was kind of skeptical. In all honesty I thought, "It's going to be catamarans match racing. It's not going to be like it has been." But, it's been amazing. The first day they just fully locked up and got at it and started chasing each other -- it's been really, really good. The quality of what these guys are able to do and how quickly the boats can stop and start lends itself really well for match racing. Right now, it's a 5-minute sequence, the starboard end is coming in at 3 minutes and the port end comes in at 2:50. They're fully locking up and it's very cool to watch.
---
Second Test Regatta Session Starts Monday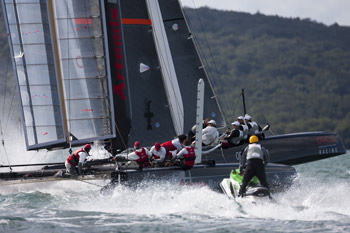 AC45 Match Racing, complete with Umpiring Water Craft (UWC), at Test Regattas in Auckland.
Photo:©2011 Gilles Martin-Raget/americascup.com
(May 1) Part Two of the Auckland test regattas for the AC45 catamarans plus race operations, umpires, and support staff starts May 2 in Auckland, continuing efforts begun last week. This time the broadcasters will get into the act, too, with cameras and telemetry on at least two of the boats, serving as an early technical rehearsal for the America's Cup World Series Races which kick-off in Cascais, Portugal, this August.
The rehearsals provide a chance to preview some of the new technologies in action, like the electronic umpiring system accurate to within 2 cm which Sail-World's Richard Gladwell checked out. In addition to the telemetry and pixel pushing, umpires in real life also chased the cats driving personal water craft.
Gladwell's been busy this weekend himself:
Broadcast Technologies: Interview with Stan Honey
Teams React to New Race Procedures: Media Session
And young Optimist sailors get a chance on the America's Cup boats: The Kids are Alright
The official America's Cup site has a nice short summary of Rehearsal Week One, with comments from Harold Bennett, Assistant PRO; John Craig, PRO; Mike Martin, Umpiring and Rules chief; and Iain Murray, Regatta Director: Brave New World
Not to be outdone, Oracle Racing gets down to the exciting part, sailing the boats, with several onboard videos: See Video Time at Oracle Racing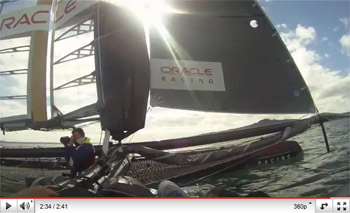 Crewing the AC45, Simeon Tienpont's point of view. Exhausting just to watch. Click image to view at YouTube. For High Resolution onboard stills, see gallery at Oracle Racing Video:©2011 americascup.com


Flying Colors
(May 8) Test regattas last week in Auckland included an all-up rehearsal with the Augmented Reality system used to overlay situational awareness on top of the race video for the benefit of fans, umpires, and race officials alike.
The frame captured above shows lead, layline, and wind data over the live video. Watch the video at YouTube to see it in action, plus comments from Stan Honey, Russell Coutts, and PJ Montgomery who contributed the race call to the undertaking.
Also see press release: America's Cup to Revolutionize Live Sports

---
Match Racing Added to Mix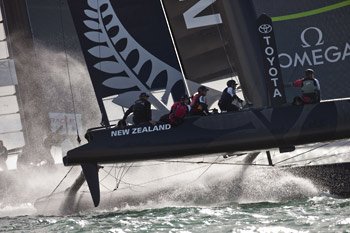 Photo:©2011 Gilles Martin-Raget/americascup.com
(Apr 29) The AC45 test regattas in Auckland shifted into match racing mode Friday, and the crews are getting up to speed with the demands of competing in these boats.
"The hard jobs are grinding and pulling the sheets," Piet van Nieuwenhuyzen, of Oracle Racing, said. "A lot of different people are doing those jobs. Because there's so much happening and the boat is so wide you can't be in the right place at the right time, you have to do the job that's in front of you. We're all filling in for each other and that makes it more difficult."
Read Stories:
At Oracle site: Crew Work and Match Racing
Videos at Americascup.com

---
America's Cup World Series Test Regattas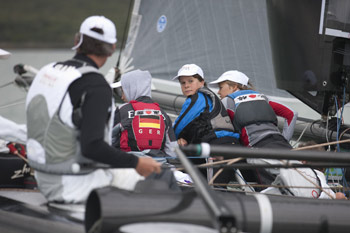 AC45 Kids: Russell Coutts recruited a crew of Optimist sailors Thursday, making for some very happy faces.
Photo:©2011 Gilles Martin-Raget/Oracle Racing
Sailing continued late this week, after an eventful beginning to the series. Oracle Racing pitchpoled their AC45 Tuesday, capturing a lot of attention on Day 1 of these "test races" in Auckland intended to prove out some of the rules and procedures for racing the new wingmasted cats. ETNZ had some close moments, too, and Artemis buried their bows as well, but no injuries were reported and the boats were back on the water Wednesday. Racing resumes again May 2 for a second series with the broadcasters playing, too.
Stories:
At Americascup.com:
Apr 28: Positive Results from Early Tests
Apr 26: "Flippin' Fantastic"
Photo Galleries: Oracle's AC45 Capsize
and Day 1 Photos
Plus see video at from Americascup.com at YouTube and more photos from Chris Cameron and at Oracle Racing

---
ETNZ Going Full Speed
(Apr 24) Though confirmation of their challenge for the 2013 America's Cup came only last Friday, ETNZ has been pressing ahead with design and engineering efforts for several months, assembling some of the world's top multihull experts including Gino Morelli and Pete Melvin, of Morelli & Melvin, along with Magnus Clarke and Steve Killing, Australian Glenn Ashby, and a large number of leading Europeans in the field, too. ETNZ's roster now includes key talent that worked on BMW Oracle Racing's 2010 America's Cup-winning trimaran USA-17, Alinghi's 2010 defender A5, the 1988 defending catamaran Stars&Stripes, the wingsailed cats of the so-called Little America's Cup, and the big open-ocean multihulls. In short, it's a formidable staff, possessing varied experience with high-tech multihulls in and out of the America's Cup, large and small. Joining Team New Zealand's already strong engineering core, they have their hands full, with construction to begin on the first boat later this year for an early 2012 launch.
Read more at Sail-World
Grant Dalton, CEO of ETNZ, outlined to Paul Lewis at the NZ Herald how narrowly Team New Zealand survived to this point, largely due to the generosity of private benefactors in NZ and Italy: Read more at NZ Herald. It was a combination of adding sponsorship from Nespresso along with the $36M NZD from the government that clinched a green light for for the Kiwis' 2013 challenge. "The Government's contribution allows us to be competitive on the world stage," Dalton says.
ETNZ's 2007 challenge brought an estimated $75M NZD in direct benefits to the NZ economy, according to economic development officials, yet this past week the team has had to publicly defend their support from the government. Despite analysis that projects an even greater positive return on public funding for ETNZ's current campaign, possibly $150M NZD or more according to a former Minister of Sport, the current state of economics and (even more especially) politics has drawn some NZ critics into the ring, questioning financial assistance to the team this time around. The party in power wants to shift responsibility to the previous majority, who signed a legal agreement with ETNZ, while another objects to spending funds at all, though at the same time pointing out many other items funded by the NZ government that might be open to question. Much of this reaction has no bearing on the 34th Defense in 2013, and the America's Cup can't escape all politics, but how refreshing a good yacht race comes to seem at times.

---
Emirates Team New Zealand Confirms Challenge
(Apr 21) Grant Dalton, CEO Emirates Team New Zealand, confirmed his team's entry Thursday for the 2013 America's Cup. Although the Kiwis filed their paperwork when the challenge window opened last November, Dalton officially took a wait-and-see attitude up until now while the team evaluated the demands of mounting a competitive effort and sought the resources to get the job done.
Grant Dalton: "We believe that we can mount a credible challenge which will have a very good chance of winning the America's Cup. That's our mission and that is the expectation of our sponsors, partners, suppliers and the people of New Zealand. It is an expectation that every member of this team is determined to fulfill.'
Announcement today of a $36M NZD commitment ($28.6M USD) from the national government, joining commercial sponsors Emirates Airlines, Toyota New Zealand, Omega watches, and a newcomer to TNZ, Nespresso, helps round out the budget to support hundreds of engineers, designers, technicians, and sailors as the 1995 and 2000 America's Cup winners try to bring the famous silver trophy home again, this time in high-tech multihulls.
Read Stories:
ETNZ: Dalton Confirms "We're in the Cup"
NZ Herald: Govt Gives $36 Million for America's Cup
Stuff.co.nz: Government Gives TNZ $36M
Also: Given economic and political conditions, government support for ETNZ this time wasn't certain, and some have been quick to criticize the funding. Current and past leaders point out that there were contractual obligations to honor, but also that on an economic development basis their support for ETNZ has brought a significant return on investment for New Zealand:
At Radio NZ: Government Defends Funding

---
Regatta Tests Next Week in Auckland
(Apr 20) How will the America's Cup adapt to fast new wingsail boats in practical terms? America's Cup organizers will hold test regattas with five AC45 multihulls in Auckland starting April 26th to iron out the procedures, race formats, rules, and other aspects of the upcoming America's Cup World Series Races for 2011-2012. The test regattas will also be an opportunity for sailors to become familiar with the boats and the new situations.
A second test period May 2-6 will also provide broadcasters with a rehearsal opportunities to explore the new technologies being used for the ACWS series, and eventually the Louis Vuitton Cup and the America's Cup in 2013.
Read America's Cup Press Release

---
Aleph Faces Deadline
(Apr 20) Philippe Ligot, principal of Aleph Team France, one of three French challenger entries for the 2013 America's Cup, told canyousea.com that the team needs to have sponsorship in place by April 30th if they want to continue, but to date Aleph has not reached their funding goals. Aleph has two potential sponsorships among the top 50 companies in France, but does not yet have the €50 million budget commitments the team feels is necessary to confidently field a competitive challenge. Vying for French sponsors against two other French teams has not helped the situation. April 30th is the date that a $200,00 USD Performance Bond is due to the America's Cup Event Authority to cover participation in the AC45-based World Series for 2011-2012.
Read interview at Canyousea.com (in French)

---
"Cup Chat" at GGYC
(Apr 17) Several notable behind-the-scenes players in recent America's Cup history gathered at the Golden Gate YC Thursday for a talk-show format "Cup Chat" exploring topics of interest as the famous regatta settles into its new track for the upcoming 34th defense in 2013.
Bruno Troublé, Peter Reggio, and Tom Ehman were among those having a wide-ranging discussion, sharing their experiences from past events, along with perceptions and expectations for 2013. Marcus Young, GGYC Staff Commodore, moderated the evening and Genny Tulloch, match-racing hopeful for the 2012 Olympics, also contributed. Ehman is now Vice Commodore of GGYC, in addition to his Oracle Racing duties.
Bruno Troublé: "The America's Cup is full of personalities, it's about personalities. Tom Blackaller -- I wish he knows that we are here for the next America's Cup because it was one of his dreams to have the America's Cup here. For sure Tom is missing.
"But the America's Cup, I don't know why it has attracted or created personalities and I'm not only talking about rich people -- Peter Blake was not rich -- but there are huge personalities in the Cup historically. If it were only a sporting event, Louis Vuitton would not be part of the America's Cup. We are part of the America's Cup because it is an extraordinary saga of modern times."
Read highlights from Michelle Slade at SailBlast

---
Korean Challenge is Official
(Apr 6) The entry of South Korea's White Tiger Challenge was confirmed today by the America's Cup Event Authority, making the team the ninth identified challenge out of 12 that are official and 14 total that have submitted their Notices of Challenge for the 2013 America's Cup. Identities of the five teams that remain unknown should be disclosed shortly. This is the first ever participation of South Korea in yachting's most historic competition.
Dong Young-Kim, Team Founder: "We see this America's Cup campaign as a learning experience which we can build on for the future, while improving through the regatta series this year. We have discussions ongoing presently which we hope will provide the necessary resources, sponsorships and long-lasting commitments we desire, and aim to make more announcements shortly in what is proving to be a very exciting time in the ongoing evolution of the America's Cup."
Read White Tiger Press Release

---
Italy's Venezia is Official
(Apr 1) Venezia Challenge has been officially accepted by Golden Gate YC as a challenger for the 2013 America's Cup. Venezia, representing Club Canottieri Roggero di Lauria, is the second Italian team to enter for the 2013 America's Cup.
"We've worked very hard in the last two years to become a Challenger for the 34th America's Cup. Today is a very exciting day for us and for our team," said Carlo Magna and Emanuela Pulcino, the Italian founders of Venezia Challenge.
---
14 Challengers for 2013 America's Cup;
2011 Regatta Venues Named
(Apr 1) America's Cup organizers announced Friday that a total of 14 teams have submitted Notices of Challenge for the 34th Defense of the America's Cup in 2013. The additional names of the latest entries will be announced shortly. All but two of the challengers have been officially accepted by Golden Gate YC. Nine teams, eight of them challengers plus the Defender's representative, are publicly known to date, and the identities of the new teams will be confirmed soon.
Read America's Cup Press Release and
See CupInfo's list of 2013 Teams
Cascais, Portugal; Plymouth, England; and San Diego, USA will host America's Cup World Series Events in 2011. On the basis of strong wind conditions Cascais was believed to have been the preference of Russell Coutts for the 2007 America's Cup, which instead ended up in Valencia, Spain. See CupInfo's Cascais Page
2011 America's Cup World Series:
Aug 6-14: Cascais, Portugal
September 10-18: Plymouth, England
October or November: San Diego, USA
Press conferences today in Plymouth and Monday in Cascais will provide more information.
Noticeably absent from the list is Newport, Rhode Island, which was reported to be under consideration. One concern with Newport was having improvements in place in time for fall of 2011. Rhode Island officials say that the deadline was feasible though hotel capacity on short notice was more likely the issue, and that they are now working on a 2012 date.
Read more at Boston Globe