More News:
June 30: Alinghi hires multi-hull sailor Franck Proffit:
Alinghi Team Site
June 23: Lord Winston questions priorities: "The fact is that you still rate things like the America's Cup, the All Blacks and the cricket [as] being far too important when actually they don't fundamentally improve human wellbeing....":
stuff.co.nz
June 15: Alinghi wins Extreme 40 iShares Cup event in Hyères:
Sail Magazine
June 13: Oz's Iain Murray, from his early days as a protégé of Ben Lexcen to his latest (and last?) Olympic Star campaign -- an interesting profile at:
ManlyDaily.com
June 11: The firm of Reichel/Pugh (Desafío '07, S&S '03 and '00, OneAus '95, and A3 '92) will be new BMW Oracle principal mono-hull designers:
BMW Oracle Site
June 9: Fabrice Levet, sailor and coach of recent challengers, joins Team French Spirit, plus more TFS news:
Adonnante.com
June 6: Court case reaching the late innings? Read Cory E. Friedman's expert play-by-play of yesterday's Appellate Division at-bats:
Scuttlebutt News
June 6: Court report from TVNZ (Video):
tvnz.co.nz
June 5: SNG-Golden Gate YC goes before the NY Supreme Court Appellate Divison:
Alinghi Press Release and
GGYC Press Release
Also, report at:
Sail-World
May 30: iShares Cup: Alinghi's turn to capsize, this time caught on video:
Alinghi team site and
Yachting World
Also, see story and photos, crew safe, mast not:
Sail-World and Valencia Sailing
And, video interview with Alinghi's Ed Baird:
iShares Cup site
May 29: Cory E. Friedman takes stock of the legal twists and turns on the long and winding (and hazardous) road to the Appellate Division, First Department:
Scuttlebutt News
May 27: Ten teams warming up for RC44 Austria Cup. Spithill, Kostecki, Coutts among America's Cup crew in race:
RC44 web site
May 27: Shosholoza to race RSA-83 in Naples Velalonga regatta:
Press Release
May 27: Britain's Team Origin sailing Extreme 40 in iShare's Cup:
Press Release
May 26: Latest edition of Jim Bolland's Brush with Sail newsletter. Read or subscribe at:
auldmug.com
May 25: George "Fritz" Jewett, organizer of 5 America's Cup efforts between 1974 and 2000, including Star&Stripes' momentous win in 1987, dies at age 81:
sfgate.com
May 22: Most recent New York Supreme Court filings: SNG Reply Brief (May 15) and GGYC Brief (May 22, both in pdf formats); Also see other recent documents at GGYC site
May 22: Alinghi training on Décision 35 multi-hull:
Alinghi team Site
May 21: Sailing World interviews BMW Oracle's Tom Ehman in the wake of recent court decisions:
Hear the mp3
May 20: America's Cup winning big with maritime art collectors:
telegraph.co.uk
May 20: Desafío Español's new YC damaged in attack:
Valencia Sailing
May 19: More clues about BMW Oracle's big new construction facility in NZ:
stuff.co.nz
May 13: SNG consolidates appeals, asks court for clarity on Final Order:
Alinghi team site
May 12: BMW Oracle to build large manufacturing facility in New Zealand:
stuff.co.nz
May 11: Cory E. Friedman reviews this spring's latest crop of court filings:
Scuttlebutt News
May 9: Alinghi counsel Barry Ostrager video interview:
Bloomberg News
Also see April 1 interview with David Boies, ETNZ Counsel:
Bloomberg News
May 8: Appellate Court rejects stay request by SNG, but does not dismiss appeal:
Appellate Order and GGYC Statement
(pdf formats)
May 8: Alinghi's hot cat "Le Black" back in action -- shakedown cruise:
Video at Alinghi Team site
May 1: Australia's Brian Northam dies at age 75, crewed 1962 challenger Gretel:
Sydney Morning Herald
Apr 29: K-Challenge announces Design Team for next Cup:
K-Challenge site
Apr 24: Alinghi Announces Imminent Build, New Crew Members, Launch Timeline:
Alinghi Website
Apr 24: Team French Spirit launches Design Competition:
Team Website
Apr 23: Cagliari RC44 Cup: James Spithill leads the way:
Day 1
Apr 23: The invaluable Cory E. Friedman on the latest legal maneuvers:
Scuttlebutt News
Apr 22: Legal docs for the Appellate Court from GGYC and Alinghi
Apr 22: Mercury Bay Boating Club papers provide a previous example of Deed of Gift challenge:
MBBC Documents
Apr 21: Sceptre in Round the Island Race: 1958 12M America's Cup Challenger stronger than ever:
Yachting World
Apr 15: Cory E. Friedman sheds some light on recent appeals, stays, denials, and other legal undertakings in New York:
Scuttlebutt News
Apr 15: Appellate Court will consider Alinghi request for stay, consider expedited appeal:
Alinghi website
Yet court does not grant interim stay: GGYC statement and documents
Apr 14: Alinghi asks NY Appellate Court for involvement in court decisions, cites "errors of fact and law". Alinghi wants an expedited process that could issue a race date by June 2008:
Alinghi website
Also Apr 14: Golden Gate YC: Defender's plan to appeal is "Regrettable":
GGYC Website (with appeal documents)
---
Apr 2: Court Hearing, dates of next defense being considered, not decided yet:
Cory E. Friedman: Scuttlebutt News
GGYC: Looking forward (and pleased)
Alinghi: We believe Justice Cahn was receptive
Also: Story at International Herald Tribune
Mar 31: Cory E. Friedman comments on the latest legal events, "...No good deed ever goes unpunished":
Scuttlebutt News
Mar 28: Dalton doubts defender, favors forfeit:
NZ Herald
Mar 27: K-Challenge Re-launched:
K-Challenge 2
---
Court Case News:
Mar 27: Hearing set April 2 in New York Supreme Court to consider dates of Deed of Gift defense:
GGYC: Pleased (pdf)
Alinghi: Pleased
BMW Oracle Speaks:
Radio Interview Mar 25 from BSport Radio NZ with Tom Ehman:
Part 1 (mp3)
Part 2 (mp3)
Audio: ©2008 BSport
Mar 26: No solution found at meetings so far. Team reports -- Alinghi:
Disappointed
BMW Oracle:
Cordial
See Mar 25 Alinghi Statement regarding "make or break" meeting and Addonante.com interview with BMW Oracle's Tom Ehman
Alinghi sends letter to GGYC regarding agreeing on the date of the next defense:
Read html or
pdf plus a press release about the letter. GGYC responds (read html or pdf), accepting invitation to meet. Discussions are reportedly taking place this week. Keep your fingers crossed.
---
Other News:
Mar 25: Teams begin training this week in large multi-hulls, sailing out of Lorient:
Alinghi will sail Foncia:
Alinghi web site
K-Challenge continues preparing for a future America's Cup, welcomes decision, will introduce new challenge March 27:
Finally!
Shosholoza welcomes end of uncertainty thanks to latest court ruling:
Press Release
Kimball Livingston on the latest court decision at Sail West:
"Yeah, Right"
Commentator Paul Lewis sees unpleasant history between the teams feeding TNZ/Alinghi law suits:
NZ Herald
Special Sailing Award for promotion of the sport given to
Ernesto Bertarelli:
Alinghi.com
Brands, PR, and Hype: A serious look at the sponsorship and business of the America's Cup:
Financial Times
Answer: Tea at the Ritz. Question: What is 2008-era America's Cup wrangling like in comparison to the circa 1988 battle?
Sail World
Kimball Livingston: Go ahead, pray aloud for common sense to erupt and spare us the quagmires of the interim, but don't waste your time expecting it:
Sail West
Simon Daubney Cleared of Drug Charges, Suspension Lifted:
NZ Herald
New J-Class Yacht: Lionheart construction progressing well:
Yachting Monthly
Keels 'n' Barge: Richard Gladwell explores Silly Season in the AC:
Sail-World
UITG lets go Jochen Schuemann while future America's Cup defenses are unresolved: AFP
Sir Edmund Hillary to come full circle in the Hauraki Gulf:
NZ Herald
TV NZ video of 1/14 Court Date: Includes sound-bites from Tom, Lucien, Cory, and a brief appearance by Justice Cahn -- "America's Cup Back in Court":
tvnz.co.nz
"Justice Cahn is Solomon": Kimball Livingston at:
Sail West
Gordon Ingate, Gretel II Skipper, wins Dragon National Championship at age 82: Foxsports.au
Dean Barker's holiday beach home: NZ Herald
America's Cup Suffocating:
Yachting World
Butterworth Not Leaving: "Rubbish" says Alinghi Skipper:
NZ Herald
Legal Tactics: "Here's a nutshell explanation of what has happened in the America's Cup..."
Detroit Free Press
Lost Funds: Britain has lost tens of millions of pounds in revenue due to postponed exhibition races:
Guardian Unlimited
Cory E. Friedman looks at appeals, DoG defense dates, and the unlikely odds of changing the Deed of Gift as Ernesto Bertarelli has proposed: "Courts do not play with charitable trusts so that someone can use the trust property for personal benefit."
Scuttlebutt News
"I cannot agree that what you are proposing to do is for the benefit of the America's Cup..."
Bob Fisher's Open Letter at Sail-World
"...losing the dimension of grand nonsense that has kept the America's Cup above all else."
Kimball Livingston at Sail West
Oct 22: Challenger's Objections: A strong letter of objection was sent by seven teams to the Spanish CNEV in mid-July, detailing complaints and asking CNEV to withdraw their challenge and remedy the situation. GGYC has now made the text of the letter available. Read More

New J-Class Rainbow is Underway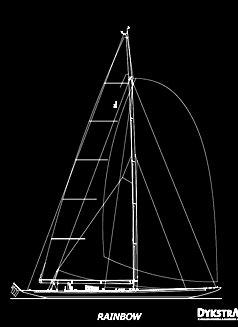 Drawing: ©2008 Dykstra & Partners
A new-build aluminum recreation of 1934 America's Cup Defender Rainbow, designed by Dykstra & Partners, is expected to be launched in 2010. The original Rainbow, designed by W. Starling Burgess, was the second of Harold S. "Mike" Vanderbilt's three defending J-Class yachts. Vanderbilt, with timely assistance from Sherman Hoyt, beat a faster Endeavour that came very close to taking the Auld Mug away.
The J-Class Association will use a Velocity Prediction Program (VPP) in conjunction with a handicapping system to help manage spirited racing in the growing J-Class fleet.
Existing and Planned J-Class Yachts:
Yacht
Built

---

Rainbow
2010
Endeavour II
2008
Lionheart
2008
Ranger
2004
Endeavour
1934
Velsheda
1932
Shamrock V
1930
For more J-Class details see:
CupInfo: Story of the J-Class Yachts
---
Getting Wet: Spithill 1, Coutts 0
From an exclusive story by Tim Jeffery at the London Daily Telegraph, including dramatic photos of the BMW Oracle Extreme 40 capsize:
"In the team's other Extreme 40 Aussie James Spithill is probably the best match racer in the world after Coutts. He gives no quarter, hell bent on beating his boss up.
"Where Coutts would anticipate and react if he had the tiller in his own hand, the time lost in telling Cammas what to expect and what to do was fatal. Over we went. Spithill had nailed us."
Read the rest and see photos at Telegraph.co.uk
---
What Does It All Mean?
Cory E. Friedman, very attentive legal observer, delivers what is not quite yet a valediction on Justice Cahn's somewhat surprising Final Order. "That leaves everyone where Justice Cahn put them –– where neither wants to be." How will they escape? Can the America's Cup be saved? And what about Fremantle?
Read Cory E. Friedman's latest at Scuttlebutt
---
Justice Cahn Sets 2009 Date for America's Cup Defense
Justice Herman Cahn's Final Order is officially entered, BMW Oracle is the valid 33rd Challenger. CNEV is disqualified. Date of the America's Cup defense is set 10 calendar months from today, location to be Valencia or as decided by SNG but six months notice of the venue from the Defender is required. Parties may modify these terms if they can reach mutual consent to other arrangements.
Ten months from May 2008 is March 2009, which precedes the May 1st requirement of the Deed of Gift for holding a defense in the northern hemisphere. The court order appears to allow SNG to stage the defense in Valencia if they prefer, meaning that the earliest date of a defense would become Friday, May 1, 2009. Alternatively, the order can be interpreted that the ten-month timeframe is controlling, meaning that a southern hemisphere venue will need to be selected. We may not have seen the last of lawyers and courts, yet.
Lucien Masmejan, SNG/Alinghi lead counsel: "We are pleased that Justice Cahn has issued this order and recognized within his decision that it was the actions of the GGYC that brought the America's Cup to court and that depriving SNG of the 10-month notice period mandated by the Deed of Gift would be inequitable."
Read more at Alinghi site
Tom Ehman, BMW Oracle: "We are pleased that the Court has advanced the process and required the Defender to confirm the venue. We will now be considering the order to determine our next steps." Read (very slightly more) at GGYC Site (pdf)
Also see: Copy of Court Order (pdf)
Additional stories:
Tom Ehman, BMW Oracle, from the Detroit Free Press: "We are really pleased that he said they have to give us six months notice as to the venue. That can make a huge difference in the kind of boat we put out there, the sail area and things like that."
"But there are still a lot of questions. I know [Cahn] said we could race in Valencia, but can we really do that when the deed specifically says we can't race in the northern hemisphere between Nov. 1 and May 1?"
Tom Ehman, from the Associated Press:
"It doesn't look like we got everything we wanted, but we got a firm date and six months notice on the venue, which is good.
"Obviously we were hoping for October and now that he said March, we'll have to consider that and see what the implications are," Ehman said.
Lucien Masmejan, from Bloomberg: "It's unlikely that it is the intention of Justice Cahn to force us to race in the southern hemisphere,'' Masmejan said in a telephone interview. "I'm pretty confident we'll be able to resolve that, in the sense that we'll have our full, open choice"' of venue.
Lucien Masmejan, speaking about their desired May sailing dates in Valencia, from Reuters: "Not everyone is on holiday then, there is sun, heat and some good winds that you won't have earlier. At the earliest it could be May but ideally July."
---
NZL 32: America's Cup Winning Yacht to be Centerpiece of Peter Blake Memorial
Work is to begin this July on the building in Auckland's Viaduct harbor which will honor Sir Peter Blake, a man who meant so much to New Zealanders. An addition to the current Maritime Museum will display the ACC yacht NZL-32, which under Sir Peter's watch first won the America's Cup for the country, surround by three levels of displays about his life.
---
It's Our Cup Too
From John Rousmaniere: George Schuyler and John Cox Stevens got it right when they founded the America's Cup in the 1850s. Half a century later, a cup historian, Herbert L. Stone, said this: "The America's Cup, after all, is a synonym of things brave and big and famous." That may not seem the case today as we sadly peer into the slough of despond into which the cup has been allowed to topple, but it's what the America's Cup was as recently as last June, when the Kiwis and the Alinghis brawled off Valencia.
Read the rest at Sailing Scuttlebutt #2582
---
Mascalzone Latino Wins Farr 40 World Championship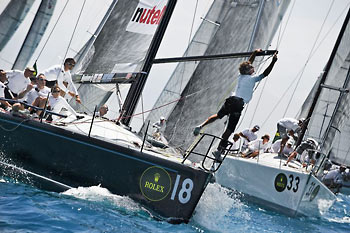 Mascalzone's Nutella-sponsored boat in the lead.
Photo: ©2008 Rolex / Kurt Arrigo
Unprecedented in the ultra-competitive Farr40 class, a third straight World Championship was claimed by Vincenzo Onorato's Mascalzone Latino team at the 2008 Rolex Farr40 Worlds sailed this week in Miami, FL. With America's Cup sailors Morgan Larson and John Kostecki rounding out his regular crew, Onorato's boat triumphed over competition including ETNZ's Dean Barker on Hasso Plattner's Morning Glory and an Alinghi entry featuring Brad Butterworth, Warwick Fleury, and Ernesto Bertarelli.
Read more at the Rolex Farr40 web site
---
CupInfo Wishes a Happy 100th Birthday to Olin Stephens II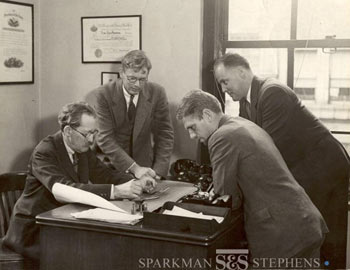 W. Starling Burgess, Olin Stephens II, Rod Stephens, and Drake Sparkman in the Sparkman and Stephens office, 1933.
Image: ©2008 Sparkman and Stephens. Used with Permission.
Also, sign an online birthday card to Olin Stephens at Scuttlebutt.
---
BMW Oracle Build Underway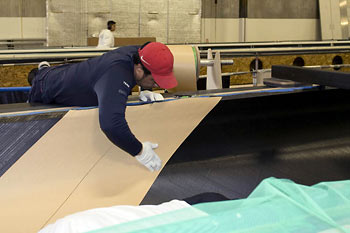 Photo: ©2008 Neil Rabinowitz / BMW Oracle Racing
The Challenger of Record has released photographs depicting construction of their new Deed of Gift challenge yacht, which is proceeding in Anacortes, Washington.
---
Foncia Capsizes in Atlantic with Alinghi Crew Onboard
Crew Rescued, Reported Safe
The 60-foot multi-hull capsized Saturday during training near the French port of Lorient with Alinghi crew onboard, including America's Cup winning helmsman Ed Baird. The crew was rescued, though two were hospitalized, and the capsized boat has been towed in.
Stories:
Alinghi Press Release, including reaction from Baird
Story and photos at Sail-World
---
New J-Class Yacht to be Built
Classic Boat reports plans to build another replica of the famous class that represents a golden era of sailing. The latest boat would join at least two other replicas under construction and one already sailing (with still more replica builds being considered). Details of the latest project including design, build yard, and owner are yet to be revealed, but in a world where these boats were once thought to be on the verge of extinction, the day may soon dawn on the three original boats and the four new ones (or more) all lining up to race. What a sight that will be.
Read (slightly) more at Classic Boat
Existing and Planned J-Class Yachts:
Yacht
Built

---

Name TBA
TBA
Endeavour II
2008
Lionheart
2008
Ranger
2004
Endeavour
1934
Velsheda
1932
Shamrock V
1930
dsfadsf

For more J-Class details see:
CupInfo: Story of the J-Class Yachts
---
Back to Court: Talks Do Not Produce Agreement on Defense Date
Meetings in Geneva, Switzerland, between representatives of Defender Société Nautique de Genève (SNG) and Challenger of Record Golden Gate YC (GGYC) did not find common ground on the date of the next defense match. In absence of agreement, it appears that the parties will have to seek a ruling from Justice Herman Cahn. Alinghi's position continues to appear that any date in 2008 will prompt them to forfeit the trophy rather than sail a yacht in its defense. BMW Oracle believes that they have already offered to concede from their original July 2008 to October 2008, which should be sufficient and appropriate under the rules. Observers may wonder that if this is the process for determining simply the dates, what will arranging the venue, rules and sailing regulations entail?
Alinghi Press Release:
America's Cup Defender Forced Back to Court
"In a bid to accelerate the process of returning the 33rd America's Cup to the water and having been stonewalled by the Golden Gate Yacht Club (GGYC), the Société Nautique de Genève (SNG) has decided to request Justice Cahn determine the dates for the event, as contemplated in his Order of 19 March 2008."
Barry Ostrager, SNG/Alinghi's attorney, has sent the following letter (pdf) to Justice Cahn, requesting intervention.
Other Stories:
Tom Ehman, BMW Oracle, at Forbes.com:
"They didn't offer us anything. They tried to give us a justification as to why May 1 or why sometime after that is suitable," Ehman said from Geneva. "Our clear view is that the sooner we can race, the sooner we can get the cup back on track."
Grant Dalton, Team New Zealand, in Detroit Free Press: "Having admitted that they cannot be ready by October, we believe that Alinghi should forfeit right now, allowing BMW Oracle and the other challengers to get the America's Cup back on track and minimizing challengers' continuing financial hardship that (Alinghi) created."
---
French Spirit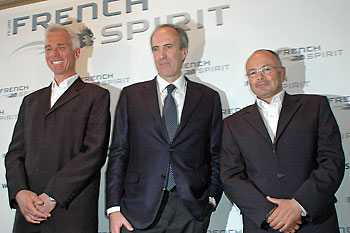 Marc Pajot (center) introduces key team members Philippe Presti (left) and Bertrand Pace (right) . Photo: ©2008 CupInfo
The new America's Cup team debuted in Paris, with Marc Pajot, CEO Team French Spirit, presenting team leaders to the media Thursday and supplying additional details about the group. The team represents Yacht Club de Saint Tropez. Philippe Presti will be the skipper, and Bertrand Pacé will be helmsman. Budget is expected to be €50-60 million. The team will compete in the TP 52 and GP42 circuits to help prepare for the America's Cup. Our European Editor attended the event and provided the report below.
Read Cupinfo's report:
French Spirit Media Introduction
Also:
Read the Press Release
---
The Day After
With the legitimacy of Golden Gate YC's challenge re-affirmed, it would seem that the major issue left to resolve is the scheduling of the match. Justice Cahn floated some hope that the parties could reach mutual agreement on a means of deciding the date of the defense, if not agree on an actual date, but that isn't looking likely given the latest communications:
SNG says 2009: In a letter ostensibly between the yacht clubs, SNG asks Golden Gate to race in 2009, either July 1 or May 1: "We believe that the earliest date that GGYC could propose for us to meet on the water is 1 May 2009..."
Read the letter from SNG to GGYC in either html or pdf
GGYC says 2008: Golden Gate feels they have already extended the date for SNG from July 2008 to October 2008, and that should be sufficient. Tom Ehman, GGYC spokesman, in the Times Online: "...we gave them another 11 months' notice from Justice Cahn's decision and a total of 16 months' notice [from the original challenge], and now they want two years' notice. As far as we are concerned it is in October, we won't go back now."
Read the article at Times Online
---
Decision: BMW Oracle
BMW Oracle Wins Court Case
Ruling issued March 18th by Justice Herman Cahn. Motions by Société Nautique de Genève/Alinghi to re-argue and to find Golden Gate YC's certificate in non-compliance with the Deed of Gift are denied.
While the decision affirms GGYC's position as the rightful Challenger of Record, the date of the upcoming defense was not decided by the court. Justice Cahn suggested that the parties could raise the issue for the court to decide or else they could mutually agree to refer the issues of proper notice and dates of defense to a neutral party in the yacht racing world.
Scuttlebutt's Cory E. Friedman speaks with Ernesto Bertarelli and Tom Ehman, plus analysis of the court ruling and the road ahead: Scuttlebutt News
Stories at:
Bloomberg: BMW Oracle Wins Dispute
NZ Herald: Court Ruling
International Herald Tribune: Oracle Team Wins Ruling

Date in Question: BMW Oracle says October 2008: "We're not going to agree to any more delay. I think it's a pretty cut and dry, straightforward thing," [Tom Ehman] told Reuters. Alinghi, however, said their boat would not be ready by then and has proposed the race be held in July 2009. "We won't be ready in 2008," said Alinghi owner Ernesto Bertarelli.
Read Reuters story at guardian.co.uk
Alinghi Threaten More Court Action: Brad Butterworth: "The argument will be over whether we race this year, which would be out of our reach, or whether we do it next year and do it on the water. Either the lawyers will fight about it or we'll design and build a multi-hull and we'll race them next year in July but that's going to be the argument."
Read more and hear audio at NZ Herald
Showdown Looming: "I didn't throw the first punch," said Bertarelli, who made a fortune off his family's biotech company. "I'm waiting to be on the water to do that."
Read AP Story by Bernie Wilson
Official Team Statements:
Golden Gate YC (GGYC)/BMW Oracle Statement:
"We are very pleased with this decision. The Court has ruled that our challenge complied fully with the Cup's Deed of Gift, and we are now keen to keep moving forward towards the next regatta," Tom Ehman, the club's spokesman said.
Read GGYC Statement
SNG/Alinghi Statement:
Let's Settle This on the Water: "Following today's court order, Larry Ellison has eliminated the competition and gained access to the America's Cup Match, a feat BMW Oracle Racing has never been able to achieve on the water. While we are disappointed with the outcome of this court order and believe that the matter of GGYC's certificate of challenge wasn't properly addressed, we have decided not to appeal the decision and we look forward to getting the fight back on the water and meeting BMW Oracle Racing on the start line of a Deed of Gift Match in July 2009," Lucien Masmejan said.
Read Full Alinghi Statement
Additional Links:
Valencia Sailing: Download the Court Order (pdf)
Grant Dalton media conference online at Sail-World:
Also, "It's a great result": Grant Dalton at stuff.co.nz
Cup Still Stalled: Tim Jeffery at sport.telegraph
---
Team French Spirit
New America's Cup team led by Marc Pajot as President and Team Manager will make a formal announcement March 20th. Pajot has competed in the America's Cup since 1987. Also see: emerging team website
---
ETNZ Suing Alinghi
Breach of contract claimed, damages sought in the "...tens of millions of euros" :
Read Stories:
"They abused their competitive power to stifle other teams," Grant Dalton tells Reuters:
Team New Zealand to Sue Alinghi at tvnz.co.nz
and
"The team had filed two law suits..." :
Dalton: Integrity of Cup at Stake at NZ Herald
(includes video conversation with Dalton)
also at NZ Herald:
Dalton says Bertarelli has Tarnished the Cup's Image
ENTZ asking for €17 to €27 million depending on delay:
Sport Telegraph
Hear audio interview with Dalton at Radio NZ
"We're not litigators, we're yachtsmen. This is not what Emirates Team New Zealand is in the business of doing. Certainly not myself, nor Dean Barker nor any of us. We take this action very reluctantly."
Grant Dalton interviewed at newstalkzb.co.nz
Read Cory E. Friedman's astute legal perspective on the TNZ lawsuits at Scuttlebutt News
Alinghi to Fight Legal Action: "We are disappointed to learn of this legal action by Emirates Team New Zealand, given their previous public acceptance and commitment to the competition. These actions are totally without merit, wildly miss the target and will be defended rigorously."
Lucien Masmejan, Alinghi legal counsel, from a statement at Alinghi.com
---
Franck Cammas, Multi-Hulls, and the America's Cup
Cammas to Helm for BMW Oracle?
An interview at Sport.fr with multi-hull sailor Franck Cammas explores his cross-over into the world of BMW Oracle's pending challenge for the America's Cup. The interview (in French) can be read at sport.fr. Our approximate English translation of a few portions of the interview is below.
Question: One would think you won't stay ashore while Groupama 3 is being repaired. What are your plans ?
Franck Cammas: We'll sail a bit with Groupama 2, we'll race in the Quebec-St Malo and the Trophée SNSM. I will try to race on other boats, Decision 35 and Extreme 40, like I did last year. Of course, given I have more free time than expected I'm more open to suggestions and really eager to sail again -- this could definitely include shorter races -- it's a way to recover from this technical failure.
Question: You mention shorter races -- one would think "America's Cup". Is this on your program, given your contacts with Russell Coutts and the BMW Oracle people?
Cammas: The one thing which would really help would be to know the time and venue for the regatta. This would solve a lot of things. It is true that sailing with the Oracle team is another way to race at top level. It allows sharing a lot, we bring our multi-hull experience while they bring their knowledge of match racing and inshore races. I'm thinking about Extreme 40 racing, which would combine the two skills. So we're getting ready and hopefully by end of March we'll have more to announce, especially if we know the date of the next America's Cup.
Question: It's therefore not unrealistic to picture Franck Cammas steering the Oracle multi-hull against Alinghi in the next America's Cup ?
Cammas: No, it's not unrealistic (laughs).
---
ACC's to Race Without the AC
Italian newspaper Fare Vela is reporting via newsletter that a new race circuit for Version 5 America's Cup Class yachts will be held in 2009 at venues to include Cowes, Kiel, Trieste, and Valencia. One major sponsor will be Porsche/Audi, who also supported United Internet Team Germany. Team Origin, Shosholoza, and Victory are mentioned as participants. The ACC yachts were scheduled to be phased out of America's Cup competition by 2009 anyway (depending on who was doing the scheduling), so it seems likely that the new circuit will not be directly affected by the outcome of the current pitched battle taking place in court and elsewhere.
---
Ways to Fix the America's Cup
Malin Burnham, who has been both an America's Cup sailor and an organizer of the regatta, has proposed some possible long-term approaches to create a framework for future defenses that would better balance the interests of all competitors while also providing intelligent management of business aspects of the regatta.
Read his suggestions at SignOn San Diego
In response to Burnham's points, interesting supporting comments have been made in Scuttlebutt #2527, particularly by Bruce Munro, former commodore of the St. Francis YC, while a contrasting viewpoint is excerpted in the following issue of Scuttlebutt, with the original posted at America's Cup View.
These efforts certainly appear well-intended, though they do face a number of hurdles including avoiding legal conflicts with the Deed of Gift while at the same time preserving the values which have made the America's Cup such a sought-after prize in the first place.
---
GGYC Sends a Letter; Alinghi Does, Too
Golden Gate YC reviewed their arguments in a letter to NY Justice Herman Cahn, sent January 29. That letter is available here (pdf format) at the GGYC website. It does not add anything spectacularly new, but is a succinct recital of some of the reasons the club and BMW Oracle racing expect their status as Challenger of Record to be confirmed by the court, particularly that a valid challenge under the deed is not open to invalidation by a defending yacht club's rules or by their reading of their rules when those conflict with the deed.
Alinghi responded in a brief letter of their own, re-stating their case that the defender believes some aspect of language in GGYC's challenge filing causes either the proposed challenge or the yacht that will result from it to be invalid. That letter is available here (pdf format) at the Alinghi website.
Further, Valencia Sailing has a long interview with Grant Simmer, Managing Director and Design Coordinator, Alinghi, that reviews the team's position on the assorted issues.
Cory E. Friedman at Scuttlebutt News, checks in briefly, looks at the letters, sees little new in either other than tidying up the loose ends of argumentation, provides a bit more wisdom on associated matters, and like the rest of us, awaits an outcome.
---
Court Decision Expected After Monday
New York State Supreme Court Justice Herman Cahn will consider material from SNG and Alinghi submitted Monday January 28th. Update: Monday's submissions are now available from the Alinghi Team website.
Golden Gate YC and BMW Oracle are expecting Justice Cahn to finalize the terms of settlement based on his ruling in late November that an earlier challenge from Spain's CNEV is not legitimate and that BMW Oracle is the rightful Challenger of Record for the America's Cup. SNG and Alinghi raised questions in last week's hearing regarding use of terminology in GGYC's challenge filing, seeking Golden Gate and BMW Oracle be found invalid as a result. Justice Cahn is expected to consider these further contentions in various lights, though a decision (contrary to earlier understanding) is not expected today and it will likely take additional days or weeks before the America's Cup world has a better idea of how long the wait for a sailing contest (of whatever sort) is going to be.
---
French Spirit Challenge is Filed
French Spirit Challenge led by Marc Pajot and based in St. Tropez says that they have filed a challenge for the 33rd America's Cup. How this is possible in regard to the court issues currently being worked out is not answered, but the team has established an organization and secured key personnel, according to their reports.
---
Court Provides More Questions,
Answers to Follow
January 23: Issues were not settled in New York this afternoon. Alinghi and SNG will be allowed to present their position that Golden Gate YC and BMW Oracle's mention of the words keel yacht invalidates BMW Oracle's challenge, while BMW Oracle and GGYC will see whether the procedural aspects of the case establish that SNG and Alinghi previously accepted the validity of the BMW Oracle challenge. A ruling from Justice Cahn is expected as soon as next Monday. Read analysis from Corey E. Friedman at Scuttlebutt News
Additional stories today:
Decision Delayed: Reuters
Interviews by Gary Jobson with Paul Cayard and Ernesto Bertarelli at Key West Race Week (see Day 3):
Jobson Sailing
Back in Room 232: Details of hearing discussions from John Rousmaniere: Scuttlebutt News
Further comments from the parties are expected soon, but initial statements from both sides are predictably positive:
SNG/Alinghi: "We were glad to make our points and found the Court receptive to our arguments," said Lucien Masmejan, lead counsel for the SNG. "We look forward to a court order properly addressing the issue of the validity of the GGYC challenge." Read more at Alinghi including interview with Lucien Masmajan, lead counsel for SNG
GGYC/BMW Oracle: "We remain confident that the court will maintain its earlier decision despite SNG/Alinghi's apparent procedural attempts to delay," Tom Ehman, GGYC's spokesman said. "We expect that Justice Cahn will soon issue an order setting October 2008 as the dates for our match, and we look forward to getting the Cup back on the water."
Slightly more at GGYC
SNG/Alinghi submitted a letter from the International Sailing Foundation (ISAF) as evidence in their favor regarding the keel yacht term. The letter is available here at Alinghi's web site in pdf format.
GGYC/BMW Oracle previously filed a Memorandum of Law with the court that addresses this contention by the ISAF, along with other objections. The Memorandum is available here at the GGYC web site in pdf format, see page 12 of the file (page 8 of the original document). The club filed additional documents Wednesday, which are also available for download at their site.
---
Team Origin Tries for a Solution
The new British team, representing the Royal Thames YC, has proposed to Alinghi an agreement on a multiple challenger America's Cup defense to take place in 2011, with a protocol they describe as based on the July 2007 document, but with sufficient changes so as to be satisfactory to Golden Gate YC and BMW Oracle, too. The team says that RTYC has "lodged a challenge" with Société Nautique de Genève and they would be wiling to step into the Challenger of Record role.
Team Origin hopes that this might provide a way out of the current bitter legal battle that otherwise shows no signs of ending soon.
Read the Team Origin press release
The RTYC challenge submitted is also available at the Team Origin web site in PDF format:
Read the RTYC challenge
---
Next Steps: Hearing January 23
January 14: Despite dueling expressions of how pleased they are, quoted below by both sides in the America's Cup contretemps, nothing was resolved in Monday's court appearance. The esteemed Cory E. Friedman at Scuttlebutt News provides his latest take, and, as usual, he is very helpful, but given the nature of today's meeting in court he raises more uncertainties about the course the Cup will take than he eliminates.
BMW Oracle and GGYC Pleased
According to a short press release from Golden Gate YC, the court order making the judge's decision effective could be signed as early as next week when the parties return to the courtroom.
From the Golden Gate press release: "We were very pleased with today," Tom Ehman, the club's spokesman said. "Justice Cahn clearly has a thorough understanding of the issues. We are confident the Court's decision of November 27 will be enforced in the order, leading to a Deed of Gift regatta in October, 2008."
Alinghi and SNG Pleased
Justice Herman Cahn will also weigh some of the issues Alinghi has been trying to raise, apparently combining the hearing set for the 28th into the appearance set for January 23rd.
From Alinghi.com: Alinghi Counsel for Société Nautique de Genève, Lucien Masmejan, commented on the day's proceedings: "We are very pleased with the result of today's court hearing. Justice Cahn has acknowledged that our arguments with regard to the invalidity of the GGYC certificate need to be examined in full and have substance. We believe that the further proceedings contemplated by Justice Cahn will bring clarity to the validity of the GGYC challenge."
Also from Valencia Sailing: Cats arrive for Alinghi
---
Schnackenberg Weighs In For Alinghi
From a question and answer format at the Alinghi team website, Tom Schnackenberg talks a bit about possible defender and challenger boats for a Deed of Gift match:
Question: How long do you think BMW Oracle could have been working on their boat?
Tom Schnackenberg: "It's hard to know, months obviously and possibly years. The challenge was lodged on 11 July 2007, but obviously they thought about it a long time before and so they have a big design edge and the Alinghi guys, I think, just hoped it would go away and depending on the court action, it could be a non-starter as there is a very tight timeframe. The 10 months notice would obviously be extended by the court action and the time it takes to do that, so that period will probably only start after the court order has been handed down."
Read more (and see video) at Alinghi.com
---
Picking Apart the Legal Picture
Cory E. Friedman at Scuttlebutt News weighs in with his assessment of the latest legal maneuvers, and he is not kind to SNG and Alinghi's latest efforts: "...When Santa brings a present like that, you do not tell him he is a day early." Read more at Scuttlebutt News
And the Detroit Free Press's Eric Sharp takes more swipes at the Swiss here.
Meanwhile, BYM News.com talked with Nigel Irens, earlier reported to be a potential designer for an Alinghi multi-hull defender, and tries to make the case that a "keel yacht" is only a mono-hull, and that as a result somehow the Deed of Gift isn't satisfied by the information Golden Gate YC submitted. See the BYM News article
If the above stories don't make it clear, the nasty season has really arrived in the America's Cup. As the next court date nears on January 14th, the battle for public opinion is being fought harder than ever. With the new year dawning, it didn't seem too much to ask for a fair and inclusive America's Cup Regatta focused on sailing excellence, maybe even one taking place sooner rather than later. And one simple agreement might have done that. What's so funny again about peace, love and understanding?
---
GGYC Documents Respond to Defender Filings
January 3: If you are following the court case in detail, the Golden Gate YC has posted a Memorandum of Law plus Affirmations and Exhibits in response to Alinghi and SNG's recent motions questioning GGYC's challenge and moving to re-argue the case.
---
---
Alinghi Digs in Heels, Digs Up Objections to GGYC Challenge, Wants to Re-argue Court Case
December 27: Alinghi is reading the challenge submitted by Golden Gate YC which refers to a "keel yacht", to quote the challenge, and the defender now states that despite the declared 90x90x3 dimensions of the certificate that accompanies the challenge, that the use of the term means GGYC must race Alinghi in a mono-hull. Given the precedent of 1988, Alinghi could then respond in a much faster multi-hull. Alternately, Alinghi suggests that using the term in connection with the certificate dimensions has made Golden Gate's challenge "non-receivable". How the NY courts will entertain these attempts by Alinghi in the upcoming hearing about a case that had apparently been decided, and where much has already been procedurally accepted by each side, is an open question.
---
Alinghi is "Team of the Year"
The defender of the America's Cup was named "Team of the Year" at the Swiss Sports awards. Voters include media, sports figures, and the general public.
---
TNZ Yachts You Can Sail
ETNZ has adopted NZL-40 and -41, currently on excursion duty in Auckland harbor, as their official VIP sailing vessels. With new boat testing halted due to the America's Cup court impasse, they still want to keep sponsors and supporters happy. The two boats in their new ETNZ circa 2007 livery are already a big hit with visitors. Read more at scoop.co.nz
Meanwhile, NZL-80 and -81, the 2003 defender's actual boats, are available in Cabo San Lucas, Mexico, for tourist excursion. And no rules against sailing both at once, either. See Cabo-Adventures for more
---
Ernesto Bertarelli Proposes New America's Cup Governing Documents Or Else
Ernesto Bertarelli published a document containing his vision of the America's Cup, one where the defender may not defend the Cup, the venues for the event are not determined by winning the regatta, and parity and commercial sponsorship can properly modernize an event in order to maximize its commercial possibilities. As an alternative to these sweeping changes to the America's Cup, in effect apparently discarding the Deed of Gift, the single option offered is to meet BMW Oracle in a one-on-one Deed of Gift match.
Read more at the Alinghi website
Bertarelli, president of Alinghi, wants to alter the America's Cup
From the International Herald Tribune: The most likely scenario for the next cup continues to be a court-mandated catamaran race between Alinghi and BMW Oracle Racing in October 2008. But Bertarelli said he had spoken last weekend by telephone with Ellison.
"We just hope that this letter is not intended to distract from the important question of getting AC 33 and our challenge on track," said Tom Ehman, a spokesman for BMW Oracle. "This letter has come out of the blue without any forewarning despite repeated requests to sit down and have a meeting."
Discussion will take place shortly between representatives of BMW Oracle and also of the NYYC to explore this matter further.
Also: See statement at NYYC.org
Richard Gladwell at Sail-World: "Surely this is the sort of deal that should have been placed on the table on 5th July 2007, instead of the one-sided Protocol signed with a club that had never staged a regatta and described itself as a 'legal adjustment'. Why now, after allowing the legal dispute to run its full race in the New York Supreme Court? Why now after Ernesto postponed the America's Cup indefinitely, just days before Justice Cahn delivered his decision?"
---
GGYC Proposes Possible 2009 America's Cup Format, Protocol Modifications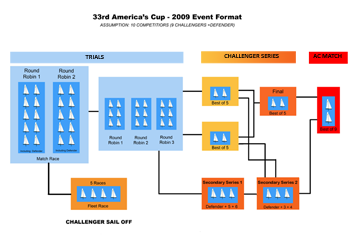 Proposed Event Format from GGYC (click to enlarge).
Golden Gate YC has made a proposal to Alinghi, the current holder of the America's Cup, exploring a way that the regatta can move forward and be held in 2009. GGYC also published an illustration of a proposed challenger selection format, differing only slightly from a format made public by Alinghi earlier this year.
---
New Sponsor for Shosholoza
Breil Milano, maker of watches and Jewelry, will sponsor the South African Team.
---
Dalton Demands Compensation from Alinghi
From the Sport Telegraph: "Team New Zealand chief Grant Dalton has sent a compensation demand to Alinghi owner Ernesto Bertarelli for the postponement of the America's Cup in 2009. The demand came just 24 hours before Justice Herman Cahn, of the New York Supreme Court, found against the Swiss businessman and in favour of Larry Ellison's Golden Gate Yacht Club in San Francisco."
Read Tim Jeffery's story at telegraph.co.uk
The above article also says that the defender gave Team New Zealand a "holiday" on the entrance fees and offered first chance at taking over BMW Oracle's Valencia Harbor base, along with mentioning that other teams also have "side deals" with the defender.
See Also: Grant Dalton confirmed the basis for his comments to Australia's Sail-World.com, and a few more details are provided at NZ Herald.
---
Troublé Concerned For the America's Cup's Future
Bruno Troublé, writing in Sailing Scuttlebutt #2486: "Since July, I remained silent, speechless after the America's Cup we all love so much, was hijacked. I am shocked to see the defender sailing WITH the challengers (no more of this great mystery at the start of the first final race) and at ACM naming the judges, umpires, and committees with no reference to ISAF. I am sad to see the America's Cup slowly but surely drifting to become just another sporting event with no class, no respect for tradition, and where money - lots of money - is the only word used by the organizers."
Read more at Sailing Scuttlebutt
---
Words from Peter Blake
From a letter Peter Blake wrote to Luna Rossa following their loss in the 2000 America's Cup:
"The America's Cup is an elusive trophy, and has rarely changed hands in the last 150 years. This is not a sport for the faint hearted. It is not a quest to take lightly or on a whim. It is a fight between sailors from yacht clubs all over the world that desperately want the same thing: get their hands on the Cup.
"The prestige for the winner has more value than any other sporting achievement. It's winning against the invincible and doing the impossible that attract sailors, dreamers and millionaires, but the victory is not easy, and most of the time it doesn't happen."

Match Race Win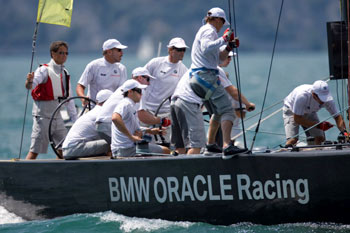 BMW Oracle's Larry Ellison wins the match race final at the RC44 Malcesine Slam Cup, beating others including Dean Barker and James Spithill.
Photo: ©2008 Gilles Martin-Raget / BMW Oracle Racing
---
Going Over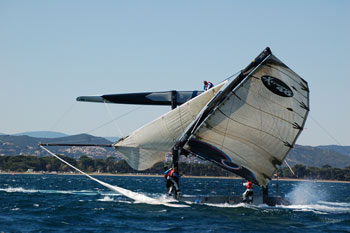 Team Origin heeling a bit further than planned in high winds at the iShares Cup, Hyères, France. See more at Team Origin Gallery
(click image to enlarge)
Photo: ©2008 George Johns / Alinghi
---
Med Cup Win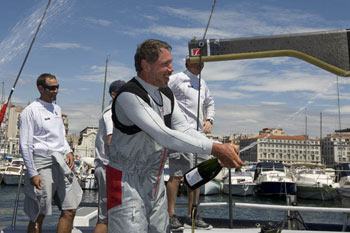 BMW Oracle's Larry Ellison and crew celebrating the team's win at the Audi Med Cup in Marseille.
Photo: ©2008 Gilles Martin-Raget / BMW Oracle Racing
---
iShares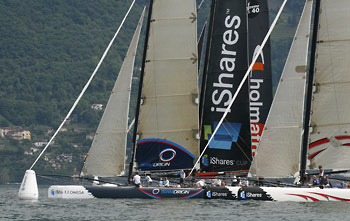 Team Origin leading Alinghi and others in light winds at the recent iShares Cup. Britain's America's Cup hopeful finished the regatta second overall behind winner JP Morgan Asset Management. Read More
Photo: ©2008 Leslie Ryan
---
Cats at Play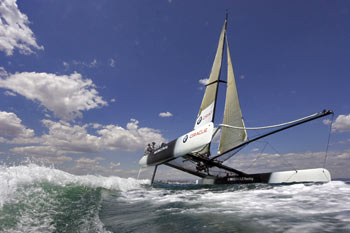 Flying an X40....
(Also see capsize story at left)
(click image to enlarge)
Photo: ©2008 Gilles Martin-Raget / BMW Oracle Racing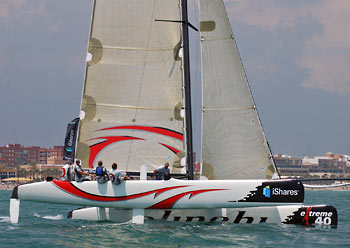 Alinghi's white cat sailing in iShare's Cup racing off of Valencia on May 18, Ed Baird skippering.
Photo: ©2008 Pierre Orphanidis Valencia Sailing
---
Team Origin Extreme 40 Multi-Hull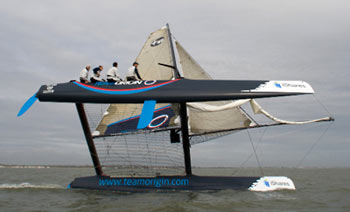 Photo: ©2008 Ian Roman / Team Origin
Britain's Team Origin, an intended challenger for an upcoming America's Cup, isn't sitting on their hands while the legal process winds its way through court. Though the group will reduce their staff to a smaller core beginning May 1, Team Origin is pursuing a large number of projects in a fairly broad spectrum of racing yachts. Team Origin members will field an Extreme 40 multi-hull team, the 100-foot maxi Speedboat, Swedish Match Cup, and send four of their sailors to the Olympics.
Read Team Origin newsletter (pdf)
---
Alinghi Sails 41' Cat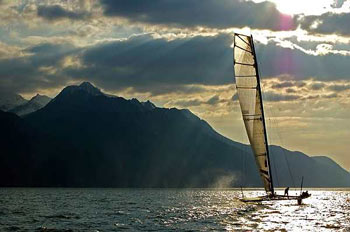 Alinghi Sails their 41' catamaran LeBlack on Lake Geneva. Photo: ©2008 George Johns/Alinghi
---
BMW Oracle Readies for Cagliari Cup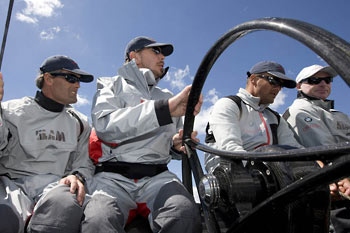 Cagliari Cup: Ben Ainslie, James Spithill, Cameron Appleton, Russell Coutts (above left), Larry Ellison (above at helm), and Vincenzo Onorato are among the participants in this RC44 Regatta.
Photo: ©2008 Gilles Martin-Raget / BMW Oracle Racing
---
BMW Oracle Training Off Lorient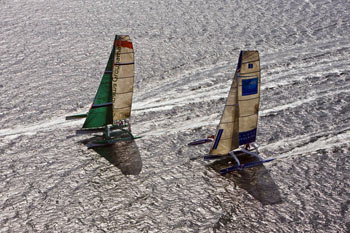 Photo: ©2008 Gilles Martin-Raget / BMW Oracle Racing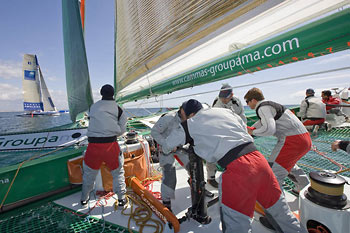 Photo: ©2008 Gilles Martin-Raget / BMW Oracle Racing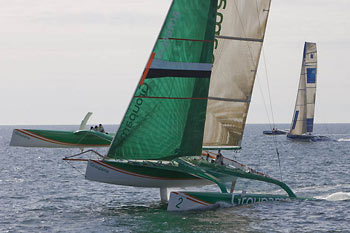 Photo: ©2008 Gilles Martin-Raget / BMW Oracle Racing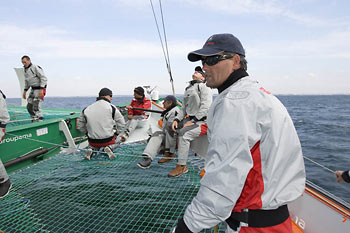 Photo: ©2008 Gilles Martin-Raget / BMW Oracle Racing
BMW Oracle crew training off of the French port of Lorient this week with the 60-ft trimaran Groupama 2.
---
Third America's Cup Found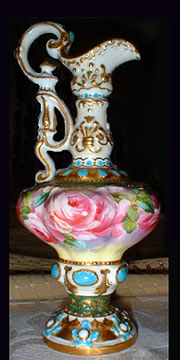 Photo: ©2008
(4/1/08) The New York YC announced Tuesday that the Third America's Cup had been discovered in an obscure vault members had not inspected for over a century. Minutes of NYYC's Cup Committee meetings from 1887 reveal that the Cup, pictured above, is the actual trophy donated to the Club by George Schuyler in 1887 to accompany the Third Deed of Gift. "It turns out that the club under the original Deed didn't have the authority to return the 1851 silver piece to Mr. Schuyler, the last of the living original syndicate members alive at the time," said Ron Grumanheer, NYYC archivist.
---
How to Save the America's Cup:
Vincenzo Onorato
The leader of Mascalzone Latino makes an impassioned plea for sportsmanship and dignity:
"I am profoundly saddened about what has happened to this event, but I am a sailor and my experience as a yachtsman is based above all on Farr 40, M30, RC 44 and now also on Melges 32.
"Many have lost that spirit of enthusiasm for sailing or perhaps they never had it, but it is from this that we must start afresh..."
Read the entire communication from Mascalzone Latino's Vincenzo Onorato
---
Kostecki and Spithill to BMW Oracle
Eleven Luna Rossa Sailors Signed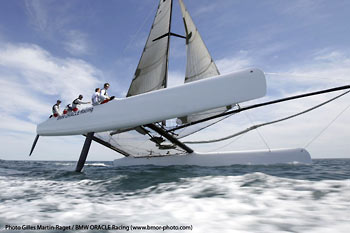 Lift-off: Coutts, Kostecki, and Spithill flying a hull Tuesday in Valencia.
Photo: ©2008 Gilles Martin-Raget / BMW Oracle Racing
See more photos at Gilles Martin-Raget
BMW Oracle has picked up some very talented crew members for its upcoming challenges, including helmsman James Spithill (Luna Rossa '07, One World '03, Young Australia '00), John Kostecki as tactician, and nearly a dozen others from Luna Rossa. BMW Oracle's roster now bears the names of Hamish Pepper, Michele Ivaldi, Carl Williams, and more. The team also announced that in addition to racing catamarans in the Extreme 40 European tour, they will compete this year in the mono-hull TP 52 Med Cup Series.
---
Recommended: Video Coverage of
America's Cup 32 Panel at NYYC
If you haven't seen this video of the panel discussion that took place at the New York YC, and you followed the last America's Cup, it should be of real interest. Several AC32 participants from all sides, along with America's Cup experts from past events, answer questions about the events that took place in Valencia. Discussion includes who learned what from challengers trialing against the defender, multiple perspectives on the dial-down penalty, and some confirmation of suspicions regarding BMW Oracle's configurations.
Watch the video at Jobson Sailing
(And, even better, it's thankfully devoid of discussion of "keel yachts", court motions, and lawsuits)
---
Taste of America's Cup Style Competition in a Bite-Size Package
Russell Coutts and the RC 44 complete successful first season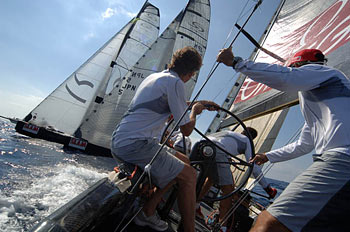 Photo: ©2007 Giovanni de Sandre
From Reuters: The New Zealander has created a new class, RC 44, designed to take amateurs up close and personal with the experience of competing in sailing's most prestigious event.
"It's a new concept that combines many of the sport's different elements into one format," Coutts told Reuters in a telephone interview. "It basically gives people the chance to experience America's Cup racing in a simpler format. And they seem to enjoy it."
Read more at Guardian Unlimited
---
Larry Ellison Reacts to Ernesto's Vision
Larry Ellison, leader, BMW Oracle Racing, and the Golden Gate Yacht Club (GGYC) have both replied to Alinghi President Ernesto Bertarelli's recent public statement which called for extreme changes to the America's Cup and threatened only a Deed of Gift based defense otherwise.
From Ellison's letter to Bertarelli: "We and the other challengers have agreed to race in the new 90-foot boats, and we have proposed a fair format endorsed by most of the other challengers. Unfortunately, Alinghi continues to be unwilling to negotiate with us on the details of a conventional America's Cup in Valencia in 2009. We've received a letter about your vision; we need a letter about your decision."
Larry Ellison's statement is available via the Valencia Sailing Website
From GGYC, December 11: The Golden Gate Yacht Club (GGYC) today made a renewed call for the America's Cup Defender to confirm whether it will agree to a mutual consent challenge so that planning for the next regatta can go ahead.
"We have heard Ernesto's vision, but what we really need is his decision," Larry Ellison said.
Read Statement at GGYC
(pdf format)
---
Golden Gate Wins in Court
Tuesday, November 27: CNEV is ruled not to be a valid challenger under the Deed of Gift. Golden Gate YC/BMW Oracle's challenge prevails. Hopes return for negotiation that might put the America's Cup back on track.
The text of the ruling is available online in pdf format at the Golden Gate YC web site. Also, read Cory E. Friedman's discussion at Scuttlebutt.
Alinghi has previously said that they will not appeal the ruling regardless of outcome, and the Valencia Sailing website is reporting that CNEV will announce that they have also decided not to appeal the case, which their latest statement seems to confirm.
GGYC/BMW Oracle Statement:
GGYC Welcomes Court Ruling
Valencia, Spain, 27 November 2007
The Golden Gate Yacht Club (GGYC) today welcomed a ruling by the New York State Supreme Court that its challenge for the 33rd America's Cup was valid.
"We are very pleased by the decision as it enables everyone to focus on getting the Cup back on track quickly," said Russell Coutts, CEO of the club's BMW Oracle Racing team.
He said GGYC wanted to see a conventional America's Cup regatta in Valencia and is planning to speak with Alinghi as soon as possible to organize a meeting seeking a mutual consent challenge.
GGYC's first preferences would be to:
1. Seek to agree rules with all competitors along the lines of the October 17 "nine points" compromise proposal and race a conventional America's Cup competition in Valencia in 2009.
2. If a Deed of Gift challenge went ahead, the club would seek to race under the AC90 monohull rule already published. If Alinghi did not agree to that, in multi-hulls.
3. In all scenarios, GGYC would seek by mutual consent to have a Challenger Selection Series with as many challengers as possible.
"We will immediately endeavor to meet with the other challengers to mutually agree a fair set of rules negotiated with all the other teams," Coutts said.
"We will be very happy if we can put the last few months behind us and get on with sailing."
SNG/Alinghi Statement:
Today's decision against the validity of the Club Náutico Español de Vela (CNEV), the Challenger of Record, is a disappointment to the Société Nautique de Geneve (SNG), AC Management (ACM), Alinghi and the seven entered Challengers affected by the outcome. There will now be a thorough review of the Judge's decision and an analysis of the various options offered by the Deed of Gift.
Ernesto Bertarelli, President of Alinghi, says: "We are disappointed that a technicality made the CNEV invalid and we are now looking forward to discussions with the Golden Gate Yacht Club to keep the America's Cup functioning."
CNEV Statement:
From the team: Desafío Español respects the decision of Justice Cahn but does not share his interpretation regarding the validity of Club Náutico Español de Vela.
Read the Press Release
More reactions:
Grant Dalton at ETNZ: Victory for common sense.
See NZ Herald
---
Big Moves: America's Cup Postponed
The date scheduled for Alinghi's next defense is postponed, yet more challengers are joining up. It doesn't quite make sense, but that's The America's Cup in a nutshell, lately. Read on:
Organizers decide to postpone the scheduled 2009 Defense of the America's Cup.
Read the ACM Press Release
More stories:
ACM Uncertain: New York Times
Alinghi Angered: Guardian Unlimited
Alinghi Saddened: SwissInfo
Unfortunate and Unnecessary: Reuters
The Postponement decision puts pressure on team funding. Team New Zealand's government funding is said to be secure enough to keep the team together, but without a date, securing commercial backing is likely impossible.
See the NZ Herald for more
Britain's Team Origin, meanwhile, is very unhappy with the efforts by the parties to find a fair and practical way to proceed, citing their greed and belligerence, and suggesting that if BMW Oracle were to prevail in court, Team Origin would end their challenge. "Unfortunately the tactics employed by the two have sometimes brought into question the willingness of both to want to find a solution at all," said the team's Mike Sanderson.
See the Tehran Times for more
Tom Ehman, BMW Oracle: "Apparently, they're hell-bent to face us in multi-hulls. But even if we win in court, it's our fervent hope that we will still be able to race a traditional America's Cup in the new AC-90 (mono-hull) in 2009."
Read More at Detroit Free Press
---
Lots More America's Cup News from the 3rd and 4th Quarter of 2007
Lawsuits, name calling, posturing, power struggles, alliances, teams in and out, it's all here: