More News:
Jun 23: New America's Cup-related race series may be announced soon, similar to Louis Vuitton Pacific Series, according to Richard Gladwell:
Sail-World
Jun 17: Alinghi reveals little about giant new race yacht for the America's Cup defense: "It's quite unusual and we are trying to keep it a secret as long as we can. We are hoping to stop our opponents from seeing it and reacting to it". July is still the expected date for a launch: Story at CNN.com plus link to short video
May 31: Layoffs at BMW Oracle Racing:
NZ Herald
May 29: Spanish America's Cup team Desafío Español is reported to be breaking up, according to a report at Agence France-Presse
May 27: Interview with veteran America's Cup photographer Carlo Borlenghi: Offshorerules.com
May 27: Cameron Appleton leads Cup skippers Paul Cayard, Dean Barker, Karol Jablonski, and Rod Davis at RC44 Austria Cup
May 19: Transcript of May 14 court hearing provides guide to what happened and road ahead. SNG's attorney says that they are committed to a northern hemisphere race:
Sail-World.com
May 18: Meteorologist Chris Bedford takes a look at what conditions might prevail for a February America's Cup defense in Valencia, if it came to be:
Scuttlebutt News
May 15: Britain's Team Origin scales back operations with 33rd Defense pending. "There is no point burning through cash and just hanging around."
-- Mike Sanderson:
Telegraph.co.uk
May 14: Alinghi promises new boat "three times as big and four times as fast" as their 2007 mono-hull, launching this July:
Agence Free Presse
May 11: Italian YC Circolo Vela Gargnano Notice of Challenge names 90'x90' yacht. Under terms of the Deed of Gift, Alinghi may not accept a second challenge:
CVG Notice of Challenge (pdf)
May 7: Russell Coutts says he's unlikely to skipper Golden Gate's giant multi-hull in the upcoming America's Cup match (1:47 video):
tvnz.co.nz
May 7: More letters exchanged between SNG and GGYC at GGYC website.
-- SNG asks for challenger's certificate, cites their race terms: Letter
-- And SNG asks to meet May 11: Letter
-- And GGYC says SNG letters are not accurate, will respond further after court hearing: letter
-- And Alinghi Press Release that GGYC refuses to meet for talks.
May 6: In a follow-on to discussions of Custom-House Registry and the Deed of Gift, Richard Gladwell at Sail-World has posted a selection of writings by George Schuyler illustrating his interpretation of fairness between challenger and defender when it comes to information exchange:
Sail-World.com
May 6: Alinghi asks GGYC to meet again before court date. Also, see new SNG legal documents:
Valencia Sailing
May 5: Make a gift to Mystic Seaport in memory of Olin Stephens II: Donation Site
May 5: Cat season: Décision 35: Alinghi launches training on Lake Geneva. See video at Alinghi site (offline). Extreme 40's on the River Seine: BMW Oracle joins iShares Cup launch at the Eiffel Tower in Paris.
May 4: For review in light of recent events, read for yourself Mercury Bay Boating Club's Custom-House Registry and Notice of Challenge from 1988:
CupInfo
May 3: John Burnham reports on the America's Cup Hall of Fame Induction Ceremony at boats.com: "Don't worry. The spirit of George Schuyler will prevail, and the Cup will be alright"
May 1: Photos of the America's Cup Hall of Fame Induction Ceremony:
Leighton O'Connor at
LeightonPhoto
May 1: Correction: Valencia Sailing initially reported that Alinghi filed a motion Friday to disqualify Golden Gate YC's legal counsel. The story has been updated, and according to Alinghi the motion is actually intended to disqualify GGYC:
See Valencia Sailing
April 30: America's Cup Hall of Fame Dinner coming Thursday at New York YC. John Longley (Australia II), filmmaker John Biddle, and sailmaker Thomas Ratsey are this year's inductees:
America's Cup Hall of Fame
April 30: Seeking profits, the world's leading auto racing series, Formula One, adopts spending caps. Is this restriction a model for the America's Cup? Or a cautionary tale best avoided?:
Motorsport.com
April 30: Alinghi announces D35 2-boat multi-hull program for 2009:
Press Release
April 23: SNG/Alinghi accepts GGYC's challenge for 33rd Cup: GGYC Statement (pdf) and Alinghi Statement
April 22: The price of poker: Challenger GGYC posts two new documents setting the tone for meeting with Defender SNG:
Statement (pdf) and Letter to SNG (pdf)
April 22: Showing their hand: Three days before meeting in Geneva, Golden Gate YC states how it would like to see the 33rd America's Cup play out: Sail World and Yachting World
April 17: Stalking mutual consent: SNG-GGYC meeting is on for April 23:
Golden Gate YC letter (pdf)
April 15: Alinghi and BMW Oracle to talk, discuss, seek mutual consent. The two possibly will meet next week :
Sail-World and
Yachting World (unavailable)
April 1: Alinghi schedules two 2009 pre-regattas. One July 10-19 and another set for October, both in Valencia:
Americascup.com (page offline)
March 9: New J-Class yacht based on the lines of Endeavour II is launched:
J-Class website
March 6: eBay watchers have a chance to bid on a piece of history, a starters flag from the last J-Class America's Cup match ever sailed:
eBay.co.uk (offline)
March 2: Dave Pedrick named Technical Director, Arbitration Panel members added:
Alinghi Site
Feb 27: Putting the pro in PRO, interview with Peter Reggio: "Well, you are always going to have people who find fault in what you do because it doesn't suit their finishing position":
OffshoreRules.com (offline)
Feb 12: NY State Court of Appeals Hearing Complete: Team Reactions and Cory E. Friedman
Feb 9: New J-Class yacht under construction, based on 1936 Tore Holm design Svea:
Classic Yacht
(page offline)
Feb 4: Jim Thorpe (Courageous 1977, 1974) passes away. Remembrances and tributes:
Scuttlebutt
Jan 30: New AC33 Class Rule (updated 2/5)
Jan 21: Alinghi signs ODLO as team clothing supplier:
Alinghi Team Site
Jan 15: Teams meet in Valencia, continue to work on 2009-2010 event schedule; new AC class rule due by end of January:
Alinghi Team Site
Also: Alinghi visits Royal Thames YC
Jan 10: America's Cup Hall of Fame inductees to be honored in rescheduled ceremonial dinner coming in April:
Sail-World.com
Jan 1: The Aussies -- they were the first to win the Cup, but where is the love affair now? Why is Australia no longer an America's Cup competitor? Australia II crew members point to professionalism, money:
Sydney Morning Herald
Dec 31: Letter from Vincenzo Onorato who takes offense at the treatment of his team, his city, and himself:
Mascalzone web site (page unavailable)
Dec 21: Amended protocol revealed:
Americascup.com (pdf)
Dec 13: Louis Vuitton Pacific Series could shrink to eight teams in the face of sponsorship pullback:
NZ Herald
Also at NZ Herald: the difficult sponsorship environment could reduce the number of America's Cup entrants, and BMW's continued sponsorship of Oracle is open to question after the death of a key supporter at the automobile manufacturer:
Read Story
Dec 13: So what is it the Swiss team is afraid of? "Well, I think they're afraid of Russell Coutts", says Ellison:
ABC News
Dec 13: Brad Butterworth, Alinghi Skipper, comments on the competitors meeting held this week. Video at:
zerogradinord
Dec 12: Names of 20 entries for the next America's Cup. Modified protocol rules to be revealed next week after challenge deadline Monday December 15:
Sail-World.com and Alinghi Team Site (unavailable)
Dec 10: At the WYRF: Paul Cayard: We need a better administration, with fair rules. I am convinced that we can modify the Protocol and yet perpetuate the spirit of the event. The mechanism set by Americas Cup Management is great; however this body should not belong to one of the competitors:
World Yacht Racing Forum Discussion Panel
Dec 9: AP story at IHT: "There's no chance we will agree to the set of rules that Alinghi currently has on the table. No way," Ellison told The Associated Press .... "This is what's really funny -- they want us to agree to this set of rules, but they won't tell us what the rules are, which is typical of Ernesto," Ellison said. "It's crazy":
International Herald Tribune
(article archived)
Dec 9: Zerogradinord is reporting that Luna Rossa has submitted its entry for the America's Cup:
Zerogradinord
Dec 9: Brad Butterworth (Alinghi), Alessandra Pandarese (Mascalzone), Paul Cayard (Desafío Español), Tom Ehman (BMW Oracle) and others to speak at World Yacht Racing Forum this week in Monaco.
Dec 5: New York Times interviews Larry Ellison: "And I put this all on Ernesto's doorstep because he created this ridiculous bogus yacht club and because they had these horribly one-sided rules where only Ernesto had a chance to win, and we sued as a response":
NYTimes.com
Also at NYTimes.com: Legal Duel could make Dogzilla a relic
Dec 5: BMW Oracle offers to drop court case if changes are agreed:
AP story at ESPN News
Dec 5: Golden Gate YC files Court of Appeals Reply Brief:
Read for yourself at GGYC
Dec 4: Revised America's Cup Protocol to be revealed after entry deadline closes:
BYM News
Dec 4: Seahorse Magazine interviews Tom Schnackenberg of Alinghi about the new new AC Class Rule: "We are planning to publish the rule in January allowing just enough time to study it, design and build a boat, and work it up to race in 2010 in the trials and Match. I am hoping we can produce the final draft before Christmas":
Alinghi web site
(article unavailable)

BMW Oracle Press Conference Outlines Challenger's Status
Representatives of America's Cup Challenger Golden Gate YC and BMW Oracle made presentations and spoke with the media Thursday, May 21, in Valencia. Tom Ehman and Russell Coutts outlined their understanding of the terms of the defense and the obligations and restrictions placed on both teams. Also mentioned was that construction on BMW Oracle's challenging yacht started this March, with the team making the distinction that the giant multi-hull that has been built and tested on the west coast of the US is BOR90, not the USA as named in their challenge.
GGYC has also proposed that the International Sailing Federation (ISAF) mediate further negotiations between the parties.
And, if GGYC were to win in 2010, they expect to defend in Valencia, looking at 2011 or 2012 depending on input from potential challengers.
Valencia Sailing's Pierre Orphanidis covered the press conference, including audio of the presentation:
See plenty more about the GGYC/BMW Oracle press conference at Valencia Sailing

---
America's Cup Deed of Gift Match:
What Will it do for Sailing?
From World Yacht Racing Forum Newsletter:
WYRF asks America's Cup veterans Sébastien Col (FRA, K-Challenge) and Paolo Cian (ITA, Shosholoza), multihull pro sailor Cam Lewis (USA), and yachting journalists Tim Jeffery (UK) and Loic Le Bras (FRA) what impact an America's Cup match in giant multi-hulls will have on yacht racing:
WYRF: Will the Deed of Gift (DoG) match be an exceptional moment in the history of yacht racing or a boring, one-sided regatta?
Tim Jeffery: Both! There will be a ghoulish fascination in marveling at two fabulous, fascinating, fast and frightening yachts trying to knock each other out. But unless something goes "twang!", a small speed advantage will be amplified into a big gap. And big gaps don't make exciting contests. The DoG courses (a long windward/leeward or a triangle) will discourage too much cornering.
Read more questions, answers, and opinions in an excerpt from the WYRF Newsletter

---
Judge Confirms February Defense
May 14: "As to Golden Gate's request for sanctions, I am directing SNG to hold the race as per the order of the Court of Appeals and Judge Cahn, in February, in the Northern Hemisphere as the order required."
-- Justice Kornreich
Additionally, SNG remains free to choose the actual location, naming it before August 8, six months before the first race. And Golden Gate YC needs to submit its yacht documentation for a racing vessel that complies with the Deed of Gift and GGYC's own Notice of Challenge dimensions.
Selected Stories at:
Bloomberg: Judge Orders America's Cup Race to be Held in February
Defender and Challenger ordered to select third-party mediator within week: Reuters story at Guardian.co.uk
"Justice Kornreich provided a list of mediators headed by former Justice Cahn. Although Justice Cahn was once voted Seahorse Magazine Sailor of the Month, the all lawyer, mostly former judge list does not include any obvious sailors." Read more on the mediation aspect and other analysis of Thursdays court hearing:
Cory E. Friedman at Scuttlebutt News
Alinghi attorney Barry Ostrager on the February date in Valencia: "If they want to expose their sailors to dangerous conditions, we'll deal with that. We've seen what kind of sportsmen they are": AP story at Silicon Valley Mercury News (offline)
Also from Barry Ostrager quoted by Reuters: It's definitely possible, but race would "not be in Valencia": Reuters story at ESPN.com
Statements After Court Hearing
Golden Gate YC Press Release:
Justice Shirley Werner Kornreich in the Supreme Court of the State of New York today upheld an earlier decision of the NY Court of Appeals to stage the America's Cup in February 2010.
"Today's hearing should end any further delay to the 33rd America's Cup and we can now look forward to some exciting racing in state-of-the-art boats early next year," Tom Ehman, GGYC spokesman, said following the hearing. On April 7, 2009, the New York State Court of Appeals unanimously ruled that GGYC is the rightful Challenger of Record and that the next match would be in ten months - early February 2010.
However, in an April 23 letter to GGYC, Société Nautique de Genéve (SNG) sought to unilaterally dictate that the match date be delayed to May 2010 in defiance of the Court, which triggered a motion to hold SNG in contempt of court.
Alinghi Press Release:
Société Nautique de Genève and Alinghi welcome Justice Shirley Kornreich's decision and confirm that it will be adhered to. The Defender of the 33rd America's Cup also welcomes the clarity that it brings.
We now know that the America's Cup Match can take place in the Northern Hemisphere regardless of the date, which Justice Kornreich said can be agreed through mediation. In the event of no agreement being reached, Alinghi, representing the SNG, will race BMW Oracle, representing the Golden Gate Yacht Club, in February 2010.
In another important decision, Justice Kornreich ordered the GGYC to stick to the specifications of their Notice of Challenge and instructed the Challenger of Record to provide the Custom-House Registry as soon as possible."

---
Allegations and Accusations Fly
Well, the gloves have come off in the Alinghi-BMW Oracle battle. Alinghi's' latest court filings makes issue of information gathering by BMW Oracle ("spying"). Arrests was made of a member of what Alinghi paints in court documents as a "recon cell".
Read story at Bloomberg
Golden Gate YC replies that Alinghi themselves had "spies" following BMW Oracle's giant new multi-hull operations on land and at sea in both San Diego and Anacortes. "Alinghi/SNG take the view that they can observe others but others cannot observer them." Read GGYC statement from Tom Ehman
Separately, GGYC calls Alinghi attempt to have GGYC disqualified is a frivolous act of retaliation.
Read AP story at ESPN.com
All of this is sparked by allegations made in court documents filed May 11 (links to pdf formats) in preparation for the May 14 hearing in the New York State Supreme Court:
Alinghi's filings at Alinghi Team Site:
Memorandum of Law,
In-House Counsel's Affidavit,
and Attorney's Affidavit with Exhibits
GGYC's Filings in Response from GGYC site:
Memorandum of Law,
Attorney's Affirmation with Exhibits,
and GGYC Public Statement

---
Brave, Big, and Famous
In the midst of the ongoing hijinks that bring little pleasure to America's Cup fans, it is encouraging to have a reminder of what make this sport fun, and to poke a little bit of fun at the rest of it, too. John Rousmaniere's great speech accomplished both these goals at the America's Cup Hall of Fame induction dinner held recently in the New York YC's most hallowed room. We hope you will enjoy it.
Read John Rousmaniere's speech
at Scuttlebutt News

---
Club Wants to Create Multi-Challenger Multi-Hull America's Cup 33
A letter from Italian yacht club Circolo Vela Gargnano (+39 Challenge, 2007) to both SNG and GGYC asks for the club to be permitted to challenge for the America's Cup, turning the 33rd Defense from a strict Deed of Gift one-on-one match into a multiple challenger event. The letter, which states that CVG will participate "provided enough time is given to challengers to prepare," asks that the defender and challenger open a challenger selection process and agree on dates, courses, trials and other conditions to make this possible.
Read the letter from CVG (pdf)
Golden Gate YC responded to CVG with the statement that "As will be aware, there is pending that with pending litigation concerning AC33. It would be inappropriate to comment on your letter until that litigation is resolved."

---
Mutual Contempt Returns, Alinghi Files to Disqualify Golden Gate
Contempt? D-Q? Prison? Fines? Forfeits?
Stop the Presses or Hold Your Horses?
Legal analyst Cory E. Friedman offers his learned (and sober) analysis: "There is a lot less here than meets the eye. Nobody will be held in contempt and nobody will be disqualified. The Court will likely rule that, barring agreement (and world peace), the date set in the Judgment (February 2010) really, really, really is the date and GGYC will have to provide a Custom House registry within some reasonable time period. BFD -- and I do not mean Black Flag Disqualification. Justice Cahn was presented with all of the arguments regarding the dates and the hemispheres and obviously concluded that his Order (now a Judgment) complied with the Deed. Figure it out."
Read the rest at Scuttlebutt News
Alinghi's motion regarding the challenger's Custom-House Registry will be heard in court on May 14 along with the Contempt of Court charges that Golden Gate YC filed against the defender in regard to honoring the race dates designated in the NY Supreme Court's recent decision.

---
Mutual Consent Folds:
Contempt of Court Charges Filed
April 28: Disagreement on dates for the next defense of the America's Cup prompts the Challenger, Golden Gate YC, to file contempt of court charges against the Defender, Société Nautique de Genève. Golden Gate cites the New York Court of Appeals April 7 final order, which on its face proscribes a date 10 months from the filing of the court's decision, meaning February 8, 2010. SNG has made public and private statements that they will defend in May, 2010.
Justice Shirley Kornreich has set a Supreme Court hearing in Manhattan, May 14 at 9:30 am, per court order issued today, and SNG's reply to the contempt filing is due by May 11.
Read GGYC Press Release (pdf) and see additional legal statements, affidavits, exhibits.
Update April 29: Alinghi disputes dates, calls for Deed of Gift to be respected: "BMW Oracle Racing (BOR) and its club Golden Gate (GGYC) have again chosen the New York law courts, instead of accepting an invitation to another meeting to discuss the terms of the 33rd America's Cup. They have ignored both our proposal to open the competition to other challengers and our invitation to agree to mutual consent terms."
Read Alinghi Statement
See also discussion from Cory E. Friedman at Scuttlebutt News: "Of course the monetary penalty for a contempt is meaningless with these folks, so the real object is to get an order reinforcing the February 2010 dates. GGYC hints that if SNG keeps it up, GGYC will ask for an order forfeiting the Cup."
And: Richard Gladwell at Sail-World.com: "While the papers raise the question of Forfeiture of the America's Cup, the reality is that SNG are a single, long step, maybe two, away from this situation."

---
February 8, 2010:
Date for Next Cup?
February 8, 10, and 12, 2010
According to a report at Valencia Sailing, in the wake of the final decision by the Court of Appeals these should be the effective dates of the next defense under the Deed of Gift, based on the Final Order and Judgement (pdf) having been entered on April 7, 2009.
Not clear yet is the flexibility the defender might or might not have in choosing the location since this time frame apparently conflicts with the permitted dates for a defense in the northern hemisphere, but even still the two parties can make a mutual consent agreement to vary the dates.
The court has not explicitly resolved this issue. One interpretation of the now re-instated original order, put forth by Valencia Sailing and by Richard Gladwell at Sail-World, is that the match in this instance can be held in a northern hemisphere venue on these dates despite the Deed. Another view is that though Alinghi can choose any location they want, they must still respect the Deed's venue and date requirements along with the Order's timeline. It is hard not to note that the Deed itself was amended by court order in 1985 to set those restrictions in the first place.
Also See: Richard Gladwell at Sail-World
---
Open Letter from the 5 Previous America's Cup YC's to the Current Defender and Challenger
Previous trustees seek multi-challenger regatta
We write to encourage you to negotiate together for a fair and equitable multi-challenger competition for the thirty-third defense of the America's Cup. We believe that such an event, as opposed to a "Deed of Gift" defense, is in the greater interest of the sport of sailing in general and of members of the broad America's Cup community, who have invested their time and resources to make the event a true international competition of the highest order. We hope that the current challenger and defender will work together to find a way through their differences to bring about such an event for the good of yachting and the America's Cup.
The Lord Iliffe, Commodore Royal Yacht Squadron
David K. Elwell Jr., Commodore New York Yacht Club
Mark Fitzhardinge, Commodore Royal Perth Yacht Club
R. Andrew La Dow, Commodore San Diego Yacht Club
Scott Colebrook, Commodore Royal New Zealand Yacht Squadron.
Stuart Alexander story at The Independent
---
Decision in NY Court of Appeals:
"Having" Means "Having"
Golden Gate Yacht Club re-instated
as Challenger of Record
Quoting from the Court's 6-0 Decision:
"Today, we are called upon to reexamine the Deed of Gift to determine the eligibility criteria for a Challenger of Record -- specifically whether the phrase "having for its annual regatta" requires a yacht club to hold an annual regatta on the sea prior to issuing its challenge (Deed of Gift, October 24, 1887, ¶ 4). We conclude that it does."
"Since CNEV has failed to show that at the time it submitted its Notice of Challenge it was a "[c]lub fulfilling all the conditions required by" the Deed of Gift, it does not qualify as the Challenger of Record for the 33rd America's Cup competition and Supreme Court was correct in declaring GGYC to be the valid Challenger of Record."
"It has been posited that the right to act as trustee of the America's Cup should be decided on the water and not in a courtroom. We wholeheartedly agree. It falls now to SNG and GGYC to work together to maintain this noble sailing tradition as "a perpetual Challenge Cup for friendly competition between foreign countries" (Deed of Gift, October 24, 1887, ¶ 3). Accordingly, the order of the Appellate Division should be reversed, with costs, and the orders of Supreme Court reinstated."
Read the complete decision (pdf)
The Court of Appeals is New York State's highest venue, and no further appeals are possible. In theory the lower court orders which are re-instated in this ruling lay out the basis for the when and where portions of the equation, the Challenger's Notice of Challenge starts a 10-month clock for the defense while the Defender decides the location of the races, though the selected location must conform with the seasonal requirements of the Deed as to northern or southern hemisphere. The specifics of when the match must be sailed by are somewhat murkier. A 10-month clock appears to have been running previously, though the participants may differ in when it began and when, if ever, it might have tolled (stopped).
---
Looking Ahead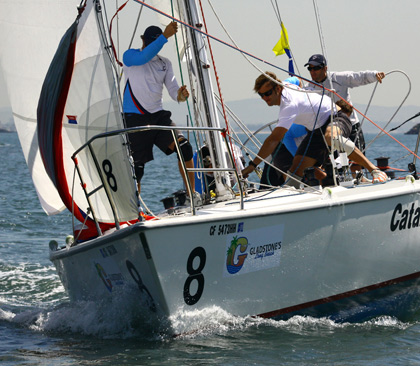 Team Origin skipper Ben Ainslie at the Congressional Cup.
Photo:©2009 Rich Roberts
Ben Ainslie, Terry Hutchinson, Rod Davis and others were in Long Beach last weekend for some hard fought match racing in the Congressional Cup. How are top America's Cup sailors (and some who aspire to be) dealing professionally and personally with the uncertainty and conflict surrounding the Auld Mug?
Read Diane Swintal's report at CupInfo

---
Louis Vuitton Pacific Cup Final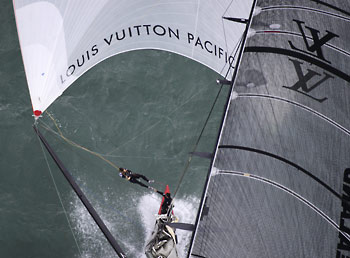 17 knots wasn't fast enough Friday.
click image to enlarge and read race report
Photo:©2009 Bob Grieser/OutsideImages.co.nz
Friday Outlook:
Emirates Team New Zealand vs. Alinghi
Best of 7 series weather permitting: RepCast
Hide Tide: 11:08am. Listen at: BSport
Race 1: Even start. ETNZ behind by 12 seconds at the top mark. Spinnaker halyard gets away, sets them back further. ETNZ trails Alinghi at mark 2, gap of 18 seconds. Closes slightly, but no passing. 26 seconds at the second windward. Alinghi wins Race 1. Finish delta 0:22. Read Race Report
Race 2: ETNA will enter left, Alinghi right. Start: was planned for 12:35pm, delayed waiting for wind. Wind 16-20 kts, gusting into the mid-20s or higher. Racing cancelled for the day
---
Challenger Final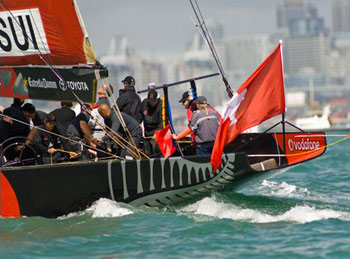 Alinghi flies a protest flag after winning Race 2 of the Challenger Final, Thursday, by 1 minute 7 seconds.
click image to enlarge and read race report
Photo:©2009 Paul Todd/OutsideImages.co.nz
Reports are that Alinghi believes the NZL boats are not matched in speed well enough for a fair series. The LVPS Final as arranged does not swap boats between teams for each race. A protest hearing will be held beginning at 1:30pm today. Official statistics indicate the NZL boats were 5-5 in the Rounds Robin and 3-2 in favor of NZL-92 in the challenger brackets, or 8-7 overall.
Update 3:00 pm: The protest was set aside until after the draw. Alinghi won the draw and chose NZL-92. ETNZ chose to enter on starboard (yellow). See Race Report for more, including audio.
Thursday Outlook:
Challenger Finals, Best of 3
BMW Oracle vs. Alinghi
Alinghi leads series (1-0).
LVPS Final Friday.
Start Time: 10:05am, moving up the scheduled 11:00 am start time. See today's updated RepCast. We'll see if the Repcast holds -- breeze is steady this morning, but the prediction is for 1m wind-driven waves when the tide turns around 10am, and higher winds in the afternoon as a front moves through. It's a race against weather, organizers hoping to complete the Challenger Finals before that breeze comes in.
Listen at: BSport Race Ticker: BMW Oracle
Results: Alinghi wins the start, leads, delta 28 seconds at the first mark. 38 seconds at the gate mark. And extending. 240m lead. Delta 58 seconds at the second windward mark, last leg and not much chance to do anything about it. Alinghi appears to be flying a protest flag, still on the last leg and ahead by over 300m, for reasons that escape observers. Alinghi takes the gun, wins the Challenger Final, will face ETNZ in the Louis Vuitton Pacific Series Final.
Read Challenger Final Race 2 Report
Details of the protest will be heard ashore. Radio reports say that the protest is in relation to the format, and the assignment of boats for the LVPS Final
---
Challenger Quarters, Semis, and Race 1 of the Final
A Day of Amazing Finishes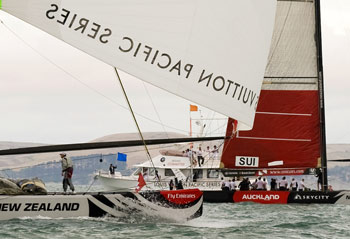 BMWO and Alinghi crossing the finish line, in Race 1 of the Challenger Final, a best of three series.
click image for Race Report
Photo:©2009 Paul Todd/OutsideImages.co.nz
Quarter-Final and Semi-Final Races Wednesday:
Start: races underway. Weather Outlook: Updated RepCast. Tides: Low tide at 3:37 pm.
Listen at: BSport Race Ticker: BMW Oracle

Quarter-Final Pairings: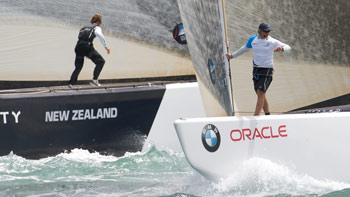 Damiani Italia eliminated Team Origin.
click image for quarter-final race report
Photo:©2009 Ian Roman/Team Origin
Team Origin vs. Damiani Italia
Results: Damiani wins.
Upstart Italians upset upstart the British.
Luna Rossa vs. BMW Oracle
Results: Penalty for BMW Oracle, it looked all over, no space to do a turn with Luna Rossa closing, but Russell Coutts wins it! Another amazing finish.
Read Quarter-Finals Race Report
Semi-Final Pairing: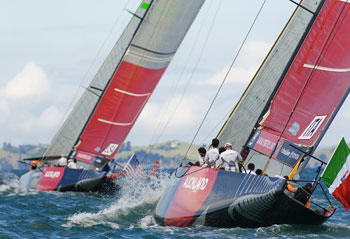 Damiani Italia and BMW Oracle in the Semi-Final.
click image to enlarge and see SF Race Report
Photo:©2009 Gilles Martin-Raget/BMW Oracle
Damiani Italia vs. BMW Oracle in the Semi-Final.
Results: BMW Oracle wins.
Read Semi-Final Race Report
Challenge Final:
Alinghi vs. BMW Oracle
Note: The format for the Challenger Final has been changed to first team to win 2 races, not 3.
Results: Another crazy finish, BMW Oracle appears to have several boat lengths lead, but there's a relocated finish line, Alinghi by 1 second.

---
Challenger Sail-Offs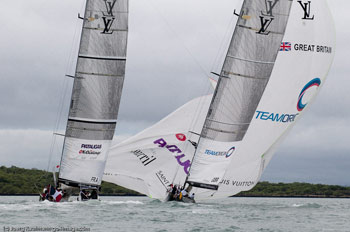 K-Challenge trailing Team Origin.
click image for Sail-off race report
Photo:©2009 Juerg Kaufmann
Results:
Race 1: Luna Rossa early on penalized for tacking too close. Incredibly tight finish, LR gets lead, completes turn on the line with China Team flying to the finish. Luna Rossa grabs it by inches! Finish delta :01 second.
Race 2: Team Origin beats K-Challenge, delta 1:52.
4:10 pm update: Quarter-Final races abandoned for the Day.
Photos, race details, Press Releases:
Read Sail-Off Race Report
Outlook:
Four Races scheduled Tuesday, possibly the Semi-Final will be sailed too: Sail-off start 11:00 am, followed by Quarter-Finals and Semi-Final in the afternoon.
Weather: NW 12-14 knots, becoming N. Rain possible. See RepCast for near-term forecast. Tide: Race will start near maximum ebb flow, low tide at 2:45 pm. Follow on radio at BSport
Sail-Off Pairings (seed)

Blue
entry

Yellow

Team Origin (4)

vs.
K-Challenge (7)
Winner races Damiani Italia (3) in QF


Luna Rossa (5)

vs.
China Team (6)
Winner races BMW Oracle (2) in QF
QF 1: A re-run of yesterday's Origin-Damiani match, which Damiani won. Damiani knows they can do it but Team Origin wants revenge for a starting mistake. A higher seed, Italia got to choose a starboard entry, so start with the upper hand.
QF 2: BMW Oracle are into their stride, but Luna Rossa finally came good when it mattered in their last gasp win over China Team. It showed they could execute under pressure, which is something they will certainly need to do against Russell Coutts and his team. Another cracking match in prospect.
See Louis Vuitton Pacific Series Challenger Bracket
---
Day 5 Round Robin 2
Last Day of RR2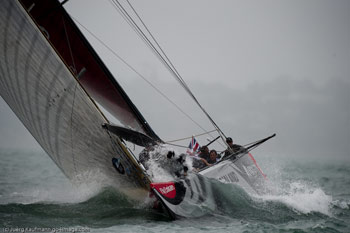 Team Origin lost to Damiani Italia on Day 5.
click image to enlarge and read race report
Photo:©2009 Juerg Kaufmann
Monday Results:
Sail-off: Greek Challenge beats Shosholoza. Greece finishes 8th, South Africa 9th.
RR2:
Alinghi beats Luna Rossa.
Damiani Italia beats Team Origin. Origin protested whether they were OCS, but for technical reasons the case was not heard.
Race 4 underway at 3:55. Follow on radio at BSport and BMWO Race ticker (offline). Choppy and windy conditions. After the start ETNZ on the right, BMW Oracle on the left, narrow lead to BMW Oracle. Wind fills and lifts from the left and Oracle gains. 22 seconds for BMW at the first windward. Bear away spinnaker sets, right shift down the run aids BMW Oracle. BMW takes the right gate, ETNZ trails by several lengths. ETNZ onto starboard and BMW covers. They trade several tacks, BMW protecting the left. Starboard layline comes and Oracle controls. Delta 32 seconds at the second windward mark. Little opportunity to attack here, 180m gap. 27 seconds finish delta to BMW Oracle.
See Day 5 Race Report with more photos
Monday Outlook:
Start time: 11:00 am
Weather: NNE 8-12 in the morning, becoming 12-16 with gusts to 18 in the afternoon. Warm and humid, chance of rain. See updated detailed RepCast through Friday. Ebb tide at scheduled start, with low tide 2:00 pm.
Listen to race audio: BSport
In addition to the final RR2 races scheduled, Race 2 today will be Greek Challenge and Shosholoza, moving up their 8th-9th place sail-off originally scheduled for later in the week.
Day 5 Round Robin 2 Pairings:

Blue
entry

Yellow

Luna Rossa

vs.
Alinghi

Team Origin

vs.
Damiani Italia

BMW Oracle

vs.
ETNZ

All of the above are Gold Fleet Races. Silver Fleet completed their Round Robin 2 on Saturday.
The number one Challenger seed was settled in yesterday's Alinghi-BMW Oracle match, today BMW Oracle meets ETNZ, which does not affect point totals, and Alinghi would own the tie-breaker in any case.
What's up for grabs is a chance for Origin to get ahead of Damiani with a win in Race 2, and a chance for Luna Rossa to get ahead of Origin if the British lose today and LR wins. Luna Rossa currently has zero points and Origin one-half point. Of course, another hard contact penalty could shuffle the deck even more.
---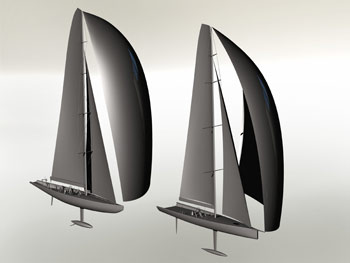 ACC Version 5, left; new AC33, right.
Image:©2009 Alinghi
Update Feb 5: At a presentation Friday in Auckland, Tom Schnackenberg detailed the genesis of the new Class. Listen to the audio (over 1 hour) at Alinghi web site (offline)
Alinghi has made public the proposed new racing class for the next America's cup, should they prevail in court. Slightly longer and notably lighter than the current ACC's, but with more sail area (spinnaker size is unlimited), the boats of the AC33 Rule promise to be higher performance but similar in cost.
Download the complete Rule (pdf) (offline)

---
LVPS Starts Friday
Ten Louis Vuitton Pacific Series teams have been practicing since last Saturday for this new regatta. Referred to by ETNZ's Grant Dalton as "The Friendly Games", anticipation among yacht racing fans for some of the marquee match-ups is high. And possibly just as much appreciation for the welcome nature of the Pacific event can be found among the sailors themselves.
"There was a moment on the first day of sailing," says Team New Zealand's Managing Director Grant Dalton. "We were sailing against Russell and it was just cool to be out on the water again with these boats and things and thinking why, why did it need to get to this."
---
Brief Encounters: Acceptance and Rejection
The New York Court of Appeals has accepted motions for the filing of amicus curiae from SNG/CNEV and from Bill Koch. See recent news items below for more information on the contents of these various documents. The Court also issued an order denying standing for an amicus curiae filing submitted by Team French Spirit, who included Royal Thames YC in their document. The Court does not explicitly list the reasons for so denying the filing, but missing the time limits appears to be a factor. Acceptance or rejection of these briefs is unlikely to have any relation to the merits of the arguments they contain, and in any event the role that the briefs would play in any decision is uncertain. The suggestion is well taken that, given the timing and nature of the arguments in the recent flood of amici briefs, managing appearances in the court of public opinion was as much a consideration for both sides as the finer legal points amici might normally address.
Read (a little) more at Valencia Sailing

---
Amici Curious
Cory E. Friedman, legal analyst at Scuttlebutt News, reviews the amici curiae briefs that have sprouted with abandon the last couple of weeks, throws a few observations into the mix:
"George Schuyler created an event that fit his conception of a sailing match, sponsored by real sportsmen and sailed in real yachts. He never thought it was for everyone. Everyone has lost sight of the singularity of George Schuyler's event, as governed by the Deed. What this dispute is really about is that no one seems to want George Schuyler's event and, in varying degrees, want to hijack the trophy for something "better" -- meaning more commercial. This litigation is not about George Schuyler's America's Cup, as set forth in the Deed. It is about a different event. If they do not want to sail George Schuyler's event, there is nothing wrong with that. They should move on, sail whatever they want, call it whatever they want and retire the Cup.
"Justice Cahn reached mandatory retirement at year end and now sits as a Judicial Hearing Officer (JHO), which means he only can hear cases if all parties consent. If anyone does not consent, it goes to another Justice, who gets to learn all about the America's Cup from scratch. Something to look forward to. Of course, the way the parties are handling this case, Justice Cahn may not be the last Justice who reaches retirement age while this dispute is pending."
Read the rest at Scuttlebutt News

---
Yet More Amici Curiae Briefs
Jan 7: Team Origin and Royal Thames YC, the club Origin represents, have filed a late amici curiae brief (the apparent deadline was several days ago). Origin argues that, by virtue of not being a submitted challenger under the protocol, Golden Gate YC has no basis to judge whether the protocol or the management of the regatta are fair, and suggests certain historically accepted candidates for challenger were not valid under the Deed, either, when they submitted their notices of entry.
Read the documents at zerogradinord

---
Friendship
Jan 5: The America's Cup, conceived in the 1850s as a contest among amici curiae briefs, correction, among nations, is moving into high season with yet more "Friend(s) of the Court" briefs being filed by former winners, recent competitors, and outright newcomers.
2007 entry K-Challenge, Deutscher Challenger Yacht Club, and the formative teams Dabliu Sail Project, Italia, and Russian Challenge have signed onto (offline) the earlier submitted brief supporting Société Nautique de Genève (SNG) and Alinghi. The new Team French Spirit and 2007 entry Shosholoza have filed an additional amici curiae brief (offline) attacking the New York YC.
Bill Koch, the man behind America³, 1992's winning Defender for the San Diego YC, has filed his own amicus brief against SNG's acceptance of CNEV under the guise of a Deed-valid yacht club, criticizing Alinghi's rules structure as unfair.

---
San Diego Yacht Club Files Amicus Brief
The San Diego YC, Trustee of the America's Cup from 1987-1995 and three-time Defender, has filed an amicus curiae ("friend of the court") brief, submitted the same day in New York as the NYYC's amicus brief, noted below.
Excerpt from SDYC statement: Given San Diego Yacht Club's prior involvement in the America's Cup as a former Trustee and defender of the America's Cup races held off of the coast of San Diego during 1992 and 1995, the San Diego Yacht Club Board of Director's and the San Diego Yacht Club Sailing Foundation felt compelled to provide written evidence to the court in support of Golden Gate Yacht Club's position relative to the definition of an "organized" yacht club as described in the America's Cup Deed of Gift and, therefore, the necessary qualifications required for a yacht club to be accepted as a Challenger of Record.
Read the SDYC Statement (pdf)
Read the SDYC Amicus Brief (pdf)

---
New York Yacht Club Submits Amicus Brief Against Alinghi and CNEV
December 31: The New York Yacht Club has submitted a friend of the court brief criticizing Alinghi's Challenger of Record CNEV as an invalid entity that subverts the terms of the Deed of Gift under which the owners of the yacht America granted the historic trophy as a challenge cup.
The NYYC's brief also points out that the "plain and natural reading" of the deed's language makes sense only if the requirements of the Deed are prerequisites to being a valid challenging yacht club. Further, they state that the appellate court was unfairly selective in looking to extrinsic evidence in their ruling overturning the original decision, and that the NYYC's position has been misrepresented by the defendant in court papers.
From the NYYC Amicus Curiae Brief: Mr. Schuyler's intent in amending the Deed of Gift is clear from his experience at the time: The Club does indeed remember Mr. Schuyler's support for the original Deed of Gift, and for the amendments that he later determined were necessary to ensure that the America's Cup would remain a "spirited contest for the Championship." The requirements that a Challenger be an organized yacht club having an annual regatta on the sea or an arm of the sea were chief among the criteria that Mr. Schuyler established in pursuit of that goal. Yet these are the very measures that SNG seeks to undermine. The terms of the protocol are the antithesis of everything that Mr. Schuyler envisioned and against which he intended to guard by requiring that any yacht club challenging for the America's Cup be an "organized Yacht Club" having an "annual regatta."
Read the complete document at NYYC
(pdf format, 21 pages)
Also of note: The NYYC reveals in their brief that they were part of an attempt in the past year or so to broker an agreement between the parties that would have provided a future basis for conducting the America's Cup that would respect the traditions, history, and unique sporting character of yachting's great regatta and be in line with the Deed of Gift while at the same providing for the commercial exploitation that is sometimes sought by defending yacht club. As with other attempts to find peace in this conflict, these efforts did not work out. See page 5 of the brief.

---
Eighteen Entries for Challenger
As of Thursday, the officially accepted entries received by Société Nautique de Genève for the next America's Cup, should Alinghi prevail in court, are (listed in order of filing submission):
Desafío Español, Club Nautico Español de Vela (ESP)
Shosholoza, Royal Cape YC (RSA)
Team Origin, Royal Thames YC (GBR)
Team New Zealand, Royal New Zealand YS (NZL)
DCYC, Deutscher Challenger YC (GER)
Green Comm Challenge, Circolo di Vela Gargano (ITA)
Ayre Challenge, Real Club Náutico de Dénia (ESP)
Victory Challenge, Gamla Stans YS (SWE)
Argo Challenge, Club Nautico Gaeta (ITA)
Mascalzone Latino, Reale YC Canottieri Savoia (ITA)
Team French Spirit, YC de St Tropez (FRA)
Luna Rossa, YC Punta Ala (ITA)
Russia Team-Fiona, YC Seven Feet (RUS)
Joe Fly, Societete Canottieri Lecco (ITA)
K-Challenge, Cercle de la Voile de Paris (FRA)
Greek Challenge, NOK Poseidon - Nautical Club of Kalamata (GRC)
Dabliu Sail Project (ITA)
China Team, Qingdao International YC (CHN)
Yacht clubs/teams that have not competed in an America's Cup challenger selection regatta before are noted above in italics.
Alinghi notes that three of the 18 teams listed still need to complete documentation, and have been granted extensions to finish the process. Three teams in addition to those listed above submitted Notices of Entry but have not submitted further information. Read Alinghi Press Release
The identity of the teams that submitted entries but that are not listed has not been disclosed. The previously announced Team Carbon Challenge has withdrawn. At least one new expected Italian team that had been previously mentioned is not on the list, along with an entry from the online community Sailing Anarchy which was publicly announced earlier this week. BMW Oracle, which is pursuing legal action, declined to dismiss their case in order to enter.
New versus Old Teams:

Status

# of
Entries

Existing:
9
New:
9

Breakdown by Country:

Country

# of
Entries
Italy:
6
Spain:
2
France:
2
China:
1
Germany:
1
Great Britain:
1
Greece:
1
New Zealand:
1
Russia:
1
South Africa:
1
Sweden:
1
Countries in italics would represent the first candidates to sail for that country in a challenger selection regatta if they actually make it to the starting line. Russia, for example, has had two previous entries. One, for the 2000 America's Cup went as far as receiving an ACC sail number (RUS-62, if you are keeping score), but the syndicate failed and the boat never arrived in Auckland for the Louis Vuitton Cup. The second was Russian Ocean YC of St. Petersburg's promised 1992 entry, Red Star Syndicate, also never competed, though their yacht Vek Russia (RUS-22) (see photo) found its way to Vancouver as a day charter (read more).
This set of entries, if SNG/Alinghi prevail in court and this version of the next America's Cup goes forward, would mark the first time an American team has not been involved in the 157 year history of the America's Cup.
---
Alinghi Re-launches AC33
Oct 23: Entries for the next America's Cup regatta are now being accepted until December 15. 2010 is the timeframe for the actual defense and all teams will be limited to a single new boat, in a new class to be determined. The Defender will race in the Challenger Selection Series, and even if Alinghi loses in court, they intend to hold sailing events in Valencia in 2009 and 2010.
"We feel that there is an opportunity to move ahead with the competition," says Brad Butterworth. "Teams, sailors and the whole America's Cup community are keen to return to sailing. We want to get this competition going and get the entered challengers to participate in a constructive process. Both GGYC and RNZYS are invited to abandon their respective legal proceedings and join the competition."
Read more at Alinghi.com (offline)
Updated Oct 24: Alinghi plans "America's Cup Summit" meetings in Geneva to discuss AC33 with challengers.
Stuart Alexander in the Independent


Emirates Team New Zealand Wins the Louis Vuitton Pacific Cup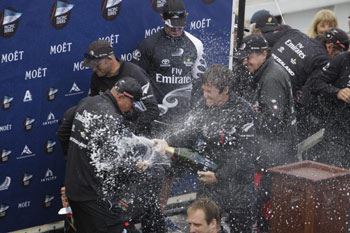 click images to enlarge and read race reports/press releases
Photo:©2009 Bob Grieser/OutsideImages.co.nz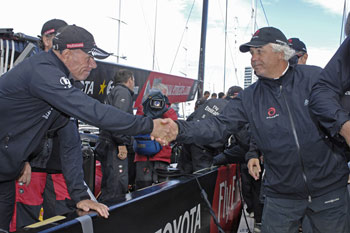 click images to enlarge and read race reports/press releases
Photo:©2009 Chris Cameron/ETNZ
CupInfo:
Boats, Entries, Skippers, Results, and more:
Louis Vuitton Pacific Series Main Page
Read Final Race Reports:
Race Highlights, Press Release, and Photos
Results:
Race 2: ETNZ leading at the downwind gate. ETNZ by 33 seconds at the third mark, 175m. Emirates TNZ takes Race 2.
Race 3: Penalty on Alinghi at the start, 30 seconds ETNZ at the top mark. ETNZ leading but Alinghi gaining. Not close enough, ETNZ wins by 34 seconds.
Race 4: Underway. ETNZ leads at the gate mark by 15 sec, 75m, but Alinghi closed up on leg 2. ETNZ wins Race 4, and wins the LVPS 3-1.
| | | | | | | |
| --- | --- | --- | --- | --- | --- | --- |
| Pts | Team | 1 | 2 | 3 | 4 | 5 |
| 3 | Emirates TNZ winner | - | 1 | 1 | 1 | |
| 1 | Alinghi | 1 | - | - | - | |
Saturday Outlook:
Emirates Team New Zealand vs. Alinghi
Weather outlook: RepCast Hide Tide 11:54.
Listen at: BSport
Weather and time limitations will reduce the maximum number of races to 5, and possibly fewer.
Results:
Standings, Head-to-Head results:
Challenger Brackets
Rounds Robin 1 and 2
Race Reports:
LVPS Final Day 1: Race 1
Day 2: Race 2-3-4
Challenger Final: Race 1 Race 2
Semi-Final Quarter-Finals Sail-Off
RR2: Day 5 Day 4 Day 3 Day 2 Day 1
RR2: Daily Outlook and Results
Round Robin 1: Daily Outlook and Results
Stories at CupInfo:
Comparing the Best Boats
Ed Baird and Peter Holmberg are the only helmsmen in the world who have raced the current yachts from three of the top America's Cup teams. Holmberg and Baird have now had their hands on all three pairs of boats. What did they learn? What can they reveal? Read More
ETNZ's Kevin Hall: Dinghies and Cup Yachts
I almost quit at my very first event in Holland -- it was really windy and it turned out I picked my stiffest mast, had my centerboard all the way forward and I had a light sail -- I didn't have a clue that that was about as hard as it gets. Read More
Talking with Peter Isler
"There's a difference in being a good match race starter and being able to do it in an AC boat because they're so big." Peter Isler on Team Origin
Teams, Gallery, Stories, RR1 and 2, More:
Louis Vuitton Pacific Series Page at CupInfo
---
From Mothballs to Match Racing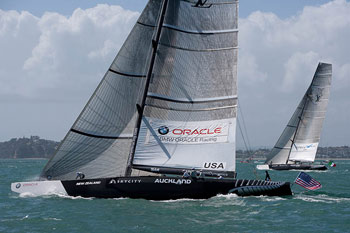 Photo:©2009 Gilles Martin-Raget/BMW Oracle
Providing two race-ready Cup yachts on short notice on the far side of the world wasn't smooth sailing, so to speak. "It was a bit of an epic," admits Grant Davidson, of BMW Oracle. Mothballed yachts had to be shipped round the globe, set up to be nearly identical, and now need to be maintained that way day after day of close quarters match racing under ten different teams.
---
Louis Vuitton Pacific Series
Round Robin 2

Click on images to see daily results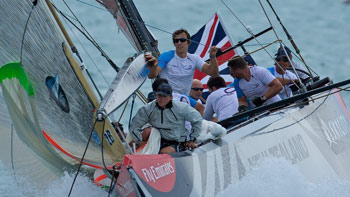 Day 5: Team Origin chasing Damiani Italia.
Photo:©2009 Ian Roman/Team Origin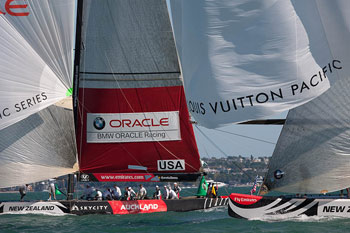 Day 4: Alinghi beat BMW Oracle to advance to the directly to the Challenger Final. All other team advance through a selection bracket.
Photo:©2009 Gilles Martin-Raget/BMW Oracle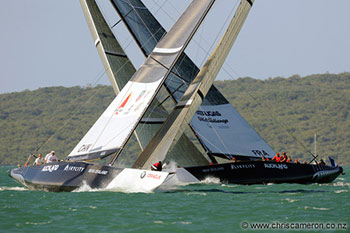 Day 3: China Team, unbeaten in RR2, leading K-Challenge on Day 3. Photo:©2009 Chris Cameron/ETNZ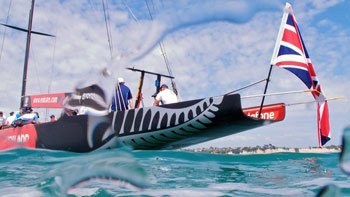 Day 1: Team Origin waiting for wind. When it came, they lost a close race to Alinghi, Origin's first loss of the LVPS.
Photo:©2009 Ian Roman/Team Origin
---
Round Robin 1 Results:
Round Robin 1 head-to-head results and standings:
See CupInfo's RR1 Standings page
RR1 Day-by-Day Pairings, Outlook, and Results:
Day 1 | Day 2 | Day 3 | Day 4 | Day 5

Or: click on images to see daily results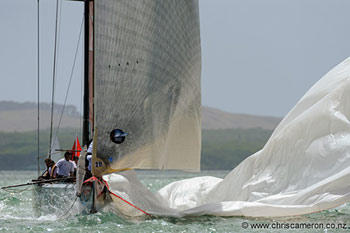 Day 5: Shosholoza left Alinghi on the horizon on Day 5, more than a kilometer behind in a match where things did not go right for the Swiss.
Photo:©2009 Chris Cameron/ETNZ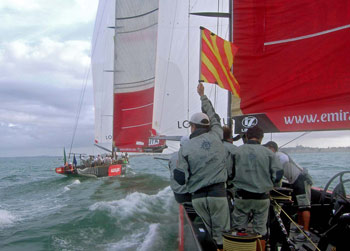 Day 4: With the sun getting low in the sky, Shosholoza's Tommaso Chieffi flags Luna Rossa, in a remarkable "scrapping tigers" match that capped off RR1 Day 4.
Photo:©2009 Giuliano Luzzatto/Luna Rossa Challenge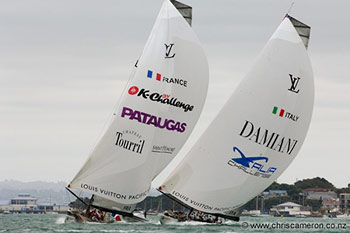 Day 3: Damiani Italia luffs K-Challenge on Day 3.
Photo:©2009 Chris Cameron/ETNZ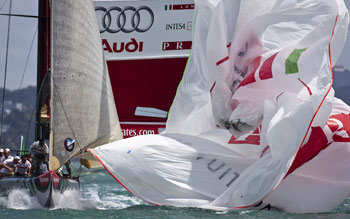 Day 2: Luna Rossa on Day 2 RR1.
Photo:©2009 Stefano Gattini/Luna Rossa Challenge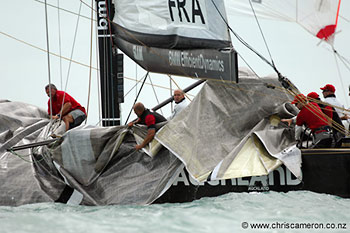 Day 1: Wet sails for K-Challenge on Day 1 of the LVPS. Photo:©2009 Chris Cameron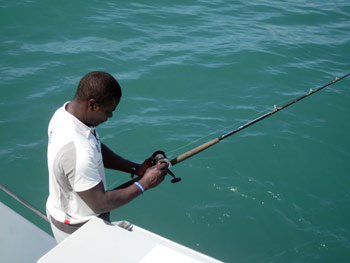 Moctar Fall of Shosholoza fishes during Monday's wait for wind. Photo:©2009 Diane Swintal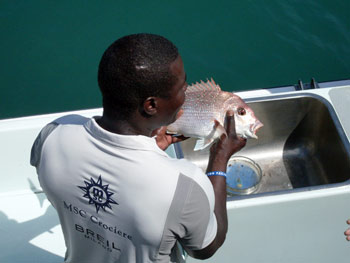 On Course Snapper: Catch and release, no fish were harmed. Update: See Fish Story "Biggest Catch" at Official LVPS Site.
Photo:©2009 Diane Swintal
---
Tuning Up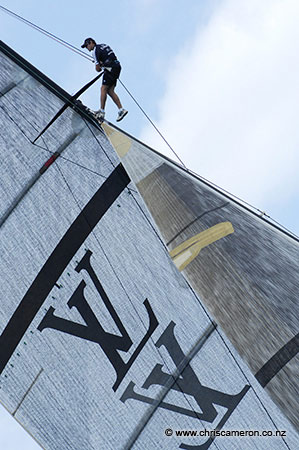 Adam Beashal looks for wind as ETNZ trains against Luna Rossa Jan 28 for the upcoming Louis Vuitton Pacific Series. Photo:©2009 Chris Cameron
---
SUI-64 Goes to France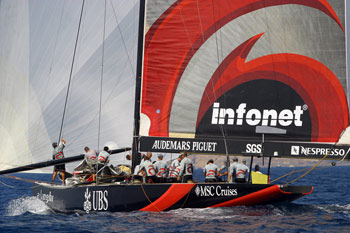 The new Team French Spirit will have Alinghi's Cup-winning ACC yacht SUI-64 to race in.
Click image to enlarge - Photo:©2008 Th. Seray
"With this boat in the hands of Bertrand [Pace] and Philippe [Presti], the French will be tough contenders and we are pleased to look forward for some common training sessions," says Brad Butterworth, three-time winner of the Cup.
Read the French Spirit Press Release
---
Visiting Dogzilla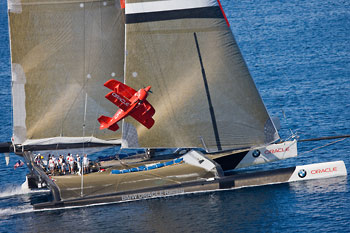 Flying Squadron: Biplane meets trimaran as Sean D. Tucker's Oracle-sponsored aerobatic wonder visits BMW Oracle's massive multi-hull in San Diego before sea trials ended for the fall.
Click image for more photos
Photo:©2008 Gilles Martin-Raget
Our West Coast correspondent dropped by the BMW Oracle base in San Diego to check up on giant multi-hull progress and provides this report:
Naturally the "dognormous" boat, using nearly every square inch of something that can't really be called a slip, is the focus of the morning's activity. Sails are loaded onto the boat with halyards and pulleys and cables -- cables of a size that get everyone's attention and mean no one has to be told to get out of the way. Even with the sails and sailors onboard, the boat sits elegantly on the water, with very little wetted surface.
Photo Galleries and more below:
Scroll down or click here
BMW Oracle Multi-hull on TV:
BMW Oracle's monster multi-hull was featured on CBS News Sunday Morning, December 14, Read text version at CBS News and See Video at YouTube, and on ABC's Good Morning America, December 13: See ABC Video
Also, unrelated to BMW Oracle, enjoy this vintage Walter Cronkite interview with Ted Turner, circa 1977: CBS News Video
---
Olin J. Stephens II
1908-2008
One of yacht design's greatest minds, a man who brought innovation and integrity to the sailing world for over eight decades, passed away September 13 at the age of 100. Most famous were his efforts in the defense of the America's Cup, where his boats won sailing's most famous and hard-fought trophy an incredible eight times between 1937 and 1980. Stephens himself sailed on Ranger in 1937 as well as later 12-Meter defender Columbia, and along with his late brother Rod, Olin Stephens played a vital role in many subsequent defenses well beyond being the winning designer.
His more than 2000 designs found enduring success on virtually every stage in sailing, with Stephens' boats winning the Fastnet Race seven times, the Bermuda race eleven times, and even the Whitbread Round the World race twice, just to name a few major races. A list that begins with the famous trans-Atlantic winner Dorade, Bolero, Stormy Weather, Carleton Mitchell's Finisterre, the influential 6-Meter Goose, and Mike Vanderbilt's pre-war 12-Meter Vim only hints at the scope of Stephens' work. One-design classes, luxury and cruising yachts, and a progression of yacht racing measurement systems also fill his resume.
Olin Stephens' company, Sparkman & Stephens, was the towering naval architecture firm of the 20th century, and leaves a legacy not simply of a fleet of yachts with impressive sailing performance, but of memorable beauty as well. Admired as much for his personal character as for his design genius, Stephens was also a generous mentor to generations of yacht designers, and anybody who has even read slightly of him will not forget the modesty, fairness, and kindness that those who knew him often remarked upon.
Essentially self-educated, despite a half-year's study at Massachusetts Institute of Technology, Stephens brought a careful and critical eye to his work. While Stephens received much-deserved credit for the scientific and intellectual dimensions he contributed to yachting, those who worked with him recognized that just as important, if not more so, was an intuitive sense that came from attentive observation and a life-long determined curiosity. One S&S designer, Jay Paris, commented "He's designed more 12-Meters than anyone ever has or will, yet I've seen him stare at the wake of a 12-Meter for hours."
Olin Stephens made the following comments at the conclusion of his autobiography All This and Sailing, Too. He was referring to a confusion he felt, among other things, about the nature of sailing as a pleasure and, for some, as a business, but perhaps here Stephens also communicates a small part of the wisdom that he leaves us on broader topics:
"I come back to the confusion, the contrast, and in the end I feel doubt whether our technological and scientific learning has given us a better sport or a happier world. I fear we have lost, if I am a pessimist on the big issues of our life today, yet I have to reflect on the goodness I have seen in individuals. I see great goodwill every day and kindness beyond description. And I have recalled, in my reviewing my own story, the many friends who have helped me on my way. I have lived well with the hope that it is the activity that must count, the process, the doing. The result is only what happens. We press on but we can't control the end. The poet Rilke speaks of 'the many-digited sum that sorts into zero.' Enough said."
Read Stories:
Design Icon Olin Stephens: Sail-World
Excerpt from John Rousmaniere's entry in the Encyclopedia of Yacht Designers: New York YC
Thoughts from Dave Pedrick, Steve Van Dyck, T.J. Perotti, and others: Scuttlebutt Blog
Short Interviews with close friends:
Vermont Public Radio (transcript and audio)
Obituary from: New York Times
and Bob Fisher: Guardian UK
and: Washington Post
Comment from Rolf Vrolijk at: Alinghi.com
Olin Stephens Tribute: Sparkman and Stephens
---
First Flight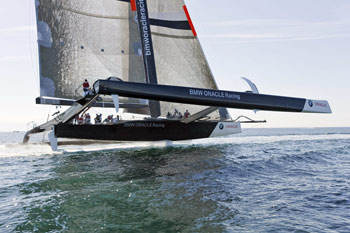 Up on one hull, BMW Oracle Racing, 9/3.
Click image to enlarge and see more.
Photo: ©2008 Gilles Martin-Raget
9/15 Why San Diego? "Warm weather, the right wind, sea conditions that will give us a good picture and a lot of room." : SignOnSanDiego.com
9/10 Monster Watching: "While sailing upwind in no more than 9 knots of breeze, they heeled the boat enough to sail on only the leeward float, making even speed with our media boat at roughly 26 knots": Scuttlebutt News
9/10 James Spithill: "We're not even at 50 percent yet and it's already pretty impressive.": Seattle Times
9/10 Training moving to San Diego: IHT
9/8 Sailing World podcast with James Spithill
9/3 John Kostecki: "...There isn't anything like this, a multi-hull like this..." Read more at NZ Herald
9/1 First Sail Press Release
Also spy photos and video at Dogzillabuzz Blog
8/30 Bob Fisher: 5300 sf mainsail, 3700 sf foresail, and 7500 sf spinnaker to be raised Saturday
8/29 Testing Begins
8/28 First sail Labor Day weekend?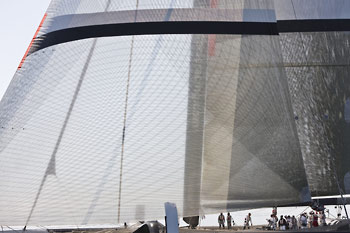 Click image to enlarge and see more.
Photo: ©2008 Gilles Martin-Raget
James Spithill: "It's awesome, mate. The first time you see it in real life it's a shock factor, to be real honest." Read more at International Herald Tribune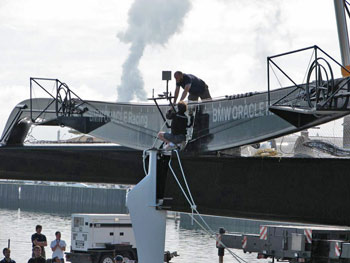 Spy Shots showing BMW Oracle multi-hull preparation and launching. See spy photo gallery
Photo: ©2008 Mo Fuzz/dogzillabuzz.blogspot.com
Step-by-step coverage of launch and rigging nearly live Monday afternoon: Dogzillabuzz Blog
Read Unveiling Press Release at BMW Oracle Site

---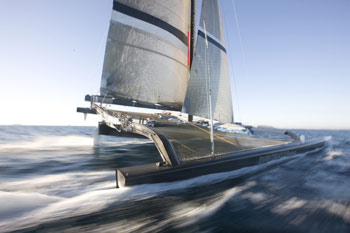 Photo:©2008 Gilles Martin-Raget
BMW Oracle's monster at sea off San Diego.
Oct 20: Two weeks of San Diego testing complete: BMW Oracle web site
Inside the BMW Oracle compound:
Neat visit for Brian Camet at SailKarma.com
It's interesting to note some comparisons between BMW Oracle's boat and the giant new 131-foot ocean racing trimaran Banque Populaire V. See Banque story and photos by Lyn Hines at Sailing World
See more photos at the BMW Oracle Racing photo bank.