SUI-NZL-USA Yachts: Driving the Best of the Best
Peter Holmberg and Ed Baird Compare the Thoroughbreds
Auckland, February 12, 2009
---
ETNZ and Alinghi in Race 2 pre-start of the 2007 America's Cup.
Photo:©2009 Chris Cameron/ETNZ

Ed Baird and Peter Holmberg are the only helmsmen in the world who have raced the current yachts from three of the top America's Cup teams. Alinghi teammates for the 2007 Defense, Baird got the nod for the America's Cup match. Holmberg is now with Luna Rossa.
The two skippers trained on Alinghi's SUI-100 and SUI-91, offspring of the well-funded program that has produced the winning yacht for two Cup cycles running. NZL-84 and NZL-92 come from an Emirates TNZ team that beat all other challenger candidates in 2007 and often looked as fast as Alinghi in the America's Cup match. And BMW Oracle's sophisticated design effort produced a pair of yachts, USA-87 and USA-98, that for a while looked nearly untouchable in the 2007 Louis Vuitton Cup.
In short, these are some of the most studied and refined racing yachts on the water, with collectively millions of dollars and untold man-hours in them. Holmberg and Baird have now had their hands on all three pairs of boats. What did they learn? What can they reveal?
"If you're shown three black boats and asked who designed each one, you can tell the Kiwi boats," Holmberg said. "They put the Kiwi mentality into them -- the layout, the simple but effective methods they did with everything onboard. They're clever, good, simple, nothing fancy -- but the Kiwi boats are actually the trickiest of them all to sail. I don't know how they have them moded right now but I found them tricky to steer in slow speed maneuvering."
"You can see a lot of BMW and other smart people behind the Oracle boats, they're very well done," he added. "The feel is really nice and friendly, really easy to drive, but I've only sailed them once or twice. I think they each are good in their own ways.
"But it's a wonderful thing to be able to step into three different, fully-optimized boats from three different programs," said Holmberg. "Really, what you probably see is three different paths to the same result."
"They've got ideas that we either chose not to explore or didn't think of," said Baird, "and they've got things that are similar."
"It's all a little different -- where the buttons are for the pedestals to engage into the winches, the precise placement of the winches, where things lead and come out of the deck, where you store stuff," he said. All of which sounds trivial, but it's not. When it comes down to seconds per mile, the details matter.
"The big, basic ideas are the same; they have a big jib winch on each side and a big main winch and a big pit winch in the front and a couple of smaller ones, but the technique of how to utilize that stuff is different – where the jammers are, how they work, the type of line they're using –- it's all different and it all makes a difference," Baird said.
There has been conversation in Auckland that each challenger's newer boat is faster than the older version, but Holmberg discounts that. In his opinion, each boat has its merits.
Baird partially agrees, saying that the newer and older Oracle boats are about even. "They've split most of their races, but you'd have to give an edge to the newer Team New Zealand boat, NZL-92."
Baird also points out that while the boats are basically equal, they are totally different in ways that can catch you out if you're not careful. "They do some things better and some things not and it's interesting to see that. They certainly turn differently than our boats, so that has taken some getting used to, both in positioning and timing."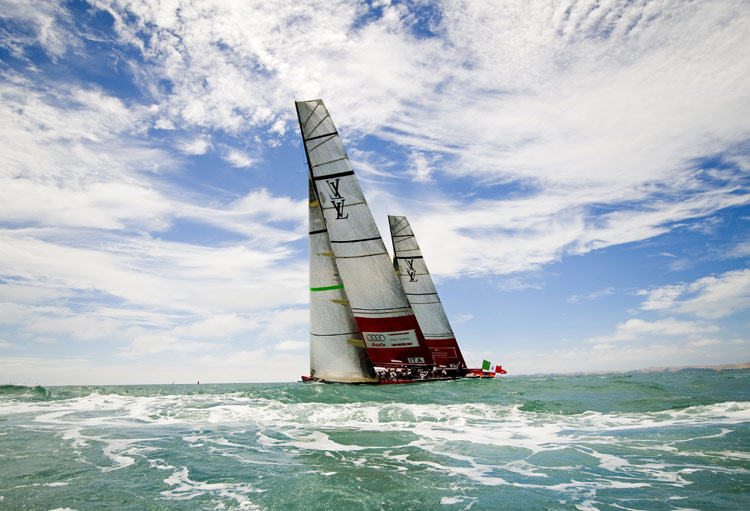 Luna Rossa and Alinghi racing in RR2, Day 5. Photo:©2009 Paul Todd/OutsideImages.co.nz

Both skippers resisted getting too specific about performance differences, and wouldn't commit to a preference between the ETNZ and BMWO boats. But they did hint at where they think Alinghi made strides.
"The Alinghi program developed some really good boats so I'd have to say those are my favorites," said Holmberg. "The balance is great -- the boats were optimized for the rule to have maximum speed, which meant the engineering was done really well so there's maximum weight down below. I also like Alinghi's deck the most of everybody. It's really the sailors, the designers and the engineers putting their heads together to come up with the best solutions.
"They're three different animals but once you've spent a bit of time with them, you'll be able to get the most out of them," said Holmberg. "As each day goes by I get more comfortable with them."
The chance to train and race in each other's boats, and to race them intensely, is something very much appreciated. "I'm quite impressed that both teams were not only willing to put their boats out here in public view, but to let everybody go at them as hard as you wanted to and hope for the best, because, in the end, an America's Cup boat is a very delicate piece of equipment," notes Baird. "You have to be careful with it, because if you mistreat it, it will break."

-- Reporting by Diane Swintal for CupInfo/©2009 CupInfo

---
Links of Interest:
CupInfo's main Louis Vuitton Pacific Series page
Visit the Official Louis Vuitton Pacific Series web site
---