Louis Vuitton Pacific Series Stories: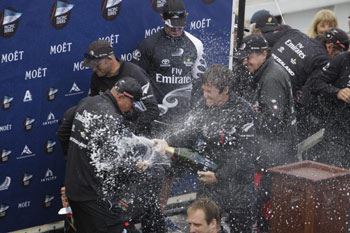 click images to enlarge and read race reports/press releases
Photo:©2009 Bob Grieser/OutsideImages.co.nz
Comparing the Best Boats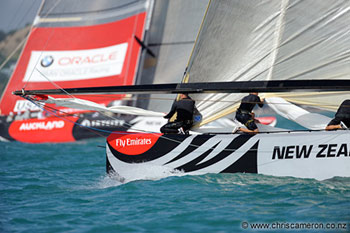 Photo:©2009 Chris Cameron/ETNZ
Ed Baird and Peter Holmberg are the only helmsmen in the world who have raced the current yachts from three of the top America's Cup teams. Holmberg and Baird have now had their hands on all three pairs of boats. What did they learn? What can they reveal? Read More

---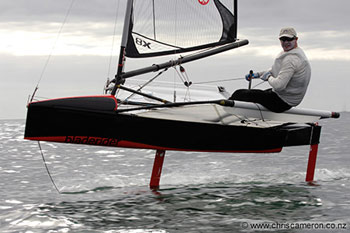 Kevin Hall gets foiling.
Photo:©2009 Chris Cameron/ETNZ
Kevin Hall: From the Cup to Dinghies and Back
I almost quit at my very first event in Holland -- it was really windy and it turned out I picked my stiffest mast, had my centerboard all the way forward and I had a light sail -- I didn't have a clue that that was about as hard as it gets.
Read More

---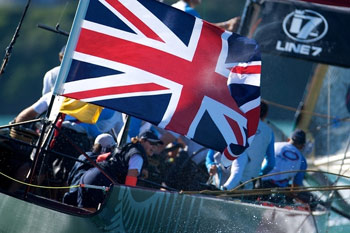 Photo:©2009 Ian Roman/Team Origin
Isler Navigates for the British
Team Origin carries a familiar name as their navigator at the Louis Vuitton Pacific Series, but not under his usual flag. Peter Isler shares some observations from his America's Cup career, and on how Origin is doing so far. "There's a difference in being a good match race starter and being able to do it in an AC boat because they're so big."
Peter Isler on Team Origin

---

From Mothballs to Match Racing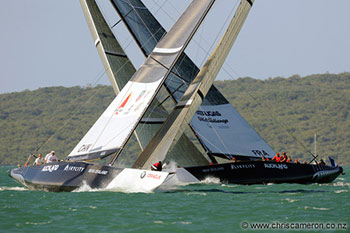 Shosholoza and Team Origin on Day 4.
Photo:©2009 Chris Cameron/ETNZ
Preparing 4 boats for use (and possible abuse) by 10 unfamiliar crews has kept the shore crews busy:
"We also didn't put on all the sensors. We just kept the important ones, like one on the runner gauge. We put a buzzer on it, so if someone gets to a certain amount of rod tension then the buzzer goes off to tell them they've gone too far." ETNZ's Andy Nottage
Providing two race-ready Cup yachts on short notice on the far side of the world wasn't smooth sailing, so to speak. "It was a bit of an epic." Grant Davidson of BMW Oracle

---

More stories from CupInfo:
Jan 29: Anticipating Louis Vuitton Pacific Series Action as Yacht Racing Returns to Auckland
Fall 2008: Evolution of a New Regatta

---

Ian Williams with China Team on Day 1:
"Our goal is to be much better at the end of the regatta than we are right now."
Q: You had some days of practice but now suddenly you're out there. How different did today feel? Obviously ramped up?
Ian Williams: Yeah, for sure it's ramped up. It's a little bit windier than any of the practice sessions. We had an injury on our boat yesterday, so we also had a slightly new team today, and you're in there racing, so everything is ramped up.
Add to that we had a problem with the branding on the boats and so there was a delay to us receiving the main. We only got the main 20 minutes before the start so we didn't really have a lot of time to settle either. So everything's putting the pressure on, but I think the guys did a great job of handling that.
We sailed well in the start, obviously won the start, and that was fantastic. Made some mistakes around the course which I think unfortunately we're probably going to see a few more this week from us (laughs), but we're going to try and minimize them as much as possible, learn every race, try not to make the same mistake twice.

---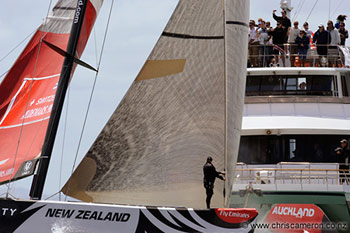 Connecting with the crowds, the LVPS is pleasing fans with typical Kiwi openness.
Photo:©2009 Chris Cameron
If you close your eyes a bit, the Viaduct Basin doesn't look much different -- sailors in team garb hurrying to team bases, sails being loaded onto America's Cup boats, loads of curious public milling about.
But it is different. The Louis Vuitton Pacific Series is being called the "friendly series," due to its open access for spectators, base-sharing and even boat sharing among all the teams.


Results and Race Reports: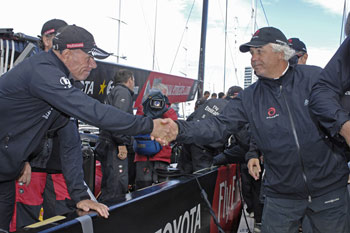 click images to enlarge and read race reports/press releases
Photo:©2009 Chris Cameron/ETNZ
| | | | | | | |
| --- | --- | --- | --- | --- | --- | --- |
| Pts | Team | 1 | 2 | 3 | 4 | 5 |
| 3 | Emirates TNZ winner | - | 1 | 1 | 1 | |
| 1 | Alinghi | 1 | - | - | - | |
Louis Vuitton Pacific Series Final
Results:
Race 2: ETNZ leading at the downwind gate. ETNZ by 33 seconds at the third mark, 175m. Emirates TNZ takes Race 2.
Race 3: Penalty on Alinghi at the start, 30 seconds ETNZ at the top mark. ETNZ leading but Alinghi gaining. Not close enough, ETNZ wins by 34 seconds.
Race 4: ETNZ leads at the gate mark by 15 sec, 75m, but Alinghi closed up on leg 2. ETNZ wins Race 4, and wins the LVPS 3-1.
Race Reports:
LVPS Final Day 1: Race 1
Day 2: Races 2-3-4
Challenger Final: Race 1 Race 2
Semi-Final Quarter-Finals Sail-Off
Round Robin 2: Day 1 Day 2 Day 3 Day 4 Day 5
Round Robin 1: Day 2 Day 3 Day 5
Results and Rankings:
Challenger brackets, standings, and Head-to-Head:
Overall Louis Vuitton Pacific Series Results
Daily Outlook and Results:
Round Robin 1: Day 1 Day 2 Day 3 Day 4 Day 5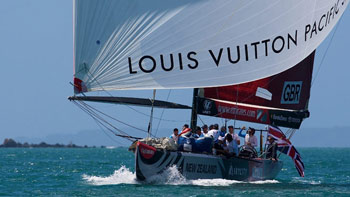 Click image for RR1 Day 5 Race Report
Photo:©2009 Ian Roman/Team Origin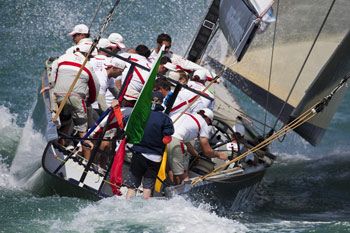 Round Robin 2 Gallery: click image for more
Photo:©2009 Giuliano Luzzatto/Luna Rossa Challenge
Links of Interest:
Team Profiles and video highlights available now:
TVNZ
NZ Met Service:
Auckland Conditions and Forecast and
Auckland Marine Forecast
Photographers:
Bob Grieser/Paul Todd : Outside Images
Chris Cameron: Chris Cameron Marine Photography
Juerg Kaufmann: Go4Image
Ian Roman: Ian Roman Photography
Gilles Martin-Raget: Martin-Raget.com
BMW Oracle Photo Bank (offline)
Virtual Eye (offline) race viewer looks at Round Robin 1 Day 4's Shosholoza-Luna Rossa duel:



click image for more
Visit the Official Web Site (offline)
Louis Vuitton Pacific Series Factsheet:

Dates:

Opening Ceremony: Jan 29
Racing: Jan 30-Feb 14
Racing will begin daily at 11:00am.
Four races daily are expected in the two rounds robin, followed by structured brackets based on RR performance.
Round Robin 1:
Jan 30-Feb 3
Alternate Day:
Feb 4
Round Robin 2:
Feb 5-9
Alternate Day:
Feb 10
Challenger Sail-Off:
Feb 11
Challenger Finals:
Feb 12
LVPS Finals:
Feb 13-14

Prize Giving:

Feb 14
Course:

The races will be sailed within Auckland's harbor and (depending on wind) the Rangitoto Channel, not out into the main area of the Hauraki Gulf, site of the America's Cup Defense in 2000 and 2003.

Boats:

ETNZ:
NZL-84
NZL-92

BMWO:
USA-87
USA-98

The teams will rotate among two pairs of boats, with each pair tuned to be as equal as possible.

ETNZ is supplying their 2007 generation ACC yachts. In order to help expand the event beyond 8 entries, BMW Oracle added their 2007 pair.

The competitors will be supplied with spinnakers and mainsail logos identifying their team.

Team:
Skipper:

---

Shosholoza

Paolo Cian

China Team

Ian Williams

Luna Rossa

Peter Holmberg

BMW Oracle

Russell Coutts

Team Origin

Ben Ainslie

K-Challenge

Sebastian Col

Damiani Italia Challenge

Vasco Vascotto

Greek Challenge

Sotiris Buseas

Alinghi

Brad Butterworth

Emirates TNZ

Dean Barker
---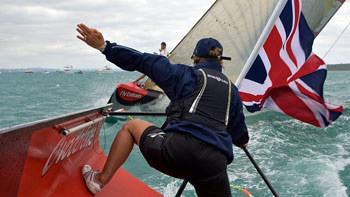 Team Origin leading Luna Rossa on Day 1.
Photo:©2009 Ian Roman/Team Origin
Jan 20: Preparations underway in Auckland Viaduct Harbor:
Photos at Sail-World
Jan 19: TNZ and BMWO tuning up the boats for the LVPS:
Chris Cameron Photos