Rare Starling Burgess Drawings to Auction
(May 21) Somewhere in-between making seaplanes and introducing Olin Stephens to creating J-Class yachts, prolific America's Cup yacht designer and all-around genius W. Starling Burgess collaborated with R. Buckminster Fuller to design the ultra-modern Dymaxion automobile prototype in the 1930s. The car never made it into production, only one original survives, but a replica was recently commissioned by British architect Sir Norman Foster. A rare set of blueprints for the Dymaxion have been discovered, apparently forgotten in a Connecticut attic for the last 80 years, and will make their way to auction on June 6.
Read more at Hemming Motor News Blog

---
Luna Rossa First Sail on SF Bay
(May 18) Italian America's Cup challenger Luna Rossa took their AC72 yacht out onto San Francisco Bay for the first time ever Saturday. The cat, the team's only yacht for the 2013 America's Cup, has sailed previously in Auckland, NZ. Conditions are described as being the lighter end of the scale, which Luna Rossa felt was ideal for a shakedown outing. The team also cited the psychological need to get sailing again.
Read more and see photos at Luna Rossa site

---
Expert Panel to Review Artemis Accident
Report Likely in Weeks, Racing on Track as Planned
Update, May 14: Iain Murray, Race Director and CEO of the America's Cup Race Management organization, and Tom Ehman, Vice Commodore of Golden Gate YC and longtime senior official with Oracle's yacht racing campaigns, worked today to help clarify the status of the America's Cup and the investigation into the fatal accident that claimed the life of Artemis Racing crew member Andrew Simpson last week.
---
Press Conference on Review Panel
(May 14) The America's Cup Event Authority (ACEA) will today name an independent investigation panel for the Artemis Racing accident, and better define the inquiry's scope of work: Read More
A Press Conference on the matter was streamed live online today beginning at 2:00 pm PT from the America's Cup site. A reply can be seen here

---
Nathan Outteridge: Reports Attributed to Father Don't Represent What Happened
(May 13, 5:00 pm PT) From Nathan Outteridge, via Artemis Racing: "The description of the accident in the Newcastle Herald while quoting my father is not correct and does not reflect the facts. Unfortunately it has been relayed by other media. Right now, we are all still mourning and working to understand what happened. I hope everyone can respect this and I thank all those who have expressed support."

---
Artemis Statement on Accident Investigation
(May 11) Statement from the Team: "Artemis Racing is in the process of conducting a thorough review and analysis of this week's accident.
"As a part of this review, Artemis Racing is sharing and exchanging data and information with concurrent work being performed by America's Cup and the San Francisco Police Department.
"Until this process is complete, any conclusions being made about the events that led to the boat's capsizing and its tragic outcome are pure speculation.
"Out of respect for Bart's memory and his family, we ask that the broader sailing community and others reserve judgment until all the facts are known, and not persist in unnecessary rumor. We again thank everyone for their continued support and thoughts during this difficult time."

---
Iain Murray to Lead Investigation
(May 10) Iain Murray, Regatta Director of the 2013 America's Cup, will lead an investigation into the circumstances of the tragic events that claimed the life of Artemis Racing's Andrew Simpson on Thursday. In addition to his current role conducting the racing side of the event, Murray was an America's Cup skipper, head designer, and team leader himself while still in his 20's. Murray will be chief liaison to the San Francisco Police Department, who are investigating under their own jurisdiction, and the US Coast Guard.
---
Statements on Artemis Racing Capsize
(May 9) From Paul Cayard, CEO Artemis Racing:
It is with immense sadness that Artemis Racing confirms the tragic death of crewmember Andrew 'Bart' Simpson today in San Francisco. Andrew, a British double Olympic medalist, was one of the 11 man crew aboard Artemis Racing's AC72 catamaran which capsized during training on San Francisco Bay ahead of this summer's America's Cup. All other crew are accounted for. Simpson however was trapped underneath the boat and despite attempts to revive him, by doctors afloat and subsequently ashore, his life was lost.
"The entire Artemis Racing team is devastated by what happened," said CEO Paul Cayard. "Our heartfelt condolences are with Andrew's wife and family." --statement ends
Cayard spoke to the media at 5:00 pm PT, adding: "Our prayers are with Andrew Simpson's family, his wife and kids, and also the rest of my teammates. It's a shocking experience to go through, and we have a lot to deal with in the next few days in terms of assuring everybody's well being."
Additional Statements:
From Oracle Team USA:
"Today is a sad day for all of us in the sailing community. Andrew Simpson was a great person, a terrific sailor, and a good friend to all of our team. Our thoughts are with his family and the entire Artemis team. He will be dearly missed."
From the America's Cup organization:
"The thoughts of everyone involved with the America's Cup are with the family of Andrew Simpson and the members of Artemis Racing.
"Andrew was an immensely popular and respected member of the sailing community, and his two Olympic medals were testament to his talent. His easy-going personality made him loved by many; always friendly, always smiling and always supportive of others."
From CupInfo:
It was with great sadness we learned of the death of Andrew Simpson of Artemis Racing. Sincere condolences from all of us at CupInfo to Andrew's family, friends, and teammates. The Cup family is lessened by this loss.

---
Jewett, Robins, and Simmer Named to Hall of Fame
(May 8) Lucy Jewett, Noel Robins, and Grant Simmer have been named to the America's Cup Hall of Fame Class of 2013. An induction ceremony and celebration dinner will take place August 5th in San Francisco, as the Louis Vuitton Cup semi-finals begin.
Jewett was a key organizer and sponsor for the Cup campaigns of Dennis Conner and then Paul Cayard, and now serves on the San Francisco America's Cup Organizing Committee. Robins sailed and coached in multiple Australian challenges that culminated in Australia II's 1983 victory, and then managed preparations for the 1987 America's Cup in Fremantle. Simmer, to date a three-time Cup-winner -- once as navigator on Australia II in 1983, twice as Design Team Coordinator/Managing Director for Team Alinghi -- is now General Manager of Oracle Team USA for their 2013 Defense.
Read America's Cup Hall of Fame Press Release

---
Catching up with Tom Slingsby
(May 3) Tom Slingsby took the helm of Oracle Team USA's AC45 in the recent Naples regatta, stepping in where James Spithill, Russell Coutts, and Darren Bundock have been at work previously. Writer Michelle Slade chatted with Tom, a six-time World Champion, about his Naples experience and his role with the Defender for the America's Cup this summer:
Question: Oracle now has three excellent helmsman--how do you feel about being the bridesmaid and not the bride when clearly you're capable?
Tom Slingsby: "It's OK--I was given an amazing opportunity. I was hired as a tactician with the strongest team in the America's Cup, and I'm still pretty young and going to run with it. I know I wasn't hired as a helmsman, but I've now had a lot of support since Naples. People now know that I'm there if Ben or Jimmy gets injured or sick, I can fill in."
Read interview at Sailing World

---
Book: Oracle and Golden Gate YC Teaming Up to Win the Cup
(April 29) The Billionaire and the Mechanic, a new book from author Julian Guthrie, tells the story of Larry Ellison's Oracle racing efforts in partnership with Norbert Barjurin and the Golden Gate Yacht Club, to be published in late May. Guthrie, who had inside access to the team for her writing, recounts the sage of Ellison's America's Cup challenges of 2003, 2007, and 2010, portraying the sailors and designers as they chase yachting most famous trophy.
Bob Fisher, America's Cup Journalist: "This is one helluva great read. Larry and Norbert -- beautiful dreamers both, men with faith in their ability to convert them to reality. This book is fascinating; it informs, educates and entertains about the longest continuously contested trophy in all sports."
Julian Guthrie, Author: "I am now completely in love with this race. I find the sailors to be wonderful and down to earth, though as intense as a team of Navy SEALS. I find the engineers and builders to be brilliant, obsessive, and perfectionists. The sport is visually stunning, with breathtaking backdrops and cutting-edge boats. I also love it that for the first time in 160-plus years, the America's Cup is going to be accessible to all."
Also: Barnes&Noble and Amazon and Independent Bookstores

---
Oracle Boat #2 Debuts
(April 23) Oracle Team USA unveiled their new AC72 yacht to the media today, expected to be the boat that defends the America's Cup next September. The second of two multihulls each team is permitted to build, on-the-water testing and development efforts will soon be in high gear. Restrictions on sailing AC72 yachts expire after April 30th and it appears that Oracle will be the first team sailing two of their own boats at the same time. Judith Sim, Chief Marketing Officer for Oracle Corporation, christened the boat. Winds were too high to allow other than a short trip away from the dock.
More social media photos:
Sail Racing Magazine: Twitter
Oracle Team USA: Instagram
Genny Tulloch: Instagram

---
America's Cup on Australian TV:
Former Prime Minister Bob Hawke praises Alan Bond for Historic Win
(Apr 8) "I think Alan Bond is owed a great deal of gratitude by the Australian people. The way he helped to lift the Australian spirit as a result of that great historic victory of 1983 was great for our country," Mr. Hawke said.
'The Story of Australia II and the America's Cup' will be featured on Australian Story, also includes interviews with John Bertrand, Alan Bond, Grant Simmer, Tom Slingsby, and James Spithill.
See News Story 'Hawke Praises Bond' plus Read more about the program and Watch Interview excerpt at YouTube

---
Pack and Go: ETNZ Leaving Auckland
(Apr 4) Emirates Team New Zealand sailed their AC72 for the last time in Auckland before shifting operations to San Francisco for the 2013 America's Cup. ETNZ will set up and start sailing on the Bay following the upcoming ACWS Naples April 16-21.
See photos of last NZ sail from Chris Cameron.

---
Powerboats of the America's Cup
(Mar 25) Demands for Louis Vuitton Cup and America's Cup support craft include chasing AC72's at 50 mph; setting and holding the race course to the precision of centimeters; and putting Race Officials, computer jockeys, and VIP's in the right places at the right times. These requirements have spawned a custom fleet of powerful new tenders sporting GPS station-keeping, high-efficiency diesel outdrives, and literally the best seats available.
Mark Reid at Bay & Delta Yachtsman reports in depth on the powerboats of the 2013 America's Cup, plus some of the history and traditions of tenders and chase boats in the famous regatta.
Read article at Bay & Delta Yachtsman online viewer starting on page 12 (requires Adobe Flash).

---
New Team for Naples, And Korea Withdraws from 2013 America's Cup
(Mar 21) America's Cup organizers announced today that a new America's Cup World Series team will compete in Naples, Italy, this April, led by experienced multihull sailors Roman Hagara and Hans-Peter Steinacher of Austria. Competing as HS Racing, with support from Oracle, and flagged as a US entry, the pair will race an AC45 yacht in the final World Series regatta before the Louis Vuitton Cup begins in July. Hagara and Steinacher are twice Olympic Gold-medalists in the Tornado class, and were once rumored to be exploring an America's Cup challenge for 2013.
The news comes coupled with official confirmation of the withdrawl of Team Korea from America's Cup 2013 activities. Team Korea now intends to return for AC35.
---
Luna Rossa Leaving Auckland, Headed to Naples
(Mar 20) Luna Rossa Challenge is packing up their AC72 activities in Auckland, NZ, in advance of moving operations to San Francisco following April's America's Cup World Series in Naples. The Italians commemorate the move in Prada style with a nice photo gallery, plus video and commentary from skipper Max Sirena.
See photos and video at Luna Rossa site

---
Winging it: Driving a Big Truck
(March 16) Glenn Ashby, Trimmer for Emirates Team New Zealand, has his hands full trimming the wingsail on the team's AC72 cat. Constantly needing to make fine adjustments to changing conditions, he compares his onboard task to driving a truck with a 32-speed transmission, requiring continual upshifting and downshifting to keep the engine in the power band:
"Dean Barker, James Dagg, Ray Davies and I work closely on boat speed -- effectively managing the speed and angle of the boat. It's a team effort for best round-the-track speed and we all need to be on the same page."
"It's like sailing a double-handed dinghy in a way -- the forward hand controls the mainsheet and the helm steers and they work together to extract maximum speed. It's a bit like that on the AC72, but with a lot more buttons and strings to play with."
---
San Francisco Looks Forward to Cup Benefits
(March 16) The City of San Francisco's Board of Supervisors held discussions this week to consider the impact of updated financial studies for the event this summer. Fewer teams than originally intended have lowered some revenue projections, but along with more realistic planning and preparation expenses have been reduced, too. While some criticism was voiced by Supervisor John Avalos, among other, the net takeway is that the America's Cup is expected to deliver a positive result for the Bay area.
"The bottom line is this is going to be a great event at zero cost to the city," said Supervisor Mark Farrell. "We're talking about (an estimated) $900 million in economic activity and (a potential) 6,500 jobs. A lot of cities would pay a lot for that."
"World-class cities put on world-class events," he said. "And I think our city is going to shine."
---
Racing Rules for America's Cup Updated
(Mar 7) With the Louis Vuitton Cup less than three months away, and the final America' Cup World Series of the season coming next month in Naples, America's Cup Race Management has released an update to the Racing Rules of Sailing for the America's Cup (RRSAC), currently in version 1.14. Most of the changes are small and technical, and clarify or refine requirements.
Most noticeable in practice will be the initial placement of the penalty line, doubling the penalty distance to two boatlengths, and the orientation of the penalty line is now perpendicular to the true wind angle and not the axis of the leg (see Rule 44.2). Additionally, the calculation of VMG for the motion of the penalty line now includes wind direction and current (also Rule 44.2). Changes in wording in Giving Room at an Obstruction (Rule 20.2), and the definition of Finish have been made, and it's is explicitly stated that errors in navigating the course cannot be corrected after finishing (Rule 28.1 (c)). The Race Committee is now required prior to the start only to name the course to be sailed, not provide bearing and distance (Rule 27.1).
Download the RRSAC version 1.14 (pdf 1.7MB)

---
A Bowman in the AC72 Age
(Mar 3) Brad Webb is a bowman for Oracle Team USA, but what does that mean in a competition where the boats are over-powered, under-manned 72-foot multihulls, going 40-plus knots with no place anywhere near the bow to stand? Webb explained the brave new world to Sail Racing Magazine.
Brad Webb: "If you look back to the IACC days, we were starting the boat upwind and just having that jump of a meter or two could make a huge difference. Now in the AC72's, because they are traveling so fast, getting a good start is more to do with your position on the line and your trajectory to the next mark than it has to do with 'boat relative'. You can actually be a meter or two behind your competitor but have a better angle to the first mark and go smoking by. The other thing is that there is really no bow to speak of on these boats so you are not going to send somebody up on the spine to call the line."
Read more at Sail Racing Magazine

---
NZL5 Sails into March
With barely more than 120 days until the start of the Louis Vuitton Cup, Emirates Team New Zealand's AC72 catamarn #2, NZL5, looks good sailing strong in Auckland. See photos from team photographer Chris Cameron

---
No Safety in Numbers
(Mar 1) Kimball Livingston: "Never before has the red-hot favored team to win the next America's Cup been in such a dicey predicament. Some claim that Emirates Team New Zealand has already won the Cup in the design department, but even if that proves true (and frankly, it's a stretch), it makes the team no less vulnerable to the fortunes of war."
Read more from Kimball at Sail Magazine

---
(Feb 26) New Building for America's Cup Village delivered by City to America's Cup Event Authority.
Read Press Release

---
Red Bull Youth America's Cup Teams
(Feb 25) Youth teams have been chosen to compete next in San Francisco prior to the start of the America's Cup September 7:
Red Bull Youth America's Cup Teams
Selection Series Teams advancing to Red Bull Youth America's Cup
Australia Objective Australia
Germany STG/NR/NRV Youth Team
New Zealand Full Metal Jacket Racing
Portugal ROFF/Cascais Sailing Team
Switzerland Team am Tilt
Youth crews supported by America's Cup World Series Teams
France Energy Team/Name TBC
New Zealand Emirates Team New Zealand/Name TBC
Sweden Artemis Racing/Swedish Youth Challenge
USA Oracle Team USA/American Youth Sailing Force
USA Oracle Team USA/USA45 Racing
Read Red Bull YAC Press Release

---
Cost and Politics in San Francisco
(Feb 20) Amid volleys from the Board of Supervisors that characterize the city's promised support for the America's Cup regatta as subsidizing an event for the wealthiest people in the world, Stephen Barclay, head of the America's Cup Event Authority (ACEA), objected to that sort of reductive viewpoint.
"I struggle with that," Barclay said. "Name any other event like this that is free to the public? You can grab your family, grab your lunch, make your way to the Marina Green and enjoy the races and it does not cost you a cent. Why is that a yacht race for the rich?"
The America's Cup Organizing Committee, formed to help raise money to offset some of the city's costs, has not met financial targets to date, raising concerns from city leaders regarding how to meet the city's direct expenses for hosting the upcoming event this summer. Though the total economic impact for hosting the America's Cup is a projected as a net positive for the region, amounting to hundreds of millions of dollars or more, the city will still incur immediate costs for providing required services such as security, emergency, sanitation, and public transportation.
Read more at San Francisco Business Times

---
A (Cold) Day with the Swiss Youth Team
(Feb 13) Sailing catamarans in Switzerland in February? When it's 0 degrees C and snowing? Team Tilt, the Swiss Youth Team, is serious about getting ready. Photographer Jürg Kaufmann captured a day of images with the dedicated young guys and shared this slideshow.

---
Red Bull Youth AC Trials Begin
(Feb 13) Selection trials are taking place in San Francisco this month, featuring a dozen teams of young sailors hoping to be one of at least four selected to compete with others next September 1-4 in the Red Bull Youth America's Cup event taking place before the start of the actual America's Cup Match itself.
The hotshot youngsters are racing on the actual AC45 cats that the official teams have been using in the America's Cup World Series, a big step up in speed and complexity from the smaller dinghies most of the youth athletes have been honing their skills on until now.
"Yesterday in the big breeze, around 17 knots, it was more difficult than I expected," said Philip Buhl of STG/NRV, a champion Laser sailor. "Every time we completed one maneuver we had to prepare for the next, there was no time to catch your breath."
Ben Ainslie, four-time Olympic Gold Medalist and now with Oracle Team USA, holds out the idea that this new event may help rising talents at an earlier age. "The Olympics used to be the avenue to get into professional sailing and the America's Cup," said Ainslie. "But now the Cup is becoming more accessible for youth sailors, and that's great for the sport."
---
NZL5 Gets First Sail
(Feb 12) Emirates Team New Zealand got their second catamaran, NZL5, off the tow rope and underway to begin the 45-sailing-day testing period lasting until April 30. The first team to sail an AC72, they are the first team to launch boat #2.
---
AC72 Launchings
(Feb 4) Emirates Team New Zealand revealed their second AC72 and Oracle Team USA plans to re-launch their first boat on Monday, February 4th. The Kiwi boat, NZL5, was ceremonially named and ready to get wet, but high winds postponed the actual launch and sailing. Last Friday, February 1 marked the beginning of the second AC72 sailing period, 45 days per boat until the end of April, with no restrictions after that. ETNZ plans to work up their second boat over the next two months in Auckland before shifting operation to San Francisco mid-April. Oracle's unveiling event, for their repaired first boat and second wing sail, began at 10:00 am Monday morning in San Francisco.
Emirates Team New Zealand:
ETNZ: Press Release and Photo Gallery, plus Video.
Video and more photos: Richard Gladwell at Sail-World
Stuff.co.nz: ETNZ Second Boat and Cat Unwrapped
Oracle Team USA:
Back on the Bay: Press Release and Photos and Team Video at Youtube (4:45)
Team photos on Instagram: Oracle 17 rolls out for load testing and launching and afloat
San Jose Mercury News: Ellison's Team Back on Water
---
Reggatta de 2013: Sting Performs for America's Cup Fans June 2
(Jan 22) The musician born as Gordon Sumner, who first came to fame as a member of the rock group The Police with Stewart Copeland and Andy Summers in the 1970s and early 80s, is the first headline performer named in an outdoor concert series to be held this summer at the America's Cup Pavilion on Piers 27/29 in San Francisco. In partnership with promoters Live Nation Entertainment, additional acts will be presented over the course of the Louis Vuitton Cup and America's Cup Regattas.
---
ETNZ Second Boat
(Jan 15) Emirates Team New Zealand's second of their two AC72 catamarans travels from builder Cookson's to the team's base for assembly, preparing for a launch in early February.
Nick Holroyd, Technical Director: "Hopes for the campaign are founded on this one, I guess. With any luck, if she works well, then we never have to pull Boat 1 out of the cupboard again."
Grant Dalton, CEO: "This is it, we not getting any better. We'll make it faster obviously, but we're not going to change shape, and we'll find out whether we got it right or not in September this year."
Watch video at Team YouTube site

---
May ACWS Regattas Dropped
(Jan 8) America's Cup organizers announced Tuesday that they will focus on preparations for the start of the Louis Vuitton Cup in July, dropping plans for May 2013 regattas that were under discussion for either New York City or San Francisco. The decision leaves the America's Cup World Series in Naples, Italy, as the last AC45-based event before Challenger Selection for the 2013 America's Cup begins with the Louis Vuitton Cup July 4th. Read ACEA Press Release
Stephen Barclay, CEO, America's Cup Event Authority: "New York was always going to be expensive," Barclay said [....] "We didn't go into that thinking New York was going to pay us a whole lot of money. They are not in position to pay us a lot of money and we didn't ask them to. We felt that maybe this was not the best time to be spending the money."
Read AP story at Washington Post

---
Cayard Looks to 2013
(Jan 3) Despite a good showing in the AC45-based regattas, Artemis Racing has had a slow start in the transition to the new AC72 cats. An early broken wing, a damaged platform, and a later launch date than the other teams mark some of the frustrations for the Swedish challenger. Michelle Slade caught up with Paul Cayard, CEO, to see how Artemis is advancing toward being ready for the Louis Vuitton Cup this summer.
Question: Is it disappointing to go through all this knowing you're not going to have the time to get up to speed on these boats?
Paul Cayard: "You could say it's disappointing, but it's the nature of this race. Even if we had another year, it's a fundamental fact when you change a class of boat that you'll always be leaving something on the table, it's part of the game. You're never going to get to 100 percent, so the strategy and tactics have to revolve around the fact that you acknowledge that you're not going to get everything done and have everything perfect. It depends on the path that you take on that will get you the farthest up the ladder, which is an interesting part of the game. It's frustrating on the one hand, but we plan and train for that. If you identify the scope of work that you can realistically take on, then you won't feel that pressure because you would have designed a good game plan."
---
Oracle Wing On Its Way
---
Youth America's Cup Taking Shape
"One of the requirements is that these are non-professional sailors," says Murray. "So if some of the young guys who are active members or sailors on the Cup teams were interested, they'd be regarded as professional sailors, so they'd have to quit their jobs."
For a 20-year-old offered the chance to sail and race their own AC45, that might be a real easy decision-making process.
Also see:
Youth AC Trial Scheduled: ACEA Press Release
Artemis AC72 Capsize
(May 9) Artemis Racing's AC72 catamaran capsized in SF Bay just after 1:00 pm PT with tragic consequences. The San Francisco Fire Department says that crew member Andrew Simpson was underwater for ten minutes. Rescuers took him to shore near the St. Francis Yacht Club, where CPR was performed, but he could not be revived and was pronounced dead at 1:43 pm. The rest of the crew is said to be safe, though Craig Monk was hospitalized. A husband and father, the 36-year-old Simpson was also twice an Olympic Medalist, winning Gold and Silver with teammate Iain Percy in the Star Class in 2008 and 2012.
A SF Police Department boat was one of the first responders to the scene, along with the Artemis team support boats that normally accompany the AC72 when sailing. Oracle Team USA, Luna Rossa, and Emirates Team New Zealand also sent their chase boats to the scene to offer assistance.
Winds are the time of the incident are reported to have been in the middle 20-knot range with gusts to 33 knots. This is the second time in the modern era that a crew member has been killed in training on an America's Cup boat. In 1999 Martin Wizner died after being struck in the head when a block failed on the Spanish yacht ESP-56, a more conventional America's Cup Class monohull in use at the time. One other recorded death was a sailor swept overboard and drowned in 1903 after Shamrock III was dismasted during training in the UK.
The Artemis boat involved, the first of the two AC72's they are permitted to build, was launched last fall, first sailing on November 13 after apparent damage during towing tests delayed the christening ceremony. The team recently pulled the catamaran off the water for several weeks of modifications in February and March. Today marked the 36th official sailing day for the Swedish boat. Photos of the aftermath show the port hull broken apart just forward of the aft crossbeam, and the forward crossbeam broken as well, though there are conflicting reports from observers as to the sequence that might have occurred and what is cause versus effect. Tony Outteridge, after speaking with his son Nathan who was skippering the boat at the time, told Australia's NBN news that the boat was breaking up as the capsize began, raising the possibility that the incident is traceable as much to structural collapse as to capsize. [Edit: Monday May 13, Artemis Racing issued a statement from Nathan Outteridge saying that the description his father gave does not reflect the facts.] The team's second boat arrived in the US within the past week and was due to be launched soon.
Stories and Images:
Local: Video and photos at ABC-TV station KGO and NBC Bay Area and KTVU TV
Read more stories at New York Times and San Jose Mercury News; AP story at USA Today and Photos;
Condolences Pour In: LA Times
Simpson on his Olympic success: "You win a gold medal with your best friend and you're on the podium and the national anthem is played and you've just had a really tough regatta -- it's not like we won it easy, it was a real war." Read tribute at Guardian.co.uk
From 2011: Sailing the Star with Iain Percy and Andrew Simpson: Mail Online
Simpson was one of three Olympic athletes who joined Artemis last February, with Paul Cayard, CEO of Artemis, saying at the time: "These young sailors bring talent and enthusiasm to our team. They are the future of the Americas Cup."
AC72 Background:
Oracle Team USA pitchpoled their first AC72 yacht last October, damaging the boat, but without serious injury to the crew. CupInfo's Diane Swintal spoke with members of the America's Cup teams before and after the incident about safety and preparations for responding when an 72-foot catamaran capsizes:
AC72 Capsize Preparations (Dec 3)
Oracle Lesson Learned (Oct 16)

---
America's Cup World Series Naples 2013
At CupInfo: Naples 2013 Main Page
Schedule | Results and Standings
Daily Reports:
Thursday (Day 1) | Friday (Day 2)
Saturday (Day 3) | Sunday (Day 4)
Team Statements:
Day 1 | Day 2 | Day 3 | Day 4

Luna Rossa Swordfish and Oracle Slingsby in the Match Race Final, Sunday. Click image to enlarge.
Photo:©2013 Luna Rossa/Carlo Borlenghi
---
Three Wings And Counting
(Apr 10) As America's Cup 2013 approaches, variations in thinking are apparent. François Chevalier and Jacques Taglang compare wing sail designs for the AC72's.
Read more at Chevalier-Taglang Blog

---
Comparing the AC72 Cats
As the first AC72 sailing period comes to a close and the second set of America's Cup cats starts to be unveiled, observers are beginning to get a grasp of differences in how the different teams have approached the design problem for the 2013 America's Cup. Here are a few recent looks at the new boats:
(Jan 18) From Jack Griffin: "AC72 design is governed by a class rule which defines the limits within which the design teams work to build the fastest boat. Fastest at what? Sailing in strong or light winds? Upwind or downwind? Rough conditions or flat water? What is more important – straight-line speed or maneuverability? Let's look at how each team has set its priorities."
Read more at CupExperience
(Jan 19) First impressions of ETNZ Boat 2
Read more at Chevalier-Taglang Blog
(Jan 15) America's Cup design veteran Mike Drummond gave Sail-World his assessment of the four AC72's seen to date:
Oracle's USA 17: "Oracle has gone for an emphasis on the high efficiency and the greater speed potential. The tradeoff is in the structure. The class rule has a maximum weight and even lightweight fairings weigh something, so you can't just add laminate without reducing material elsewhere."
ETNZ's Boat #1: "Overall I think Emirates Team NZ has a good, straight forward, conservative boat with lots of volume, and a well proven structural arrangement. The wingsail is straight out of a C-class evolution. They have correctly focused on foil over wing development."
---
Defender Pressing On
After Oracle Team USA's October disaster, with boat one rebuilding and boat two under construction, engineer Dirk Kramers talks about lessons learned and the impact on the Defender.
Read Article at CupInfo
---
AC72 Safety
(Oct 16) The reaction many sailors have at seeing an AC72 catamaran up on foils at over 40 knots is "Wow!" followed shortly thereafter by the nagging thought of what is going to happen if the boat goes over. The risks of flipping a 72-foot wingsail catamaran are intimidating to all concerned. Diane Swintal spoke recently with Oracle's Dirk Kramers and Regatta Director Iain Murray about how they are preparing to keep crews safe. Tuesday's incident with Oracle's USA-17 will put their theories to the test sooner than expected.
Dirk Kramers, Oracle Team USA: "The boat is set up with righting lines, in case we have to right the boat. We also have buddy-breather cartridges, so if you have to dive, you can go under longer. But it's also an organizational issue; we have three to four boats out there supporting us, and there's a whole set of response maneuvers that we've practiced to make sure that we do the right thing at the right time. For example, if someone falls off and gets hurt, that's the first priority. The next priority is getting the boat head-to-wind. So there's a whole series of events that have different response maneuvers."
Read AC72 Capsize Safety at CupInfo

---
Feature Story: The Experts
Sailors get all the attention, but it's shore crews that get the job done day and night: getting more speed out of the AC45's, and putting it back in after crashes, breakage, and, yes, bright sunlight. Oracle's Andrew Henderson takes us inside the Defender's tent.
Read article at CupInfo

---
America's Cup World Series:
San Francisco October 2012
For Daily Coverage from October
See CupInfo's ACWS SF main page or go directly to:
Day 1 | Day 2 | Day 3 | Day 4 | Day 5
Final Sunday Oct 7 (Day 5):
Oracle Team USA (Spithill) wins Final Fleet Race 7, giving him the points to win the ACWS San Francisco Regatta and take the season lead. Nathan Outteridge on Artemis Red was ahead early, as was rookie Peter Burling on Korea, but Russell Coutts, Terry Hutchinson, and James Spithill all worked their way up to the front of the pack as the race progressed. Read Sunday Report
James Spithill, Skipper, Oracle Team USA: "We looked at the points and we knew we had to win the race. We knew that if Ben got fourth or worse we could take it. But we're so stoked – this is the second time we've been able to pull off the double and we're still the only team to do it."
For Quotes from skippers and more:
Read Sunday Race Summary and Event Wrap-up

---
America's Cup World Series San Francisco August 2012
Final Day: James Spithill wins the Final Fleet Race and wins the ACWS regatta, leads in season points race.
Race Results and Standings | Schedule
Visit CupInfo's ACWS San Francisco Main page or jump to daily reports:
Day 4 Saturday: Semi-Final wins for Oracle, Energy unleashes some speed, and Spithill wins big.
Day 4 Report | Team Statements | Skipper Quotes
Day 3 Friday: More wind, Match Racing wins for ETNZ and Coutts, plus good showings from Luna Rossa and Spithill in close Fleet Racing. Plus Russell Coutts rams the RC.
Day 3 Report | Team Statements | Photo Gallery
Day 2: Artemis White and Oracle Spithill advance to Semi-Finals, and Oracle Team USA sweeps Fleet Race. Read Thursday Day 2 Report
Day 1: Both Luna Rossa boats and Ben Ainslie move on to Match Race Quarter-Finals.
Read Wednesday Day 1 Report
Photo:©2012 Daniel Forster/go4image.com
Shifting Gears: How do you win an Olympic Gold Medal and then go chase the America's Cup the next week? Nathan Outteridge (right with teammate Iain Jensen) and Ben Ainslie talked to CupInfo about their multi-tracked efforts.
Read Story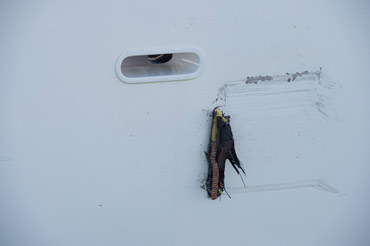 Portion of Oracle5's bow embedded in the Race Committee boat after collision. Click image to view large and see Day 3 photo gallery.
Photo:©2012 Chris Cameron/ETNZ
---
Chasing the Big Cats
(Aug 21) A chase boat to support a 72-foot America's Cup wingsail multihull that can top 40 knots is a challenge in its own right. Chris Salthouse of Emirates Team New Zealand explains how the Kiwis are tackling the problem: two hulls, four engines, and Chris's younger brother Greg...
---
ETNZ Launches AC72
(July 31) Emirates Team New Zealand sails their new cat for the first time: See Photo Gallery

(July 21) Emirates Team New Zealand launches their new cat in a nighttime ceremony in Auckland's Viaduct Harbor. Christened New Zealand, this is the first AC72 yacht to be unveiled anywhere.
See photos and read more
Also:
Sail Revolution interviews designer Pete Melvin about the new boat: Read "The Big Launch"
At Sail-World a video look at the deck layout and other details of the just-launched AC72 New Zealand. And See Launching Video at TVNZ (2:09).

(July 18) Emirates Team New Zealand stepped the wing on their new AC72 catamaran today in Auckland, in preparation for an upcoming launch ceremony on July 21. This is the first AC72 yacht ever to appear in public view anywhere. View more photos from ETNZ photographer Chris Cameron
Dean Barker: "The boat is going to be a monster. The sheer size of the wing is mindblowing"
Read story by Suzanne McFadden at stuff.co.nz
Grant Dalton, CEO, ETNZ: "We're basically just figuring it out as we go," said Dalton. "We're a week or so behind – and that's just because of the complexity of this boat – but I don't think anyone is ahead of us at this stage. We've seen no other wings in the air with boats under them." Read More at NZ Herald
Richard Gladwell: "Major features were the grinding pedestals ... and steering wheels in place of the tiller steering used in the AC45's."
Read more at Sail-World
---
ACWS Newport
Post-Script:
July 3: America's Cup Regatta in Newport exceeds attendance and television viewership projections. Over 1.1 million people watched on NBC in the USA alone, along with several other countries, while nearly 60,000 people visited Fort Adams to see the racing in person, according to a report from WJAR, the local NBC TV affiliate.
Day 1: Nice wins for Artemis, Oracle, and Luna Rossa Piranha; tough losses for Team Korea and Luna Rossa Swordfish; and an even tougher break, literally, for Emirates Team New Zealand. Read Day 1 Report
Day 2: Match Race success for both Oracle boats in the semi-finals over Artemis and Luna Rossa Piranha; Spithill steals a second straight win, passing ETNZ at the last mark: Read Day 2 Report
Day 3: More success for Spithill, ETNZ and Team Korea rebound: Read Day 3 Report

---
America's Cup World Series Naples
In their first ACWS regatta, a big win in Race 7 helped Luna Rossa Piranha climb to the top of the Fleet Race standings and take home the Naples Fleet Race Championship. Despite rain a huge crowd roared their approval after the Italian boat crossed the finish line in Naples. Artemis Racing redeemed a frustrating start to the week with wins over two Luna Rossa teams to clinch the Match Race Championship.
Race Reports, more photos, and daily previews:
all on CupInfo's ACWS Naples event page

---
J-Class Foursome
Two of the original J-Class yachts, Endeavour and Velsheda, racing modern J's Hanuman and Ranger in the Bucket Regatta in St. Barths. Read More

---
Oracle Pier 80 Open House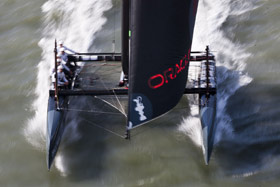 Photo:©2012 Guilain Grenier/Oracle Racing
Oracle Racing hosted local media with Russell Coutts, James Spithill, John Kostecki, and Dirk Kramers sharing their views about racing in local waters, the risks and rewards of the new AC72's, and how America's Cup challengers will adapt to the San Francisco race venue.
Read article at CupInfo
---
ACWS San Diego
Race Reports, Stories, Results, and links to more:
See CupInfo's ACWS San Diego Main Page
See Full San Diego Results and Standings

---
ETNZ Wins ACWS Plymouth
Results, Photos, Stories and more:
See CupInfo's Plymouth Main Page

---
Crash Time
(June 13) Oracle Racing AC45 Spectacular Pitchpole in San Francisco Bay during exhibition race pre-start:
See Video at You Tube
Crew Shannon Falcone was injured, walking away but taken to the hospital by ambulance for X-rays of his ribs and further evaluation. Russell Coutts, skippering #5, was thrown through a portion of the wing. Thankfully, injuries to the crew were not more extensive. Examination showed that Falcone dislocated rib cartilage, but did not break any bones.
Read more at Oracle Racing Blog
and see Photo Gallery
Update: Follow-up stories Tuesday:
Reconstructing events, repairing damage, and plenty of interviews... See Oracle Racing Blog
What Happened?
Conditions were said to be 20-25 kts, with a building chop against an ebb tide. The video seems to show #5 sailing off the wind, heading up slightly, then quickly bearing away and easing the wing. This maneuver loads up the bows while presenting a broader wing profile to the wind. With the bows dug in, the wind sends the cat right down the mine, and there wasn't much the crew could do about it once the sequence started. "We got caught in the pre-start at the wrong angle and paid the price," said Coutts.
This capsize seems to continue a pattern from testing in Auckland, where the AC45 is remarkably stable in many conditions that would cause problems for lesser cats, and the long wave-piercing bows can be very effective at maintaining buoyancy and avoiding this sort of incident, especially upwind. But if the wingsail gets into an undesired orientation relative to the wind, forces can overwhelm the boat much more quickly than with a soft mainsail. Somewhat inherent in a hard surface airfoil, it appears to be much harder to depower the wing on short notice when in trouble, as attempts to ease the wing above illustrate.
On the other hand, both increased experience and improved control techniques could lessen the risks, too. There is still a lot to learn about these boats, even for expert crews, justifying the plan to climb the learning curve early with the AC45's and build skills and understanding in preparation for the AC72's which launch less than 13 months from now.

---
Wingsails and the AC72 Rule:
Part 2 with Pete Melvin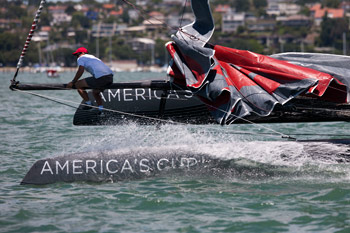 Photo:©2011 Gilles Martin-Raget/americascup.com
(Feb 3, 2011) Pete Melvin helps explain how the AC72 Class Rule he helped write was shaped to allow more design freedom in the interest of creating faster boats less expensively. He also shares his expectations for technology development in the 2013 America's Cup, and discusses the challenges of managing design development when much is still left to learn about the big Cup cats and the regatta they will compete in.
Pete Melvin: "We looked at a rule that's more restrictive, such as the wings that are being used in the C-Class, but it was very difficult to write a rule around a 3D object with moving parts. Whenever we wrote a rule to limit something, we would find five ways around it. By writing very restrictive rules, you actually increase complexity and cost, so by leaving things open, things turn out to be much simpler, elegantly efficient."
Read more with Pete Melvin about Wingsails and the AC72 Class Rule

---
Choosing Multihulls for the America's Cup: Behind the Decision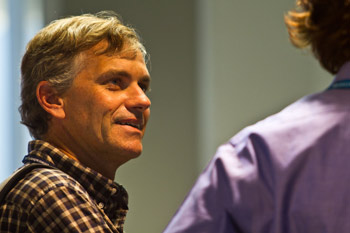 Designer Pete Melvin. Photo: ©2011 Javier Salinas Laguna/americascup.com
(Jan 17, 2011) Pete Melvin, of Morelli and Melvin Design and Engineering, helped guide the process that led to the selection of wingsail catamarans for the 2013 America's Cup, the first time in the history of the famous regatta that multiple teams will be racing in these kinds of boats as a class, and he was an author of the new AC72 Design Rule. Melvin, an expert sailor of advanced multihulls as well as a top designer, knew well the skepticism that the move faced from supporters of more traditional boats.
Pete Melvin: "It was extremely clear along party lines with most everyone wanting monohulls and us multihull guys saying 'We're open minded, but we see more benefits in the multihull than you guys are seeing.' But it comes down to match racing. The biggest criticism from the monohull guys was 'You can't match race these boats.' There are very few people who have really match raced a multihull. I was fortunate enough to have been involved with the Oracle guys in their match racing development and knew how exciting it could be, but it's hard to tell the monohull people 'Wait and see, it really will be great!'"
Read Visit with Pete Melvin at CupInfo

---
Optimizing America's Cup Yacht Designs
(Jan 11, 2011) What impact can Genetic Analysis and automated optimization play in designing the new 72-foot catamarans and wingsails for the 2013 America's Cup? Does Oracle Racing now have an insurmountable advantage on wingsails? Is this advanced study within reach of anyone other than the teams with the most money?
For Alinghi in the 2007 America's Cup, Andrew Mason created a DNA structure for the ACC yacht class, and then used it to race virtual fleets against each other, automated by computer, culling out the top performers and cross-breeding them until the best of the breed was found.
"With the adoption of winged catamarans for AC34, the benefits of using optimization methods to explore the design space are overwhelming," Andrew says. "In 2007 we were trying to eke out small gains to highly refined designs which had resulted from more than 15 years of development in the class. This time around the design space is largely unexplored for hulls, wings, and foils, and I have no doubt that some major breakthroughs await those teams that embrace the use of advanced optimization methods."
Read Interview with Andrew Mason at CupInfo

---
San Francisco Is Chosen to Host the 2013 America's Cup!
Dec 31, 2010 (5:50 pm PT): Golden Gate YC and race organizers reached a deal with city officials late Friday to hold yachting's most famous and historic regatta in San Francisco in 2013.
A formal press conference is expected next week. Communications between GGYC and the City tentatively establish July 13 to September 1 for the Challenger and Defender selection races, and September 7 to 22 for the America's Cup Defense. Firm dates and formats will be determined by the end of January.
Read America's Cup Press Release
Also: See Computer Generated Promo at YouTube
As for Newport's prospects: "Rhode Island has made a super-human effort with very little time and late in the game here," said Thomas Ehman, head of Oracle Racing external affairs and a member of the Golden Gate Yacht Club America's Cup committee. "It's not only very much appreciated, but was an extraordinary effort. … Unfortunately for Rhode Island, we've run out of time and San Francisco's bid has been accepted tonight." Despite not being selected, Newport may head the list to host preliminary regattas.
Read story at Providence Journal

And if difficulties interfere with San Francisco's progress, Newport could get the America's Cup after all: "Should there be any problem with San Francisco fulfilling their end of the deal, we'll be looking to Newport to jump in," America's Cup representatives told the Associated Press.

---
Shaping the New Cup
Dec 12, 2010: Before an attentive audience at Cal YC in Marina del Ray, Tom Ehman, of BMW Oracle, and multihull designer Pete Melvin, of Morelli & Melvin Design & Engineering, recently explained the thoughts behind some of the radical changes they helped conceive for the 2013 America's Cup. Diane Swintal was there and brings us her report:
Pete Melvin: "The wing is a huge performance element and that's where I think a lot of the gains will be made. Hulls are fairly well understood -- with a monohull, where the hull is very, very critical and a very key part of your design, you'll spend a lot of your resources developing the hull shape. Multihulls are all long and skinny things and whether you make one with a little more 'vee' or a little less rocker, it's not going to change the drag characteristic of the hull that much. So a lot of those resources that you might have put into design engineering will go into the wing or the foils, and less on the hulls."
Read more about Pete Melvin's talk at Cal YC
Tom Ehman: "...We're not taking the Cup to some media-centric era, we're taking the Cup back to the way the Cup was from 1851 until they moved to Newport."