Race 1: Friday June 1

ETNZ gets on the board in Race 1.
Photo: ©2007 Chris Cameron/ETNZ
Friday Results:
ETNZ grabs it! A 1-0 lead in a very close race.
Expectations for a close contest were met, and sailing fans worldwide rewarded by the opening match between Finalists Emirates Team New Zealand (NZL-92) and Luna Rossa (ITA-94).
Very tight match racing as the Kiwis clung to their lead despite the Italian boat showing a lot of speed. Starting on the right side of their opponent, New Zealand patiently waited for their starboard advantage to pay, and ended up rounding the first mark with a 12 second lead over Luna Rossa.
The Italians were able to gain a little bit on the first run, and followed NZL-92 on the right side of the downwind gate, trailing by 9 seconds. The second beat saw the teams fight for the right side of the course, with Emirates Team New Zealand keeping their starboard advantage all the way to the mark.
Despite a persistent right shift which helped the Kiwis increase their lead by a couple of seconds, the Italians showed great capacity to keep the game close enough to be in a passing position downwind. And Luna Rossa almost made it! Finishing neck and neck, the two teams delivered a heart-pounding photo-finish as NZL-92 crossed the line before ITA-94 to score the first point of the Louis Vuitton Finals.
Final delta: Emirates Team New Zealand beats Luna Rossa by 0:08.
Quotes:
Ray Davies, Strategist, Emirates Team New Zealand: "It was pretty dangerous most of the way round; I donít think there was any time when we felt comfortable. We had to defend pretty hard and we took quite a loss on the second beat, had a narrow lead at the top and on the last run Prada had a pretty strong position behind us. There were some nervous moments there where they could have got some breeze that we couldnít have done anything about; it would have been out of our control. But we were able to the hold pressure in front of them and keep our air until the finish."
Torben Grael, Tactician, Luna Rossa Challenge: "Itís hard to call today bad luck, they sailed well. We didnít have exactly what we thought in the first beat and maybe will have to work harder next time. There are different days and different decisions to be made."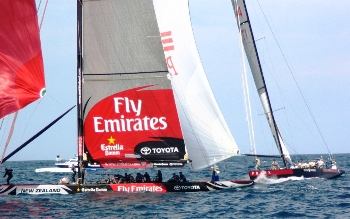 Luna Rossa kept it close all day long.
Photo: ©2007 Lyn Hines
Friday Outlook:
Warning gun:
14:50h, Friday.
Weather:
Early forecast for 9-14 knots.
Start Box Entry:
Luna Rossa ITA-94 will enter on starboard (yellow), ETNZ NZL-92 will enter on port (blue).
It's here! Emirates Team New Zealand versus Italy's Luna Rossa. NZL-92 versus ITA-94. Some key Aussies and American's thrown in there, too, but both of these teams have strong national representation, and have fought long and hard to be here. In fact, they met in 2000 when TNZ defended the America's Cup against rookie Prada. It's been a long strange trip since then, more so for TNZ.
Luna Rossa dismissed BMW Oracle handily in the semi-finals, James Spithill and crew looking sharp in the pre-start, Torben Grael clairvoyant when it came to calling the wind, and the radical ITA-94 fast enough the rest of the time not to give very much up to the powerhouse USA-98.
ETNZ had more of a fight than most expected against DesafŪo EspaŮol, but the Kiwis have rode at the top of the Louis Vuitton Fleet for a couple years now, finishing first among the challengers in many of the preliminary Act regattas, and winning both the overall rankings going into the LVC rounds robin and coming out of them.
Both teams are reputed to have trick boats, and are here on the backs of extremely well-trained crews. Weaknesses: ETNZ was perceived to be a bit vulnerable in the pre-start, but then they pasted ESP-97 in Race 7 before the gun to help shut the door in the semis. LR was viewed as "sticky", meaning slow, in light air during the Rounds Robin. But BMWO never made much of that during the semis, if it was even true then.
What to watch for, though? Strengths. LR's 5-1 romp over BMWO and reputed rocketship USA-98 was chalked up by many to the Italians finding extra gears somewhere. If ITA really has such dominant speed, they will make short work of ETNZ, too. On the other hand, Emirates has had the chance to analyze LR's racing profile, and may have figured out where to go at LR to best effect. NZL-92 didn't give anything up to ESP-97, a downwind speed demon who mowed down her Round Robin rivals.
If the LVC finalists have asymmetrical advantages, it should make for interesting racing. Is ETNZ going to attack downwind? Will this race break the first cross, first mark pattern? Boats should enter the start box at 14:55h Friday.