Alinghi Training in Dubai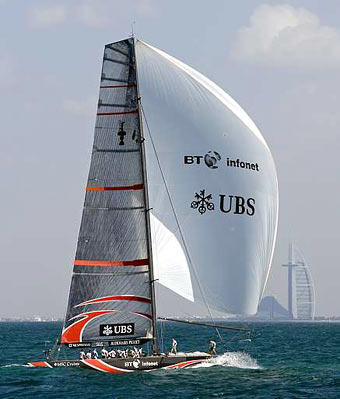 Alinghi begins training in Dubai with SUI-64 and their new boat, SUI-91.
Photo: ©2006 ThMartinez/Alinghi
"We lined the boats up this afternoon and started our testing program in conditions that are reminiscent of a strong sea breeze in Valencia. It's good to get started with conditions that we can expect in the summer of 2007," said team skipper Brad Butterworth.
---
Archbishop Tutu Visits Shosholoza
"Bring the America's Cup to Africa!" said Archbishop Emeritus Desmond Tutu. The Nobel Laureate also expressed an interest in sailing as the team's 18th man.
---
BMW Oracle Training Too
The team is training now on trial horse USA-71, but declined to reveal whether new USA-87 would join the Auckland stable. They did, however, tease the imagination with hints about the new boat.
"Eighty-seven is very, very innovative, the most innovative of any this time around," Dickson said. "She is innovative in her structure, in her laminate, in the internal layout, in her hull structure, rig placement, bowsprit and appendages - we didn't hold back.
Read Julie Ash's story at NZ Herald
---
For Your Holiday Gift List
The first America's Cup Class yacht ever built, Raul Gardini's Il Moro di Venezia I, is for sale. If you've been a good boy or girl this year, the restored bright red racing yacht, currently based on San Francisco Bay, could become your own piece of America's Cup history.
Read more details from John Sweeney
---
NZL-92 Arrives Soon
The new Emirates Team New Zealand yacht is expected to be delivered the first week of October. Launching is planned for October 19.
---
Additional Stories:
12/11: Baird vs. Holmberg: Alinghi to hold UBS Defender Trials
11/27: Triple Digits: Sail Number 100 Official America's Cup Site
11/11: Pack and Play: Alinghi heads off to Dubai
11/09: AC 32 Tech: Stories at NZ Herald
10/23: Dave Perry joins Victory: Victory Challenge
10/20: NZL-92:
ETNZ launches 2nd new boat New Zealand Herald
99 in the Shade: More ACC Sail numbers issued -- Challenger Commission

AC in SF ?
BMWO Talks of Golden Gate Defense
"This is the greatest natural amphitheater for sailing, perhaps in the world," said Larry Ellison.
Defending the Cup on the Bay also excites BMW Oracle's Gavin Brady: "I think this would be one of the coolest places to run the America's Cup."
"First we have to win it," Ellison told the AP's Bernie Wilson.
---
Columbia's Mast to be Repaired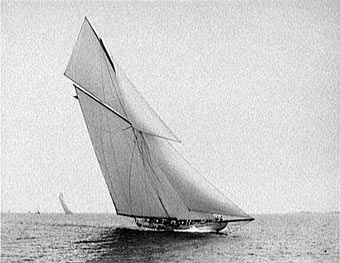 America's Cup defender Columbia. Photo credit
The mast of two-time America's Cup Defender Columbia is due for repairs. All the more so because we are talking about the 1899 and 1901 defender, not her 1958 12-Meter namesake. The rest of the great yacht was scrapped in 1914, but her hollow steel 115-foot mast has been on flagpole duty in a Queens, New York, park ever since.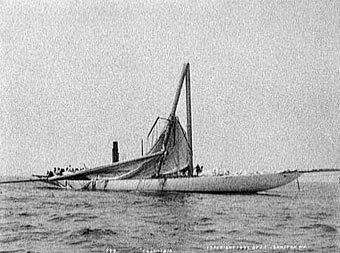 The mast in the Queens park is not Columbia's first spar. An earlier steel mast failed in a spectacular fashion, August, 1899. Photo credit
Patron of Shosholoza
"Nobel Peace Prize laureate, Archbishop Emeritus Desmond Tutu has accepted an invitation to be patron of Team Shosholoza, South Africa's first ever challenger for sailing's prestigious 156 year old America's Cup" -- from South African Challenge
---
SAC Afterguard Set
"South Africa's Amercia's Cup challenger Team Shosholoza has announced the final afterguard configuration for 2007. It includes Mark Sadler as Skipper, Paolo Cian as Helmsman, Ian Ainslie as Strategist, Tommaso Chieffi as Tactician and Marc Lagesse as Navigator."
McDonald to Victory
The British sailor joins the team as Strategist and will also be associated with mast design.
---
Alinghi Yacht Club Tour
Alinghi will visit three European Yacht Clubs this fall to help sailors learn about their efforts to defend the America's Cup next year.