More America's Cup News:
Sep 30: Energy Team's AC45 breaks loose from mooring, drifts to Treasure Island, but receives minor damage:
Americascup.com
Sep 25: Aloha Lanai: Oracle Team USA re-thinks plans to train in Hawaii, logistics not supportive of short window to prepare team's new boat:
AP story at Houston Chronicle
Sep 25: Australia II quarter-scale replica for sale on eBay. Quarter-scale America's Cup trophy not included:
eBay Motors
Classic America's Cup Yachts: Nine historic 12-Meters and crews including America's Cup Winners Ted Turner and Dennis Conner at the 12m North American Championships in Newport, RI, September 21-23: Event Site and Video
Sep 20: Safety Fears for the Big Boats. Do cost-control rules add risk? Stuart Alexander at the Independent
Sep 14: Oracle Team USA may train in Hawaii, on Larry Ellison's island of Lanai:
Hawaii News Now
Sep 11: On the 20th anniversary of the movie's release, Kimball Livingston looks back on Wind, the only feature film about the America's Cup. Kimball, as one of the movie's writers, knows a bit about where art was imitating life or vice versa:
Blue Planet Times
Sep 7: Sailing Day 5: ETNZ cat photos from Chris Cameron: See Gallery and Team Video
Sep 6: Emirates Team New Zealand up on foils: See video at tvnz.co.nz
Aug 29: ETNZ Day 4 of AC72 Testing:
Team YouTube Video
Aug 29: Kimball Livingston at Sail Magazine weighs AC72's racing on Foils:
Blue Planet Times
Aug 28: Multihull expert Franck Cammas to coach Luna Rossa: Luna Rossa website
Aug 25: James Spithill Brings the Heat at SF Giants game:
See Photos and Press Release
Aug 22: First look at Artemis Racing's new AC72 arriving in San Francisco: See Photos
Aug 21: IndyCar Race Driver JR Hildebrand to sail with Oracle's James Spithill Tuesday:
Press Release
Aug 20: Adam Fisher at Wired Magazine has an extensive article about the progress on bringing the America's Cup to a mass audience, and Stan Honey's role in doing so:
Wired Magazine
Aug 16: Oracle Team USA's first AC72 set to launch late this month: Read Press Release
Aug 10: "Hopefully we'll get a lot quicker than that." ETNZ's beast hits 31 knots in early testing:
stuff.co.nz
Aug 6: Secret Luna Rossa testing in Italy? Lifting foil cat at Sailing Sardinia
Aug 3: Emirates Team New Zealand's AC72 sails again: Team Site (plus new uniforms at ETNZ Blog)
Aug 1: America Youth Sailing Force aims to be US entry in Red Bull Youth AC Series: YouTube Video
July 12: America's Cup-winning 12-meter yachts Columbia, Intrepid, and Courageous among classic competitors at NYYC Race Week in Newport:
JamestownPress.com
July 9: Winging West: The America's Cup World Series takes the overland route, comprising a 1.5-mile-long freight train headed west to San Francisco:
Americascup.com
Update (7/12):
CupTrain in Vermont
July 1: Onboard Artemis Racing's AC45: See Gallery from photographer Daniel Forster

Third Time for 17
(Sep 29) Oracle Team USA got in another day of AC72 sailing under their belt Friday, taking the first of their new AC72 catamarans out for Sailing Day 3 of the 30 permitted before next February.
See Oracle Sailing Day 3 Photo Gallery

---
Winged Victory
(Sep 26) The Chevalier-Taglang blog takes a light-hearted look back at the triumph of Australia II, the first successful challenger for the America's Cup, who sailed off into the sunset with the Auld Mug on a late September day in 1983.
Skipper John Bertrand: "The day of her maiden voyage was a major occasion. The place was packed, and Benny [Ben Lexcen] was floating somewhere between the dock and seventh heaven. It was a heart-warming sight. Here was this huge, good-natured, slightly chaotic man, who can swear like a drunken bushwhacker, walking around as if on air, with his arms often spread wide before his new creation, as if conducting a Vivaldi concerto."
Read Entry at Chevalier-Taglang Blog

---
Outteridge Joins Artemis
(Sep 21) Sweden's Artemis Racing offically confirmed today that Australian Nathan Outteridge would be added to their sailing team, departing from Team Korea.
From Artemis Racing: "I think anytime you add a sailor of Nathan's caliber to a team it's a good thing. I'm anticipating that the experience we have here, balanced with his youth and enthusiasm, will be a good mix," said Skipper Terry Hutchinson (USA).
"It's great to have Nathan join Artemis. We have seen that his success in skiff and moth sailing have translated well in the AC45 racing. Nathan certainly has a bright future," added Paul Cayard, CEO of Artemis Racing.
Read Artemis Racing Press Release
Until next July's start of the Louis Vuitton Cup, the regatta to select the challenger for the 2013 America's Cup Match, sailors are not restricted from switching teams. Designers may not choose to switch teams after January 1, 2013, unless they are terminated by a team before the start of the LVC.

---
Outteridge Departs Team Korea, Possibly Joining Artemis
(Sep 20) Stuart Alexander reports that Skipper Nathan Outteridge is expected to join one of the "Big Three" America's Cup teams, parting ways with Team Korea. A fast-rising star, the Australian sailor also won an Olympic Gold Medal this past summer in the 49er class.
Read more at The Independent
Team Korea is an officially paid-up challenger entry for the 2013 America's Cup, though what the move implies for the team's 2013 Louis Vuitton Cup/America's Cup viability isn't encouraging. Event organizers in August said that despite having paid their entry fee, the Korean team had yet to begin construction of their new AC72 catamaran. Even if they didn't challenge, the team would be eligible to continue competing in the ACWS and work on funding for the next Cup cycle. Team Korea announced today that they are adding New Zealanders Peter Burling and Andy McLean. Burling is a top 49er skipper while McLean goes back with ETNZ to 2003, competed on the Extreme40 circuit, and was pit/trimmer for the ETNZ's Camper entry in the 2011-12 Volvo Ocean Race.
Meanwhile, there's the open question of which team Outteridge might join. His predecessor, Chris Draper, went to Luna Rossa, though with Paul Campbell-James, and Max Sirena as overall leader, the Italian team looks very well stocked with skippering talent and have said that they are only recruiting grinders. Sweden's Artemis Racing recently added a second ACWS boat, and the expert multihull skipper Santi Lange, but given Outteridge's experience Artemis might consider plugging the young Australian into their program, too. A surprise would be ETNZ, which fields only one entry in the ACWS and has Glenn Ashby to spar with Dean Barker, but the Kiwis could jump on the opportunity in the interest of ramping up their intra-team training efforts. Outteridge was sailing this past week as a tactician at the Farr 40 Worlds in Chicago, placing 3rd on Transfusion, but there aren't a lot of available skippers out there with wingsail catamaran success on their résumés, so it's hard to think he wouldn't have some good options at hand for the America's Cup.
Update: Sail-World reports that Outteridge will go to Artemis, though an official announcement has yet to be made.

---
Oracle's AC72 Sails Again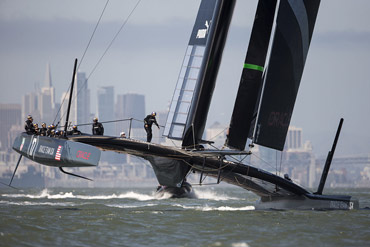 Click image to enlarge and see more. Photo:©2012 Guilain Grenier/Oracle Team USA
(Sep 17) Oracle Team USA put their new 72-foot catamaran back on the water for the second of 30 permitted sailing days before the end of next January. Day One, at the end of August, ended early when one of the daggerboards failed. Having adapted with a temporary board, the defender proceeded cautiously today, working up to higher loads and testing their sail inventory.
Read Team Press Release and See Day 2 Photo Gallery

---
Oracle AC72 Sails, Minor Damage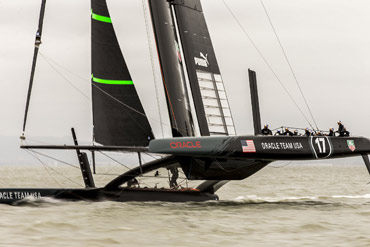 First Sail for Oracle. Click image to enlarge and see more. Photo:©2012 Guilain Grenier/Oracle Team USA
Aug 31: Oracle takes the new boat out for a 2-hour sail, returning to port after sustaining damage.
From the team: "The initial commissioning and testing process was started with the boat displaying an early demonstration of its performance potential. After two hours, the session was stopped due to a daggerboard failure in the starboard hull. Boat and crew returned safely to the team's Pier 80 base. The team is now assessing its options to resume testing as soon as possible." See Photos
Update Sep 5: The team says it could take a couple weeks to fabricate new daggerboards and return the boat to the water.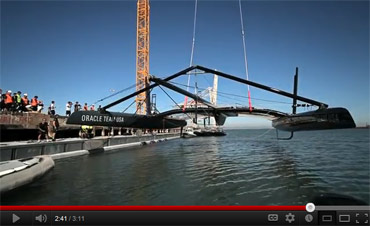 Aug 30: Launching: Click to Play Video at YouTube (3:11). Image:©2012 Oracle Team USA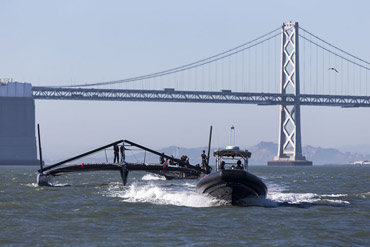 Aug 30: Oracle AC72 Tow Tests. Click image to enlarge and view more. Photo:©2012 Guilain Grenier/Oracle Team USA
Plus: Spyshots and others on social media:
8/30 VoilePassion (full view of hulls)
Instagram (distant shot in shed)
Oracle Team via Facebook (head-on wide angle)
Puma Sailing via Instagram (close-up starboard side)
Jeremy Leonard/SurfCityRacing via BluePlanet Times (close-up aft quarter)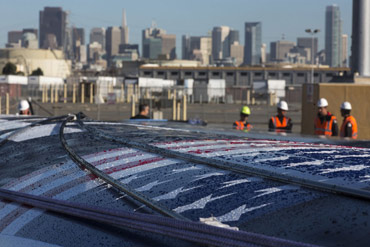 Click image to enlarge and read more. Photo:©2012 Guilain Grenier/Oracle Team USA
Aug 27: Oracle Team USA will step the wing on their new AC72 catamaran for the first time Wednesday or Thursday in San Francisco. Read updates and see teaser photos


Winning Fans
(Aug 26) They came from all over the San Francisco Bay area – some serious sailors, some new fans, and some just curious what all the fuss was about. After seeing the America's Cup World Series for themselves, if anyone remained skeptical about ACWS sailing, they were hard to find. CupInfo's Diane Swintal chatted with some Cup Fans with to see what they thought of the SF event:
Read Fan Reaction at Marina Green
More assessment of the week:
150,000 people attended ACWS San Francisco over five days, with 40,000 coming for Sunday's Final alone.
SF Gate: America's Cup Crowds Calm Larry Ellison
ACWS Exceeds Expectations, and hints of ... China?
Eric Young at Biz Talk and Patrick Tuohy
Note for comparisons to Newport that the majority of fans had free waterfront access in San Francisco, while Newport charged $10 admission and $20 for parking, with the America's Cup Village in Fort Adams capped by park officials at 10,000 occupants. And the Fort hit that limit on the Final Sunday.

---
Skipper's Impressions of Racing on the Bay
(Aug 21) How are the teams preparing for racing their AC45's in San Francisco Bay conditions? On the eve of the first America's Cup World Series in SF, CupInfo's Diane Swintal spoke with the Skippers:
Dean Barker, Emirates Team New Zealand: "A lot of us have sailed here in the past in different boats but never in catamarans. Your recollection of what the bay has to offer can be a little different. It's been a real eye opener in the past few days."
Nathan Outteridge, Team Korea: "It's not just the current, it's the wind strength, the chop and the shifts and it's going to be difficult for everyone."
Terry Hutchinson, Artemis Racing: "I've done a lot of Big Boat Series and other racing here and all the same theories apply – when you're in the flood, you want to get along the shore and if you're in an ebb, you want to be as far out as you can. We've worked hard to develop current playbooks and to understand that element of it, but this is a tricky little spot...."
Read more ACWS Skipper's comments

---
Oracle's WatchNet
(Aug 21) With Oracle Team USA launching their first AC72 yacht in a matter of days, James Niccoli explores a couple high-tech features that the team is willing to reveal at this date:
"Oracle's boat has hundreds of sensors embedded throughout its hulls, in the underwater fins and up the length of the mast. They're connected by wire to a server in a waterproof box in one of the hulls. The server uses a single wireless access point to distribute data to computerized "wrist watches" and other devices worn by the crew. The others teams in the race are expected to employ a similar set-up."
"'There's no one person interpreting the data any more,' Asim Khan said. 'Everyone's having information processed and given to them exactly how they need it, on their own personalized display.'"
---
America's Victory:
161 Years Young Wednesday
August 22 will mark 161 years since the low black schooner America sailed to England and beat a fleet of competitors around the Isle of Wight, winning a certain silver trophy in such impressive style that she changed the course of yacht design. A technological triumph for the USA and a cultural shock for the British, America's victory was celebrated on both sides of the Atlantic Ocean for years to come. And, not incidentally, an international yacht race was put in motion, with the prize being the very Cup won that day back in 1851. America's Cup historians Jacques Taglang and François Chevalier have posted a pictorial history of the schooner America on their blog along with some technical details, lines plans, and related information.
Read more at Chevalier-Taglang Blog

---
Relaxing Day Onboard the AC45
(August 19) San Francisco Bay has already been a bit more challenging than some of the previous ACWS waters. Warming up for next week's America's Cup World Series led to capsizes Saturday for both Team Korea and Luna Rossa Swordfish.
Tom Fitzgerald of the San Francisco Chronicle filed this report from his recent outing on Oracle Team USA's AC45: "I had hopped aboard the catamaran from a motorboat a few hundred yards off Fort Mason, expecting a relaxed version of what a real race will be like in the America's Cup World Series, which starts Thursday.
"Some relaxation. We pounded over the waves, often with the speedometer showing 23 knots in fairly moderate winds. Three days later, my bruises are fading.
"A ride on this 45-foot catamaran is to your average Sunday sail in the bay what the Superman Ultimate Flight roller coaster is to a county-fair pony ride. It's a full splash of salt water in the face, a torrent of strong winds and a serious rush of adrenaline."
---
Energy Team Will Not Challenge
(August 1) The remaining French team in the America's Cup has announced that they will not build a challenging yacht and compete in the 2013 Louis Vuitton Cup as a potential challenger for the America's Cup. Energy will remain in the America's Cup World Series and field a new Youth Team as well, with the goal of becoming a challenger for the following defense of the Cup.
Read Energy Team Press Release

---
ETNZ Launches AC72
(July 31) Emirates Team New Zealand sails their new cat for the first time: See Photo Gallery

(July 21) Emirates Team New Zealand launches their new cat in a nighttime ceremony in Auckland's Viaduct Harbor. Christened New Zealand, this is the first AC72 yacht to be unveiled anywhere.
See photos and read more
Also:
Sail Revolution interviews designer Pete Melvin about the new boat: Read "The Big Launch"
At Sail-World a video look at the deck layout and other details of the just-launched AC72 New Zealand. And See Launching Video at TVNZ (2:09).

(July 18) Emirates Team New Zealand stepped the wing on their new AC72 catamaran today in Auckland, in preparation for an upcoming launch ceremony on July 21. This is the first AC72 yacht ever to appear in public view anywhere. View more photos from ETNZ photographer Chris Cameron
Dean Barker: "The boat is going to be a monster. The sheer size of the wing is mindblowing"
Read story by Suzanne McFadden at stuff.co.nz
Grant Dalton, CEO, ETNZ: "We're basically just figuring it out as we go," said Dalton. "We're a week or so behind – and that's just because of the complexity of this boat – but I don't think anyone is ahead of us at this stage. We've seen no other wings in the air with boats under them." Read More at NZ Herald
---
AC72 Comparison
(July 28) François Chevalier and Jacques Taglang have published a first analysis of Emirates Team New Zealand's new AC72 yacht in comparison to what is known to date about the designs of Oracle Team USA and Artemis Racing.
Read more at Chevalier-Taglang Blog

---
August ACWS San Francisco Schedule Published, 11 Teams on Roster
(July 17) The regatta schedule for the August edition of the America's Cup World Series San Francisco has been released.
Following practice races on Tuesday, Match Racing will begin on Wednesday, August 22, with three hours of qualifying matches. That first day of racing will also mark the 161st anniversary of the schooner America's historic 1851 victory in England, winning the Auld Mug for the first time.
Thursday, Friday, and Saturday host two 35-minute fleet races per day, all of which combine with the Wednesday Match Races to seed a four-team Match Race bracket, with Semi-Finals and Final sailed Saturday, too. Sunday will feature the seventh and final Fleet Race, broadcast live in NBC in the US.
After the final Fleet Race, a new Celebrity Pro-Am component will be introduced, with details forthcoming. Not shown on the schedule are Speed Trials, which were part of the program at ACWS regattas last season.
See daily ACWS San Francisco schedule and format
Three teams not present in Newport are expected to join the competition on the Bay. China Team returns to action after sitting out the last regatta. Ben Ainslie Racing debuts. And Artemis Racing splits into Artemis Racing Red and Artemis Racing White. That makes a total of 11 AC45's in the San Francisco race fleet.

---
Ben Ainslie Racing Names ACWS Team
(June 16) With Britain's Ben Ainslie at the helm, following the London Olympics the BAR team will join the America's Cup World Series circuit at the San Francisco regatta in August, to kick off the 2012-2013 season. Sailing with Ainslie will be Simon Daubney (headsail trimmer), Kyle Langford (wing trimmer), Matt Mitchell (runner), and Simeon Tienpont (bow).
---
ETNZ's New Cat Coming July 21
(July 12) Emirates Team New Zealand will unveil their first new AC72 catamaran at a public launching ceremony in Auckland on July 21.
"We have been working towards this day for 18 months. Until now we have said very little about the AC72 project and we have shown even less," Grant Dalton, Team New Zealand, told Susanne McFadden.
"The design and build work has gone ahead behind closed doors. Now it's time to share their creation with New Zealand."
Read "T-8 Days to Launch" at stuff.co.nz and Read Big Night with the Big Cat at ETNZ Blog