155 and Counting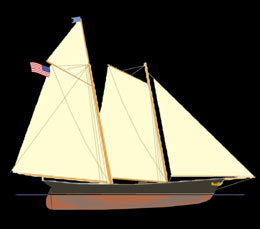 The schooner America won a certain trophy on August 22 in 1851, setting in motion an often glorious chain of events that continues to this day. On the BMW Oracle Racing blog, Tom Ehman has an interesting post about the origins of the trophy.
---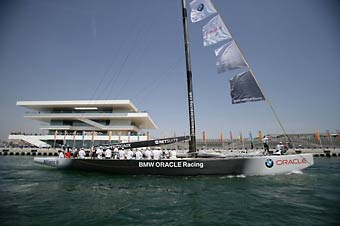 Edificio Veles e Vents hovering over the entrance to the Darsena Interior.
Photo: ©2006 Gilles Martin-Raget
The Guardian's Jonathan Glancey reviewed British architect David Chipperfield's dramatic Edificio Veles e Vents pavilion built for the 2007 America's Cup in Valencia and not only found the building to be a practical and elegant design solution, but also the result of a successful event planning process that should be an example for the upcoming London Olympic efforts.
Read more at Guardian Unlimited
---
Flavio Tells (Almost) All
Mascalzone Latino Capitalia's Flavio Flavini discusses the team's preparation for 2007, their plans for their new boats, and reveals a little about the "secret" racing program:
From these informal races between teams, little is said because of the privacy agreement between the team. Can you tell us how it works?
Basically we are able to race three or four times a week. It's very easy: we organize a weekly calendar each week or 15 days, with the others who are interested, which is usually everyone. They are true regattas with instructions, start times, and umpires. One team provides the committee boat, the other lays out the marks. We organize over the phone or outside the team bases, but it's never hard to find an opponent, including the Defender! In fact, sometimes they are the ones who call us.
---
Dekker to Alinghi
Jan Dekker, 39, well known French/South African bowman, joins Alinghi, the Swiss Defender of the 32nd America's Cup, as foredeck crew to strengthen the sailing squad at a time when the emphasis will be switching from testing to more racing in preparation for next year's America's Cup Match.
---
Playing Catchup
ETNZ Tactician Terry Hutchinson talked with his home town paper about his team's success this year and the difficulties they face in chasing Alinghi.
From the Annapolis Capital: "As the team with the fastest America's Cup boat last time, Alinghi will always have that advantage. The challengers will remain at least half a generation behind," Hutchinson said.
Read more at HometownAnnapolis
---
US Broadcast Team Appears Set
Tucker Thompson, narrator of OLN's recent Act 12 highlights, revealed that he has been asked to be a part of the broadcast team for the 2007 Louis Vuitton Cup and America's Cup. He will join broadcast pro Al Trautwig, familiar to fans of OLN's Tour de France cycling coverage, and Andy Green, whose enthusiastic online commentary is becoming legend. Can Bob Roll be far behind?
Read more also at HometownAnnapolis
---
Back on the Map
The Washington Post's Angus Phillips finds Larry Ellison and BMW Oracle on the trail of the Cup: Dickson says he lacks for nothing. "We have no obstacles, which is a nice place to be," he said. "Our only task is to deliver on our potential, to bring in the next boat, the next mast, the next keel, and to do a good job on the starting line in the next race. We've got the people, the sponsors, the hardware we need."
Read more at the Washington Post
---
Tactical Thinking
From the NZ Herald via Reuters: "It would be a huge mistake to look much beyond the fact that we beat a guy in a three-year-old tub -- and barely -- while he has a new boat sitting in the shed," [ETNZ's Terry] Hutchinson said.
"Having an old boat is no excuse not to have won," said Alinghi tactician Brad Butterworth. "We had enough grunt on board but it just didn't happen on the day."
Read the Reuters story at NZ Herald
---
Things Left Not Said
Russell Coutt's further clarifies that he did not pick Luna Rossa to win it all. From the NZ Herald: Coutts said he was misquoted. "I am upset because the story was completely wrong. I never said that, nor I have ever thought it," he said from Geneva.
Luna Rossa was looking good, "but even that does not amount to predicting they are going to win". It was too early to say who will win the challenger series to take on his old team Alinghi, he said.
Read Julie Ash's story at NZ Herald
---
92 and Counting
New Sail number issued.
Read more at the Challenger Commission
---
Coutts Picks Luna Rossa for LVC
Russell Coutts told the Swiss La Tribune de Geneva that he sees Italy's Luna Rossa beating Emirates Team New Zealand to win the Louis Vuitton Cup next year and challenge for the America's Cup, citing factors including experience, depth, and the talent of helmsman James Spithill. However, when it comes to winning the America's Cup, Coutts leans toward the Defender, asking ""Do you really think Alinghi will lose five races?"

Splashes of Color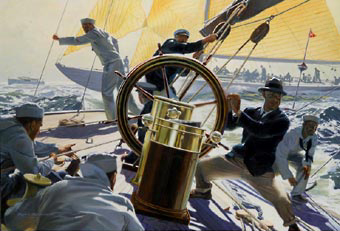 Onboard Weetamoe in the 1930 America's Cup Defender Trials.
Painting: ©2005 Russ Kramer. Used with permission.
Russ Kramer only took up painting sailing subjects in 2002, but his work, primarily featuring scenes of the America's Cup, is already meeting with an appreciative audience. A show of his paintings opened July 28 and runs through August 27 at the Museum of Yachting in Newport, RI. More work will be shown at Mystic Seaport his fall.
See more images at the artist's web site
---
Black Box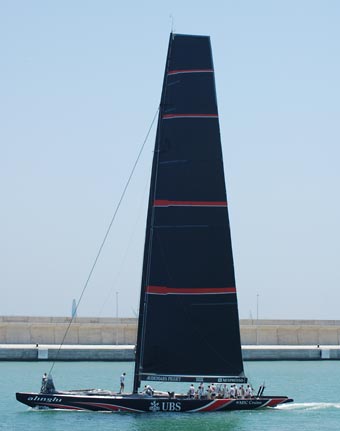 Photo: ©2006 Pierre Orphanidis/Valencia Sailing
Alinghi trialed a new mainsail in late July. With a "cutting edge" shape, a sinister color, and some intriguing construction details, reports are it attracted a fleet of challenger chase boats complete with photographers.
See more photos at Valencia Sailing
---
Conversation with Ed Baird
Trial helmsman for TNZ in 1995, Young America skipper in 2000, Alinghi helmsman in 2007. Add to that top match racer, Cup broadcaster, Laser and J/24 World Champion, and mentor to a whole new generation of sailors. Diane Swintal caught up with Ed for CupInfo and got his reaction to being a part of Alinghi and everything that got him there.
---
Cup on the Rock

The America's Cup sees the sights in NYC.
(Click Image to See More)
Photo: ©2006 MG45
2007AC.com forum member MG was in New York recently, and on a late afternoon trip to the observation deck of Rockefeller Center he turned around to find an antique silver ewer of British origin, not incidentally the oldest major sports trophy in the world, the America's Cup.
---
Construction Begins for New Swedish Boat
In addition to their announced mods to SWE-73, on June 14 Victory Challenge began work in Göteborg on their first new construction ACC for the 2007 event. Builder Killian Bushe wasn't specific as to an expected completion date, promising only that the Mani Frers design "...will be ready for shipping to Valencia before the end of the year."
Read more at Victory Challenge
---
Victory Begins Modifying SWE-73
The Swedish team began work the second week of June on SWE-73. The challenge has previously performed extensive modifications to the earlier of their 2003-era boats, SWE-63, keeping 73 comparatively untouched.
Feeling that advancing state of ACC performance has left 73 significantly slower than the 2006 fleet in her current configuration, the team will now work to improve the yacht as an integral part of their overall design development program. The aim is for a new incarnation of the boat to be ready for 2-boat testing following the completion of Act 12.
Read more at Victory Challenge

---
Side-by-Side
We have assembled a side-by-side photo comparison of the dozen boats racing off Valencia for Act 12. It's tempting to think all ACC's now look alike, forced into one corner of a more restrictive class rule, but clearly the twelve design teams have different perceptions of what's fast in v5.0.
---
Interview with Marcus Hutchinson
During one of the Louis Vuitton Cup Acts, CupInfo's European Editor talked with Marcus Hutchinson, Head of Media for America's Cup Management. Here are excerpts from their wide-ranging conversation about the plans in place for AC32, the history and future of the Cup.
Or Not
From the NZ Herald: It has been widely reported that Coutts was backing Luna Rossa to win the challenger series. However Coutts said yesterday it was too early to say who is most likely to line up against his old team in a year's time. "Luna Rossa are looking stronger than they have ever done and are real contenders, he said. "They have an excellent sailing team but so does Team New Zealand."
Read Julie Ash's story at NZ Herald
---
Trivia Question: What do the America's Cup and John D. Rockefeller have in common? Answer