Mar 6: New Tactician for UITG: Dave Dellenbaugh goes Deutsche: Sail World
Mar 3: Alinghi Air: SUI-91 flies home: Story, Photos, and Video at: Team Site
Mar 2: Shosholoza and Areva will race March 9: Yachting World
Mar 1: Act 13 Sailing Instructions released: Challenger Commission
Mar 1: ETNZ sailing in Valencia starting Monday, interview with Dean Barker at stuff.co.nz
Feb 23: USA-98 arrives in Valencia: BMW Oracle web site and more photos at BMWO Blog
Feb 22: Who are they? Spain's Iberdrola and how sponsoring Desfío Español dovetails with their rising profile: Scotsman.com
Feb 21: San Diego's moment in the sun, a fun series on the America's Cup Venues continues at AmericasCup.com
Feb 21: Dalton looks at new USA-98 and Alinghi designs: NZ Herald
Feb 20: Road to the Cup begins tour of European cities: AmericasCup.com
Feb 17: Grant Dalton leads ETNZ, story by Julie Ash in: NZ Herald
Feb 16: CHN-96 Launches (Skirtless): Valencia Sailing
Feb 15: Commentator Peter Lester assesses ETNZ's prospects for the NZ Herald: The Mood is Buoyant
Feb 14: Laurie Davidson and Bruno Troublé named to America's Cup Hall of Fame: Press Release at Scuttlebutt
Feb 10: BMW Oracle back to business: BMW Oracle Blog
Feb 8: BMW Oracle USA-71 Breaks Mast: Yachting World and NZ Herald
Feb 3: Ed Baird wins Defender Trials Round 1: Alinghi
Jan 8: New BMW Oracle USA-98 arrives in Auckland
Jan 7: The chips are down for ETNZ: stuff.co.nz
Jan 6: Challenger Commission confirms AC32 timeline: Challenger Commission
Jan 3: Notice of Race (NOR) posted Official Web Site
Jan 3: Act 13 musings on the BMW Oracle Blog
Jan 2: SWE-96 debuts Victory Challenge
Jan 1: Mapping the Cup Schedule on the BMW Oracle Blog

Cup Book Arrives Soon
An Absorbing Interest: The America's Cup - A History 1851-2003
A significant and eagerly awaited retelling of the America's Cup story will be published this spring. Written by Bob Fisher, for decades one of the most respected America's Cup journalists, the 2-volume set is the product of extensive research. Notably, in 544-pages Fisher examines much of the history from some alternative viewpoints, aided by a broad selection of source material, and presents an updated interpretation of famous events (and, yes, controversies) in the life of sailing's most prestigious regatta.
Read sample chapters at Wiley.com
The £200 book, a numbered edition signed by its author, will not be available through general book sources and the publisher states that reserving by February 15th is the only guarantee of availability.
---
Defender Trials Round 2
Alinghi held Round 2 of the UBS Dubai Defender Trials February 16-19 . The team raced a much-modified SUI-64 against SUI-91, the first of their new boats. After this round of trials, it was intended that skipper Brad Butterworth would announce helmsman and afterguard selections for Louis Vuitton Act 13, but the team now feels that the results were too close to call and further racing in Valencia will be considered before making a decision. Additional Defender Trials will follow Act 13.
Final Results: Ed Baird beat Peter Holmberg 4-1.
---
Areva Penalized
The America's Cup Jury has handed down a penalty to Areva in regard to an incident where the French challenger came into possession of photographs of other competitors prohibited by the rules.
For the Louis Vuitton Cup Areva's sail limit is now reduced from 45 to 43, and the team has been fined €21,000.
Read the AP story at International Herald Tribune
There's more, including a summary and the complete pdf of the decision, at the Challenger Commission web site.
---
Sailing Instructions Issued
The Sailing Instructions (SI) are the last major piece in the rules puzzle for the conduct of the Louis Vuitton Cup regatta, detailing many practical aspects of the competition. Now available at the Challenger Commission web site, the Louis Vuitton Cup SI's are also expected to be the basis for the SI's of the America's Cup match itself.
Download the sailing instructions at Challenger Commission
---
Challenger Meetings
A glimpse into the inner workings of the America's Cup is available via the latest voluminous posting on the Challenger Commission web site.
Issues still being addressed include fair sharing of the race course areas during training, non-relocation of the weather buoys, completion of television broadcast provisions, and a final version of the sailing instructions, due out shortly.
Attempts faltered to create RR pairings now instead of per final Louis Vuitton Ranking, the class rules will restrict masthead sails before the start, and a written agreement detailing the requirements for unveiling day was signed. There's much more.
Read plenty at the Challenger Commission
---
China Christens Longtze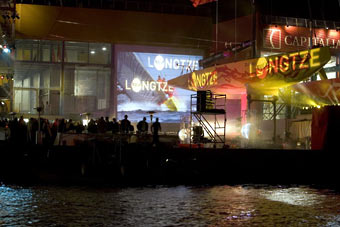 ©2007 Patrick Grippe
Meaning "Son of the Dragon", China Team's new ACC yacht CHN-95 was christened in Valencia by Xin Li, team ambassador and model/actress.
Wang Chaoyong, China Team President: "It is not only the first ACC "made in China", but also the perfect combination between courage, passion, technology, innovation, and team spirit. China is a nation of dragons, and Longtze, son of the dragon, belongs to this lineage"
Tutu to Visit Shosholoza
Archbishop Desmond Tutu will visit the South African team during the America's Cup.
From the Independent Online: Tutu said he might consider being 18th man aboard RSA 83 in Valencia later in 2007. "Sure, I will sit there and say: Remember guys, I am not as young as I look," he said.
---
Changing Face of the Cup
Angus Phillips previewed the "new" look of the America's Cup for 2007, aided by some perspective from Areva's Dawn Riley, and explored the changing competitive and cultural landscape of sailing's most famous race.
From the Washington Post: By opening new avenues for commercial sponsorship and broaching for the first time the concept of selecting a venue for the event, rather than simply holding it in the home waters of the winner, Conner ushered in sailing's professional era. An America's Cup compound, which once looked like a shopworn boatyard, today looks more like some international bond-trading firm's squeaky-clean corporate headquarters.
Read Angus Phillip's column at Washington Post
---
Catching Up With Coutts
Julie Ash interviewed Russell Coutts, winning skipper of the last three America's Cup matches, who talked about his current pursuits and dropped some subtle and not so subtle hints as to what the future might hold after 2007.
From the NZ Herald: Who do you envisage sailing for?
Coutts: "I will certainly explore the option of sailing with a New Zealand team."
Read Julie Ash's story at NZ Herald
---
Welcome Järv
Victory Challenge christened their new boat February 22 in Valencia. SWE-96 is named Järv, Swedish for "wolverine", a small but fierce predator. This is the only new boat Victory will build for this challenge, preferring to focus their development efforts.
Designer Mani Frers: "We put the target high, wishing to create the perfect tool, and SWE-96 is a good tool for match racing. We have designed her to be easy to maneuver and quick to accelerate."
Read more at Victory Challenge
American fans of the colors Yellow and Blue may recognize something familiar about the name.
---
Jet Set
BMW Oracle and Emirates Team New Zealand both broke camp, and their boats are taking to the air. The Auckland airport saw two mammoth Antonov 124 aircraft loading precious sailing cargo at once.
BMW Oracle loads USA-98:
See BMW Oracle Team Web site and photos at the BMWO Blog
ETNZ is flying both new boats to Spain on one of the giant transport planes. Grant Dalton: "If it goes down, well, it won't be any point sending boat builders to help."
Read more at Stuff.co.nz
How to Charter an Antonov? See how it works
ETNZ Pictures: NZ Herald
---
Gametime
"32nd America's Cup -- The Video Game"
Sailing most famous regatta, in virtual form, could be coming to a computer near you this April.
Read more and view screenshots at PC Gaming
The 32AC-VG screenshots provided suggest unprecedented levels of eye-candy, better than nearly anything short of HDTV. If the visuals get any more realistic, will the protocol have to restrict Cup teams from playing it?
Tech savvy Cup fans will recognize that the program, though billed as "the first time a computer game has been dedicated to the most prestigious sailing competition in the world", is not exactly the first ever. Virtual Skipper has been popular in recent years and before that Sail 95 was the officially licensed product when the Cup was still in San Diego.
The first America's Cup video game?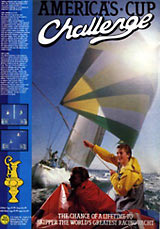 Image ©US Gold LTD
Released in 1986, that's 21 years ago, for the Commodore 64, America's Cup Challenge is "a realistic and powerful graphics representation of 12 metre yacht sailing and demands all the determination and abilities needed to win the America's Cup."
Read more and see screenshots at Stadium 64
Also released in 1986 was a PC and Apple II game The American Challenge, available on either cassette or 5.25 inch floppy disk. The flip side of the cassette featured a song entitled "Win Back the Cup". Multimedia, indeed. The disk version included the song on a 45, whatever that was. Feeling old yet?

Mascalzone Has Choices
Questions and Answers with Vasco Vascotto, skipper of Mascalzone Latino-Capitalia Team:
MLCT: ITA-90 and ITA-99, two boats for the team to choose between...

Vascotto: "Yes, we have two boats and this is important. It's much too soon to tell which we will use. Obviously ITA-90 is the boat we have sailed a lot .... ITA-99 is the result of a longer design process and brings with her the hope to have produced something even better."
MLCT: Mascalzone Latino ITA 99 is now reality: what would you expect from it?

Vascotto: "My dream is that it would be 10 minutes faster on the race course…then we wouldn't even need a tactician, a helmsman, or anybody else!"

Read more at Mascalzone Latino-Capitalia Team
---
BMW Oracle's Peter Isler
From the NZ Herald: Sailing started as a hobby but turned into a career when Dennis Conner lured him to Stars and Stripes in 1987. It took Mr. America's Cup quite a bit of talking to convince Isler.
"I thought it looked like joining the military. I had this liberal arts experience of sailing where I was sailing lasers, college dinghies and big boats - who wanted to go and train on these heavy 12-meters? It didn't look like that much fun to me."
Read Julie Ash's story at NZ Herald
---
SWE-96 Sets Sail
A sunset cruise aboard their new America's Cup yacht included designer Mani Frers and builder Killian Bushe. Timed to find acceptable winds for the boat's first voyage, one day after launching, the unusual outing pleased the team.
"She sails majestically," Magnus Holmberg said.
Read more at Victory Challenge
---
Penalty for Areva?
According to a report on CupInEurope, Areva may face penalties for technical protocol violations related to photographs that came into their possession.
---
1987+20
Stars&Stripes heroic 1987 victory to reclaim the America's Cup was celebrated February 4th as her crew held a 20-year reunion at the San Diego YC.
Bill Trenkle: "When you consider the circumstances, the personalities involved, the sailing conditions and the exposure ... it would be all but impossible to duplicate the scenario."
---
J-Class Teaches Rolls-Royce a Lesson
"All of the J-class yachts have a tremendous sense of purposeful elegance about them, and this was something that we were keen to emulate."
---
Ellison Favors Two Year Cup Cycle
Visibility, more sailing, lower cost, and higher revenue are cited among the benefits. Current teams are said to favor such a switch.
---
Future British Hopeful adds ex-Alinghi Sponsorship Leader
According to London's Guardian newspaper, Nick Masson, formerly commercial director at Alinghi, has joined Sir Keith Mills' new effort, indicating a high-powered search for sponsors is underway.
Read more at Guardian Unlimited
---
British Cup Team for AC33
Sir Keith Mills is at the helm of an ambitious project to field a well-funded America's Cup challenge, aiming to compete in the next Cup and to win the trophy the time after that. A budget of 30M euros is mentioned.
Mills led the successful charge to land the 2012 Olympics in London, so assembling a solid team to bring the Auld Mug home after 160 years might not be the most far-fetched follow-up.
Mills told the Telegraph: "Timing is everything. I think the stars are really aligned for Britain this time. We've got everything. The sailors, the boats, the technology. But you will notice that there are no Union Jacks, no Great Britain logos and we've done that for two reasons. One, we want to attract international sailors as well as British and, two, most of the companies we're talking to are globally-based multi-nationals."
Read the story at Telegraph Online
Also:
Cup win would mean plenty for South Coast: Daily Echo
Brits call for Cup Success: Guardian Online
---
Holmberg Wins Monsoon Cup
Alinghi's Peter Holmberg wins the match racing tour event.
Visit the Monsoon Cup web site
---
Monsoon Cup
Six America's Cup teams are represented in the international match racing event being held in Malaysia. Featuring the largest cash purse of any sailing event, and being elaborately staged by the host country, the Duyong Island event has drawn top sailors from around the world. Malaysia's rising interest in the sport may be the overture for an upcoming America's Cup entry of their own.
---
Luna Rossa's Wilcox Reads the Wind
Interview with Hamish Wilcox, Luna Rossa Weather Coordinator, from NZ Herald: "It is very rare that two days are the same, even though you see the breeze coming from the same direction. The heating is slightly different, the sea temperatures are slightly different, the background gradient wind is different, the wind in the sky is slightly different. All of those change each day."
"It has been noticed that racing has never been closer," said Willcox, who grew up sailing alongside Chris Dickson, Russell Coutts, David Barnes and Murray Jones.
"It is probably just going to get closer as we move towards it. The boats have been defined for a certain wind range, so that means the boats are all of a very similar nature and of a very similar speed, so I think the sailing teams are going to have a bigger difference than before."
Read Julie Ash's story at NZ Herald
a