More News:
Nov 18: Cory E. Friedman: Will conservative Tactics Lose This Race?: GGYC put itself on the defensive and lost the high ground. Perhaps GGYC made a decision to set a clever trap and then pounce, but it had better be pretty clever. Ducking the issue, along with the abandonment of its breach of fiduciary duty claim in the Appellate Division, has resulted in GGYC painting itself into a very small technical/grammatical corner:
Scuttlebutt News
Nov 13: As scheduled, Alinghi and SNG have filed additional briefs with the New York State Court of Appeals. Copies in pdf format are available at Italian sailing site zerogradinord. In response, GGYC has a released a statement. GGYC has until November 28 to make an additional submission to the court.
Nov 11: Statement from BMW Oracle: "Despite public comments in the past week by a senior Alinghi official that GGYC/BMW ORACLE Racing would be invited to participate in today's America's Cup meetings in Geneva 'with no strings attached,' over the weekend Russell Coutts was advised by Alinghi that GGYC/BOR are being excluded from the meetings. Regrettably, therefore, we will not be in attendance":
Full text at GGYC (pdf)
Nov 9: Russell Coutts on the Louis Vuitton Pacific Series and America's Cup Class racing: "I'm itching to get back into it. Obviously the same can be said for a lot of people. But I have not competed in an America's Cup boat since 2003 so that is a long time and a fair bit of waiting.":
Interview at stuff.co.nz
Nov 8: Testing the BMW Oracle multi-hull: "There really aren't any boats like this out there," said tactician John Kostecki, who likens the crew to test pilots. "Most of the stuff that we're doing, we're pushing the edge.":
International Herald Tribune
Nov 6: Louis Vuitton Pacific Series confirms 12 teams, plus two on the wait list including an entry from Francesco de Angelis:
NZ Herald
Nov 5: America's Cup yachts tuning up for this weekend's Trofeo Desafío Español:
Yachting World and: Team Origin and Desafío train at Valencia Sailing Blog
Oct 29: Grant Dalton, CEO, Emirates Team New Zealand, talks with Sail-World about ETNZ's sailing plans through 2010. Dalton also relates that the Kiwi team is fully funded. "You're always signing sponsors in the America's Cup, but we have Emirates, the NZ Government and Toyota signed and in place.":
Sail-World
Oct 28: Team Origin will be racing in the Louis Vuitton Pacific Series in Auckland in January-February 2009, and Origin will also sail the Trofeo Desafío Español in Valencia, Spain, next month. Borrowing Desafío Español's ESP-88 for the Spanish race, Origin will compete against Alinghi and Desafío Español November 7-9:
Team Origin site and Nautica Online
Oct 25: Team New Zealand banned from the America's Cup? Reported at stuff.co.nz: "In a new and serious development between the two feuding camps, the Sunday Star-Times has been told Alinghi recently sent Team New Zealand a legal letter with that ultimatum and if the Grant Dalton-led syndicate doesn't comply by December 15 the Swiss team owned by Ernesto Bertarelli plans to write a protocol for the next cup in 2010 specifically designed to exclude the Kiwis":
stuff.co.nz
Oct 24: Interview with Alinghi: Q: Is there an issue between Mr. Bertarelli and Russell Coutts that needs to be cleared up before the event can move forward?
A: You should ask Russell Coutts this. It's his team that is holding the Cup hostage in the New York courts.
Sail-Karma
Oct 21: Luna Rossa may join in regatta in Valencia Nov 8-9:
Valencia Sailing
Oct 21: Alinghi and Desafío Español to race ACC yachts in CNEV regatta November 8-9, others invited:
Alinghi web site and CNEV Press Release
Oct 9: "Nobody has given a really good reason why we can't simply go back to the fair rules of last time which produced such a great event...": Excerpts from interview with Russell Coutts at GGYC website:
Golden Gate YC (pdf)
Oct 8: Louis Vuitton Pacific Series expands to 12 entries. Will use BMW Oracle boats, too:
Sail-World and BMW Oracle
Oct 8: Ernesto Bertarelli and Larry Ellison will meet again, talking this time in Trieste on Wednesday (Update: a note at the GGYC web site says that this meeting did not take place). Also, BMW Oracle 90-foot multi-hull is now sailing in San Diego:
Associated Press
Oct 6: "We talked about what could be done": Ernesto Bertarelli interviewed by Le Figaro (in French), an English translation is posted at Valencia Sailing
Oct 4: ETNZ and Alinghi calming the waters?:
NZ Herald
Oct 4: Valencia Sailing reports a possible second summit meeting between Ernesto Bertarelli and Larry Ellison next week in Trieste:
Valencia Sailing Blog
Oct 3: Bruno Troublé looking forward to being back in Auckland; second pair of yachts to be added?:
NZ Herald
Oct 1: Emirates renews major sponsorship with Team New Zealand; team plans additional racing, new yachts:
stuff.co.nz and
NZ Herald and
MedCup.org
September 30: Shosholoza in Trieste for 2000 boat start:
Press Release
Sept 29: 1983 Race 7, when the America's Cup was finally won by a Challenger: All historic footage lost forever?:
the age.com.au
Update Oct 1: Broadcasts found?:
Scuttlebutt 2693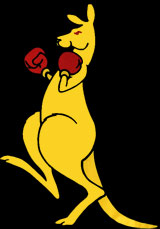 KA-6 Battle Flag
Image: ©1983
CupInfo salutes Australia II on winning her historic challenge 25 years ago, September 26, 1983. Defeating defender Liberty 4-3, the little Aussie pointer crossed the line at 5:20 pm and took the America's Cup into a whole new era.
---
Sept 26: Russell Coutts to skipper in Louis Vuitton Pacific Series:
Sail-World
Sept 21: Alinghi is the 2008 iShares Cup Champion. "It's fantastic to end up winning like this, it's been a big year of learning," says helmsman Ed Baird:
iShares Cup site and Alinghi site
Sept 21: Grant Dalton hints at thaw for ETNZ-Alinghi relations:
Sunday Star Times
Sept 21: iShares Cup give Britain's Team Origin a chance to find their footing:
Times Online
Sept 19: LV Pacific Series to include Team Dennis Conner? John Bertrand? Desafío is in talks. Team Origin may be getting cold feet:
Stuart Alexander at the Independent
Sept 19: New book The Louis Vuitton Cup: 25 Years of Yacht Racing in Pursuit of the America's Cup coming in October. Authors François Chevalier with Bruno Troublé:
Details at Amazon
and preview pages (gorgeous) at: Éditions de La Martinière
(search "Louis Vuitton")
Sept 19: Alinghi dominates iShares Cup Amsterdam, Day 1:
iShares


French Spirit One
Photo: ©2008 Thierry Seray
Sept 18: French Spirit: New team continues preparations and design competition, may sail in LV Pacific Series:
Press Release
Sept 17: "Great Enthusiasm": Mascalzone Latino to sail Louis Vuitton Pacific Series:
Press Release
And Shosholoza accepts -- "magnificent idea" says Salvatore Sarno:
Press Release
Sept 16: Taking Liberty, a stage play commemorating Australia II's historic 1983 victory premieres at the Perth Playhouse Theatre September 20-October 4:
thewest.com.au
Sept 15: USVI America's Cup helmsman Peter Holmberg (Alinghi '07, OBMW '03, S&S '00) launches website:
Peter Holmberg
Sept 10: Celebrating the 50th Anniversary of 12-meter yachts racing in the America's Cup, the 12-Meter North American Championships will be held in Newport, RI, September 19-21:
EastBay Gazette
Sept 7: TNZ staff reduced to four or five people as operations wind down:
NZ Herald
Sept 6: Tribute to "Bunky" Helfrich, member of 1977 America's Cup crew on Courageous, who passed away last week:
Scuttlebutt
Sept 1: ideaArgo: America's Cup hopeful Argo Challenge competes in Rolex Maxi Challenge Sept 1-6 and at Paralympics:
ideaArgo update
August 31: Alinghi wins iShares Kiel regatta, Team Origin damaged again in collision. Both teams now tied in overall 2008 standings:
iShares Cup
August 30: A win for Team Origin on day 2, but still trailing Alinghi in iShares regatta:
Team Origin site and Event Standings
August 29: Alinghi takes lead Day 1 in Kiel iShares Regatta:
Alinghi site
August 28: Kiel Week: Alinghi to battle first- place Team Origin in iShares standings:
Alinghi Site
August 27: A ride aboard the classic 12-meter Gleam:
Sailing World
August 24: Alinghi's Ed Baird talks to Kimball Livingston about adapting his Cup-winning mono-hull skills to fast cats and giant multi-hulls:
Sail Magazine
Aug 23: Classic Yacht Regatta in Newport August 29-31:
Museum of Yachting
Aug 14: Appeals schedule detailed, stretching into November:
Golden Gate YC
Aug 5: Team Origin's Sir Keith Mills to broker a settlement? Interview with Alinghi Skipper Brad Butterworth:
Adonnante
Aug 4: Alinghi wins the iShares Cup regatta at Cowes. Britain's Team Origin leads the overall standings by one point. The Extreme 40 catamaran series resumes at Kiel Week August 29-31:
iShares Cup
Aug 2: Stuart Alexander talks with Sir Keith Mills, CEO of Team Origin:
Time to Shout
Aug 1: The Independent's Stuart Alexander questions the troubles facing the America's Cup (and the sport of sailing):
Must The Show Go On?
July 30: America's Cup writers John Rousmaniere and Steve Tsuchiya pick up historical threads from Cory E. Friedman's latest legal analysis that are potentially relevant to the Appellate Division's recent ruling regarding the Deed of Gift:
Scuttlebutt Forum
July 28: Alinghi multi-boat multi-hull training in Lorient:
Team Site
July 27: Grudge Match Cats at Cowes Week: Alinghi, BMW Oracle, and Team Origin to race:
Times Online
July 18: 1988 Protocol laid the groundwork for mutual consent and cooperation:
1988 Protocol
July 14: Stars & Stripes catamaran dismasted in Port Huron-Mackinac race, 55 miles short of finish, will miss Chicago-Mackinac race:
Detroit News and
Detroit Free Press
July 8: Twelve-meter sailing in Newport, as beautiful as ever:
Scuttlebutt News
July 8: BMW Oracle adds Slam as official apparel supplier:
BMW Oracle
Team Site


Deadline Monday
Alinghi's deadline for entries was Monday December 15. Recent estimates have ranged between 16 and 19 entries in addition to Alinghi themselves. Additionally, modified rules are expected to be revealed this week by the Swiss team, and a new yacht class rule possibly by the end of the month could be announced along with the names of the teams that have submitted entries.

---
For The Record
Statement by Vincenzo Onorato posted December 11 at Mascalzone Latino web site:
If someone still has any doubt on the legitimacy of the Oracle case, that we support, I have to report the last updating of our position, how Mascalzone Latino is a team that hasn't been clearly recognized as challenging yet, notwithstanding we have met the protocol's indications since a long time.
Alinghi-SNG still asks us information to prove the existence of the Royal Yacht Club Canottieri Savoia and the affiliation to the Italian Sailing Federation (FIV). I would like to remind Mr. Bertarelli & Co. that my club has more than a hundred years of history, moreover it has already taken part in two editions of the America's Cup.
A history a little bit sounder, please allow me to speak ironically, than the ghost yacht club he proposed as Challenge of Record. Anyway an attitude proving the Defender's arrogance. An unacceptable intimidation that offends not only my team, but also the city I represent in the Cup.

---
On The Case
With GGYC's final reply brief now comfortably ensconced in the New York state legal system, Scuttlebutt legal commentator Cory E. Friedman takes stock in Installment #31 (yes, you read that right, #31) of this long, strange, and sometimes meandering, sometimes tortured, case. BMW Oracle is not biting on Alinghi's December 15th deadline for entry to a competition they don't see as legitimate or fair, Alinghi has dangled veiled and not so veiled threats about keeping BMW Oracle out of their version of the America's Cup and looks prepared to see that happen if the legal effort is not abandoned. A lot is riding on the outcome of this trip to the Court of Appeals, the highest venue that can hear the case. To many observers the very future of the historic regatta, for the last 157 years yachting's most prestigious trophy, is hanging in the balance with two very diverging paths leading away from whatever decision the court hands down.
Cory Friedman, an experienced New York attorney who early on found great strengths in the GGYC/BMW Oracle case only to be surprised along with everyone else when Justice Cahn's ruling for GGYC was overturned, offers a close examination of how both sides have shaped their arguments for this final showdown, and he is not too encouraging about the GGYC filings. Despite what might be a clear position that the Deed of Gift is intended to have meaning, Cory sees a broad set of distracting points that have seeped into the legal realm over the past 17 months. With additional complications including the unpredictable effectiveness of oral arguments and an as yet unknown roster of judges to hear the case, uncertainty rules the day.
Read Cory Friedman's latest analysis at Scuttlebutt News
---
Golden Gate YC Will Not Enter Before December 15 Deadline
GGYC says it considers SNG regatta "Not a legitimate America's Cup"
Excerpts from GGYC letter December 8 to SNG:
"...We will now focus our efforts and attention on winning our appeal before the New York State Court of Appeals -- clearly the only avenue left open to create a fair and competitive challenge that preserves the integrity, prestige and tradition of yacht racing's pinnacle event in keeping with terms of the America's Cup Deed of Gift."
"...We were willing to consider entering the event if SNG had given us an opportunity to review the Protocol and compare it against the Ten Point Plan we had proposed to achieve fair rules. Regrettably, SNG did not accede to this reasonable request.
More stories:
Reuters story at Guardian.co.uk:
BMW Oracle Refuse to Sign
"We have no idea why they want to keep the rules secret," Russell Coutts told the Associated Press. "It's hard to understand that one." AP story at IHT:
America's Cup Hopeful to Stick with Court Case
Alinghi Response:
"Today's announcement by BMW Oracle and GGYC is not a surprise because they have never shown any interest in joining the competition with the 14 teams which are currently officially entered. Instead, at every turn, they have chosen to insist on pursuing their selfish legal strategy. Their latest letter shows a tremendous arrogance and lack of respect for the teams involved in the process of working with SNG and Alinghi to organize the 33rd America's Cup. "
Read more at Sail-World

---
Louis Vuitton Pacific Series:
Mascalzone Latino and Team Germany Withdraw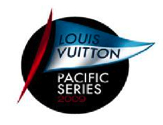 Replacement Teams Sought
This was a difficult week for ETNZ and Louis Vuitton, the co-organizers of the Louis Vuitton Pacific Series.
Sign of the times, both Mascalzone Latino and Jochen Schueman's Team Germany were forced to renounce their entries after failing to secure the necessary funding to cover operational costs in Auckland.
Vincenzo Onorato: "With deep regret..."
Following the withdrawal of these two teams, LVPS organizers have offered the two berths to Marc Pajot (French Spirit) and Francesco de Angelis (Italia).
Read more at NZ Herald
Also last week, the German auto company Audi announced it was pulling out of funding for Team Germany's America's Cup effort in general, following on cancellations Audi also made recently in motorsports.
Read more at International Herald Tribune
Update Dec 8: All But Over? Audi pulls sponsorship, but Jochen Schuemann will fight to keep the team alive. "I will not give up on the German flag."
See story at NZ Herald
---
Team Origin Takes Stock After Debut
Getting out against some top America's Cup team was a big help to the new British team, and pulling off a win was even better, but they also realize they have a long road ahead of them.
Having seen the America's Cup Defender up close, and even having beat her, have they identified an Achilles Heel, a vulnerability they can use to beat Alinghi in the future? "No," Ainslie said with a laugh when asked.
---
Vincenzo Onorato:
"Discussion Should be Open to All"
Mascalzone Latino Press Release: Reale Yacht Club Canottieri Savoia (RYCCS) and Mascalzone Latino accepted the invitation by America's Cup Management to participate to the November 11th 2008 meeting at Société Nautique de Genève (SNG) in Geneva.
At the meeting the team representatives were requested to sign a non-disclosure agreement in order to keep the discussion strictly confidential among only the participants.
Mascalzone Latino's representative to the meeting, Alessandra Pandarese, expressed the team's firm view that in the current circumstances discussion should be open to all interested parties, including Golden Gate Yacht Club (GGYC), as one of the disputing parties.
Therefore, Mascalzone Latino choose not to sign the non-disclosure agreement. In response, the Mascalzone representative was not admitted to the meeting room, nor was she permitted to explain her team's position to those in attendance.
"We regret for not having been admitted to the today's meeting. Besides we don't understand the reasons of all this secrecy, nor the reasons of GGYC's exclusion" - said Vincenzo Onorato. "Another opportunity to discuss in an open forum has been lost, but I wish that all challengers, including GGYC, and the Defender would gather in another meeting soon."
---
Teams Reach Consensus on Rules
A second meeting for competitors was held Tuesday, November 11, in Geneva. Ten entered teams plus the defender were present. Two teams were unable to participate. Race Committee appointments were decided, as was a plan to enlarge the arbitration panel, and two ACC regattas are planned in 2009 with an America's Cup Match in 2010:
Read more at the Alinghi tem site
---
Alinghi Wins Trofeo Desafío Español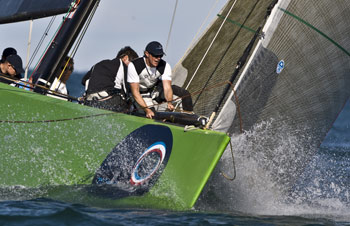 Team Origin goes green, borrowing one of Desafío's boats for the regatta, and wins their first ACC race.
Photo:©2008 Carlo Borlenghi/Alinghi
Alinghi wins the Trofeo Desafío Español, with first place in 5 of 6 races. From Alinghi: "Murray Jones says of his first America's Cup regatta as helmsman: 'It was fun to be out there racing, to get the boat out with the boys in the CNEV annual regatta. We sailed well and it was a matter of team work as it was my first go on the helm and it was the guys around me that helped me out the whole way around each race, they made it easy.'"
Read more at Alinghi.com
Reporting for CupInfo, John Crisp brings you the return of America's Cup racing to Valencia:
Taking Stock of TDE Teams: Alinghi: Tick, tock, tick, tock. Their metronomic performance was of Swiss precision. Apart from the torn kites on day one, they looked imperious throughout. They are the America's Cup holders, they are fast and that breeds confidence which they have in abundance, and they rammed home that advantage. Read More
Race Reports:
Team Origin gets their first ACC win: Day 1
Alinghi to the Fore: Day 2
In the Wake of Alinghi: Day 3
Cup Boats Up Close: If you have never been up close with one of these animals, the sights and sounds are stunning. As they hoist their sails and drop their tows, they come alive, talking, even complaining under the tremendous loads they bear. Read More
The Beast in Valencia: The sheds lining the new marina that have stood closed and silent for so long have slowly come to life again. No, there is not the buzz that there was a year ago. The silence is almost overwhelming. But some of the doors have opened again and heads peer above the parapet. The beast which is the America's Cup reawakens. Read More
---
America's Cup 2010 Plans May Slash Team Costs, Downsize Campaigns
Shorter boats, smaller teams, fewer sailors. "We want to make sure that the America's Cup remains a sailing competition as much as a design competition," says Ernesto Bertarelli, President of Team Alinghi. A meeting with teams on Wednesday will discuss these changes.
Read more at Bloomberg.com
Update Oct 30: Alinghi held a competitors meeting in Valencia, registered teams discussed how to proceed with event and asked for dismissal of lawsuit:
Read more at Alinghi.com
"Alinghi Calls for End to America's Cup Battle":
Story at Reuters
---
ETNZ Will Drop Law Suit Against Alinghi
Radio NZ is reporting: "Team New Zealand says it will withdraw its legal action against America's Cup holders Alinghi to ensure the success of the Louis Vuitton Pacific Series." Read more at RadioNZ
Grant Dalton quoted at Sail-World: "For obvious reasons the regatta would not be the same without Alinghi's participation. For a start our sailing team would like nothing more than meeting Butterworth and his team on Auckland Harbor in January-February.
"Entries close on October 31 and we needed to give Alinghi time to get their entry in."
Read more at Sail-World
---
Larry Ellison's Letter To Ernesto Bertarelli
A glimpse into the recent face-to-face discussions aimed at resolving the current legal conflicts of the America's Cup, the letter was sent last week and suggests potential agreement to an AC33 along the lines Alinghi came out with this week provided that the underlying provisions of the protocol are on a basis at least as fair as the previous defense, and promoting more events similar to the Louis Vuitton Pacific Series scheduled for early next year in Auckland.
Read Ellison's letter at Golden Gate YC (pdf)
Update Oct 25: Ernesto Bertarelli's Response: "Larry, I hope that together, you and I can promote a solution along the lines of what I thought we had agreed in San Francisco. If you feel that we can meet in person and continue our discussions without any other interest but the future of the America's Cup at heart, I welcome the opportunity and I will make myself available as I have done in the past."
Read the entire letter at Alinghi.com (pdf)
Framework for Modernization
Golden Gate YC has also published Ellison's "Framework for Modernization", a two-page outline of changes that might meet the needs of various stakeholders.
GGYC's statement includes direction on how the entire America's Cup community can come together most productively to meet these needs:
"We remain ready and willing to reach a settlement outside of court based on rules similar to those used in the highly successful AC32," [GGYC spokesman Tom] Ehman said. "But, as Larry proposed in his letter, all key stakeholders must be involved in meaningful discussions about what AC33 is going to look like. We're confident the Challengers as a group would be flexible on many details and could quickly reach mutual consent with the Defender. That's the fastest and best way to end the litigation and get the America's Cup back on course.
"It is surprising that SNG -- as a trustee of the America's Cup -- would allow Alinghi and AC Management to set another entry deadline for mid-December, given that the New York courts will not rule on the pending litigation until next year. It's time Alinghi stops trying to dictate the rules and sits down with all viable Challengers in a sincere effort to reach mutual consent on the date, format, class of yacht and other key rules."
Read Ellison's Modernization Framework (pdf)
---
Lawsuits Versus Sport
Richard Gladwell at Sail-World notes that Alinghi's "re-launch" of the 33rd America's Cup includes an invitation for ETNZ and BMW Oracle to withdraw their pending legal actions against SNG and Alinghi in order to enter the regatta. Considering that the December 15 deadline for entry is well before any possible decision in the case, Alinghi might claim to exclude these two top teams from America's Cup competition were BMW Oracle not to prevail in the New York State Court of Appeals decision. From Gladwell's editorial on the effects of this intersection between legal actions and yachting competition:
"The stance being adopted by Alinghi on these matters is both pedantic and contrary to the spirit of the sport. This has always been to set aside disputes, get on with the sailing, and to allow the dispute procedures to take their course in the normal way -- without crews being excluded from competition for protesting race organizers –- be it a Race Committee, Race Official or some other body recognized under the Rules.
"It would be a very poor day indeed, when sailors looked down a start line in a yacht race, and then felt they had to withdraw because they had some legal/rules dispute with one or more of their of their competitors or had a protest pending against the organizers.
"In fact such disputes have always been part of sailing. As has the ability to set these aside and get on with the game, while they are fully resolved. And, that this process is undertaken without rancor or condition."
---
Home for Black Magic
The famously fast 1995 America's Cup winner Black Magic, NZL-32, a nearly untouchable boat which blackwashed the competition, is on her way to a new home. The Maritime Museum in Auckland is making room to display the historic yacht, even if it means tearing out the roof and the walls.
---
Interesting Interview with Dyer Jones
Dyer Jones has as much experience managing America's Cup regattas as anyone in history, and his tenure has spanned from the NYYC's race committee in 1974 to the present day. In a candid interview with Roger Vaughn, Jones offers Cup fans and participants some of the wisdom of his experience:
"Alinghi gets great credit for winning on its first try," Jones says. "But that's a pitfall. The Swiss don't have any history in the event. You have to lose to learn: suffer some hard knocks, try your hardest and fail. The people negotiating the protocol had no experience in the event, even as observers. The new protocol would have been created under a corporate management structure. Some of the executives were not sailors. They'd 'been sailing,' but as we know, there's a difference. Part of the legal standoff we're in has a cultural base."
America's Cup fans may recognize Roger Vaughn as author of The Grand Gesture, the memorable book recounting the failed 1974 defender effort surrounding the 12-meter Mariner which brought both Ted Turner and Dennis Conner into the America's Cup. Vaughn is also credited, along with Kimball Livingston, as a screenwriter for the America's Cup movie Wind.
---
Movement, but Forward or Backward?
Talks taking place among teams: Fleet Regatta in Valencia in 2009?
From Stuart Alexander: "Bertarelli has been holding separate talks with the bosses of various other teams, including Sir Keith Mills of Britain, Patrizio Bertelli of Italy and Ignacio Sanchez Galan of Spain, still the most likely host country of America's Cup 33. These now include Ellison, or did, and it is the bringing together of these talks, with a written proposal on the table, which Oracle says it wants."
---
Mascalzone Latino Files Brief with Court of Appeals
From Vincenzo Onorato, Mascalzone Latino: "This is more than a simple dispute between two yacht clubs or two sailing teams. In fact, the Court of Appeal's decision will determine whether the America's Cup -- yacht racing's most prestigious trophy and the oldest trophy in international sport -- will remain one of the most-sought titles in the world, or instead lose its importance by becoming a one-sided affair controlled by the Defender."
Also: Watch interview with Alessandra Pandarese at zerogradinord.net
---
12 Teams in Louis Vuitton Pacific Series
From 6 to 8 and now 12 teams, the new match racing regatta set to kick off in Auckland harbor January-February 2009 continues to grow in popularity. John Bertrand, skipper of Australia II, may lead Australia First team.
---
Captain Sarno Returns
The leader of South Africa's America's Cup challenger brings his team back home to his own birthplace, a small Italian town in the hills above Pompeii.
---
NYYC Annual Regatta
The New York Yacht Club's annual regatta will sail with a sprinkling of history in the fleet, including 12-meter America's Cup defenders Columbia, Intrepid, and Courageous along with other famous yachts such as the newly restored Dorade.
Read more: NYYC Press Release and Regatta Site

---
Italian Style
South Africa's Shosholoza and their ACC RSA-83 stood out among the assembled 200-boat fleet. The team's strong ties to the Italian city were in evidence in the warm welcome they generated at this exhibition event.
---
How I Spent My Legal Vacation
Cory E. Friedman, Scuttlebutt legal expert, who has been breaking down the main America's Cup lawsuit for the last year or so, looks at the other America's Cup lawsuit, TNZ versus Alinghi, which had a day in court September 5, along with the relationship of the issues and the players in that case to what's taking place at show center:
"What came out of general interest is that the Arbitration Clause in the AC 33 Protocol, which will probably be TNZ's undoing in these cases, goes back to the AC 31 Protocol promulgated by none other than TNZ, which may have been its originator. Recall that it was the AC 31 arbitration panel that decided that SNG was a proper challenger, even though it had never run an annual regatta on the sea or an arm of the sea. That decision not only let SNG into the party for the first time, but also provided SNG with an oft repeated argument in favor of CNEV."

Match Race Win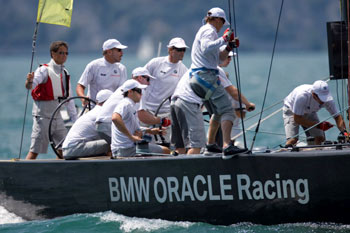 BMW Oracle's Larry Ellison wins the match race final at the RC44 Malcesine Slam Cup, beating others including Dean Barker and James Spithill.
Photo: ©2008 Gilles Martin-Raget / BMW Oracle Racing
---
Golden Gate Files Appeal
"We believe the Challenger of Record has to be a real yacht club. It cannot be something that is manufactured with a defender to set up a one-sided event. This decision would set an absurd precedent."
-- Tom Ehman, Golden Gate spokesman
Golden Gate YC filed notice on Friday, August 1, in the Court of Appeals of the State of New York in regard to the decision of the Appellate Division handed down July 29 which overturned the findings of Justice Herman Cahn of the New York Supreme Court.
Read Golden Gate YC Statement (pdf)
Also: For those collecting the complete set of America's Cup legal documents:
Official Notice of the Appeal (pdf)
Alinghi responds:
"SNG and CNEV have already made plans to organize the most competitive and spectator friendly America's Cup challenger series in history and that despite BMW Oracle's unsuccessful year-long attempt to preclude competition and turn the America's Cup into a two team duel. BMW Oracle is now attempting to further delay and frustrate the conduct of the America's Cup by filing a frivolous, but time consuming appeal."
---
NY Supreme Court Rules on Appeal:
Decision Reversed
CNEV Declared Valid Challenger of Record
3-2 Decision Handed Down Tuesday, July 29
Golden Gate YC reaction:
"We are surprised and disappointed..."
Read GGYC Statement (pdf)
Alinghi reaction:
Ernesto Bertarelli: "We are delighted with this result; we can now continue with our vision of a multi-challenger event."
Read Alinghi Statement
"Shock Decision Leaves America's Cup in Turmoil": Read Stuart Alexander in The Independent
Legal Analysis from Cory E. Friedman:
The Court of Appeals outlook, theories of delay, what can be argued in an appeal, and more: "What is clear is that the Cup is in shambles. Uncertainty is total. Unless there has been some First Class bluffing, two of the biggest white elephants since the Spruce Goose are under construction. The Challenger of Record, CNEV, no longer has a team or an annual regatta and may have dropped out altogether. The venue is questionable. SNG's latest press release seems designed to rub GGYC's nose in the loss and KO any chance that GGYC will participate if it loses in court."
See Scuttlebutt News
---
More Fun in Court
$50 million in damages? Next defense in Italy? Next multi-challenger America's Cup in 2013? The happy developments in the America's Cup spite battle show no sign of letting up.
Also at NZ Herald:
"Alinghi general counsel Hamish Ross said the matter was expected to 'drag on for years'" Read More
---
Bertrand Honored
John Bertrand, Australian skipper of the first challenger ever to win the America's Cup, has been named Melburnian of the year by his home town. His leadership in sport and public service will be honored in a ceremony August 30. "I'm in a very fortunate position where I can make a difference now as a result of my past. I really enjoy helping young people," Bertrand said.
---
America's Cup Hall of Fame
The ceremony October 23 in New York City inducting filmmaker John Biddle to the America's Cup Hall of Fame will feature special presentations of films showcasing the regatta's grand history, including previously unviewed America's Cup footage from Biddle's extensive body of work.
Halsey Herreshoff, President, America's Cup Hall of Fame: "The induction of John Biddle recognizes the importance of those who preserve and present the special traditions of sailing's greatest competition, the America's Cup. John Biddle was the absolute leader of this activity all during the 12 Meter era of The Cup. He filmed every race in Newport, and made more than 1,000 presentations to audiences worldwide. As we celebrate 157 years of racing challenges, it is an honor to congratulate John Biddle and his family on behalf of the America's Cup Hall of Fame."
Read Press Release at Scuttlebutt Forum
---
Happy Anniversary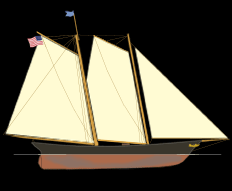 Image ©2008 CupInfo
157 years ago, August 22, 1851, the yacht America won impressively in a Royal Yacht Squadron race around the Isle of Wight, bringing home the trophy that became the America's Cup.
---
American Eagle Wins Opera House Cup
American Eagle beat a 12-meter fleet including Easterner and the America's Cup winners Columbia (1958), Weatherly (1962), and Intrepid (1967, 1970) to win the class at Nantucket's Opera House Cup, a regatta that also included Olin Stephens' restored classic Dorade.
---
"What a Missed Opportunity!"
Formula One auto racing came to Valencia last week and all the America's Cup got was a couple distant aerial shots. Ed Gorman, who has covered both sports for The Times, comments in the World Yacht Racing Forum Newsletter that the potential benefits from the intersection of these two elite competitions were lost, and quite intentionally.
"I can't think of two sports that are closer than Formula One and the America's Cup," said Gorman. "Both are at the top end of technology, the human factor is essential; some even share the same sponsors."
Read more from WYRF Newsletter
---
Onorato Speaks Out
Vincenzo Onorato, CEO Mascalzone Latino, has written a letter outlining the stakes in the America's Cup battle:
"Now that there is only one last chance left for an appeal, last week's decision by a New York court to re-instate CNEV as Challenger of Record puts the whole future of the America's Cup at risk. For if their decision stands, our sport's premier match will come to an end as a genuine sailing competition. What we will have instead will be a regatta that just pretends to be the Cup."
---
Interview with Michel Hodara, Outgoing CEO of America's Cup Management
Question: Alinghi/ACM's reputation has been tainted since the end of the 32nd America's Cup, why? And do you think you played a role in this?
Hodara: "The bucks stops with the CEO, so you can assume that I am ultimately responsible for it. There is no doubts that we've made some PR mistakes after July 2007, but the problem is much older than that. Our philosophy since 2003 was always deliver the best possible event with the best facilities. Sometimes we had to make rules for the better running of the event that were not always very popular and we didn't take the time to explain them properly to the community."
Read the interview at Adonnante.com
---
Mysterious History of Columbia's Mast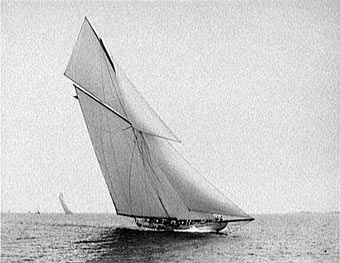 Nat Herreshoff's Columbia defended the America's Cup in 1899 and 1901. Photo credit
The Brown University Daily Herald carries a story about a flagpole on the Providence, RI, campus said to be the mast of two-time America's Cup defender Columbia, donated to the school in 1918 by C. Oliver Iselin, one of her original owners. There is a question about the provenance of the spar and whether it is the actual America's Cup relic it was once claimed to be.
Read story at Brown Daily Herald
CupInfo readers may remember a news story related here in late 2006 about repairs to the historic mast of Columbia, with the notable detail that the mast had stood in a park in New York since 1915 when it was dedicated by Teddy Roosevelt.
Read archived story at Newsday
So which is which? It is hard not to note that the New York mast is quoted at 115 feet tall while Brown University's prize is said to be a 50-footer, a bit undersize for a mast on an America's Cup yacht of any period. Does Brown actually have a top-mast? Columbia's gaff? A bowsprit? Or the top of one of Columbia's spares? Did the Ivy Leaguers get the short end of the stick?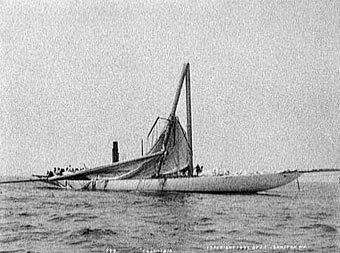 Columbia dismasted, 1899. Photo credit
---
12-Meter Stories
Messing Around in Boats, history and stories of 12-meter yachts by America's Cup sailor Jack Sutphen, whose career spanned from Weatherly in 1958 through the campaigns of Courageous (1974), Freedom (1980), and Stars&Stripes (1986), is available from the International Twelve Meter Association (ITMA). Proceeds will be donated to the Seaman's Church Institute of Newport and the 12-Meter Class-sponsored Olin J. Stephens Young Sailors Fund.
---
A Gift for America's Cup History Fans
Long the most famous and sought-after book of the America's Cup, the 1902 landmark The Lawson History of the America's Cup is well known both for its thorough early history and for the very personal and discontented views of co-author Thomas Lawson. Despite certain obvious biases, Lawson's, as it is usually called, is authoritative enough to even be quoted in the Golden Gate YC legal filings, noted above.
Published in limited quantities, copies of the 1902 first edition have changed hands in recent years for thousands of dollars (US), although prices in the hundreds are more typical. A reprinted limited edition of 1500 from 1986, faithful down to the many illustrations, elaborate binding, and gilt-edged pages, when it can be found is typically priced in the $200-400 US range. The deal of the century would seem to have been an original edition in good condition that sold on eBay for $10 (plus shipping), but today you can do that one better. All though very restricted portions having been available on Google Books for several years, the complete and entire original Lawson's is now available for free download in pdf form from the Internet Archive.
Download The Lawson History of the America's Cup (pdf, 25M; other formats also)
Also: more about Thomas Lawson, John D. Rockefeller, and the America's Cup from CupInfo.
---
John Biddle, America's Cup Filmmaker, Passes Away Shortly Before Hall of Fame Induction
From the Herreshoff Marine Museum:
The Herreshoff Marine Museum and America's Cup Hall of Fame are saddened to announce that internationally recognized filmmaker and documentarian John Biddle passed away this morning, October 1, 2008, in his sleep. Mr. Biddle had been selected for induction into the America's Cup Hall of Fame for his outstanding work in documenting the 12 Meter era of America's Cup competition, and was scheduled to be inducted at a ceremony to be held October 23rd, in New York City. Out of respect to John and his family, the Herreshoff Marine Museum and America's Cup Hall of Fame will postpone the induction until a date to be determined in Spring 2009.
Learn about John Biddle's life and work at Herreshoff.org

The Future of the America's Cup?
The Independent's Stuart Alexander reports possible plans, and suggests that an agreement is advancing behind the scenes: "...A blueprint for a whole new way of running the cup to be put in place not just for next time, America's Cup 33, but for the mid-term with up to two or three events."
---
Despite Exoneration, WADA Gets Daubney Banned for Two Years
The World Anti-Doping Agency (WADA) has succeeded in petitioning the Court of Arbitration for Sport to have four-time America's Cup-winning crew member Simon Daubney (Alinghi '07 and '03, TNZ '00 and '95) banned from sailing competition for two years. Daubney, the apparent victim of a spiked drink during the last America's Cup, was originally exonerated by the America's Cup Jury in the incident. Daubney's position was also supported by the ISAF and the Swiss Olympic Association.
Read AP Story at ESPN
Update 10/4: David Howman, CEO WADA: "Our view was that the case put up originally and accepted at the original hearing did not accord with science or commonsense."
Read more at NZ Herald
Also see: text of the original America's Cup Jury decision (pdf) which includes portions of Daubney's testimony and earlier story at NZ Herald
---
Spirits, Words, and Deeds
Legal expert Cory E. Friedman looks at Golden Gate YC's Appeals Court Brief:
"Although the breach of fiduciary duty claim is gone, GGYC finally argues that the one-sided Protocol was a quid pro quo for keeping the Cup in Spain, which is slipped in on the 'organized Yacht Club' issue, which GGYC argues is in the Deed to prevent collusion, a point which is a bit of a stretch in the Schuyler's lifetime, before multi-challenger events. Why would a solo challenger want to collude? To lose? Too bad GGYC did not cross appeal, where the argument would have had more heft."
---
GGYC Files Appeal Brief
Golden Gate YC has filed its appeals brief with the New York Court of Appeals. The full text and summaries of the highlights are available at the GGYC web site.
Société Nautique de Genève/Alinghi has until November 13th to file their response.
---
Bertarelli-Ellison Summit Amicable Though Solution Not Reached
The two parties praised the tone of the discussions as an improvement, but no specifics have emerged about progress that would lead to a healthy resolution.
Tensions Eased:
Read Stuart Alexander in the Independent
Brief Team Statements:
Alinghi: "Positive"
GGYC (pdf): "Cordial"
Meanwhile, court procedures continue this week.
---
Summit Meeting to Explore Possible America's Cup Solutions
Potential options to get the America's Cup back on track will reportedly be discussed at a face-to-face meeting this week in California between Ernesto Bertarelli and Larry Ellison. America's Cup fans will recognize this as the most hopeful news in several months or more for the historic regatta.
See Stuart Alexander in the Independent
Also: Butterworth: "Optimistic"
Coutts: "Best Chance"
Read more at NZ Herald
---
Louis Vuitton will Sponsor Pacific Series in Auckland in 2009
New Regatta Invites All Former LVC Teams
Four to Five Teams Already Planning to Participate
Emirates Team New Zealand and the Royal New Zealand YS on September 15th announced the Louis Vuitton Pacific Series. Based in Auckland's Viaduct Harbor and sponsored by Louis Vuitton, the new match race regatta will run from January 31 to February 14th 2009, featuring three match races daily in Emirates Team New Zealand's 2007 generation yachts, NZL-92 and NZL-84. Open invitations have been made to all previous Louis Vuitton Cup competitors, including Alinghi, on a first-come-first served basis for six entry slots.
Read more at:
Emirates Team New Zealand
and See Press Conference Video
Also: NZ Herald and Newstalkzb
TVNZ reports that interest from the teams has been very high. K-Challenge (with great enthusiasm), BMW Oracle (really looking forward to Auckland), Shosholoza (magnificent idea), Team Origin, and Desafío Español are said to have accepted in principle.
Update Sept 26: All seven LVPS entry slots have been filled, with two teams left to be announced publicly. Organizers report that a total of 23 teams responded with expressions of interest.
Update Sept 19: Dennis Conner, John Bertrand, Desafío might be in, Team Origin maybe not:
Stuart Alexander in the Independent.
Update Sept 17: Mascalzone Latino is now expected to join the racing as well (also great enthusiam). Via Radio NZ, 9/16, Grant Dalton of ETNZ reportedly said that Alinghi has offered to participate if ETNZ drops their legal action.