More News:
The 1851 Cup Regatta at Cowes Week: Follow the racing on the 1851 Cup web site and BMW Oracle blog
Standings:
Team Origin:
10 pts/6 wins
BMW Oracle:
4 pts/2 wins
Read GGYC Press Release
Sport-Telegraph: Spithill-Ainslie duel
Aug 17: The 1851 Cup Regatta to be shown on Sky Sports this Thursday to Sunday:
Team Origin Press Release
July 27-Aug 1: America's Cup teams in close racing at the RC44 Valencia Cup
July 30: Garrard provides sterling silver for Royal Thames YC to award winner of 1851 Cup Regatta:
Professional Jeweler
July 29: Watch video "experiments" from monohulls and multi's, plus new race formats, and offer feedback to shape the TV and coverage for America's Cup 34:
America's Cup media evaluation site
July 22: Television Evaluation Trials continue in Valencia: Read GGYC Press Release
July 21: 3D? HD? Dolby? "Television Trials" test new broadcasting approaches and technologies for next America's Cup. Fans can view daily footage this week, offer their reactions: Read GGYC Press Release
July 20: America's Cup Video Competition Results "A Bit of Hawai'i": View contest winners and more entries
July 1: America's Cup and BMW Oracle Racing Visit White House: Press Release
July 1: America's Cup Visits Newport, RI. Public display in town and at Fort Adams, plus Victory Luncheon and presentation from BMW Oracle team members: Preview | Schedule and details
July 1: Restoration of 12-Meter Lionheart K-18, 1980 America's Cup Challenge Candidate:
SuperYacht Times
June 30: Letter Perfect: Engraving the America's Cup Trophy:
Video at BMW Oracle Blog
June 30: BMW Oracle's Cup-winning team rings opening bell for NASDAQ before visiting Newport:
See photos and
Press Release
June 29: Prada/Luna Rossa will skip the next America's Cup? Initial Reports say that's the case:
Valencia Sailing
June 28: Venezia Challenge emerges as potential entry for 34th America's Cup:
Ritaly
June 17: Brits Improving at MedCup Marseilles
British Team Origin climbs into top half of standings with consistently better placing at Audi MedCup Marseille:
TeamOrigin site
May 19: Training underway for Louis Vuitton Trophy La Maddalena, Italy:
Read Press Release
Racing Begins May 22
Apr 25: Grassroots Multihulls in San Francisco Bay:
Kimball Livingston's Blue Planet Times
Apr 19: BMW Oracle returns to racing. Well-earned vacation over, the RC44 Cup in Austria will see Spithill, Coutts, and Ellison back on the water:
BMW Oracle Site
Apr 17: Yacht Racing Photos on your iPhone? Yes, there's an App for that: Juerg Kaufmann at iTunes Store (in German)
Apr 12: USA-17's birthplace: Great reception for America's Cup as BMW Oracle returns to Anacortes to celebrate with the builders of their incredible multihull:
BMW Oracle Site
Apr 6: BMW Oracle Tech Details: How to get a grip on 90 million data points for every hour of sailing USA-17? Data mining to the rescue:
Oracle.com Blog
Apr 6: America's Cup History in 3D:
Maine Antique Digest
GGYC and SNG agree to dismiss outstanding legal proceedings. Mutual consent at last: Read Press Release plus Richard Gladwell story at Sail-World
Mar 21: Emirates Team New Zealand gets private support to retain crew for next America's Cup:
tvnz.co.nz
Mar 10: San Francisco continues narrowing down potential sites for hosting America's Cup bases:
SFExaminer.com
March 2: America's Cup skippers and hopefuls begin competing today in Omega Auckland Match Race Series, prelude to Louis Vuitton Trophy Regatta Auckland, Mar 9-21:
Omega Auckland Event Site
Feb 18: Photographer Carlo Borlenghi's best shots of America's Cup 33, gallery at:
carloborlenghi.net
Feb 17: J-Class Regatta in England, 2012, could see nine J-Class yachts on the starting line. Races in Falmouth, the Solent, and Round-the Island:
J-Class Yachts
Feb 16: Mutiny on the Med? Harold Bennett, Principal Race Officer for the 2010 America's Cup, talks about SNG Race Committee's attempted strike to prevent Race 2 from starting:
Q: Does this stray into Rule 69 territory. Would you normal write a report for ISAF?
"Yes I do have to and obviously that's going to be included in any report. That's what you do, you've got outline what's going on on the boat, whether it's good or bad":
Story by Stuart Streuli at Sailing World and more at NZ Herald
Bruno Troublé Says America's Cup and Louis Vuitton Trophy could cooperate in next defense: Story at Sport Telegraph
Valencia Notes:
from John Crisp
3 days to go:
Both teams host Pre-Race Media Presentations
One Week to Go:
It's Coming, and Fast

---
3 days to go:
Press Releases:
Owner's Press Conference

BMW Oracle: "We had a very good sail," said team CEO Russell Coutts (NZL). "We're excited to get out on the race course tomorrow." Read More
Alinghi: May the Best Team Win
Feb 6: Regatta Rules
Amended by SNG: Notice of Race and Sailing Instructions released (pdf)

America's Cup Hall of Fame Class of 2010 Named
Five Kiwis and one American will be inducted into the America's Cup Hall of Fame this fall.
Press Release: The America's Cup Hall of Fame, located in Bristol, Rhode Island, is pleased to announce the selection of Simon Daubney, Warwick Fleury, Murray Jones, Dean Phipps, Mike Drummond, and Halsey Herreshoff for induction on September 18, 2010.
The 17th Induction Ceremony, presented by Rolex Watch USA and hosted at the New York Yacht Club's Harbour Court in Newport, Rhode Island, will be held in conjunction with the America's Cup 12-Meter Era Reunion weekend.
Read America's Cup Hall Of Fame Press Release

---
America's Cup 2010 On TV in the USA (Finally)
On Friday, May 21, NBC's Universal Sports channel will broadcast a 1-hour highlights show of both America's Cup Races from February 2010. Even America's Cup fans who saw the racing "live" on the internet back in February may enjoying seeing this condensed coverage of the match since the races have been edited to include onboard video from each boat that was not available in the web-streamed video.
The race call for this show will be the international team of PJ Montgomery, Andy Green, and multihull expert Cam Lewis. Universal Sports is available as a cable channel and is also broadcast as a digital over-the-air signal by many NBC affiliate stations.
Update 5/15: Air time has been rescheduled to Friday, May 21, at 3:00am ET (from Wednesday afternoon).
Update again 5/20: Additional showings are now scheduled for Monday May 24 at 12:30 pm PT, Sunday May 30 at 12:00 am PT, Monday May 31 at 10:00 am PT, and Wed June 2 at 8:00 am PT.

---
Running Hot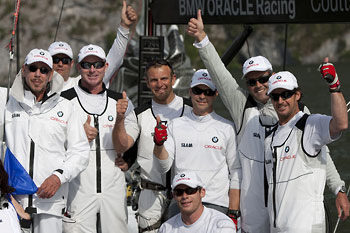 RC44 crew: Larry Ellison, Russell Coutts, Dirk de Ridder, Ross Halcrow, Craig Phillips, Colin Orsini, Revelin Minihane, and Ryan Godfrey. Photo:©2010 Gilles Martin-Raget/BMW Oracle Racing
May 4: BMW Oracle Racing's RC44 crew swept both the match racing and fleet racing competition at the RC44 Austria Cup 2010, edging past other RC44 teams that included John Kostecki and Paul Cayard. BMW Oracle was also the victor in their previous regatta last February.

---
Racing Like It's 1851?
May 1: Billed a a "grudge" match, racing this summer will pit Defender BMW Oracle against America's Cup Challenger hopeful TeamOrigin in a USA vs. GBR match around the Isle of Wight, retracing the original race course sailed by the schooner America in 1851 to first win the trophy that became known as the America's Cup.
The new around-the-island race will be sailed in America's Cup Class yachts, presumably one of BMW Oracle 2007 boats and Origin's SUI-75, built by the Swiss for the 2003 Cup and purchased by the British team in 2007. The winner of the match will be awarded a new trophy called The 1851 Cup. Origin says that the competition could expand in coming years to include many more America's Cup-related teams.
See details at TeamOrigin site and Read more at Times Online

---
Major Announcements for Next Defense of the America's Cup Coming May 6th
Apr 26/28: Defender Golden Gate YC and Challenger Club Nautico di Roma will hold a joint press conference in Rome at 12:00pm local time (6:00am ET US) on Thursday, May 6, to announce details of the 34th Defense of the America's Cup. According to the invitation, "Important announcements will be made concerning the next competition for one of the world's most iconic events and the oldest trophy in international sport" by Russell Coutts and Vincenzo Onorato.
The presentation, which will also be streamed via live webcast, is not expected to cover all details of the next Defense, but based on recent statements by Coutts the schedule for key milestones in shaping the regatta, along with some of the process for reaching them, will likely be the core of the presentation.

---
Baird Speaks
Ed Baird, newly Skipper of Luna Rossa/Prada, spoke to Scuttlebutt recently about his expectations for the Italian team and the next America's Cup:
Question: If you were king, tell us your plan for the 34th America's Cup.
Ed Baird: "Seems like it would be fun to have a lot of teams, all in the same place, that could train, socialize and compete with each other for a couple of years before selecting a challenger that would race in the Cup against the defender. Monohulls for close racing. A fair race course that doesn't heavily favor any one side. Didn't that work pretty well once or twice before? I'm sure there's a place where that can be done."
Read interview at Scuttlebutt News

---
Crunching Numbers
Apr 23: It was long speculated among Cup watchers that gathering and analyzing performance data to accelerate development of America's Cup boats could be taken to another level. BMW Oracle did just that with winning challenger USA, outfitting the trimaran with myraid sensors turning out a flood of data. Being sponsored by Oracle founder Larry Ellison helped the team tap the serious tech horsepower needed to make sense of all that information, processing some of it in real-time on a nearby support boat. Making monster wave-piercing hulls and the brilliant wing mast work together in time to win the America's Cup relied on designers and sailors knowing more about the boat, and knowing it faster, than ever before.
From Oracle: "The USA generates almost 4,000 variables 10 times a second," says [Ian] Burns. "Sometimes the analysis requires a very complicated combination of 10, 20, or 30 variables fitted through a time-based algorithm to give us predictions on what will happen in the next few seconds, or minutes, or even hours in terms of weather analysis."
Like the deeper analysis that [Peter] Stengard does back at the Austin Data Center, this real-time data management and near-real-time data analysis was done in Oracle Database 11g. "We could download the data to servers on the tender ship, do some quick analysis, and feed it right back to the USA," says Burns.
---
Plans for Next America's Cup to be Announced in May: Coutts
Apr 22: "It will be in 2013 or 2014. As for the location, everything is still open. San Francisco is appealing, but other sites in the United States and elsewhere in the world are as well," Coutts told AFP.
Read more at Agence-France Press

---
Louis Vuitton Trophy La Maddalena, Italy Starts May 22
From the Press Release (Apr 21): "The Louis Vuitton Trophy is coming to Sardinia in May, with 10 elite sailing teams set to race for two weeks on the sparkling waters of the Mediterranean Sea off La Maddalena."
---
Prada Signs Baird for Louis Vuitton; America's Cup Challenge Likely
The Italian team sponsored by Patrizio Bertelli has signaled that they will compete in the Louis Vuitton Trophy, likely as a prelude to a full America's Cup effort. American Ed Baird, the America's Cup winning Helmsman for Alinghi in 2007, will come aboard as skipper, and the team could be in the Louis Vuitton mix as soon as the LVT in Dubai this fall. Prada/Luna Rossa was the Challenger in 2000, dominating much of the selection series and beating out AmericaOne in a legendary nine-race match. The team was also a challenger candidate in 2003, and in 2007 lost in the LVC Finals to Team New Zealand.
---
Round the World: ETNZ Will Enter Volvo Ocean Race for 2011-2012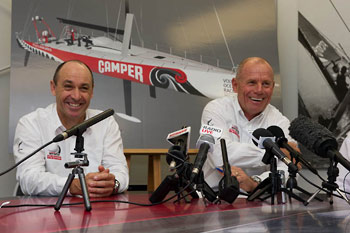 Photo:©2010 Chris Cameron/TNZ
Emirates Team New Zealand will field a Volvo Ocean Race entry for the upcoming around-the-word race, to bear the name of sponsor Camper, a Spanish footwear manufacturer. Along with commitments to other race series, the VOR effort will help to provide an arena for ETNZ to test their resources.
Grant Dalton, Managing Director, ETNZ: ""With Louis Vuitton, the team started the Louis Vuitton Trophy, Dean Barker and the team campaigned successfully on the Audi MedCup TP52 circuit last year and now we have a Volvo ocean race campaign to organize from scratch.
"The team has no shortage of experience with the Volvo ocean race and the Whitbread before it. It's no secret that I have never lost my enthusiasm for racing around the world."
Fielding a VOR team lets ETNZ return to an event in which Dalton has enjoyed great success, racing six times and winning twice, but the project also allows the team to diversify in both sporting and financial sense, and will serve as a useful outlet for team members while plans are taking shape for the next America's Cup expected in 2013 or 2014.
---
Mascalzone's Gavin Brady Plans for the Next America's Cup
On the Crew: "...As the yachts get faster, and when this new breed of boat comes out, whatever it might be, all of a sudden in a good spinnaker set, you'll gain three boatlengths -- whereas on the Version 5 boat, a good spinnaker set gets you 15 or 20 feet. So I think the technology game is going to be very important, the fast boat is going to be very hard to beat, but I think for the first time in a long time crew work is going to have a huge impact on the outcome of the America's Cup. And the faster the boats get, the more that will come into play."
Designing the new America's Cup yachts: "You can either go down, and make the keel real deep, and then you can't fit anywhere and you can't race them in the harbors because they're too deep. Or you can put a big bulb on them, a heap of lead, but that's what you've got now and it's time to move on from that. Or you can cant them, and if you go canting, you can keep the draft up, moderate-sized bulb, and you can tip it out the side. Or you can go wide, but then you don't fit, so logistically, it's a real pain."
Read more from Gavin Brady at CupInfo

---
NYYC to Host 12-Meter Era Reunion
Regatta and more in Newport, Sept 16-19
Mar 30: In September 2010 the New York YC will host a 4-day event celebrating the era of the 12-Meter yachts in the America's Cup. The much-loved class raced for yachting's historic trophy ten times from 1958 though 1987. America's Cup winning skippers Dennis Conner, Ted Turner, Bill Ficker, Ted Hood, and Buddy Melges lead a list of legendary sailors planning to be in Newport for the festivities. The reunion weekend will also include the America's Cup Hall of Fame induction ceremony and the premiere of a new documentary film on the 12's by Gary Jobson.
---
Cayard: New Cup Yachts Could Debut for LVT in 2012, Sharing Design and Performance Data to Ease Start-up
Mar 24: Paul Cayard detailed plans under consideration for the next America's Cup, with a central concept being a shared adoption for the Louis Vuitton Trophy of four yachts of a new America's Cup class, possibly sailing in 2012. Design and performance data could be shared among all teams, with each team to build and sail their own boats in 2013, and the America's Cup to be defended in 2014.
---
Talking with Azzurra's Skipper
Mar 24: Francesco Bruni, Skipper of the Italian team Azzurra, has been storming to the top of the Louis Vuitton fleet, winning in Nice and finishing fast on the heels of the established teams both this year and last in Auckland. CupInfo caught up with Bruni at the Congressional Cup and talked with him about pulling Azzurra together, what's needed for the next America's Cup, and the value of racing in the Louis Vuitton Trophy.
"Everyone is very competitive, especially on the sailing team side," Bruni said of this month's Louis Vuitton regatta. "I think that racing with the same boats, equal boats, the sailing teams learn a lot more."
Read more from Francesco Bruni at CupInfo

---
RC44 Class May Add US Circuit in 2011
The high-performance monohull design could be racing a North American circuit as soon as next year. Restricted to amateur helmsmen, but often including top sailors on the crew, the RC44 has been cited by BMW Oracle's Larry Ellison for the close competition usually featured in its regattas, and may have some influence on decisions made for the next America's Cup.
Bertrand Favre, RC 44 Class Manager: "One thing is sure: thanks to the easy logistics of the Class, it will be possible to sail in great locations in the US, both on the East and West coast and even on lakes."
---
Ellison Talks About Goals for the Next America's Cup
Larry Ellison, interviewed by Fortune/CNN: "It shouldn't be about money. It should be a little bit about technology and a lot about sailing. And it's got to be a great experience for viewers. It's got to be something kids want to watch. Quite frankly when I'm watching the Olympics I watch downhill racing. My kids watch the snowboarders. Okay. We've got to pay attention to that. I kind of like monohulls.
"All my racing experience is on monohulls. But if what the kids want to watch is multihulls because it's more exciting, we'll go multihulls. We've got to make this a great sport from the point of view of the participant, especially the kid who's just getting into the sport, and from the point of view of the viewer on television."
---
Louis Vuitton Auckland Final
Emirates Team New Zealand Wins the Louis Vuitton Trophy Auckland!
Louis Vuitton Trophy Final:
Emirates Team New Zealand d. Mascalzone Latino
ETNZ wins Race 1, Saturday, and wins Race 2 on Sunday, to take the Best of Three contest. Mascalzone finishes in second place, but the Italian team, who is also the Challenger of Record for the America's Cup, looks forward to hosting the Louis Vuitton regatta in La Maddalena, Italy, starting May 22nd.
Petit Final, One Race:
Azzurra d. Artemis
Azzurra wins (provisionally) to finish 3rd in the LVT, and Artemis 4th after a second penalty to Artemis on final leg forces immediate turn. Protest pending regarding Azzurra's selection of reserve spinnaker.
LVT Final coverage, video and radio plus Virtual Eye, available at Louis Vuitton Trophy site and Louis Vuitton Trophy coverage on ESPN360

---
Louis Vuitton Semifinals
Emirates Team New Zealand races Italy's Azzurra, and Sweden's Artemis races Italy's Mascalzone Latino in a best-of-three elimination Friday March 19 in Auckland.
Britain's TeamOrigin lost to Artemis, and All4One lost to Azzurra, in elimination races to set up the Louis Vuitton Trophy Semifinal. Video replay of the races, along with live coverage, is available at ESPN360.com and Louis Vuitton Trophy site


Bow Surgery at LVT La Maddalena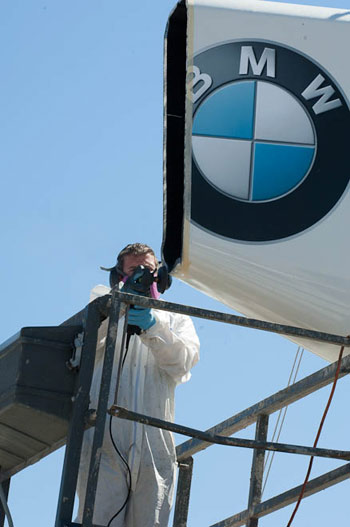 Repairs are underway to the bow of USA-98, as well as the transom of her sister USA-87, following a hard collision during racing May 25th, at the Louis Vuitton Trophy regatta in La Maddalena, Italy.
Photo:©2010 Chris Cameron/ETNZ
ETNZ wins Louis Vuitton Trophy Regatta in La Maddalena (Sardinia), Italy, May 22-June 6
June 6: ETNZ comes back to win Louis Vuitton Trophy beating Synergy 3-2
May 25: Aleph and Azzurra collision damages both BMWO boats, DSQ for Aleph:
Watch Video at LVT Site
Story by Stuart Alexander:
Collision Disrupts Louis Vuitton Trophy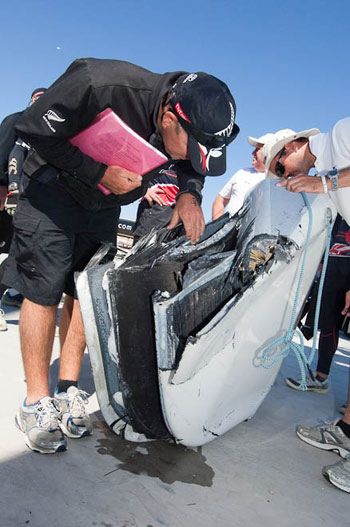 Former bow portion of BMW Oracle Racing's USA-98. The impact on the regatta's schedule may be similar.
Photo:©2010 Chris Cameron/ETNZ

---
Once Round This Island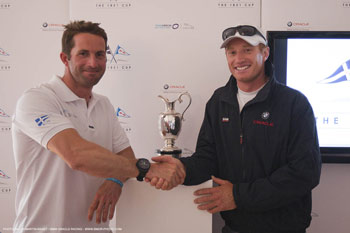 Skippers Ben Ainslie of Britain's Team Origin with Jaguar, and BMW Oracle Racing's Jimmy Spithill getting ready to come out fighting for the 1851 Cup.
Photo: ©2010 Gilles Martin-Raget/BMW Oracle Racing

---
Evaluations in Valencia for Possible Cup Yachts, TV Improvements
Evaluation Trials between multihull and monohull types using pairs of X40s and RC44s will be held in Valencia July 22-25 to consider the sporting and television appeal of both yacht types along with various race formats and broadcast technologies:
---
Team Origin Gets a Cat: Jaguar
A presenting sponsor has been signed to support the America's Cup challenge effort of Britain's Team Origin, which will officially be titled "Team Origin Racing with Jaguar" playing on the car company's racing heritage, luxury associations, and hardcore British identity.
Read stories at Marketing Magazine and Yachting World

---
Rumors Swirl on Next America's Cup Venue
Defender GGYC and Challenger Club Nautico di Roma have said that the location of the next defense will be announced by December, 2010, and that presently they are evaluating the feasibility of San Francisco. Perhaps they've been too quiet, as the sort of speculation that thrives on the internet has lately stepped in to spin up some other scenarios.
San Francisco? Okay. Newport? Maybe. San Diego or New London? Possibly. But rumors of "a nearly done deal" involving €500 million for GGYC to defend the America's Cup in Italy? Surely not?
From Kimball Livingston's blog: "...Which is how I came to be rattling the doors at BMW Oracle with a message on the order of: I know you can't tell me anything, but tell me something anyway. They didn't, exactly. The responses were a mix of the calming and the cryptic.
Read more at Blue Planet Times

---
Simmer Becomes Origin CEO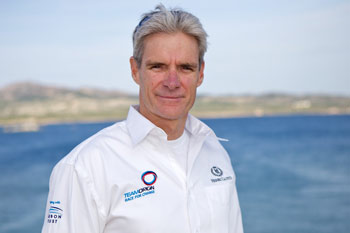 Grant Simmer in TeamOrigin colors.
Photo:©2010 Ian Roman/TeamOrigin
Grant Simmer, who served as Alinghi Design Team Coordinator from 2000 onward, and became Managing Director during their 2010 campaign, has left the Swiss team for an appointment as CEO of TeamOrigin. Simmer, whose America's Cup roots go back to serving as navigator on Australia II in 1983, will take the reins for the British team in the wake of Moose Sanderson's departure. The loss of such a keystone in the management department at Alinghi, following Cup-winning helmsman Ed Baird who has stepped onboard with Prada, is another confirmation that Alinghi's plans for the future lay elsewhere.
Read more:
Team Origin Statement
and Story at Telegraph.uk.co

---
America's Cup to Visit Newport
May 22: Newport, RI, and Washington, DC, will be among the stops for the America's Cup trophy on a tour of the East Coast in late June and early July. The Providence Journal reports that the America's Cup will be the centerpiece of a celebration in Newport, part of a public show of support for the possibility of hosting America's Cup races there in coming years as the city did from 1930 to 1983. The Auld Mug is reportedly going to make a trip to the White House on June 29th, presumably with the winning sailors in tow.
Read story at Providence Journal

---
Sanderson Out as Changes Coming for TeamOrigin
Mike Sanderson, who has served as Team Director of since 2007, has been let go by the British America's Cup hopeful and Louis Vuitton Trophy competitor. Some degree of re-organization is expected to follow in the wake of his departure.
Team Statement, May 18: TeamOrigin announced today that Mike Sanderson has left the team following the decision by Sir Keith Mills, Team Principal, to restructure the organization. This decision has been taken to ensure that the team functions as effectively and efficiently as possible, in order to improve the team's performance and ultimately win the America's Cup. Mike has been with the team since it was formed in 2007. He has made a huge contribution to establishing what has been a relatively new team and has worked hard to keep the team together over the last three years while the America's Cup was in the courts. Sir Keith and the team wish Mike every success in the future.
Explanation from Skipper Ben Ainslie plus read stories at Telegraph.co.uk and by Stuart Alexander at The Independent

---
New Rainbow Advances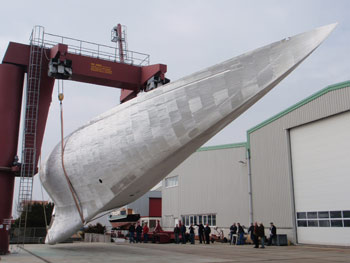 A Rainbow on St. Patrick's day. Photo:©2010 Dykstra&Partners
Mar 17: The aluminum hull of the new build J-Class Rainbow, a tribute to the 1934 America's Cup defender, was turned on March 12 and prepared for shipment by barge before being completed. Designed by Dykstra & Partners of Holland, the replica of the original Starling Burgess Cup-winner will carry sail number J-H2 and is expected to compete in J-Class and Superyacht events in 2012.
Read more at the Rainbow J-H2 web site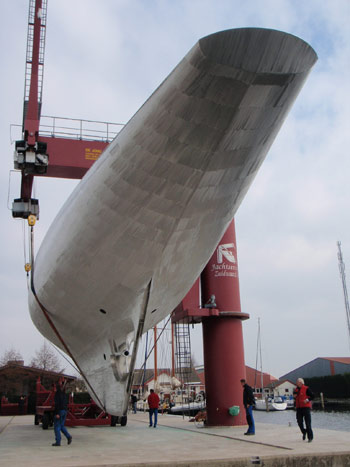 Photo:©2010 Dykstra&Partners

---
America's Cup is Back In New Zealand
Mar 14: Russell Coutts, BMW Oracle Racing CEO, is bringing the famous trophy back to his home country, for a visit, during the Louis Vuitton Trophy Regatta being held through March 21 in Auckland. The America's Cup, just won last month in a magnificent 2-0 victory by Golden Gate YC and BMW Oracle, is returning seven years after it was lost by Royal New Zealand YS, and will be on public display at the Voyager Museum this week.
Also see:
Russell Coutts, on the LV Trophy Races: "By supporting this event, BMW Oracle Racing is also paying tribute to Louis Vuitton, which has contributed to growing the America's Cup so much over the last 27 years, all the while respecting its values, tradition and history."
Read Louis Vuitton Trophy Press Release

---
Russell Coutts Debating his America's Cup Future
Mar 7: The New Zealand Herald reports that Russell Coutts, CEO of BMW Oracle Racing and a four-time winner of sailing's most historic trophy, is taking time to decide on his future role in the America's Cup. A redefined or reduced role, including retirement, is a possibility as Coutts helps plan the next edition of the famous competition.
From the NZ Herald: "I'm still deciding what to do in the future. I don't want to rush things on that," Coutts said. "I've got a young family now and that's definitely a consideration."
When pressed as to whether that might mean leaving Larry Ellison's BMW Oracle Racing team before defending the trophy won in Valencia, Coutts said: "Honestly, I'm really not sure.
"Right now I'm just doing the best job I can for Oracle and trying to speak to some of the other teams to create some good processes [for the next America's Cup], but I haven't made a decision on my future yet."
---
BMW Oracle Music

Magnificent video by John von Seeburg, from BMW Oracle Blog. For best enjoyment, view full size.
Video:©2010 BMW Oracle Racing