More America's Cup News
Mar 25: Newport could be host for America's Cup World Series next September if facilities can be improved:
Boston Globe
Mar 19: J-Class regatta at the 2013 America's Cup? Charting the future of J-Class yacht racing: Safer, more professional, more often, more expensive? Read letter from Hanuman owner Jim Clark:
Yachting World
Mar 17: Proof of Concepts: America's Cup shakedown tests of new technology and race operations to be staged in Auckland in April and May:
Press Release
Mar 17: John Craig, Principal Race Officer for the 2013 America's Cup, discusses preliminary plans for competition and spectating on San Francisco Bay:
YouTube video
Mar 16: America's Cup World Series: Race Rehearsals in Auckland Apr 26-29 and May 2-6
Mar 15: San Diego's Gerry Driscoll has died at 86. As a boatbuilder and skipper, Driscoll was behind Intrepid for her 1974 comeback bid, and skippered defender candidates dating back to 1964:
SignonSanDiego
Mar 11: Alinghi 10, iPad too: 2003 and 2007 America's Cup winner Alinghi publishes book on paper and with custom iPad to commemorate the team's 10-year anniversary:
Alinghi Press Release
Mar 11: Host City Agreement with San Francisco receives scrutiny from Board of Supervisors over concerns that the city's costs will be higher than anticipated. The Mayor's Office is confident that the agreed-upon final version meets financial requirements:
SF Gate and
Bay Citizen
Mar 10: Brief Interview with Norbert Bajurin, Commodore of Golden Gate YC: "One day, I read a newspaper article about Larry's [stalled negotiations with] the St. Francis Yacht Club. So I got in touch with the CEO of the [Oracle] racing team, and I said, 'I hear you are looking for a yacht club'":
Wall Street Journal
Mar 9: French Challenger Aleph formally denies any intention to withdraw, in response to a story at Course Au Large (in French) citing a French marketing newsletter which said the team planned to pull out.
Mar 7: Grinder Craig Monk compares the job of sailing on the new cats to the old America's Cup Class boats: "Everyone but the helmsman is going to have to pitch in because the boats are so demanding...":
America's Cup Blog
Mar 2: Artemis Racing to buy an Orma 60 and convert it to a catamaran for testing? Report at Au Large
(in French)
Feb 27: AC33 in 3D: Juerg Kaufmann is touring an evening's High Definition presentation in 3D of the 2010 America's Cup, the Louis Vuitton Trophy regattas, and other yacht racing including the Audi MedCup, and X40 catamarans, plus heli-shots of classic yachts:
juergkaufmann.com
Feb 24: Changes to some aspects of America's Cup plans taking form in Auckland competitor forums. Small AC72 rig to be dropped, but 33-knot wind limit to remain:
Sail-World
Feb 24: Karol Jablonski joins Argo Challenge:
Team Site
Feb 24: America's Cup Race Management appoints Mike Martin as Director of Umpiring and Rules Administration:
Americascup.com
Feb 23: 2013 Challenger Team Australia announces that they will be representing Multihull YC of Queensland:
mysailing.com
Feb 19: Seems Like Old Cats: A restoration is in store for Hellcat, the first of the C-Class catamarans, which raced in the Little America's Cup in 1961:
Thurock Gazette
Feb 18: Team Australia's Peter Baker confirms his syndicate's intentions, immediate goals:
Sydney Morning Herald
Feb 16: Argo Challenge adds Dr. Richard Korpus and Applied Fluid Technologies to their 2013 design team:
ideaArgo Team Site
Feb 15: Flying a Wingsail: Richard Gladwell follows the AC45 shoreside launch process step-by-step:
Sail-World
Feb 10: Representatives of potential Chinese challenger visit Auckland, sail on the AC45, talk with America's Cup organizers: americascup.com
Feb 4: Harold Bennett becomes Assistant PRO for America's Cup Race Management:
americascup.com
Feb 2: Bruno Peyron Press Conference scheduled for Feb 9 at YC de France regarding 2013 America's Cup.
Feb 1: European Venue? America's Cup World Series 2011 Venue, Dates, Format to be announced soon: Sail-World
Jan 31: Russell Coutts sails the AC45, more boats coming in Feb, mini-regatta possible by April: NZ Herald
Jan 29: Kiwis are Official? AC45 lineup appears to confirm that TNZ filed their Notice of Challenge in November. The New Zealanders are expected to get one of the first boats shortly: Sail-World
Jan 28: Russell Coutts and Jimmy Spithill talk about using fast multihulls like the AC45 in match racing, and what will be different in the next America's Cup: Sail-World
Jan 28: Russell Coutts currently expecting 8-10 entries for the 2013 America's Cup by March 31, reports TVNZ.
Jan 27: Karl Urtz debuts website featuring his detailed illustrations of America's Cup boats 1983 to present:
americas-cup-history.at
Jan 27: In Newport, RI: A Night with the J-Class, 6:00-8:30 pm, benefit for Sail Newport: Details
Jan 27: Big, Bigger, Biggest: Newport may host a J-Class Regatta, says Rhode Island Governor Lincoln Chafee, on a scale not seen since the 1930s. Details forthcoming.
Jan 27: Russell Coutts gets his turn at the AC45 Helm: "So far Murray 'The Captain' Jones is at the top of the speed board. 'The Captain has the top speed so far. Luckily it was light today. If Russell had the top speed we would never hear the end of it,' Jimmy [Spithill] joked":
Americascup.com blog
Jan 26: Tom Blackaller shares his thoughts about racing the America's Cup in fast catamarans on San Francisco Bay. Yes, that Tom Blackaller. Really: Sail-World
Jan 26: America's Cup hopeful Argo Challenge is working on raising $6-10 million by entry deadline for 2013 campaign:
Team Website
Jan 25: The 12-meter Gretel II, 1970 Challenger for the America's Cup, will compete this week in the Royal YC of Tasmania's Australia Day Green Island Race with Gordon Ingate, Gretel II's 1977 skipper, at the helm:
MySailing.com.au
Jan 24: Bay Area Sailors meet with Event Authority to organize in support of America's Cup activities:
Sailblast Blog
Jan 24: All4One secures three-year sponsorship deal with Audi, will support MedCup and related activities, team will become "Audi Sailing Team Powered by All4One" but no commitment to 2013 America's Cup yet.
Jan 18: Argo Challenge moving ahead on 2013 America's Cup plans:
Argo Press Release
Jan 18: Russell Coutts, Oracle Racing CEO, talks about planning the 2013 America's Cup on Sailing World podcast:
Oracle Racing Blog
Jan 17: Bay Area volunteers and yacht clubs will be a big help for the America's Cup. Michelle Slade talks with Iain Murray, Director of America's Cup Event Authority:
Sail-Blast Blog
Jan 11: Catamarani per Tutti is not a dinner entrée, but it is the order of the day in the sailing world lately: Cats for Everyone. Italy's Luna Rossa will enter the Extreme Sailing Series for 2011. Max Sirena will skipper:
Luna Rossa website
Jan 7: AC45s nearly ready for a spin. Production on the first new 45-foot America's Cup catamaran class is nearing completion in New Zealand, and the second boat is underway:
See Video at americascup.com
Jan 7: America's Cup yachts could be racing this fall in Newport. Rhode Island officials meeting Friday with Tom Ehman, Oracle Racing, to working on getting America's Cup lead-up regattas for Newport:
Boston Globe and Providence Journal
Jan 5: San Fran's America's Cup hosting deal represents a model for cities courting sports teams in our economically constrained age:
New York Times
Jan 5: Postcards from the Ledge: The America's Cup trophy plays tourist in San Francisco, eye-catching photos ensue. See them at Americascup.com
Jan 3: Yacht designer Bill Langan, project manager at Sparkman & Stephens for the 1980 America's Cup defender Freedom, has died of leukemia at the age of 55. CupInfo joins the sailing community in offering condolences to his family and friends:
Scuttlebutt
Jan 2: Now that they've picked the location, there's plenty of hard work to do on the 2013 America's Cup. Michelle Slade interviews Craig Thompson, CEO of the America's Cup Event Authority, who explains what is planned:
Marin Independent Journal
Jan 1: Grant Dalton says San Francisco as America's Cup host suits ETNZ well. The team is working now on sponsorships, hoping to secure funding and submit their Notice of Challenge by March 31:
NZ Herald
Jan 1: America's Cup Legend John Bertrand lives with cancer diagnosis:
Sydney Morning Herald and also see Bertrand profile story at TheAge.com


2011 Race Venues, More Details, To Be Announced Soon
(Mar 31) March 31 was the close of the window for early filing as a challenger or a defender candidate, and it was also the deadline in the amended 2013 America's Cup Protocol for publishing the locations and schedule of the 2011 America's Cup World Series Events.
A complete list of challengers in their order of entry is required by the protocol to be published after the initial challenge window closes, too.
Late entries for challenger or defender candidates may be possible with a financial penalty. Race Organizers have already named the dates for 2011 and the early 2012 races, subject to change, but have extended the time requirement for publishing the venues from January 31 to March 31. The format and scoring for the ACWS events aren't due until May 31. Another deadline item for the last day of March is the event logo for 2013. Details on these issues should be forthcoming.

---
Venezia Submits Notice of Challenge
(Mar 29) Venezia Challenge has filed their official Notice of Challenge for the 2013 America's Cup. Now representing the Club Canottieri Roggero di Lauria in Palermo, a change from earlier statements involving Societá Canottieri Marsala, the details of the Italian team's announcement suggest that they may be the 11th entry for the upcoming regatta.
Read brief statement at Venezia team site
Also:
Additional information (in Italian) at Faravela.net

---
White Tiger: Korea in the America's Cup
(Mar 29) According to a statement from the team reported at Yachting World, the first ever Korean entry to the America's Cup is now official, representing Sail Korea Yacht Club under the name "White Tiger Challenge" in honor of a Korean national symbol. Confirmation from America's Cup organizers still awaits.

---
China is Official
(Mar 28) China Team announces that they are now one of the ten teams that have officially entered for the 2013 America's Cup. This is the second time a Chinese team has competed in America's Cup racing, having been a challenger candidate in 2007. The team also competed in the Louis Vuitton Pacific Series in Auckland in 2009, finishing sixth of eight.
Thierry Barot will be CEO, but the intent is to feature Chinese sailors. Backing comes from Wang Chao Yong, Chairman of China Team, though the team's press release states too that the team has "...the full support of the Chinese government."
Read China Team Press Release
and Watch Press Conference Video at YouTube

---
10 Spot: Two New (Unnamed) Teams Submit Notice of Entry
(Mar 24) Two additional teams have filed official entries for the 2013 America's Cup, bringing the total number of teams to 10 including defender representative Oracle Racing. The identities of the new entries will be made public by the teams themselves at a future date. The deadline for early Notice of Challenge or applications for Defense is next Thursday, March 31.
---
Artemis Ramps Up
(Mar 16) Michelle Slade at SailBlast spoke with Paul Cayard, CEO of Artemis Racing, on how preparations are proceeding for their America's Cup challenge:
Cayard: "We now have our AC45, which is getting rigged up and will be launched about March 19 in New Zealand. We'll spend a month there training and getting used to the boat. We're beginning the construction phases of our AC72, however it won't be launched until early next year. We have a huge R&D project going on -- our design offices are based in Spain. There's a big body of work going on over there with about 40 people. We have 65 people on the team now so we're a truly operating team."
Cayard on sailing the AC45: "I'm sure when you're good at it, it becomes second nature but for me at this point it was just total concentration. I was quite worn out. I said to the guys, 'Gees, if we race four or five races a day like this we're going to be exhausted.'"
---
Emirates Sponsors Team New Zealand
(Mar 16) Emirates Airline has recommitted to supporting the Kiwi team. ETNZ took delivery of their new AC45 catamaran in Auckland today, as well, though official word on their 2013 America's Cup challenger status still awaits. "In the meantime we are developing the sailing team; the design team is working through concepts for the AC72 catamaran and we are continuing meeting with several potential sponsors," said Grant Dalton, CEO Emirates Team New Zealand.
Read ETNZ Press Release and
Read story at NZ Herald
Also, ETNZ's Volvo Ocean Race effort sponsored by Camper picks up speed as 2011-12 VOR approaches:
Read more at ETNZ website

---
2013 America's Cup Racing Rules Released
The Racing Rules of Sailing for the America's Cup (RRSAC) have been completed. As in past defenses, the RRSAC modify the normal Racing Rules of Sailing and the Match Racing Rules in order to adapt to the special circumstances of the America's Cup, and for 2013, to the new demands of match racing 72-foot catamarans.
One of the biggest changes from standard match race practice is a staggered entry to the starting box. Instead of both boats being allowed to enter five minutes before the starting gun, the RRSAC now allow the port boat to enter at 3:00, 15 seconds before the starboard boat is allowed to enter at 2:45. Both boats still must enter by 1:00 before the start.
Penalties will make use of live yacht position data, requiring a penalized boat to slow to a trailing position two to four lengths behind the opponent or relative to their previous position depending on circumstances. See Rule 44.2 for details.
Other changes made for the America's Cup involve the handling of protests, daggerboards, and hiking equipment.
Download 2013 RRSAC (pdf)
Also: See Racing Rule of Sailing at ISAF

---
AC72 Class Rule is Amended,
One Size Fits All
(Feb 25) Based on discussion with competitors this week in Auckland, changes have been made to the Class Rule for the new 72-foot multihulls that will race in the 2013 America's Cup. Some of the changes are aimed at reducing cost and simplifying the scope of design development.
The option to have a shorter wingsail rig for high wind conditions has been dropped, leaving only the tall 40m wing, and the number of wings that may be built per team has been cut from eight to six. Several limitations on a crew's ability to hike outboard of the hull have been removed (Article 18). Additionally, many small wording changes have been made to clarify rule intent and avoid ambiguity.
Download AC72 Rule Version 1.1 (pdf, 4.8MB)


---
Clipped Wings for AC45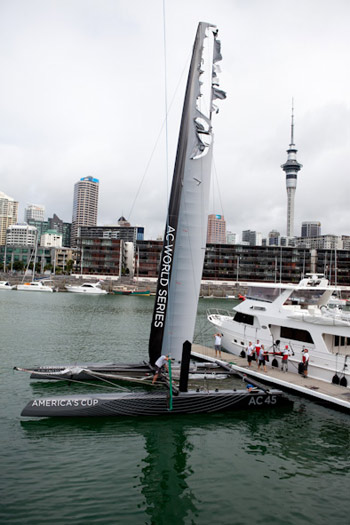 Damaged wingsail of the AC45, click image to compare to undamaged wing. Photo: ©2011 Ivor Wilkins/americascup.com
(Feb 21) The crew from Artemis came through the first AC45 capsizing uninjured, though the boat itself was not so lucky. Aside from the obvious damage to the wing fabric, and detachment of trailing elements, the main structure appears intact, and further inspection of structures and rigging is underway.
The boat was not up to speed when the incident happened, which probably helped contain the damage and prevent injuries.
"After a good session of training this morning with Artemis Racing, we were stopped when we got a little freak puff of breeze, then the boat went over and laid down on the wing," ACRM's Troy Tindill, who was onboard with the Artemis sailors at the time, told the AC Blog. Once righted, the boat was able to return to harbor under her own power, and should be sailing again by next weekend.
Compare before and after AC45 photos

---
Aussies Are Officially Accepted, A New Unnamed Team is Added
(Feb 15) It was announced Tuesday that Team Australia has been officially accepted as a challenger for the 2013 America's Cup.
Read Team Australia Press Release
The challenge, submitted in December and accepted last January, plus a newly announced unnamed team, brings the total to eight entries to date.
See 2013 America's Cup Team Index

---
One Year On
(Feb 14) Commemorating their 2-0 victory in the America's Cup one year ago, Oracle Racing has released a slideshow of images from the winning 2010 challenge against Alinghi. Many of the photos have never been publicly shown before, depicting behind-the-scenes testing, capsizes, and the aftermath of the epic dismasting of USA-17 in 2009:
View slideshow at YouTube
Also enjoy from Oracle Racing:
Highly Recommended: James Spithill and Murray Jones chat about their experiences as opponents in the 2010 America's Cup. Now teammates, the two sailors leave the conflict behind and have a relaxed conversation that reveals much about the experience of racing two of the most cutting-edge sailboats ever built:
Watch video (15:00)
And One Year Anniversary HD slideshow: The story of the 2010 America's Cup and the beginnings of the 34th Defense in pictures (7:11)

---
Energy Team Debuts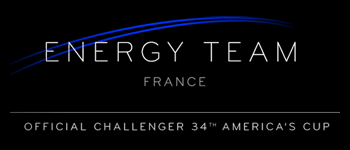 (Feb 9) Yacht Club de France will be represented in the 2013 America's Cup by Energy Team, the challenge effort initiated by the Peyron brothers. Loïck Peyron, who joined the press conference via audio from Australia, will be skipper and lead the design team. Yann Guichard will be alternate helmsman. Other crew includes Yves Loday, Jean-Christophe Mourniac, and Thierry Fouchier, who was wing trimmer onboard USA-17 for America's Cup 33 and has since crewed with Aleph Team France. Yann Penfornis of Multiplast will manage the design and building process. The team plans to build two AC72s and acquire two AC45s. Target budget of €60-75 million over three years, looking toward energy sector as primary sponsors. The press conference video will be available at the Official America's Cup web site.
Read Energy Team Press Release

---
Mike Drummond on the Design of the AC45
(Feb 7) Mike Drummond heads the in-house Oracle Racing design team that created the one-design AC45 catamaran, the wingsail multihull stepping stone for America's Cup teams on the way to the full-blown AC72 of the 2013 America's Cup. CatSailing News has a very informative interview with Drummond about the evolution of the smaller wing cat, and what it means for the bigger generation.
Drummond: "The average boatspeeds will be quite high because the boat is overpowered most of the time, so there is less penalty in a higher volume hull than for cats from 10 years ago. The experience with USA-17 led us closer to her hull shape than A5."
Question: "...On USA-17, you could gather huge amount of data being collected by the several monitoring systems the boat had. This valuable data was applied for designing the AC45?"
Drummond: "The crossover of technology was more in using the experience of boat behavior, structural safety factors, rudder size, wing size and mechanics. And a big point is with the experience of handling 17 we knew the logistics of handling and building wings would be solvable."
Read Interview at CatSailing News

---
Yacht Club de France is an Official Challenger: C'est La Coupe!
(Feb 4) A second French team has filed their Notice of Challenge and been officially accepted as a Challenger for the 34th Defense of the America's Cup, regatta officials said Friday. Four of the official teams are known to be challengers, one is the defender Golden Gate YC/Oracle Racing, and two teams are yet to be revealed, making a total of 7 entries so far. Organizers have spoken of 8-10 teams as a reasonably solid expectation, and possibly more. Competitors have until March 31 to submit entries, and late entries could be accepted, too, with penalties.

---
Herreshoff Museum and America's Cup Hall of Fame to Affiliate with Mystic Seaport
(Feb 3) Two significant keepers of America's Cup heritage today announced that they will work in partnership, remaining independent institutions, but pooling resources to preserve and present nautical history. Mystic Seaport Museum will help provide conservation and curatorial resources for the Herreshoff Marine Museum, and assist in preparing exhibits for the America's Cup Hall of Fame.
Read Herreshoff Marine Museum/Mystic Seaport Press Release

---
Challenger of Record Mascalzone Discusses Issues and Funding
(Feb 3) Vincenzo Onorato, President of Mascalzone Latino, the Challenger of Record (COR) for the 33rd America's Cup, spoke recently to affirm the role the COR has played in the decisions that have shaped the 2013 America's Cup. Onorato also explained that his team is still searching for its own sponsors and will only compete in the next Cup if they can find the budget to win.
Vincenzo Onorato: "I personally have no interest at all to be just involved in the Cup if I'll not be competitive. If, in the next few months, I won't be able to find the economic resources to make my team competitive, then I'll quit."
---
Homeward Bound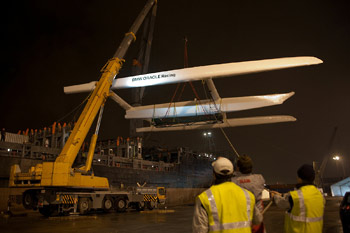 USA 17 as she arrived in Valencia in early 2010.
Photo: ©2010 Gilles Martin-Raget/Oracle Racing
(Jan 25) It turns out Larry Ellison and Oracle Racing bought a round-trip ticket for USA 17. The magnificent America's Cup-winning trimaran is being loaded this week onboard the cargo vessel M.V. Star Isfjord for shipment to San Francisco. Initially the team only commits to keeping the boat in storage, but a victory lap around San Francisco Bay could be in the offering (which would probably be her last sail ever).
Jimmy Spithill: "...The stark reality is that every aspect of the boat, every component, was built right to the limit so that for every hour's sailing USA 17 required 20 hours of painstaking and rigorous maintenance. For the time being the team's focus will be on the America's Cup ahead."
Read Oracle Racing Press Release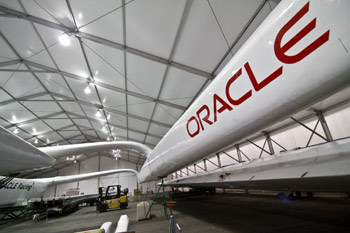 USA 17 wrapped and ready to go. Photo:©2011 Oracle Racing
Update: (Jan 27) High winds delay loading in Valencia: "We need to speak with God," said [Scott] Sanford when asked when the weather might turn. "Yesterday we got two-thirds to three-quarters of everything loaded, then the weather turned south. We need no breeze. We've had that the past six weeks. It's just Murphy's Law." Read more at Oracle Racing Blog


America's Cup Welcomed at SF City Hall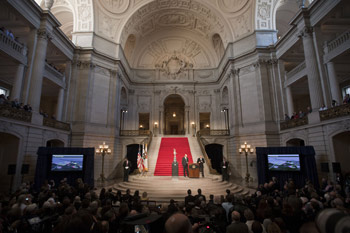 Photo:©2011 Gilles Martin-Raget/americascup.com
(Jan 5, 5:45 pm PT) At a celebration staged in San Francisco's ornate city hall, race organizers and government officials congratulated each other and reiterated their plans for a reenergized America's Cup program that will culminate in the 34th Defense on the Bay in 2013. The presentations also hinted at some new though not necessarily final details for this edition of the Auld Mug.
Plans mentioned during the ceremony include America's Cup World Series racing in June and July 2011 in Europe, coming to the US in the late summer and fall, then Middle Eastern and Southern Hemisphere regattas over the winter, and a return to Europe for Spring 2012. This arrangement is in line with casual disclosures from ACRM and ACEA officials throughout the fall.
The AC72's would debut in San Francisco beginning in August, 2012, and a similar cycle would carry into 2013. The race schedule as outlined is provisional and awaits official finalization and more specifics, including dates and race formats.
Organizers spoke of "guaranteed start times" and 45-minute-long races, along with the focus on increasing broadcast and internet appeal that has been a central point in earlier presentations, but the live spectating possibilities on all sides of the Bay were given plenty of attention this time as well.
Larry Ellison, after reminiscing about learning the sport at the Berkeley Marina decades ago in small boats that were "Tupperware with sails", said plans for the 2013 America's Cup are for as many as 16 teams. The fleet racing implications of that projection if it comes true are stunning.
San Francisco this year, in addition to the CEQA approvals and the arrival of event staff, might see the AC45's racing in 2011, but the only commitment made so far for an America's Cup World Series regatta in San Fran appears to be a 2012 date yet to be determined.
Also:
Read America's Cup San Francisco Selection Ceremony Press Release

---
First AC45 Multihull Sails in Auckland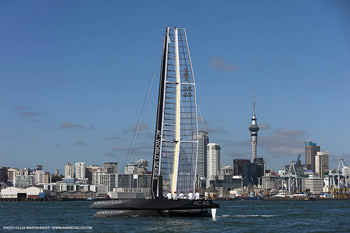 Click Image to Enlarge.
Photo: ©2011 Gilles Martin-Raget/americascup.com
(Jan 17) The first of the new class of 45-foot long wingsail catamarans took to the water Monday in Auckland. James Spithill: "The wing's big and the boat powers up quickly and is easy to sail and maneuverability is not a problem. Straight off the bat we were talking about going racing and how good it is going to be. We'll have no problem having close racing. We were doing 20 knots at times."
Read story at americascup.com blog
The AC45 Class will be the pathway to the full-bore AC72 yachts that will determine the outcome of the 2013 America's Cup. Made on identical lines for all the teams by New Zealand's Core Builders, the one-design AC45's will lead sailors and the public firmly into the multihull era of America's Cup racing, racing in 2011 and 2012.
"The biggest challenge with multihulls is learning how much to anticipate. With the AC45 being a big, powerful multihull capable of tripling the wind speed, your reactions and skills are accelerated. It's all about being ahead of the cycle," said Oracle Racing skipper James Spithill. "I think the AC45 will enable all teams to advance to hard-core race mentality very quickly."
Also: Read America's Cup Press Release
Video at YouTube | See story at NZ Herald

---
Race Area, Other Details Published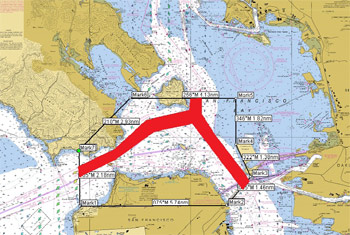 Maximum race area in San Francisco Bay.
Click image to enlarge. Image: ACRM
(Feb 2) America's Cup Race Management made public several required bits of information, including the designated race area, plus a handling guide for teams to begin preparing to work with the AC45.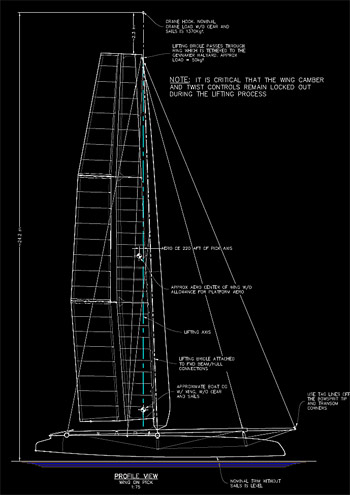 Click image to read AC45 Handling Manual.
(pdf, 2.5MB)

---
World Series Dates Released for 2011-12, Venues to be Announced
2011 Dates:
Event One: 16-24 July, 2011
Event Two: 13-21 August, 2011
Event Three: 17-25 September, 2011
Event Four: 15-23 October, 2011
Event Five: 10-18 December, 2011
2012 Dates (Partial):
Event Six: 17-25 February, 2012
Event Seven: 14-22 April, 2012
Event Eight: 19-27 May, 2012
ACEA advises that dates are subject to change.
Read ACEA Press Release and
See overall 2011-2013 Schedule
J-Class Racing in Newport This Year Could be Preview of Larger Regatta
(Jan 28) Two of the three surviving original J-Class yachts will meet this June, racing in Newport, Rhode Island, and possibly setting the stage for an even more historic gathering of this amazing yacht class in 2014.
Shamrock V, Thomas Lipton's 1930 America's Cup Challenger, and Velsheda, the only yacht built as a J that did not compete in the America's Cup, are set to race June 15-19, 2011. A large event is planned in England in 2012 that could feature an unprecedented ten of the class, including several recently built or restored boats, and organizers think that a follow-on regatta in Newport in 2014 could bring the fleet to US waters. There were only ten original J-Class yachts built, and no more than five ever sailed together at once. Ten J-Class yachts in one location, let alone on the same starting line, would be a mind-boggling sight.
Read more at Providence Journal

---
It's a Date: America's Cup 2013
(Jan 25) Iain Murray, Regatta Director, confirmed the dates for the 2013 America's Cup Defense in San Francisco:
Louis Vuitton Cup: Saturday, July 13, to Sunday, September 1, 2013
America's Cup Match: Final: Saturday, September 7 until Sunday, September 22, 2013 or as needed.
Note: Though this is from an official regatta notice, the Regatta Director still terms the dates "tentative".

---
AC45 Winning Friends Already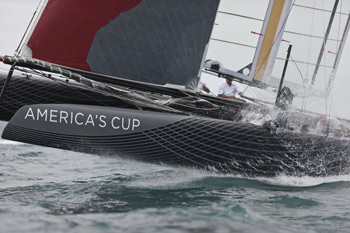 AC45 #1 getting wet. Fast and wet.
Photo: ©2011 Gilles Martin-Raget/americascup.com
(Jan 21) Murray Jones took over AC45 skipper duties Friday in place of an ailing Jimmy Spithill. From Americascup.com: "The AC45 topped out at about 28 knots today although Jones reckons they were pushing 30 knots. 'There was 25 knots of breeze along the cityfront with the tide against us. The boat was really performing well and going pretty fast. The teams will be pleasantly surprised. The boat is really responsive. It was really fun. I am just hoping Jimmy doesn't make a very quick recovery,' Jones said in jest."
Dirk de Ridder, Trimmer, reports at Oracle Racing: "The 45 just looks cool. The bows look like a big A-Class cat, with the negative slope and wave-piercing bow. The rudders hung underneath the hulls and not on the sterns, so it looks like a proper race boat. The foils look nicely angled; it looks like a high-tech race boat. It's black, so that gives it a racing edge. I think it's done very nicely. It looks an awful lot like Alinghi, which I thought was a sexy looking boat, and this looks similar. I think we're going to have a lot of fun with this boat in class."
"It came out of the box working pretty much instantly, which is very, very good. Especially with the wing, everything works like we wanted it to work."
Also from Americascup.com: "Neville Crichton, longtime NZL yachtie and owner of the series of racing yachts named Shockwave, watched first hand from one of AC 45's support chase boats. 'I admit I had questions in my head, but after today I am convinced a fleet of a half-dozen of those boats racing will be absolutely fantastic.'"

---
Sixth Entry is Official
(Jan 12) A sixth entry for the 2013 America's Cup has been officially accepted, Iain Murray, America's Cup Regatta director, said Wednesday. The identity of the team, which be a candidate for Defender or could join the four official Challengers (Artemis, Aleph, Mascalzone, and another as yet unnamed group), will be revealed shortly by the new team.
---
Marcus Young of GGYC Discusses Club's Role for 2013
(Jan 12) Michelle Slade talked with Marcus Young, current Staff Commodore and past Commodore of Golden Gate YC, about the club's role as Defender of the 2013 America's Cup, their plans for their clubhouse, and even the recurring talk of merging with nearby St. Francis YC:
Marcus Young: "I think it's widely agreed that Dennis Connor really changed the game of the America's Cup. He did a lot to professionalize the sport and paved the path for the AC to be a truly professional sport. The on-the-water race management has evolved over the past 10 years and that is a very good thing. The goal should have been and is now to have an independent on-the-water entity free of the political whim of the defending yacht club."
Read more at Marin Independent Journal

Wingsails and the AC72 Rule:
Part 2 with Pete Melvin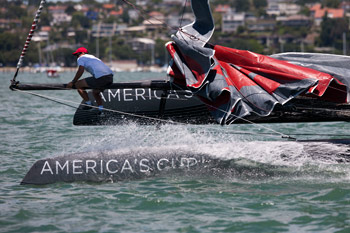 Photo:©2011 Gilles Martin-Raget/americascup.com
(Feb 3, 2011) Pete Melvin helps explain how the AC72 Class Rule he helped write was shaped to allow more design freedom in the interest of creating faster boats less expensively. He also shares his expectations for technology development in the 2013 America's Cup, and discusses the challenges of managing design development when much is still left to learn about the big Cup cats and the regatta they will compete in.
Pete Melvin: "We looked at a rule that's more restrictive, such as the wings that are being used in the C-Class, but it was very difficult to write a rule around a 3D object with moving parts. Whenever we wrote a rule to limit something, we would find five ways around it. By writing very restrictive rules, you actually increase complexity and cost, so by leaving things open, things turn out to be much simpler, elegantly efficient."
Read more with Pete Melvin about Wingsails and the AC72 Class Rule

---
Choosing Multihulls for the America's Cup: Behind the Decision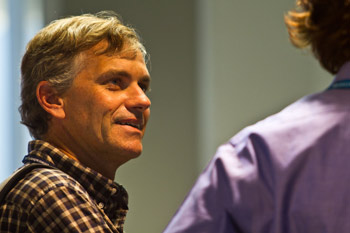 Designer Pete Melvin. Photo: ©2011 Javier Salinas Laguna/americascup.com
(Jan 17, 2011) Pete Melvin, of Morelli and Melvin Design and Engineering, helped guide the process that led to the selection of wingsail catamarans for the 2013 America's Cup, the first time in the history of the famous regatta that multiple teams will be racing in these kinds of boats as a class, and he was an author of the new AC72 Design Rule. Melvin, an expert sailor of advanced multihulls as well as a top designer, knew well the skepticism that the move faced from supporters of more traditional boats.
Pete Melvin: "It was extremely clear along party lines with most everyone wanting monohulls and us multihull guys saying 'We're open minded, but we see more benefits in the multihull than you guys are seeing.' But it comes down to match racing. The biggest criticism from the monohull guys was 'You can't match race these boats.' There are very few people who have really match raced a multihull. I was fortunate enough to have been involved with the Oracle guys in their match racing development and knew how exciting it could be, but it's hard to tell the monohull people 'Wait and see, it really will be great!'"
Read Visit with Pete Melvin at CupInfo

---
Optimizing America's Cup Yacht Designs
(Jan 11, 2011) What impact can Genetic Analysis and automated optimization play in designing the new 72-foot catamarans and wingsails for the 2013 America's Cup? Does Oracle Racing now have an insurmountable advantage on wingsails? Is this advanced study within reach of anyone other than the teams with the most money?
For Alinghi in the 2007 America's Cup, Andrew Mason created a DNA structure for the ACC yacht class, and then used it to race virtual fleets against each other, automated by computer, culling out the top performers and cross-breeding them until the best of the breed was found.
"With the adoption of winged catamarans for AC34, the benefits of using optimization methods to explore the design space are overwhelming," Andrew says. "In 2007 we were trying to eke out small gains to highly refined designs which had resulted from more than 15 years of development in the class. This time around the design space is largely unexplored for hulls, wings, and foils, and I have no doubt that some major breakthroughs await those teams that embrace the use of advanced optimization methods."