More America's Cup News:
Mar 27: America's Cup organizers confirm ACWS Regattas in San Francisco, August and October 2012, not New York City which had been under negotiation for August.
Mar 27: City of San Francisco unanimously approves America's Cup 2013! Press Release
Mar 23: On the heels of management changes, America's Cup Event Authority downsizes staff in SF and around the world; 28 people laid off:
Press Release
Mar 22: Boat-on-boat, Oracle Racing AC45s collide in SF training: Oracle Racing Page
Mar 22: The LiveLine Augmented Reality system for America's Cup broadcasts has been nominated for an Emmy Award:
Press Release
Mar 16: FishView: Bob Fisher's latest look behind the scenes of the America's Cup:
Yachts and Yachting
Mar 16: Cup on TV: Swedish Challenger Artemis Racing is featured on CNN's Mainsail (web only in the US), training and working with their new AC72 wing:
Americascup.com
Mar 14: Short-term fixes may make Piers 30-32 available again for America's Cup team bases in 2013:
SFGate.com
Mar 7: China Team opens America's Cup training base in Sanya:
Team Press Release
Mar 4: America's Cup World Series schedule revised for August/October 2012. NYC? SF? TBD.
Mar 1: NBC picks up US TV rights for America's Cup World Series, coverage begins this summer
Feb 24: Lawsuit filed in SF over America's Cup Environmental Impact Report:
SFWeekly Blog
Feb 24: AC72 sighting, kind of. Wing for Artemis Racing's new boat sees daylight, sort of:
Rigging News
Feb 22: Replica of the classic J-Class America's Cup Defender Rainbow launches in Holland:
Press Release
Feb 22: Recasting the America's Cup hosting agreement in San Francisco? Vote coming up Tuesday, Feb 28:
SFExaminer.com and SFGAte
Feb 13: America's Cup Jury rules Emirates TNZ/Luna Rossa partnership is acceptable

Feb 11: Sail magazine's Kimball Livingston puts America's Cup 2013 expectations for San Francisco on an even keel: "It's hard growing up. It's hard making adjustments. Get over it.":
SAIL Feed
Feb 10: GreenComm Racing partners with USABound for logistics and support:
Americascup.com
Feb 9: Aussie Nathan Outteridge will be new Skipper for Team Korea, plus Finn Champ Giles Scott joins the White Tiger Challenge as tactician:
Americascup.com
Feb 8: America's Cup Tech: Behind the scenes of the Liveline augmented reality system:
Panbo.com
Feb 6: Tuning up: ETNZ and Luna Rossa put their AC45s head-to-head. Video at:
Sail-World
Jan 1: Courses Announced for 2013 Louis Vuitton Cup and America's Cup Match: Regatta Notice (pdf)
Jan 1: Format announced for the 2013 Louis Vuitton Cup, Start Date Advanced:
LVC Schedule
Press Release

Coutts on Nationality in the America's Cup
(Mar 31) One of the most polarizing issues in the America's Cup in recent years has been the increasing disparity between the nationalities of the sailors racing for the trophy versus the nationalities that they are said to represent. While some people in and out of the sport feel that such connection is not that important, others feel that the essence of the America's Cup as an event is at stake, and that the future vitality of the Cup may hinge on the matter as well.
Among the changes Russell Coutts, CEO, Oracle Racing, considered for the 2013 America's Cup was the adoption of rules that would return a more meaningful sense of nationality to the regatta, ensuring that it continues to be a "...friendly competition between foreign countries," as the Deed of Gift intends.
Such an effort by Coutts is notable considering he was in fact the first skipper to win the America's Cup for two different countries, winning it away as a challenger in 2003 from the very team for whom he defended the Cup in 2000. Coutts spoke to Daniel Richardson about the issue.
From the NZ Herald:
"If I was doing it again, I'd have the nationality rule, absolutely," Coutts says. "I tried to push it in this time. At least I think I was gunning for 50 per cent. Then I said, 'No, no, maybe we'll do 20 per cent.' After talking to the teams, the teams didn't really want it. It was going to make it too hard for teams such as China and Korea.
"Don't forget we've got to build the boats. That's always a fundamental rule in America's Cup, and if you go back to the history of it, the early days, the sailors on board actually weren't from the nation. It was the boat that was from the nation.
"Personally, I think it'd be a better event if you had a nationality component in the crews. But all of the teams, I think except Team New Zealand, voted against it. I think it'd be better because it'd give fans more to engage with, which I think would be good, and I also think it'd be better for the development of sailing. If we were forced to use Americans, we would be forced to develop those sailors."
Read story at New Zealand Herald

---
Artemis AC72 Wing
(Mar 20) Noted authors François Chevalier and Jacques Taglang take a look at the new Artemis AC72 wingsail design, the first wing for the new cats to see daylight. Artemis is currently undergoing sea trials with the wing using a modified ORMA trimaran as a test platform.
See Chevalier Taglang blog for more
(Text in French, but diagram worth a couple thousand words)

---
Management Changes at Event Authority
(Mar 20) Richard Worth, currently Chairman of the America's Cup Event Authority, will change roles to lead development of the America's Cup World Series regattas. This change, along with new assignments for the television executives, follows the departure of Craig Thompson from ACEA in late 2011 and assignment of other ACEA functions to the Race Management organization.
Stuart Alexander, a long-time America's Cup observer, sees more changes on the horizon:
Sport Telegraph: America's Cup Heads Roll

---
Korea's Nathan Outteridge
(Mar 14) Joining Team Korea while also packing a 49er Olympic campaign into his schedule will keep Aussie Nathan Outteridge busy this year. One of his first tasks in the America's Cup World Series is getting up to speed helming the AC45. Michelle Slade at SailBlast talked with Outteridge:
Outteridge on helming the physically demanding AC45: "From watching the footage it seems like the helmsman is in the best seat -- looks like the four guys up the front have so much on that they couldn't be fit enough to do their job. I'm pretty excited to be sitting at the back to be honest and let all them to do the hard work!"
Outteridge on the America's Cup becoming a more made-for-TV event: "I don't think it changes the way we race the event. Sailing should become more media friendly -- we've tried to adopt that more in the Moth and 49er but this is taking it to a whole new level. Every little thing you do will be picked up by TV both on and off the boat. I think it's great and what sailing should be about. It's an exciting time to be involved in the sport. I think Oracle is doing a great job of pushing it in that direction. Half the attraction for me is getting involved in something so exciting. Hopefully the constraints of trying to make it media friendly don't destroy the best parts of our sport."
Read Part 1 (America's Cup) and Part 2 (Olympics) at SailBlast blog.

---
And It Tells Time
(Mar 10) Louis Vuitton has a certain standard to meet as sponsor and official timekeeper of the Louis Vuitton Cup, and the French luxury goods maker is keeping pace by introducing three new bits of chronometric jewelry. For your next race, the Tambour Spin Time Regatta, above, flips five squares from blue to red, one per minute, to count down the start sequence. Cost? Well, if you have to ask......
---
Summer/Fall America's Cup World Series Schedule Revised
(Mar 4) The dust hasn't settled yet, but in connection with the US TV contract announced last week with NBC, the schedule for the first few regattas of the America's Cup World Series 2012-2013 season is being modified. Originally two events were set for San Francisco this coming August and September, followed by yet-to-be-announced locations penciled in for October and December. Now America's Cup organizers have confirmed that instead one regatta in August will take place in either New York City or San Francisco depending on the outcome of ongoing negotiations, with another event definitely set for San Francisco in October. The 2012-2013 ACWS season will round out as previously planned in Venice and Naples in 2013, plus any other regattas that are added to the schedule before then.
---
NBC Onboard for America's Cup US Broadcasts
(Mar 1) Broadcaster NBC will be showing the America's Cup World Series this summer three times on NBC's main over-the-air outlets, with additional coverage on the network's other channels. NBC Sports will also be the broadcast partner for the Louis Vuitton Cup regatta and the 34th Defense of the America's cup itself in 2013, with the first two races of the America's Cup Match shown live.
Read America's Cup Press Release
More details from the Associated Press:
"The first NBC broadcast is scheduled for July 1, the final day of the America's Cup World Series in Newport, R.I. The other dates on NBC are Aug. 26 and Oct. 7, so America's Cup organizers will fit events to those slots. Organizers are exploring having an ACWS stop on the Hudson River in New York, which would end on Aug. 26. If that's not possible, there would be ACWS stops in San Francisco ending with televised races on Aug. 26 and Oct. 7."
Read More at TimesUnion

---
Plans Change
(Feb 27/28) A last minute revision to the America's Cup plans that have been under discussion since 2010 was announced Monday night, in advance of the final vote that had been expected Tuesday by the San Francisco Board of Supervisors.
Piers 30-32, just south of the Oakland Bay Bridge, which were to house the team bases and the race yachts, will no longer be used. The teams will move to Pier 80, much further south, while the America's Cup village that is the central location for fans will remain at Piers 27-29 north of the Ferry Building.
Removing Piers 30-32 from the plan means that event organizers will not be spending an estimated $80 million to rebuild the piers, and the city will not need to work out a long-term deal to re-pay organizers for that portion of their upfront funding. Whether this is really a better outcome for the city or organizers is unclear, but politics and business are arts of the possible, not the ideal, so securing a feasible arrangement to deliver city approvals in time to race the America's Cup on San Francisco Bay starting less than 17 months from now was crucial for the event to remain in the city.
The final approval will now come to a vote as soon as the revised documents can be prepared and placed on the Board's agenda, rescheduled for March 27 (not March 20 as per earlier reports), with an interim finance committee meeting to be held, too.
Read America's Cup Press Release
Video:
Watch Mayor Lee's Press Conference on YouTube (14 min)
More Stories:
San Francisco Business Journal:
Development Deal Thrown Overboard
SFGate:
Organizers Drop Overhaul of Piers
[Editor's note: The terms of the agreement were modified again before the March 27 meeting and Piers 30-32 came back into play. See March 27th Press Release)
A View of Peskin Point (Feb 28):
Kimball Livingston: "Piers 30-32, the poster children for what still needs fixing on the Embarcadero, are now to be known as Peskin Point. Looks good in the pic, but if (when) it finishes crumbling into rubble, in this decade, it will be a point all right, a point walled-off to humans, reaching uselessly into San Francisco Bay."
Read more at SailFeed Blog

---
"...A Unique City"
(Feb 27) In advance of the hearing Tuesday by the San Francisco Board of Supervisors, which will consider passing the city's approvals for hosting the 2013 America's Cup, the noise level has risen in the local press about the agreement and impacts. Craig Leweck at Scuttlebutt spoke with Stephen Barclay, Golden Gate YC's chief negotiator, about why the agreement is structured as it is, why the approvals are so complicated, and what the long-term picture is for the city and the America's Cup:
Stephen Barclay: I should add though, that the story about the property and environmental side of things has taken over for what I believe to be the bigger story, which is how the America's Cup was awarded to San Francisco, and what a great event it will be on the Bay with hundreds of thousands of people being able to watch the races. And part of that is the way in which the event authority will be reimbursed has a property component. This has been portrayed as a property development project, which clearly it is not.
Read interview with Stephen Barclay at Sailing Scuttlebutt

---
ACWS Naples and Venice to Air Live in the UK
Free-to-Air Deals for US and Italy Are Close
(Feb 27) Live coverage of the the upcoming America's Cup World Series regattas in Naples and Venice Italy will be shown in the United Kingdom via Sky Sports, organizers announced Monday. Live and replay web streaming will also be available from the network's website.
---
Critical Days for San Francisco and The America's Cup
(Feb 26) With the final vote necessary for San Francisco to host the America's Cup to be considered by the city's Board of Supervisors as early as Tuesday, Feb 28, plus the flotsam of a placeholder lawsuit against the city's action before they've even take the vote and looming construction deadlines if the necessary piers and infrastructure are going to be completed in time, the future of the 2013 America's Cup seems to be hanging in the balance this week. Pessimists see the city getting ready to pooch an event that should bring the sort of international exposure, short-term economic boost and long-term redevelopment that are rare opportunities these days, leaving the most despondent observers checking September room reservations in Newport, Rhode Island, for next year. But is it just natural for the sky to be darkest before the dawn (or is that before the storm)?
Kimball Livingston reports from San Francisco: The fact is, AC34 is a complicated deal, with Barclay remaining "optimistic" about reaching an agreement with the city. There are lots of moving parts, and Joe Public (little old me) is never going to sort the intricacies of compensating the America's Cup Event Authority for huge dollar outlays—to restore rotting piers—via one leaseback mechanism or another. My city representatives have been on the case for more than a year, working on a deal that comes to something around $111 million. That money comes from the Event Authority (software alchemist Larry Ellison being the enabler in the background) to redevelop needy segments of the Embarcadero that have no other suitor.
These are piers that have been available for years, but every other developer who studied them turned and ran. Quoting a source I will leave anonymous, "If development on the Port were so lucrative, I assume the Port would already be fully developed, and we would not be able to host such a spectacular event."
As a San Francisco taxpayer, I don't want the city to give away the store. Thank you to those who are looking out for my interests -- including striking a deal. Here we have a well-capitalized partner eager to invest according to the lend-lease model that succeeded in restoring the Ferry Building and creating the no-longer-controversial (!) ballpark.
Read the rest from Kimball Livingston at Blue Planet Times

---
Inside the Shed
Team members spoke with the press and offered their expectations for the Cup and hints about Oracle Racing's efforts to build, launch, and train with their two new race boats. "I think the Cup here on San Francisco Bay will be just spectacular," Russell Coutts said. "We've seen the AC45, and the AC72 wings will be twice as high as those boats and will go somewhere between two and three times the wind speed."
Read Diane Swintal's Story at CupInfo
Tuesday Oracle Racing hosted a media event in San Francisco, including a tour of the home of the giant America's Cup-winning trimaran USA-17, and glimpses of their new AC72 yacht under construction, along with discussion from key team members including Russell Coutts, John Kostecki, James Spithill, and Dirk Kramers. The afternoon included an outing on the Bay to watch Oracle's AC45's have at it.
The team confirms that they expect to complete their first AC72 in early June of this year for a July 1 launch, and immediately begin building their second boat. The team also released photos of the construction of the yacht, carefully selected to reveal almost nothing about the boat.
Read Oracle Racing Press Release
More Stories:
From Kimball Livingston: "The hulls for Oracle Racing's first AC72 (but not the wing) are being built in the team's gigantic shed at Pier 80. They let us go in, through this door . . . though without cameras, on the argument that digitized photos could be fed into software that would analyze them down to the nth degree on behalf of the enemy. Inside, I gazed deeply into a half-mold for an AC72 hull. I studied. I pondered. I can tell you (but don't tell anyone else or I'll have to kill you) that it's skinnier in front than in back."
Read more at Blue Plant Times

---
Pim Nieuwenhuis, Formerly of China Team
(Feb 14) Pim Nieuwenhuis is an expert sailor whether it's multihulls or the 49er, and talked recently with Cat Sailing News about the prospects for China Team (which recently dismissed him), his experience on their crew for the America's Cup World Series, and compared the capabilities of the AC45 and other top cats like the Extreme 40.
Question: "You have previous experience on the X40s, how do you compare them in performance and in error margin to push hard?"
Pim Nieuwenhuis: "Yes I have sailed the 40s quite a bit in the previous years. Regarding to the above I would qualify the 40 as lot more 'user friendly'. But the hull design, the rudders which are under the boat instead of stern-hang, and other features make the 45 a more high-performance boat. You will be able to push a 45 a lot harder than a 40 specially in the bearaways, but pushing hard means getting punished equally hard when you get it wrong. We have seen some relatively newcomers to the multihull game doing some really funky things on the 45 just because they didn't know any better and they got away with it. Some of that stuff you would never try on a X40 or any other multihull."
Read interview at Cat Sailing News
Also see Pim's own website.

---
From the Dreams Coming True Department
The J-Class fleet brings another legend back to life with the news that the modern replica of the 1934 America's Cup winner is nearing completion.
Read Press Release: Rainbow Replica Launched

---
Iain Murray: Aussie Defender Uncovered
(Feb 13) Episode 25 of "America's Cup Uncovered" released this week visits with Iain Murray, who in addition to being current head of ACRM was the Defender against Challenger Dennis Conner's Stars&Stripes in the 1987 America's Cup in Fremantle. The opening segment of the 23-minute episode focuses on Murray's Kookaburra defense, along with his discussion of the recent competitor's meeting, and follows up with stories on Luna Rossa, Ben Ainslie Racing, and China Team's Yann Dabbadie.

Oracle Pier 80 Open House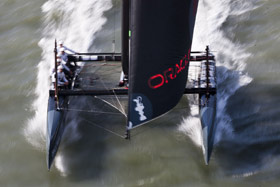 Photo:©2012 Guilain Grenier/Oracle Racing
Oracle Racing hosted local media with Russell Coutts, James Spithill, John Kostecki, and Dirk Kramers sharing their views about racing in local waters, the risks and rewards of the new AC72's, and how America's Cup challengers will adapt to the San Francisco race venue.
Read article at CupInfo
---
Jury: ETNZ/Luna Rossa Deal OK
(Feb 13) In response to an application last November from Artemis Racing, the America's Cup Jury has issued a ruling confirming that the cooperation between Emirates Team New Zealand and Italy's Luna Rossa is acceptable under the rules. The Kiwis and Luna Rossa have an agreement for the New Zealanders to provide design and engineering for the Italians' new AC72 yacht. Shared design work is permitted for all teams, though additional restrictions kick in at the end of the year, and, per other protocol rules, at they cannot exchange performance data or test their first boats against each other without risking losing the chance to build the second AC72 they would be allowed under the rules.
From the Jury Notice: "The Jury is satisfied that provided the parties comply with the requirements of their Agreement with its Amendment, there would be no breach in the future as a result of the Agreement."
The full Jury Notice document, which can be read here in pdf form (4 pages), mostly contains wrestling over whether the text of the actual agreement should be revealed to other competitors. ETNZ/LR feared that if the details of their cooperation were made know it could damage them competitively. The agreement was kept confidential by the Jury.

---
US Television Deal Near for 2013 America's Cup
Free-to-Air Programming in the US
(Feb 9) Russell Coutts is quoted at Sail-World saying that negotiations are nearing completion on "free-to-air" television coverage for the America's Cup in the US. That agreement would join approximately 30 other broadcast arrangements in place around the world. Showing the America's Cup on free over-the-air broadcasts instead of narrower market pay-access channels it has been confined to in the recent past should bring much wider US exposure for the sport, the teams, and their sponsors. Knowing that such a deal is in place would be a boost for the commercial appeal of the event, and likely help more teams secure funding. Coutts also said that issues with conflicts between the broadcast and YouTube coverage in New Zealand have been resolved.
---
Make or Break Time with City of San Francisco
(Feb 9) After more than 15 months of effort to create a Host City Agreement between America's Cup organizers and the City of San Francisco, and to complete and certify the Environmental Impact Statement (EIR) for the event, the necessary signoffs from the SF Board of Supervisors are being considered this month. With the EIR firmly in place, the City now has the legal authority to give final approval and let construction begin.
Despite unanimous approval of the EIR, politics again are coming into play in the City by the Bay with some representatives threatening to vote against the agreement unless it is substantially re-written yet again, including removing key points that both sides earlier described as central to reaching the deal in the first place. The 263-page agreement was submitted to the city Tuesday, and action is due soon.
Read Stories:
(Feb 9) SF Gate: Negotiators May Push Their Luck
(Feb 8) SF Gate: Crunch Time for Waterfront Deals

---
Coutts Looks to 2013
(Feb 6) Russell Coutts spoke with NZ radio commentator and long-time Cup observer Peter Montgomery about the status of the challenger field and how many of the current teams will ultimately pay their entry fee by June and be racing their AC72 yachts next year.
Russell Coutts: "There are 10 teams out there now, and we'll see. I don't expect all of them to make it to the final series, but in a way that was one of the points of the America's Cup World Series, to provide a platform where teams could build some value and create long-term to compete in the bigger series."
Read more and listen to interview at Americascup.com
Bringing The Cup Up
(Feb 3) Culminating one of the most memorable of America's Cup regattas, 25 years ago on February 4, 1987, off Fremantle, Western Australia, Dennis Conner and his team on Stars&Stripes beat Australian defender Kookaburra III, skippered by Iain Murray, in the fourth and final race of the 1987 America's Cup Match to complete a 4-0 sweep.
The victory returned yachting's most historic trophy to the US, and vindicated Conner after he became the first skipper in history ever to lose the America's Cup three-and-a-half years earlier. Conner would go on to defend the America's Cup twice more, once successfully. Murray, who beat out three other Australian defense efforts in order to face Stars&Stripes for the trophy, was just in his late twenties at the time and headed not just the Kookaburra syndicate but also their design team. Murray is now the head of America's Cup Race Management for the 34th Defense next year in San Francisco.
Read Stories:
Bob Fisher at Americascup.com: 25 Years On
Watch highlight video at YouTube
Cup on TV: In the US viewers a 1-hour retrospective from Gary Jobson with new interviews aired on ESPN Classic, Saturday February 4.
---
2013 Challenger Format to Vary
(Jan 31) The schedule and format for the 2013 Louis Vuitton Cup, which serves as the selection regatta for the challenger to America's Cup Defender Golden Gate YC, will vary depending on the total number of challenger candidates that make it to the starting line in July 2013.
Currently, only four teams are believed to have begun the construction process on their new AC72 yachts, the new catamarans for the 2013 event, namely Defender GGYC/Oracle Racing, plus Artemis, Emirates Team New Zealand, and Luna Rossa. The other five challenger candidates have some combination of design and engineering work underway, including the shared design program, but team representatives were frank even last fall that construction will depend on getting confirmed funding in place soon.
All teams have paid a $100,000 entry fee for the America's Cup World Series, which was due last year. The $200,000 entry fee for the 2013 America's Cup is not due until June 1 of this year, four months away. To date Oracle, Artemis, ETNZ, and Luna Rossa have already paid the $200,000 entry fee in advance. Presumably the remaining five challengers will not commit to the fee until the funding for their AC72 programs appears firm. June 1 should bring clarity about the number of challenger entries and allow the Louis Vuitton Cup format to be finalized.
Iain Murray, ACRM: "It takes approximately eight months to build and assemble an AC72, so we will know by summer which teams will make it to the start line of the Louis Vuitton Cup."
If the number of challengers is closer to three than to eight, based on comments at Competitor's Meetings this week in Auckland the series might adapt by increasing the number of daily and head-to-head races. A majority of the challengers would need to consent to any new selection format.
Also: See story by Suzanne McFadden at stuff.co.nz and more follow-up with Iain Murray by Richard Gladwell at SailWorld

---
Going Further
(Jan 30) Emirates Team New Zealand is the first to test the 4m extension to the AC45 wing, seen above in Auckland on Monday. ACRM will supply each team with the standardized addition to the one-design hard wing sail, to be used when conditions warrant.
Read more at Americascup.com

---
America's Cup Environmental Appeal Upheld
(Jan 24) Certification of the Environmental Impact Report (EIR) for the 2013 America's Cup was affirmed by unanimous vote of the City of San Francisco Board of Supervisors late Tuesday night, following a long hearing in which the Board took public comment from objecting groups, along with testimony from staff and event organizers.
The biggest lightning rod Tuesday was the proposed giant floating television screen intended to be moored in the middle of the Aquatic Park during racing, which drew opposition from swimmers concerned about safety, inconvenience, and environmental contamination from disturbed sediment. Representatives of the organizers agreed to eliminate the floating screen and to explore shore-based options instead. Other objections covered in testimony and response by both sides focused on whether funding for mitigations would be available, while the appellants also worked to raise doubts on procedural issues. Staff responded that the issue of assuring funding for mitigations is properly a subject for agreements to be created in the upcoming approvals process, and that the procedural issues cited were less uncertain than alleged.
Now that it has been affirmed, the EIR serves under state law as the legal basis for the City and related agencies to push forward on finalizing the discretionary permits and approvals that are needed for San Francisco to host the America's Cup. The SF Port Commission approved the start of some pre-construction activities last month, the day after the EIR was certified.
Read more:
SF Appeal: EIR Sails Through Board of Supes
SFGate: SF OKs America's Cup Environmental Report
SF Bay Citizen: America's Cup Sails Ahead -- Minus a Giant Floating TV Screen

---
San Francisco to Hear Environmental Impact Report Appeal Tuesday
(Jan 24) The San Francisco Board of Supervisors is scheduled to address the appeals of the America's Cup Environmental Impact Report (EIR) certification which was granted last month. The city can affirm or reverse the EIR's certification, or the EIR and associated plans can be modified to appease groups that have filed appeals. City staff has pointed out that much of the detail which the appellants contend is insufficient in the EIR, such as the specifics of the mitigations that would be intended to offset to expected environmental impacts, are not required to be laid out in full at this stage in the process.
Staff also notes that if the certification is upheld by the Board, that any later court challenges to the EIR's certification would likely be limited to issues raised in public comment for this hearing.
Tuesday's hearing, re-scheduled from earlier this month to consolidate all appeals into one action, is set for for approximately 4:00 pm PT, and will be broadcast online at SFgovTV.org
Also, for reference:
Board of Supervisors Agenda
(pdf, America's Items on Page 15)

---
Protocol Amendment Passed
(Jan 23) Amendment 11 to the Protocol for the 34th America's Cup has been formally approved. Two separate issues are addressed. The first is a provision for wing-spar extensions, to be provided by ACRM. The second is the more controversial "Protecting the Reputation of the Cup" provision (Article 60). While the Article explicitly restricts statements or conduct detrimental to the best interests of the America's Cup, the dividing line between the unreasonable attacks that are prohibited and the permitted "responsible expressions of legitimate disagreement" could be open to interpretation.
It's not unusual for a professional sport to have some requirements against conduct by participants that would disparage the events or bring disrepute. And there is no reason to expect that the present America's Cup Jury would not apply the rule fairly, but concern for the America's Cup isn't just centered on how the rule will be enforced by the current event management. Especially with 2013 serving as a re-boot for the historic regatta, the precedents which might be set in this edition are important for the long-term health of the event.
By nature, some interests of the Challengers diverge from those of the Defender, and the needs of the Challengers themselves do not always align with each other. Rules restricting speech cannot help but bring the risk that such rules could be used to stifle discussion, criticism, or dissent. Competitors in the past have always been able to make their concerns public, which might not always have been pretty, but has been open.
Inevitably, vital issues will need to be confronted in this or a future America's Cup. Had such a requirement been in place in 2007, would teams that objected to the Defender's behavior at the time been penalized or disqualified? What sort of disagreement is "responsible or "legitimate" and what isn't? There is not an easy answer.
Download Protocol Amendment 11 (pdf)

---
ETNZ Ready to Work with Luna Rossa
(Jan 14) Members of Italian challenger Luna Rossa have come to Auckland to begin working with Emirates Team New Zealand on development of new ZC72 yachts for both teams. Grant Dalton, Head of ETNZ, mentioned that the arrangement is a financial boost to his team which helps make them competitive in an arena where they face opponents with immense private backing. Despite comment from other teams, particularly Artemis Racing (see story below), raising the question of compliance with the America's Cup rules in light of recent interpretations from the America's Cup Jury, ETNZ is confident that their planned cooperation is within the boundaries of the Protocol.
Grant Dalton: "We're allowed to race train against each other."
---
Collaboration Disputes Heat Up
(Jan 12) Artemis Racing has issued a statement explaining their position on issues outlined in a recent America's Cup Jury decision. What's being contested, especially among some of the top teams including Oracle Racing, Artemis Racing, Emirate Team New Zealand, and Luna Rossa, is the degree of shared design, construction, and testing that is possible under the Protocol for the 34th Defense of the America's Cup.
Full text of Statement from From Artemis Racing:
The Jury Decision in Case AC06, issued on 28 December 2011, has made it clear that Emirates Team New Zealand (ETNZ) and Luna Rossa can not proceed with all of their publicly announced plans without violating the Protocol for the 34th Americas Cup. This substantiates Artemis Racings understanding of the Protocol and the basis for the teams filing of Case AC07, submitted on 16 November 2011.
ETNZ's public announcements and submission to the Jury on 26 November 2011 stated that:
A. ETNZ have a collaboration agreement with Luna Rossa

B. The agreement provides for Luna Rossa to directly or indirectly build a yacht

C. The agreement provides that ETNZ shall obtain design and performance information from the Luna Rossa boat through two boat testing
The Jury Decision in Case AC06, clearly states that if an agreement exists between two teams, one which contains A, B and C; then there would a violation of Protocol 33.4.
Artemis Racing has received the clarification it was seeking.
Artemis Racing knows that ETNZ and Luna Rossa have done A and B and plan to do C. Artemis Racing is confident that the teams will modify their plans so as not to violate the Protocol.

---
Ainslie to Sail with Oracle and Race His Own AC45
(Jan 10) Ben Ainslie announced Tuesday that he had signed with Oracle Racing for the 2013 America's Cup, and that he would be competing his own AC45 entry in the America's Cup World Series.
"I've always tried to have a plan of what I'm doing next after the Olympics. The 2012 Olympics has been the focus, but from that has come the opportunity to be able to build a team which we hope can ultimately go on to challenge for the 35th America's Cup."
Read Ben Ainslie Racing Press Release

---
Report: Ainslie to Join Oracle
(Jan 9) Kate Laven at The Telegraph reports that Britain's Ben Ainslie is set to join up with Oracle Racing after the Olympics, but that Larry Ellison will also fund "Ben Ainslie Racing" as a non-challenger AC45 entry to begin competing in the America's Cup World Series regattas starting with San Francisco following the London Games. The AC45 exposure and experience may help Ainslie lay the groundwork for a full-fledged challenge in the 35th America's Cup.
Tuesday: Watch Ben Ainslie's Press Conference webcast live here on CupInfo, for more details.

---
Loïck Peyron Smashes Round-the World Record
(Jan 7) Loïck Peyron, Skipper of America's Cup challenger entry Energy Team, and crew have set another ocean-racing benchmark, sailing the giant multihull Banque Populaire around the world in a record 45 days. Their efforts on the 40m (131 ft.) trimaran again earn the Trophy Jules Verne, an award Peyron is familiar with having first broken the fabled 80-day circumnavigation barrier in 1993 by less than 24 hours. The record reaffirms the expertise of the Peyron brothers with large multihulls, and their team will now return their focus to the design, building, and delivery of the team's AC72 catamaran for a launch later this year in preparation for the 2013 America's Cup.
Read more at americascup.com and at Banque Populaire website (in French, but with photos and video)

---
Ben Ainslie Racing AC45's?
(Jan 6) British sailor Ben Ainslie is set to make an announcement Tuesday, January 10, about his post-Olympic sailing plans. As skipper, Ainslie was a core member of Team Origin before backers of the British America's Cup hopeful pulled the plug in the face of the upcoming 2012 London Olympics. Could an AC45 campaign be in Ainslie's future? Or even an AC72?

---
Courses Published for 2013 Louis Vuitton Cup and America's Cup
(Jan 1) America's Cup Race Management has published the courses for the 2013 LVC and the 34th America's Cup match. There are four courses shown, with variations between a finishing leg set from the leeward gate or from a mid-course mark, and target race times of 30 or 60 minutes. Windward and leeward legs are 3.0 nautical miles each. The shortest course is approximately 10 miles total, essentially 1.5 windward/leeward laps plus start and finish legs (Course 1). The longest is approximately 22 miles and 3.5 windward/leeward laps plus the start and finish (Course 2).
The layout of the courses is an important factor for the design teams to confirmed now so that the optimal balance of upwind and downwind performance can be sought for the new AC72 catamarans taking shape, with launchings beginning this summer.