More News:
Dec 22: Golden Gate YC wants construction country of origin questions about the race yachts to be settled before upcoming America's Cup Match; GGYC may ask the International Jury to issue an interpretation:
GGYC Statement (pdf) and GGYC Letter to SNG (pdf) plus Alinghi Statement in Reply
Dec 17: Britain's TeamOrigin is searching for a city to host the Louis Vuitton Trophy regatta in the United Kingdom in 2010 or 2011:
Press Release and Sport Telegraph
Dec 16: Louis Vuitton Trophy dates in Auckland, March 7-21, 2009, as part of a nearly month-long regatta triple play with the Omega Auckland Match Race Regatta and BMW World Sailing Cup Final:
NZ Herald
Dec 15: Cory E. Friedman, yachting and legal analyst, assesses the Appellate ruling: "Much has been written about how the Deed needs to be updated, but New York's courts have demonstrated that the Deed is just fine as it is. The body of precedent this litigation has created has applied the Deed in a thoroughly fair and modern way. Given the behavior of ISAF and many of the challengers who filed amici in the Court of Appeals, it is hard to see what sailing organization could do a better job of overseeing the America's Cup than the Courts of New York.":
Scuttlebutt News
Dec 15: BMW Oracle's challenger yacht leaves San Diego aboard the cargo ship Oceanlady, outbound for Valencia on a three-week transit:
BMW Oracle Blog and Press Release
Dec 12: Memorial to Sir Peter Blake opens in Auckland, featuring 1995 America's Cup winner Black Magic, NZL-32:
Radio New Zealand
Dec 8: Optimism? About the America's Cup? Alinghi and BMW Oracle talk about a seven-race match instead of three:
Stuart Alexander in
The Independent
Dec 7: After the Match: Mark Chisnell ponders the future of the America's Cup: "Personally, I'm starting to think that if the new challenger agreement provides for no lasting change, then maybe it's time for Sir Keith and all the other potential teams to think about walking away from the Cup, just letting that ugly old silver ewer go...":
markchisnell.blogspot
Dec 2: Captured British yachtsman released by Iranian authorities:
Associated Press
Nov 30: Iran seizes racing yacht and five British crew. The yacht, from a group associated with Team Pindar, is not directly involved with America's Cup activities, but the incident may play into fears previously raised about staging an America's Cup defense on waters near RAK:
Wall Street Journal
Nov 30: "Small breakage" for Alinghi in RAK, details not disclosed. Boat will be "...will be checked over and repaired":
Alinghi Team site
Nov 29: Cory E. Friedman reports on the appeal hearing, and the likely outcomes:
Scuttlebutt News
Nov 28: BMW Oracle testing concluded in San Diego, monster multi-hull to be shipped to Valencia:
Examiner.com
---
Nov 27: Historian John Rousmaniere takes a look at the ins and outs of measuring the load waterline length of America's Cup yachts:
Sailworld.com
Nov 24: A fascinating technical interview with Dimitri Despierres, a designer of BMW Oracle's unprecedented wing (now translated in English): Tribormat.fr
And, if you enjoyed that, Despierres is also interviewed (in French) at Voiles et Voilers, but a machine translation is worth the effort if you are feeling up to it.
November 19: Alinghi cat still testing bigger rig in RAK, more modifications of defender yet to come:
Alinghi team site
Nov 18: America's Cup challenger BMW Oracle multi-hull breaks bowsprit in testing:
Examiner
November 15: Cory E. Friedman works on unraveling the America's Cup legal appeals. Did SNG name Valencia? Did GGYC agree? Why does SNG have new lawyers? When will a decision come?:
Scuttlebutt News
Nov 10: Let it be?: Alinghi says that the America's Cup match will be held in Valencia, in February, unless Golden Gate YC comes to agreement with them on one of two Australian locations by November 13:
Alinghi Team Site
GGYC responds that "Valencia in February is the correct venue":
Statement (pdf)
Nov 8: Golden Gate YC characterizes weekend talks about venue issues with SNG as "cordial but inconclusive" and says negotiations are still ongoing.
Nov 4: No Stay: NY Appellate Court refuses to issue a stay in regard to last week's venue decision rejecting RAK as non-compliant with the Deed of Gift. The court did grant an expedited appeal. Legal analyst Cory E. Friedman in Scuttlebutt #2966 sees a hearing likely to be held in the second half of November. The first race in February is barely three months away.
GGYC Statement (pdf)
Oct 28: GGYC/BMW Oracle say they would be receptive to racing the America's Cup in Valencia, ask that otherwise the defender name a legal venue soon, and express their willingness to hold discussions to resolve match terms:
GGYC Statement (pdf)
Oct 27: In a New York SC Minute: Leading yachting/legal analyst, Cory E. Friedman surveys the aftermath of Tuesday's Supreme Court appearance:
Scuttlebutt News
Oct 27: From Alinghi to Germany to France, now with All4One Challenge competing in the Louis Vuitton Trophy, Jochen Schümann interviewed at:
Valencia Sailing Blog
Oct 21: With an October 27 court date approaching, the location of the 2010 America's Cup defense remains an issue and legal documents are accumulating from all sides. GGYC questions the legality and safety of the venue, Alinghi responds that the venue is legal and safe, Cory E. Friedman takes stock.
Oct 19: Defender Alinghi holds a press conference in RAK to kick off their on-site training for the America's Cup and to show journalists the venue: Read reports from Sailing World and Valencia Sailing Blog
Oct 17: Alinghi begins on-the-water training with their giant catamaran in Ras al Khaimah, United Arab Emirates, the venue selected for the defense of the America's Cup:
Alinghi Team Site
Oct 13: K-Challenge debuts "All4One" team with Jochen Schümann (Alinghi '07, '03) as Sporting Director and Skipper to compete in the Louis Vuitton Trophy regatta next month in Nice, France:
K-Challenge Team Site
Oct 9: Multi-hulls for the next two America's Cups? An article by Isabelle Musy in LeTemps reports that the leadership of Alinghi intends to push for the America's Cup to regularly be a multi-hull event even after the Deed of Gift match is sailed next February:
LeTemps.ch (in French)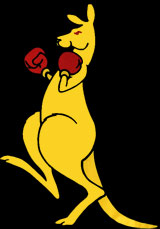 Design: ©1983
Oct 6: Australia II's Boxing Kangaroo Battle Flag returns to Fremantle. Made by AusII's sailmaker from spinnaker remnants, the icon of the first successful America's Cup Challenger in history has flown for the last 26 years in a Newport bar. Now the flag will hang in the WA Maritime Museum:
The Age
Oct 6: On the ground: TVNZ's Martin Taker visits the Ras Al-Khaimah venue in UAE:
tvnz.co.nz (video)
Oct 2: Golden Gate YC files with NY Supreme Court objecting to the defender's choice of location for the upcoming regatta, believing it violates the Deed of Gift:
GGYC statement (pdf) and documents and Alinghi statement plus Cory Friedman's analysis
Oct 1: 12 days and 4400 nautical miles from Genoa, Alinghi's catamaran AL-5 arrives in Ras al Khaimah, UAE, for upcoming America's Cup defense just over 4 months away:
Alinghi Team Site
Sept 30: Registration Certificate for challenging yacht is submitted to defender by GGYC/BMW Oracle Racing:
Cover letter (pdf) and Certificate of Documentation
Sept 30: Team Origin's GBR-75 and BMW Oracle's USA-76 will comprise the second pair of race yachts for the upcoming Louis Vuitton World Series regatta in Nice, France, this November. The two boats, to be equalized for match racing, will join Mascalzone Latino's 2007 pair:
The Independent
Sept 29: With the anniversary of Australia II's historic America's Cup victory 26 years ago this past week, one of the main players in her design reveals how the famous inverted and winged keel came about:
Professional Boatbuilder
Sept 28: With Alinghi's catamaran enroute to UAE from Genoa, Italy, for the America's Cup defense next February, Valencia Sailing interviews Brad Butterworth:
Valencia Sailing Blog
Sept 26: Team New Zealand still serious about Volvo Ocean Race entry, in addition to Louis Vuitton World Series campaign:
NZ Herald
Sept 22: NY Supreme Court Justice Kornreich denies motion to disqualify GGYC over registry, allows challenger's registry to be submitted two weeks before the match, but says GGYC is unsportsmanlike:
Court Order (pdf) and reactions from Alinghi and GGYC (pdf)
Sept 18: Britain's Team Origin is set to join the World Sailing Team Association (WSTA), the organization created for the new Louis Vuitton World Series which begins this November:
The Independent
Sept 17: Golden Gate YC comments on SNG/Alinghi rules agreement for the America's Cup:
GGYC Statement
Sept 16: International Sailing Federation (ISAF) releases previously secret agreement with SNG/Alinghi governing special rules for the 2010 defense of the America's Cup:
ISAF site
Update (9/22): Bob Fisher on controlling the rules:
Guardian.co.uk
Sept 16: Barry Ostrager, attorney for America's Cup defender SNG/Alinghi, characterizes amici requests to reveal secret rules agreement as publicity seeking and says SNG has agreed to disclose the document signed with ISAF last May:
Read letter (pdf) at
Scuttlebutt News
Sept 12: Team Origin, not going away, is allying with Carbon Trust, intensifying preparation for an America's Cup challenge, and will keep racing in a variety of events :
Telegraph.co.uk
Sept 8: Jochen Schümann (Alinghi '07, '03) joins K-Challenge for LV World Series:
K-Challenge site
Sept 2: Into the fray: Legal Activist Cory E. Friedman files a motion with the NY Supreme Court to make public the secret agreement between ISAF and SNG/Alinghi:
Legal Document (pdf) and summary at Scuttlebutt #2922
Sep 2: GGYC goes back to court, filing a motion seeking clarification on the rules, restricting rules changes that would disqualify their boat, and unsealing the secret rules agreement between ISAF and SNG/Alinghi:
GGYC Statement (pdf) and Memorandum of Law (pdf). Alinghi responds that they believe they are proceeding fairly and have yet to even write some of the match documents in question:
SNG Statement
Aug 28: Louis Vuitton regatta in France this year? Le Figaro suggests a LV Series mid-November, to be held near Nice, France:
LeFigaro (in French)
Aug 27: Hong Kong to host Louis Vuitton "World Series" regatta in November, 2010? This would apparently be one of several LV events currently being planned for 2010:
ChinaBriefing.com and Royal Hong Kong YC (pdf)
Aug 26: Watchmaker Hublot will be the defender's team sponsor for the 33rd Defense of the America's Cup in 2010:
Alinghi Team Site
Aug 20: Movement to expand Louis Vuitton Pacific Series gains steam. ETNZ's Grant Dalton says the LVPS may begin again next year in Auckland:
NZ Herald
Aug 20: Golden Gate YC and BMW Oracle add high-profile attorney David Boies to their team, in expectation of more legal issues to be settled:
Sail-World.com
Aug 15: Alinghi America's Cup catamaran now sailing in Genoa, Italy. See slide show and more:
Alinghi Team Site
Aug 15: Charles Morgan, designer of America's Cup defense contender Heritage (1970), to speak August 17 in Gainesville, FL, at Gulf Atlantic YC:
Gainesville Sun
Aug 12: America's Cup legal analyst Cory E. Friedman finds high drama, high stakes, and highjinks in the freewheeling Supreme Court hearing that took place Monday:
Scuttlebutt News
August 12: Rolf Vrolijk, Grant Simmer, and Dirk Kramers, Alinghi's key designers for the team's giant America's Cup catamaran, interviewed by Seahorse Magazine
Aug 12: "Jimmy [Spithill] just said if I come back more regularly he'll let me drive a lot, so I'm coming back": Larry Ellison interviewed at Sailing World
Aug 7: Cat Flight: Russian helicopter carries Alinghi America's Cup yacht from Switzerland to Italy. Photos and video:
Alinghi team site
Aug 6: Alinghi to transport their giant catamaran to Genoa, Italy, Friday using the world's largest helicopter:
Avionews
Aug 6: A dozen J-Class yachts to race in Bristol at the Herreshoff Museum? Yes, in 1/16 scale:
East Bay RI
Aug 6: Defender SNG Alinghi publishes measurement rules for America's Cup match:
Alinghi site (pdf)
Aug 5: Lecture and exhibit by Earl Boebert, vintage model yacht historian, at the Herreshoff Museum on yachting at model and full scale:
Classic Boat
Aug 4: Legal analyst Cory E. Friedman looks at the latest court surprises:
Scuttlebutt News
Aug 1: Schooner America replica continues sailing history, and with Dennis Conner at the helm, at the McNish Classic Yacht Race. "I am Mr. America's Cup":
Ventura County Star
Also see this feature article (pdf) about Dick McNish and the Classic, from 2006.
Aug 1: Meet Sir Russell Coutts:
NZ Herald
July 29: Short interview with Dawn Riley of K-Challenge ('07), America True ('00), and America³ ('95, '92) about her continued work with the America True foundation and other sailing activities:
SFGate.com
July 25: Valencia Sailing talks at length with Tom Ehman, BMW Oracle Racing. "My great fear was that they could use the rules to their own purposes, cherry pick the rules and use the ones that were good for them and waive the ones that were bad for them":
Valencia Sailing Blog
July 25: ETNZ's Grant Dalton says next America's Cup challenge will be his last as team leader. Kevin Shoebridge and Dean Barker will take on his roles:
stuff.co.nz
July 23: A visit to Alinghi media day with the giant cat and plenty of photos:
Sail-World.com
July 21: America's Cup 1937 re-match? Replicas of two of the most famous Cup opponents, the J-Class yachts Ranger and Endeavour II, raced head-to-head over the weekend, and in Newport no less. See photos and race details:
Superyacht Times and J-Class website
Update 7/26: Many photos and more at: Scuttleblog
July 21: A new J-Class top dog? Sparkman & Stephens shows off "Super J" design: Modern technology, America's Cup heritage, and classic visual appeal:
Synfo.com
July 20: Alinghi sails Alinghi 5 catamaran for the first time:
Press Release and Alinghi Photo Gallery
July 17: ISAF makes announcement about the upcoming America's Cup match, says changes to rules will require their sanction. Read story (with very few details):
Sailing.org
July 15: What vacation? Legal analyst Cory E. Friedman looks at the latest summer activities in the NY State Supreme Court, America's Cup Division:
Scuttlebutt News
July 8: Multi-hull expert Steve Clark discusses design challenges for the giant America's Cup boats:
Sail-World.com
July 8: More BMW Oracle launch photos, in the water now plus the mast:
SailKarma.com
July 6: DoG Days: BMW Oracle's giant Deed of Gift multi-hull is testing again in San Diego:
AP story at ESPN
July 2: Alinghi to launch spider-like catamaran on July 8? Speculation on America's Cup Deed of Gift multi-hulls from Richard Gladwell:
Sail-World.com


Golden Gate and SNG Agree to Meeting on Construction Origin Issues
Update 12/31: Alinghi Proposes Three-way Talks
GGYC Statement: "The Golden Gate Yacht Club and BMW Oracle Racing intend to meet with Société Nautique de Genève as soon as possible in an attempt to remove the question mark hanging over the legality of Alinghi's yacht they will use to defend the forthcoming 33rd America's Cup.
"Foremost is the nationality clause in the America's Cup Deed of Gift document which governs the event and requires the yachts of the Challenger of Record and the Defender to be constructed in the country of the yacht club they represent ("CIC").
"Last week SNG was informed by GGYC of the obvious illegality of its yacht's USA-built sails. Yesterday SNG responded and agreed to meet on the matter."
GGYC has concerns about Alinghi 5's sails and other elements, and may raise the issue with the America's Cup International Jury.
Update 12/31: Defender proposes meeting with Jury, Defender, and Challenger to address issues. "SNG anticipates all issues to be resolved through discussion....": See Statement at Alinghi site and Read SNG Letter (pdf)
Also see:
Stuart Alexander at The Independent:
Alinghi Sails May Not Qualify for America's Cup

---
Report: Agreement in Principle to Delay America's Cup to Feb 12th and Extend Match to Best of Seven
See Update 12/19: Agreement Now In Doubt
Dec 18: According to a report at the Independent Online of South Africa, quoting a source at BMW Oracle Racing, the Challenger and Defender have reached an agreement in principle to move the start of the match back by four days, from Monday February 8th to Friday 12th, and to extend the series from Best of Three races to Best of Seven format.
No formal agreement announced yet, so these changes are not confirmed, but they are in line with previous discussions. Given time constraints, expect more information about any changes to the format of the Defense shortly.
UPDATE Dec 19: Provisional Agreements Said to Collapse: Article by Richard Gladwell at Sail-World throws the possibility of reaching mutual agreement between Defender, Challenger, and Valencia into doubt. Gladwell reports that the negotiated terms have been rejected by high-level Alinghi management. If so, recently proposed schedule and format changes would be dead, and possibly even broadcast rights and cooperation of the port authorities could fail to materialize.

---
Louis Vuitton Regatta Plans Announced for 2010 and 2011
The Louis Vuitton Trophy regattas for 2010 and early 2011 have been announced. Planned dates and host cities are:
Louis Vuitton Trophy Auckland:
March 9-21, 2010
Louis Vuitton Trophy La Maddalena, Sardinia:
May 22-June 6, 2010
Louis Vuitton Trophy Middle East:
November 13-28, 2010
Louis Vuitton Trophy Hong Kong:
January 9-24, 2011
The Middle East location will be made public January 15, 2010. The eight teams that raced in the Louis Vuitton Trophy Regatta in Nice, Côte d'Azur, France, are expected to compete in the upcoming events, with the exception of BMW Oracle who will not race in Auckland while the team concentrates their preparation on the challenge for the America's Cup.
Four Cities Announced: Read the Press Release

---
33rd Defense Will be in Valencia:
NY Appellate Court Denies Venue Appeal
Dec 15: The New York Appellate Court has denied the appeal filed by SNG and Alinghi, which hoped to re-establish RAK as the location of the defense of the America's Cup this February. Saying that the Supreme Court order regarding the venue, first drafted in 2008 by Justice Cahn but only taking effect in April 2009, does not explicitly state that the Deed's restrictions do not apply, the Appellate ruled that the Deed must be respected.
To quote the court: "Accordingly, the order should be read as carving out an exception to the Deed's hemisphere requirements in the case of Valencia, and the phrase 'or any other location selected by SNG' should be read as 'or any other Deed-compliant location selected by SNG.' RAK, which is in the Northern Hemisphere, is not a Deed-compliant location for a February race."
SNG has accepted this decision, see statement below.
Also, the Appellate Court agrees that the Supreme Court correctly decided that the external rudders are not to be counted in the measurement of Load Waterline Length.
From the decision: "...the court properly relied on undisputed extrinsic evidence, including New York Yacht Club rules extant at the time the 1887 Deed was settled, showing that length on load water-line is typically measured 'exclusive of any portion of the rudder or rudder-stock.' "
Read the Decision at NYSC web site
News Stories (short):
Stuart Alexander: Set for Valencia
Sports Illustrated: RAK Gets Another Heave-Ho
Reuters: US Court Rules
GGYC Statement (complete):
The focus for the 33rd America's Cup is now squarely on Valencia, Spain. Today, the Appellate Division rejected the defender's second attempt to have Ras Al Khaimah, UAE, host the February match.
"This is a big stride forward," commented Tom Ehman, Golden Gate Yacht Club spokesperson. "In place of doubt and delay, the sailing world wants certainty. It wants to see this contest to go-ahead soon and be contested under fair rules."
The New York Supreme Court ruled on October 30th that Ras al Khaimah did not comply with the Deed of Gift, a decision upheld by the Appellate Division in a unanimous verdict.
The Court also turned down SNG's second attempt to have rudders included in the crucial Load Water-Line measurement calculation. This has never occurred in the 32 previous America's Cup matches and won't happen in the 33rd.
"With the International Sailing Federation re-drafting the previously unbalanced and unfair agreement it struck with Société Nautique de Genève, and discussions continuing to normalize the Notice of Race, the common-sense approach to the remaining issues in this America's Cup is prevailing," added Ehman.
SNG Statement (complete):
The Appellate Division of the New York Supreme Court today upheld Justice Kornreich's decision of 30 October 2009 that disqualified the America's Cup Defender Société Nautique de Genève's choice of Ras Al Khaimah in the United Arab Emirates as venue for the 33rd America's Cup. The four-judge panel also upheld Kornreich's decision to exclude rudders from the measurement of the load waterline length of the race yacht.
"Once again BMW Oracle's strategy to try to win the America's Cup in court instead of on the water has been successful. For the first time in the history of the America's Cup the Defender has been stripped of its fundamental right to select the venue. Société Nautique de Genève accepts this decision and Alinghi is looking forward to racing for the America's Cup on the water in Valencia, Spain, in February 2010," said Fred Meyer, SNG vice-commodore.

---
Provisional Agreement to Cover Staging America's Cup Match in Valencia
Defense Could Expand to 5 or 7 Races
Dec 10: Representatives of the Defender, Challenger, and the Valencian authorities have reached a basic agreement on the logistics of holding the upcoming America's Cup match in the Spanish port city. Bases and adjacent space will be made available, marketing and television arrangements will be pursued, and other cooperation required to host the event is planned.
These activities are for now provisional since Alinghi has not yet conceded anything regarding the legalities of the venue decision nor have they committed to whether the match will actually take place in Spain or RAK. With no court decision to date on Alinghi's legal appeal, the advancing race date may force their hand to go with Valencia anyway.
Read details and hear Press Conference audio at Valencia Sailing Blog

---
Longer Bowsprit for Alinghi
The Defender shows an extended bowsprit on their giant catamaran, expecting to test the larger pole on the water starting this weekend in RAK.
Grant Simmer, Alinghi: The longer bowsprit gives us the opportunity to add more sail area and change the balance of the boat downwind. It won't have any effect on the upwind sailing; only on the downwind performance of the boat.
---
Court: Water Ballast Part of Measurement, Other Expert Opinions Adopted
Based on findings by the panel of experts convened by the NY Supreme Court, Justice Kornreich has issued final orders on the immediate five questions under consideration. Most prominently, water ballast, if any will be used, must be aboard, evenly distributed, and not shifted during measurement.
Addressing the objection SNG raised about Valencia being too dangerous a location to hold a defense in February, and noting that SNG named Valencia as the location for the defense in their Notice of Race on November 10, the court says "This issue is now moot."
The expert panel also recommends that an International Jury appointed by ISAF may administer the ISAF Rules independently and objectively, free from interference by SNG, but also directs that the parties attempt reach an agreement to cover these issues.
Read the Supreme Court Order (pdf 10 pages)
Also see:
Stuart Alexander in the Independent:
Alinghi Must Meet Measurement Rules
Yachting World: America's Cup One Step Closer
Alinghi/SNG Statement: (in full) "New York Supreme Court Justice Kornreich has brought a degree more certainty to the 33rd America's Cup today. It is good to at last have her decision on some of the pending issues. Alinghi continues to focus on its training programme ahead of the Match for the 33rd America's Cup against BMW Oracle on 8 February 2010."
GGYC Statement: (Excerpt) "This is victory for fair rules and common sense," said Tom Ehman, GGYC spokesperson. "Once again SNG's attempts to bias the rules in their favor have been rejected."
Read full GGYC statement (pdf)

---
BMW Oracle Makes First Voyage with New 190-foot Wing Mast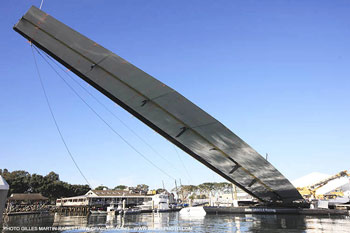 Photo:©2009 Gilles Martin-Raget/BMW Oracle Racing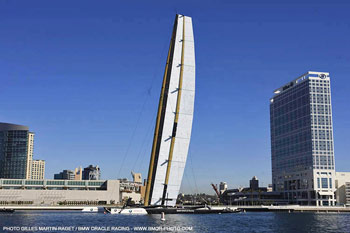 Photo:©2009 Gilles Martin-Raget/BMW Oracle Racing

Jimmy Spithill, Helmsman: "When you think about what we did today -- that wing was sitting here in the tent in the early hours this morning and to move it, get it on the boat, get it in position, move the boat off the dock, get the wing vertical and then to go out and sail around in a tight harbor like this one and to fly a hull… That's a fantastic day!"
Read more at BMW Oracle Blog
More Photos (in high resolution) at:
BMW Oracle Racing Photo Bank
Video highlights at:
Fox 5 San Diego and amateur video at YouTube

---
BMW Oracle Reveals Wing Mast for Monster Multi-hull
Long rumored to be under construction, but kept under wraps until today, the rigid wing sail is 190 feet tall, and is 80% larger than the wing of a Boeing 747. It is expected to be stepped and sailing this week.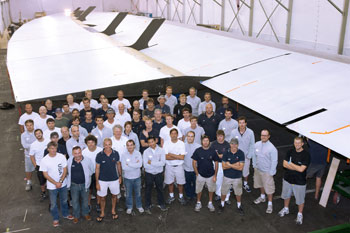 Photo:©2009 Gilles Martin-Raget/BMW Oracle Racing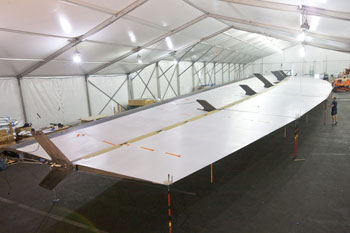 Photo:©2009 Gilles Martin-Raget/BMW Oracle Racing
Large photos at BMW Oracle Image Bank
From BMW Oracle Racing: The wing will be tested as an option to increase performance compared with a traditional soft sail rig as previously sea-trialed on the BOR 90, the 90-foot trimaran the team has built for the 33rd America's Cup.
The construction of the wing took place at Core Builders, the team's boatbuilding facility in Anacortes, Washington, with finishing work completed at the team base in San Diego.
"This was a massive undertaking," said Tim Smyth (NZL), who, along with Mark Turner (NZL), has been overseeing the wing construction team in Anacortes and in San Diego.
Also see:
Technical review by Multi-hull Expert Steve Clark: "The rig on BOR90 is a two-element single slotted wing. This is a 'cleaner' configuration instead of a 'more powerful' configuration. You will not get the high lift coefficients without the #2 element ( the flap in the slot that directs the flow through the slot.) This is probably not a big deal because they have the ability to set head sails for down wind work."
---
Meeting Over Weekend May Help Settle Venue Questions
Nearly in unison both SNG and Golden Gate YC offered statements Friday that promise the venue and timing issues for the 33rd Defense of the America's Cup may be resolved over the weekend. Progress might coalesce around SNG's offer to defend the Cup in Australia. In any case, the harmony of their statements is unprecedented in the conflict of the last 28 months and gives reason to think a solution to at least these issues could be found.
If the parties reach mutual consent on location or timing, then they are free to hold the match when and where they determine without the restrictions the court orders otherwise impose. GGYC's reference to timing suggests that a shift in schedule might be considered.
GGYC Statement from Tom Ehman: "Today's hearing at the New York Supreme Court was productive. Both sides -- Golden Gate Yacht Club and the America's Cup defender Société Nautique de Genève -- have agreed to meet on the venue and timing issues over the weekend and report back to Justice Kornreich on Monday. We are hopeful an agreement can be reached."
SNG Statement from Lucien Masmejan: "Today's hearing before Justice Kornreich was productive. Our yacht club, the Société Nautique de Genève, the America's Cup Defender and the Golden Gate Yacht Club, the challenger, have agreed to meet in New York over the weekend to discuss the venue for the 33rd America's Cup. We are due to report back to Justice Kornreich on Monday and are hopeful an agreement can be reached."

---
Alinghi Offers Possibility of Australian America's Cup Match Venue
No Specific Location Yet Other Than "East Coast"
Alinghi Press Release (Nov 5): Ahead of tomorrow's hearing at the New York Supreme Court, the Swiss Defender has proposed a solution to the legal impasse brought about by the Golden Gate Yacht Club (GGYC). While the Defender's first choice for the Deed of Gift Match is Ras Al Khaimah in the United Arab Emirates, in order to achieve a Match in February SNG proposes to stage the 33rd America's Cup on the east coast of Australia, in the Southern Hemisphere, in compliance with the Deed of Gift. This is a venue that should be acceptable to both teams if, as expressed publicly, the true intention of BMW Oracle is to race for the America's Cup on the water.
A specific race course in the Pacific Ocean off the east coast of Australia, with weather conditions suitable for racing in February, will be announced promptly should GGYC accept this offer and cease their legal strategy.
The east coast of Australia offers several locations with ideal sailing conditions for the best-of-three match. A venue in this region would be approximately two-and-a-half weeks away by ship from BMW Oracle's base in San Diego, while Alinghi's voyage from Ras Al Khaimah would take approximately three weeks.
SNG is hopeful that this offer will be accepted and that the competition will resume on the water rather than in court.

---
BMW Oracle Dismasted
Nov 3: Per a short report on the BMW Oracle Racing Blog, the rig came down during testing this morning while testing 20-30 miles off of San Diego. All crew are reported safe.
Upon returning to shore, James Spithill stated for the BMWO blog that the conditions were light and the seas were flat, and that further investigation would be needed to identify the factors causing the loss of the rig.
Bernie Wilson at the Associated Press describes the mast as falling backwards, possibly due to a failure involving the forestay, and then the mast itself breaking when it landed on the aft cross-member. The damaged mast is believed to have been the tallest of the three masts tested so far. See AP story at sfgate.com
Photos:
See Scuttleblog

---
Alinghi to Appeal Venue Decision
Nov 2: Defender Société Nautique de Genève will contest the recent New York Supreme Court ruling that the America's Cup may not be held in RAK in February unless the defender and challenger agree.
Justice Kornreich's decision was based upon reading the courts earlier order to allow Alinghi to select any location, which the court interpreted in the context of the Deed of Gift, which provides the north and south hemisphere limitations.
Alinghi believes that the order alone should control in this situation.
Read more at Alinghi team site

---
NY Supreme Court: Appoint Expert Panel to Weigh Technical Issues
Justice Shirley Kornreich has asked defender and challenger to help nominate jury members to consider some of the yacht racing arguments currently before the court. Assembling next Wednesday, November 4, the jury will provide the court with input on issues including movable ballast, suitability of racing venues, effect of defender's intended rules modifications, and questions about equitable regatta administration that are being contested.
Also, the issue of the method for measuring load-water-line has been resolved by the court, and rudders will not be included in the calculation.
Read GGYC Press Release (pdf)
and NY Supreme Court order (pdf)
Update 11/3, Jury Members:
SNG nominates Kiwi Graham MacKenzie,
GGYC names Bryan Willis of Great Britain and mutually they select Australian David Tillett.
All three members served on the Jury for the 32nd America's Cup from 2004 onward. Willis has served on four America's Cup Jury panels, chairing the last three. Tillett umpired in the America's Cup starting in 1992, and was also a Jury member for the 2003 Defense in Auckland: See Bio
Also, commentary:
Skeptical: Richard Gladwell at Sail-World.com
Appreciative: Cory E. Friedman at Scuttlebutt News

---
Journalists Discuss Cup Management Issues
James Boyd (UK), Tatjana Pokorny (GER), Loic Le Bras (FRA) and Emilio Martinelli (ITA) discuss the America's Cup in advance of the World Yacht Racing Forum this December, excerpted in the WYRF Newsletter:
Loic Le Bras (FRA), Voiles & Voiliers: "I think that in an exceptional situation such as this one, with two competitors unable to agree on anything, ISAF can play a role in making the duel as equitable as possible. It should be the Federation's role to name the Race Committee, the on-the-water judges and the Jury. Every team should have a right of veto applicable once against a member of this panel. This would guarantee some equity."
Read other opinions from the panel

---
Valencia to Host America's Cup Match between Alinghi and BMW Oracle?
Oct 29: According to a report on Valencia Sailing Blog, Alinghi is in discussions with the government of Valencia and an agreement has been reached in principle to possibly hold the giant multi-hull match race there in February. Alinghi may also be currently negotiating with other cities.
---
NY Supreme Court Says No to RAK
Defender will have to select new location for America's Cup match next February
Valencia is still a possibility, or else a southern hemisphere location will need to be selected to conform with the requirements of the Deed of Gift that a February match may not be sailed in the northern hemisphere. Tuesday's NY Supreme Court decision is that Alinghi's selection of Ras al Khaimah is not compliant with the Deed for a February match.
Stories:
New Zealand Herald
and Reuters
Team Statements:
From Alinghi: "This is a disappointing result as we were certain that Justice Cahn's May 2008 decision allowed the Defender to chose Valencia or 'any other location'," said Lucien Masmejan, Société Nautique de Genève (SNG) legal counsel.
From Golden Gate YC: "We're pleased with the court's decision today that Alinghi's choice of the venue for the 33rd America's Cup was not allowed under the Deed of Gift. We look forward to Justice Kornreich's decision later this week regarding two additional issues."
Read full text of both statements

---
Breach of Fiduciary Duty Complaint Filed Against America's Cup Trustee
With a court hearing already scheduled for Tuesday, October 27, on October 26th Golden Gate YC (GGYC) and BMW Oracle have filed a request with the New York Supreme Court to have Société Nautique de Genève removed from their role of Trustee for the expected upcoming America's Cup match. GGYC says that SNG's conduct violates their legal responsibility to conduct a fair competition and alleges that the trustee's selections of Valencia and RAK were motivated by personal financial interests.
From GGYC: "Reckless and repeated disregard in its stewardship of the America's Cup by the Société Nautique de Genève has prompted the Golden Gate Yacht Club to ask the New York Supreme Court to remove the Swiss yacht club from its position as Trustee in a Breach of Fiduciary Duty complaint filed today."
Read the Complaint (pdf)
Alinghi Statement:
"By filing their eighth legal action against the Defender of the America's Cup in two years, Larry Ellison and his Golden Gate Yacht Club (GGYC) have demonstrated yet again that their true intention is to win sailing's most prestigious trophy in court instead of on the water. "
---
Louis Vuitton Trophy:
Nice Regatta Begins November 7
From Louis Vuitton: The facilities in Nice are being readied, the race boats are being tested, equalized and prepared for racing, and some of the teams spent some time on ACC yachts last week, working out the kinks ahead of the first race day, November 7.
In Valencia, the site of the last Americas Cup where several teams still maintain a base of operations, the four ACC boats that will be used for the racing in Nice have been set-up for the November regatta.
---
New J-Class Rainbow Begins Construction


Drawing: ©2009 Dykstra & Partners
Press Release: The J-Class Rainbow, designed by Dykstra & Partners for a repeat client, has started building at Bloemsma Aluminiumbouw. When the hull will be ready, Rainbow will be transported to be finished at Holland Jachtbouw (HJB). The re-build of this originally William Starling Burgess designed yacht will be under supervision of Dykstra & Partners Naval Architects, who also have been responsible for the re-builds and refits of the J-Class yachts: Shamrock V, Endeavour, Velsheda, Ranger and the soon to be sailing new J-Class Hanuman (Endeavour II project).
---
Teammates, Friends, Saddened by Loss
Paul Wellbank, a 37-year old trainer who had just recently been laid off by the BMW Oracle Racing team, died suddenly last week in Valencia. Police are said to have ruled out either foul-play or suicide as factors in his death.
Read stories at stuff.co.nz and New Zealand Herald


Louis Vuitton Trophy Regatta
Nice, Côte d'Azur, France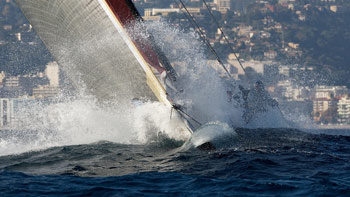 TeamOrigin, above, lost to Azzurra in the Semi Finals.
Photo:©2009 Ian Roman/TeamOrigin
Italy's Azzurra wins the Louis Vuitton Trophy Nice after defeating Emirates Team New Zealand 2-0 in the Finals. ETNZ finishes second in the regatta.
See Results, Standings, and More from Louis Vuitton Trophy Nice, Côte d'Azur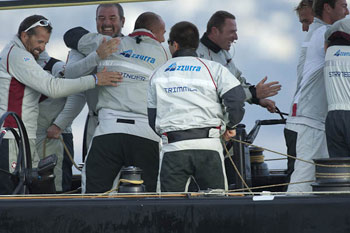 Azzurra's crew celebrates their Louis Vuitton victory.
Photo:©2009 Chris Cameron/ETNZ

---
BMW Oracle Presentation Day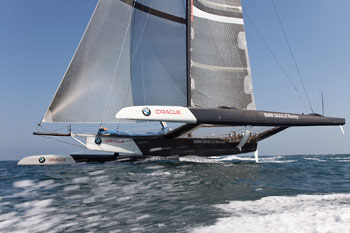 Photo:©2009 Gilles Martin-Raget/BMW Oracle Racing
James Spithill on sailing the beast: "We've sailed in up to 40 knots of wind speed –- not on purpose! We were out there one day and we got stuck in a squall. We had a little bit on, but we got through it and lived to tell the tale. We obviously learned a few things that day. These boats, though big and powerful, can be sailed in the higher wind speeds."
Read CupInfo's talk with helmsman James Spithill

Russell Coutts: "Everyone on the team is doing something that's never been done before."
Read CupInfo's talk with Russell Coutts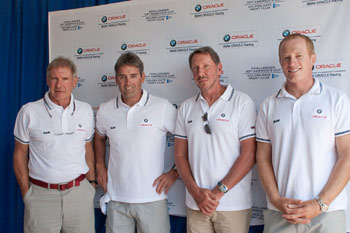 Harrison Ford, Russell Coutts, Larry Ellison, and James Spithill at the presentation in San Diego.
Photo:©2009 Bob Grieser
Tuesday, August 11: BMW Oracle Racing, the challenger for the 33rd America's Cup, held an elaborate public and media event at the team's base in San Diego. Activities include formal presentations; discussions with Russell Coutts, Larry Ellison, and actor Harrison Ford; a boat parade that will include BOR 90 and a replica of 1851 Cup winner America; and the chance to see the giant trimaran in action. Diane Swintal was onsite for CupInfo to bring you reports on the festivities.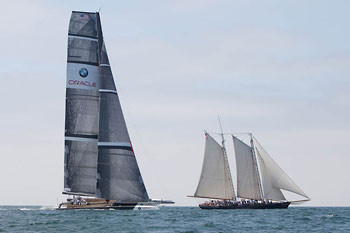 Trimaran USA left, schooner America replica right, sailing together in San Diego on August 11.
click image to enlarge and see more
Photo:©2009 Gilles Martin-Raget/BMW Oracle Racing
Larry Ellison, BMW Oracle: "We are pushing ourselves to our limit and we're discovering what the boat can do and what we can do as a team. If we've done our job well, we'll go out and race this boat and the win the America's Cup." Read Press Release (pdf)
Portions of the presentation are available as a video re-broadcast from the BMW Oracle Racing web site
The main crew announcement so far is that James Spithill will be the primary helmsman for the match. The team also acknowledged that given the state of the rules, the demands of competition will eliminate eight onboard crew positions to be replaced by engine-driven equipment. The team plans to continue training in San Diego until mid-November.
Also see:
Kimball Livingston at Blue Planet Times: In San Diego, as I write, Larry Ellison's BMW Oracle Racing Team is showing off the 90-foot trimaran that they say will be their boat for an America's Cup match six months from now, and Ellison is explaining that, in his view, Hillary didn't climb Everest "because it was there, but because he was there; he was there on his own voyage of discovery."

---
America's Cup Veteran Still Winning
America's Cup Hall of Fame honoree Jack Sutphen, who competed throughout the 12-meter era from 1958 to 1987, is still winning races these days at the age of 91, more than 80 years after he first learned to sail. Sutphen raced against and helped train Cup winners like Bob Bavier and Dennis Conner, and has written a book recounting his yacht racing experiences, Messing About in Boats for 80 Years.
Read more at Sailing World Magazine

---
Winged Keel Custody Dispute Returns
Dutch Designer Claims His Role
Breaking decades of silence on the issue, Dutch yacht designer Peter van Oossanen has responded to recent discussion of the relative roles that he and his team played in the development of the winged keel used by Australia II in their historic 1983 winning America's Cup challenge. The naval architect is admitting that he and his team designed the famous keel. His claim is a response to recent defenses of Australia II designer Ben Lexcen, who died in 1988. Lexcen, by all accounts a brilliant inventor, is a national hero to Australians for his role in their America's Cup triumph.
The issue of keel-fathering has been explored (and argued) since the summer of '83, before AusII even met up with the defender Liberty and defeated her 4-3 in the match of the century, ending 132 years of America's Cup success for the US.
Articles in recent years have drawn out some degree of Dutch involvement, which was partially admitted and then denied in '83, but defining where the inspiration began (with Lexcen? with others?) and where the analysis took over and what constitutes "design" has always been difficult.
A recent letter diminishing the Dutch contribution apparently prompted van Oossanen, ironically now an Australian citizen, to re-declare his staff's role in public. Lexcen was inducted into the America's Cup Hall of Fame in 2006, 18 years after his death, and for his part is unable now to provide his perspective, but Lexcen's passionate fans and friends are sure to stand up for him, too.
Does it matter now? Is the implication that Australia II violated the rules and could have or should have been disqualified from the match? Even if so, the New York YC largely perceived van Oossanen's involvement to be the case by the fall of '83, but at that point was in no position to call off the defense without damaging the reputation of the America's Cup.
Australia II won for reasons other than just the keel, though the radical design was sometimes an advantage in racing conditions. History won't exactly be re-written if more light is shed on the conception of Australia II, but at least it might become better understood.
Read more:
The Age: Winged Keel Not Lexcen's, Dutch Architect Claims
Peter van Oossanen's presentation of the historical correspondence and patent application:
Van Oossanen & Associates
John Longley, Australia II Project Manager, presents archival correspondence from the Western Australian Maritime Museum, home of Australia II:
Scuttlebutt News
Scuttlebutt News: Remarkable Ben Lexcen
Guardian: "Success has many fathers," says John Bertrand, AII skipper, while calling Lexcen Australian Leonardo Da Vinci. Read more
Last Words?
"I wish the whole bitter argument surrounding this matter would go away. I suspect that it would if some credit were given to the individual Dutch researchers for their roles in the team. Yes, the extent of those roles may be in dispute. But the fact of them is not. Reckoning time is passing too quickly to be wasted in bickering over credits." --John Rousmaniere, who reviewed the question in detail before Lexcen's America's Cup Hall of Fame induction, offers the full text of his report (previously published in Sailing World magazine) at Sail-World.com.
---
Louis Vuitton Regattas Adds Origin and Azzurra
Britain's Team Origin will compete in the Louis Vuitton regatta to be held November 7-22 in Nice, France, the team announced October 5, and the team plans to compete in the LV series that will be held around the globe in 2010. Origin has also become a shareholder in the WSTA, the consortium of teams which controls the event. Read Team Announcement
Italy's Azzurra, representing YC Costa Smeralda, will also compete in the events, with crew announced Monday.
Read Azzurra story at Sail-World
Updated October 7:
Read Louis Vuitton Trophy Press Release

---
Louis Vuitton World Series Details
Announced Events:
Nice France (Nov 7-22, 2009)
Auckland, NZ (Feb-Mar, 2010)
La Maddalena, Italy (May, 2010)
Teams:
Ten teams will form the fleet. The first eight named are:
BMW Oracle Racing (USA)
Emirates Team New Zealand (NZL)
Italia by Joe Fly (ITA)
K-Challenge (FRA)
Mascalzone Latino (ITA)
Swedish Challenge Artemis (SWE)
Synergy Russian Sailing Team (RUS)
Team French Spirit (FRA)
Plus four additional teams vying for the remaining two spots, Desafío Español likely to be one of the two.
The Independent reports that Team Origin's presence is doubtful. Story
Yachts:
Varying by event, the 2007 boats used by Mascalzone Latino, Desafío Español, ETNZ will be raced.
Potential future events:
Athens, Valencia, Newport (RI), Cape Town, Hong Kong, and Abu Dhabi.
Read Louis Vuitton World Series Press Release

Also see:
AP story at San Jose Mercury News
Bob Fisher at Sail-World.com and Photos
Significance of WSTA at NZ Herald
Grant Dalton at Valencia Sailing Blog
Richard Gladwell: A "Gift to Sailing"
---
Louis Vuitton World Series Announced
2009 Races Expected -- More in 2010
Press Release: Some of the best professional sailing teams, grouped together under the name WSTA (World Sailing Team Association), and Louis Vuitton, a key player in the world of top-level sailing for more than 25 years, today announced the creation of an international regatta circuit.
The WSTA (World Sailing Team Association) groups together the participants in previous Louis Vuitton Cup regattas (K-Challenge (France), BMW Oracle Racing (USA), Emirates Team New Zealand, Mascalzone Latino (Italy)) and welcomes newcomers such as Team Artemis (Sweden), Team Synergy (Russia), Joe Fly Italia (Italy) and Team French Spirit (France). Other teams will join the association in the coming weeks.
Entitled the Louis Vuitton World Series, these regattas are a first in the world of sailing and follow on from the Louis Vuitton Pacific Series organized in Auckland, New Zealand, last February. The global success of this exceptional competition persuaded all the partners in this adventure to create a dynamic and ambitious new race program based on the same concept and format.
Ten teams will be invited to confront each other in successive duels over a fortnight on two pairs of identical boats chosen by lot. The racing boats were sailed in the 2007 LV Cup. This concept, which demonstrates the desire to return to the original spirit of "match racing", provides an exhilarating show and is easy for spectators to understand.
The WSTA and Louis Vuitton plan to organize several regattas a year. Many cities of which Nice, Hong Kong, Auckland, New York and several other European venues have shown their interest.
A press conference will be held in Paris on Tuesday, September 8th. More details about the first events to be organized in 2009 and 2010 will be disclosed during this conference.
---
Alinghi America's Cup Catamaran Reported Damaged in Testing
The 90-foot extreme multi-hull built for the America's Cup defense and launched this summer by Alinghi is reported to have suffered damage while testing near Genoa, Italy, according to a report by sailing journalist Bob Fisher. Conditions are said to have been light weather and flat seas. No word yet on the nature of repairs.
Read Bob Fisher's story at The Guardian
Meanwhile: AP Story says Alinghi is ahead of schedule in preparations: Alinghi Opens It Up at ESPN.com

---
Golden Gate YC Confirms BOR 90 Will Be Challenger Yacht
Golden Gate YC (GGYC), the Challenger for the America's Cup, publicly confirmed August 10 that the giant trimaran they have been testing and modifying will be the boat they race in the upcoming America's Cup match next February. There had been speculation that a second vessel was secretly in construction, to be revealed depending on the venue selection revealed by Defender SNG/Alinghi after last week's deadline. The confirmation regarding the trimaran came as an extended hearing Monday in the NY Supreme Court explored the practical requirements for the challenger to obtain and submit yacht registry information. The court has not issued a ruling yet, but discussion in court suggests the challenger is entitled to modify and develop their yacht prior to providing a registry certificate to the defender as well as after submitting the certificate provided that at the time of the match the challenging yacht conforms to GGYC's original Notice of Challenge.
GGYC Statement:
"We're pleased to publicly confirm that the BOR 90 -- which will continue to undergo modifications -- is the boat that will compete for the 33rd America's Cup in 2010." Read more
SNG/Alinghi Statement:
"We are pleased that after almost two years of withholding the information, counsel for the GGYC disclosed in Court today that the boat BMW Oracle has been sailing for almost a year is USA, their America's Cup challenging vessel. USA must match the dimensions listed in GGYC's Certificate of Challenge. While the judge reserved her ruling on when the GGYC must issue the Custom's House Registry, we are confident that the Court will uphold the Deed of Gift." Read more

---
Louis Vuitton Regattas Looking More Likely
From the NZ Herald: "As the America's Cup descends slowly into yet more court action, so the prospect of a Louis Vuitton world yachting series gathers pace -- and there could yet be a regatta in Europe later this year, followed by several more in 2010, including one in Auckland."
---
Alinghi Picks United Arab Emirates Location for America's Cup Defense
Ras al-Khaimah on the south end of the Persian Gulf is the location that the defender Alinghi has announced as the venue for the America's Cup match next February, with Fred Meyer, SNG Vice-Commodore, citing "...perfect weather and great sailing conditions for a match in February."
Sharp-eyed geographers will note that the UAE is located in the northern hemisphere, and that holding a match there in February is in apparent contradiction of the America's Cup 1887 Deed of Gift, which governs all matches. Defender Alinghi believes that an order of the New York State Supreme Court allows them to pick such a location, while challenger Golden Gate YC/BMW Oracle has previously stated that they believe the Deed requires a southern hemisphere venue unless the parties mutually agree otherwise. Likely the NY Supreme Court will be asked to clarify the issue.
See renderings and more at Alinghi team site and Ras al-Khaimah selection facts
Also:
Read AP story and Wall Street Journal
Golden Gate YC has issued a brief statement in response to this news: "Golden Gate Yacht Club believes Société Nautique de Genève's choice of this venue, without our mutual consent, is contrary to the Deed of Gift and the decisions and orders of the New York courts. We are reviewing our options."

---
Alinghi Parades Catamaran on National Holiday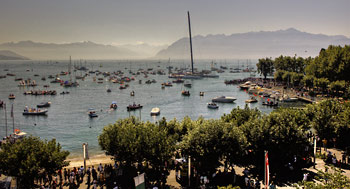 Alinghi led a Lake Geneva boat parade with their new giant catamaran on the Swiss national holiday.
click image to enlarge and see gallery
Photo:©2009 Bruno Cocozza/Alinghi
---
Court Rules Alinghi May Change Rules Surrounding the Defense -- Hearing To Determine "As Soon As Possible"
The New York Supreme Court has issued an order July 30 finding that there is no basis in the Deed of Gift to prevent the defender from re-writing the rules governing the upcoming Defense of the America's Cup after receiving a valid challenge.
A hearing will be held August 10 to allow both sides to extensively argue competing interpretations of the "as soon as possible" requirement for the challenger to provide a Custom House Registry of their challenging yacht.
Read the Court Order (pdf)

Statement from Fred Meyer, Société Nautique de Genève (SNG) Vice-Commodore:
"We are very pleased with today's ruling by Justice Kornreich. This decision reflects her clear understanding of the Defender's rights under the Deed of Gift, which makes it the duty of SNG to set the rules for the upcoming 33rd America's Cup.
"The judge's order also validates the agreement entered into by SNG with the International Sailing Federation (ISAF), demonstrating that SNG is committed to returning the competition to the water where it belongs.
"We look forward to the 10 August hearing and to receiving the Golden Gate Yacht Club's Custom House Registry, which will enable Alinghi to properly prepare for its defense."
Golden Gate YC Statement:
"We are very pleased that today's Court decision gives us clarity regarding the design rules that will govern AC33. It is now crystal clear that racing rules 49 through 54 will not apply.
"However, without racing rules 49-54, SNG is breaking with the longstanding history and tradition in yacht racing that prohibited the use of non-manual power. For the first time in the Cup's history, engines will be permitted to trim the sails, and computers can be used to control and steer the yachts. This, we believe, is a sad day for the America's Cup.
"While we are pleased with the design-rule certainty, we are disappointed that the Court has said that SNG can change the other racing rules at any time up to the start of the Match. We do not believe this is what the Deed says, nor what the donors intended, and are currently reviewing our options in this regard.
"We are pleased that Justice Kornreich has ordered SNG to provide us the secret agreement SNG entered into with ISAF. We look forward to the hearing on August 10 to clear the air on the CHR matter.
"We are confident we can demonstrate to the Court when it 'would be practicable for [GGYC] to provide a CHR.'"
Read Golden Gate YC Response (pdf)

---
Court Hearing Takes Place: Effect on Competition Still Being Determined
Alinghi: "It's good that Justice Kornreich denied the Golden Gate Yacht Club's (GGYC) request to hold the America's Cup defending yacht club, Société Nautique de Genève (SNG), in contempt of court..."
Golden Gate YC: "The Court reserved her decision whether an engine and moveable ballast can be used. Justice Kornreich understood that we need to know the rules before we can complete our challenging vessel and then submit our Custom House Registry (CHR)."
Read Statements from Alinghi and Golden Gate YC

Justice Kornreich did yet not issue a ruling, but directed the parties to resume mediation attempts. Where the advantages were gained today is hard to determine conclusively, but Alinghi so far avoided consequences for their secret rules changes while BMW Oracle appears not to face any arbitrary deadlines for submitting their yacht's registration certificate. Kornreich is likely to review matters and issue further instruction within the next 14 days.
Analysis from Cory E. Friedman:
"SNG essentially has been maintaining that it has the right to change the America's Cup Match rules however and whenever it chooses and either drop ISAF Racing Rules of Sailing (RRS) numbers 49 through 54 (including stored power and movable ballast) or enforce them as it decided. SNG also maintained that it could decide measurement rules and procedures as it chose. Thus GGYC's design team perpetually would be off balance."
Read more at Scuttlebutt News
More stories:
Judge to Consider Rules: AP Story
Butterworth Welcomes Decision: NZ Herald
---
Contempt of Court Charges Launched
"Collusive Secrecy" Alleged Between Defender and ISAF
Golden Gate YC has sought the help of the New York State Supreme Court in regard to issues surrounding the new yacht unveiled by Alinghi, representing SNG, which the defending Swiss club is likely to use in the America's Cup match expected for next February.
GGYC contends in their statement that Alinghi's boat incorporates power assistance that apparently violates the International Sailing Federation (ISAF) rules that GGYC themselves has had to follow, and that Alinghi has in secret made provisions to improperly modify ISAF rules that should normally apply in this strict Deed of Gift America's Cup match.
Further, the challenger alleges that SNG has made large monetary payments to ISAF while making secret agreements, violating sporting principles and compromising the defender's role proscribed in the Deed of Gift. A hearing on the Contempt of Court filing is scheduled for July 21.
Read GGYC Statement (pdf)
Documents (pdf) filed in NY State Supreme Court:
Order to Show Cause - Memo of Law
Affidavits of: Tom Ehman and Richard Slater
Alinghi Responds: "It is again a disappointment that the Golden Gate Yacht Club (GGYC) chooses to pursue its litigious strategy instead of fighting for the America's Cup on the water." Read Alinghi statement
See stories at:
Bob Fisher at Guardian.co.uk and
Stuart Alexander in The Independant
Also, useful discussion of power assistance versus yacht racing rules by expert Pete Melvin at Scuttlebutt News

---
Alinghi Launches Cat by Helo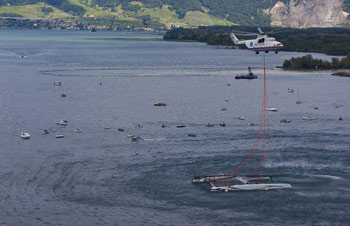 Click image to enlarge. Photo:©2009 Stefano Gattini/Alinghi
Alinghi 5, the defender's new 90-foot catamaran, was launched by helicopter Wednesday afternoon in Switzerland.
Read the Press Release and See Photo Gallery

---
BMW Oracle Shows Renewed Giant Tri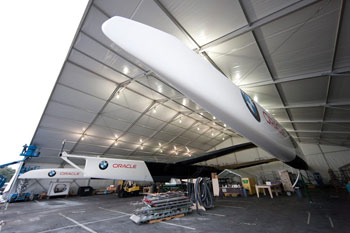 Photo:©2009 Gilles Martin-Raget/BMW Oracle Racing
BMW Oracle's monster trimaran rolls out with modifications in San Diego, July 6. New bow shapes are the most obvious differences, but there are others. Click image above to enlarge and see more photos.

---
Alinghi Shows New Giant Cat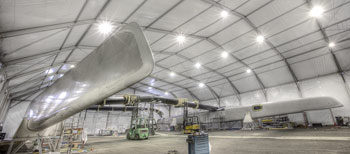 Click image to Enlarge. Photo ©2009 Carlo Borlenghi/Alinghi
Rolf Vrolijk, Chief Designer: For the moment we have pushed the envelope as much as we would like, this boat is really a base for further development and over the coming weeks we will collect as much information as we can and cross check it with the predictions, this will help us assess what level we are at and then to optimize from there. We have several opportunities and possibilities to change the concept but first we need a solid base to do our studies from.
Read the Press Release and View Photo Gallery
Additional Stories:
Dirk Kramers, co-designer: "By the time we get to the event my guess is that the boat will look very different indeed. We haven't ruled out the idea of a 140ft boat either.": Yachting World
Duncan MacLane, who worked on the Stars&Stripes America's Cup defender in 1988 and the Little America's Cup rocketship Cogito, explores optimizing catamaran design trade-offs for the expected racing conditions: Sail-World

---
It's a Cat: Alinghi Nears Launch
Stuart Alexander in The Independent reports a helicopter lift July 8 will launch the giant Swiss multi-hull that Alinghi is expected to use to defend the America's Cup. Photos confirm a catamaran design for the nearly complete race boat.
---
Meetings Afoot to Put Boats Back on Water
Discussions that include ETNZ, BMW Oracle, Alinghi, and ... Bruno Troublé have been taking place recently, according to Stuart Alexander. Also included are representatives of British, French, and Italian teams. The goal? Resurrect racing for would-be America's Cup teams, possibly along the lines of last February's well-received Louis Vuitton Pacific Series.