More America's Cup News:
Dec 31: Emirates Team New Zealand welcomes decision to hold America's Cup in San Francisco. Grant Dalton, ETNZ CEO: "We have a way forward":
Sail-World
Dec 30: America's Cup Decision this year or next? "These decisions about location used to be made for sailing reasons, not for commercial reasons," said John Rousmaniere. "The tail is wagging the dog now" :
New York Times
Dec 25: America's Cup winner John Bertrand may help Australia's new challenger:
Sydney Morning Herald
Dec 23: Building a Bridge? City of San Francisco working on fixing 2013 America's Cup deal. "We've made a half dozen to a dozen amendments in the last 36 to 48 hours to try to further address and clarify why we are seeing the same thing differently," Mayor Gavin Newsom says. "I don't know what more we can do.":
SFGate.com
Dec 22: Competing for a Race: Kimball Livingston interviewed on KQED radio about the 2013 America's Cup's prospects in San Francisco:
Listen at KQED
Dec 21: Australian Shaun Ritson and Spain's Carlos de Beltran appointed to Measurement Committee for 2013 America's Cup, along with American Nick Nicholson as Chief Measurer:
Americascup.com
Dec 20: Continental Divide: Golden Gate YC talks with Rhode Island about hosting details for Newport, more info still needed. San Francisco not out of running for 2013 America's Cup:
SF Gate
Dec 14: Over to You: Kimball Livingston covers San Francisco's signing of the 2013 America's Cup Host City Agreement, with photos (and humor):
Blue Planet Times
Dec 13: Cup Teams in EXSS: ETNZ and Dean Barker join Artemis Racing and Terry Hutchinson in Extremes Sailing Series as multihull work-up for 2013 America's Cup: Extreme Sailing Series
Dec 13: Newport is back in the race. Golden Gate YC is meeting this week with longtime home of the Cup about hosting the 2013 America's Cup defense:
Providence Journal
Dec 10: Four by Four: Aleph Team France is announced as Official Challenger for the 2013 America's Cup:
Press Release
Dec 9: Fifth team officially enters 2013 America's Cup, identity to be revealed at a later date:
americascup.com
Dec 8: The life of Kevin Parry, patron of 1987 Australian Defender Kookaburra, was celebrated by friends and loved ones. Parry died in November at the age of 77:
americascup.com
Dec 8: City of San Francisco Budget and Finance Committee considers action on the 2013 America's Cup Hosting Agreement, in preparation for a coming Board of Supervisors vote. Proceedings will be televised starting 11:00am PT:
City of SF
Update:
Dec 6: Dyer Jones becomes CEO of Herreshoff Marine Museum/America's Cup Hall of Fame:
Easy Bay RI
Dec 6: "Believe me, it was no fun losing it": Dennis Conner interviewed on NZ radio about the 2013 America's Cup and his own place in history :
Listen to Audio at LiveSport
Nov 27: America's Cup 2013: Louis Vuitton to Sponsor Louis Vuitton Cup Once Again!
Nov 26: As expected, former defender Alinghi confirms they have no plans to challenge for the 2013 America's Cup:
BBC Sport
Nov 14: ETNZ's Dean Barker speculates on team's future for 2013 America's Cup:
Story at Sail-World
Nov 12: Louis Vuitton Regatta Marks End of An Era for America's Cup Class Yachts:
LVT Press Release
Nov 13: Valencia's Mayor miffed that Spanish city won't host 2013 America's Cup defense:
The Independent
Nov 9: Another Multihull Expert for ETNZ? Seven time cat-champion Glenn Ashby signs on:
Sail-World
Nov 8: Mascalzone Latino Audi Prepares for Final LV Trophy in Dubai:
Press Release
Nov 7: Iain Percy, late of Team Origin, will sail as tactician for future America's Cup Challenger Artemis Racing at Louis Vuitton Trophy Dubai starting next Nov 14:
Independent
Nov 5: America's Cup Victory Tour heads north to Canada: BMW Oracle Racing in Toronto at Royal Canadian YC:
Press Release
Nov 4: Announcement Coming Friday: RC44 Class will hold a Regatta in San Diego next March 2011:
AP Story at Mercury News
Oct 26: Chairman Richard Worth of America's Cup Event Authority, talks to Richard Gladwell about ACEA's plans for the 2013 America's Cup:
Sail-World
Oct 21: Making a Christmas list? Love books about classic yachts? America's Cup historians Luigi Lang and Jacques Taglang have founded LT Yachting, publishing definitive histories of the 12-Meter Class and Herreshoff schooners in three languages:
LT Yachting.com
Oct 19: Mark Turner says Extreme Sailing Series not a rival to America's Cup events, though he could strike deal to expand Swiss D35 class. Turner also weighing Challenger effort:
Stuart Alexander at the Independent
October 19: Russell Coutts again says America's Cup venue could be announced this month:
Interview at Daily Sail
(Membership required)
Oct 16: Grant Dalton: Official Decision on ETNZ challenge for 2013 will be made early next year:
NZ Herald
Oct 16: Cat Video: Visit to the AC45 catamaran production shop in NZ:
Americascup.com
Oct 15: Dean Barker starts getting hands on with cats, racing Extreme 40s to prepare for ETNZ's America's Cup campaign, and expects to spend summer training. "We have an understanding of what is required now": NZ Herald

Oct 15: More Honors for Spithill: BMW Oracle Racing's James Spithill was named Australian Male Sailor of the Year for 2009-10 at the Australian Yachting Awards, the second time in five years he has received the honor:
Yachting Australia
Oct 13: A Christmas Cat? Work on the AC45 multihulls is progressing nicely in New Zealand:
GGYC Press Release
Oct 12: Foiler: The Cup boat that never was. Britain's Blue Arrow tried to join the party in 1988 when Stars&Stripes, the first multihull in America's Cup history defended against NZL's Big Boat:
Photos of Blue Arrow plus story (in French)
Oct 11: Interview with San Francisco Officials: Detailed explanations of the approval process and associated issues being pursued to get the America's Cup launched on the Bay:
Marin Independent Journal
Oct 7: Kiwis in the Cup: ETNZ adds French Multihull designers to design staff, Dean Barker goes racing cats:
Sail-World
Oct 6: Building of first AC45 catamarans advances in NZ. Hulls, wingsail taking shape. See Richard Gladwell's recent photos at:
Sail-World
Oct 5: San Francisco Board of Supervisors approves term sheet for the city to use in reaching agreement with Golden Gate YC/BMW Oracle to host the America's Cup: SF Gate
Oct 4: Public Hearing in San Francisco details America's Cup Village proposal: Land Use and Economic Development Commission endorses support for hosting the 2013 Defense in San Fran. Replay video from SFGTV.com
Sep 30: Newport asked for proposal to host America's Cup events before the 2013 Defense:
Providence Journal
Sep 29: San Francisco promises to find $270 million in private sponsorship if the city hosts the 2013 America's Cup:
SF Gate
Sep 28: America's Cup boats could be racing in San Francisco next year, all facilities complete by end of 2012 for 2013 Defense, according to schedule proposed by city government:
Press Release
Sep 28: San Francisco America's Cup Organizing Committee named: region's political leaders backing city's quest to host the 2013 Defense:
SF Business Times
Sep 24: Serious Time for San Francisco's America's Cup chances: Hearing next week needed to complete proposal:
SF Examiner
Newport was the place to be:
America's Cup 12-Meter Reunion Regatta Sept 16-19 in Newport, RI and America's Cup Hall of Fame Induction Ceremony September 18
Sep 16: First Photos of New AC45 Multihull: Under Construction in New Zealand:
SailWorld
The year and dates of the 34th Defense, the boats that it will be sailed in, and the rules that govern it will be revealed to the public on September 13 in Valencia:
Read GGYC Press Release
Aug 24: San Fran city officials may have environmental groups onboard in charting a course to bring the America's Cup to SF:
Forbes Blogs
Aug 24: Defending America's Cup in America: Kimball Livingston weighs the challenges to be met in getting an agreement to hold the historic regatta on San Francisco Bay: "This is the place for a transformative America's Cup match":
Blue Planet Times
Aug 18: PJ Montgomery sees the next America's Cup defense held maybe not in San Francisco, but again in Europe:
stuff.co.nz

San Francisco Treat for the America's Cup?
(Dec 31, 9:55 am PT) SFExaminer.com is quoting sources close to the negotiations saying that the City by the Bay will be selected to host the 34th Defense of the America's Cup in 2013.
UPDATE 1 (2:50 pm PT): Copy of Announcement from GGYC Commodore Marcus Young to Members that San Francisco has been chosen to host the 2013 America's Cup!
Also: (2:55 pm PT)
UPDATE 2 Story at SF Chronicle: "San Francisco will host the next America's Cup, heralding a potential renaissance in the sport of sailing and a major boon to the local economy, sources told The Chronicle"
Read More at SF Gate
UPDATE 3 3:45 pm PT: America's Cup Event Authority spokesperson Stephanie Martin now quoted in the SF Chronicle: "No decision has been made," Martin said. "And no city has been ruled out."
Meanwhile, the Associated Press reports that the selection is official, and KCBS radio says at 5:05 pm that an announcement will be made within an hour.

---
Newport and San Fran Still Talking with Defender - Deadline in Question
Dec 29: Rhode Island officials say that they won't be able to reach a commitment to host the America's Cup with the defender in time to meet the December 31st date stipulated in the America's Cup Protocol for the defender's decision, raising the question of whether Golden Gate YC and Club Nautico di Roma will amend the date. The Newport effort is expected to take until early to mid-January to complete financial studies.
Meanwhile, San Francisco is said to be working on fine-tuning the details of their bid in league with race organizers, including not just Stephen Barclay, Lead Negotiator/Chief Operating Officer for BMW Oracle, but also Russell Coutts, CEO of BMW Oracle Racing, who is central to the decision-making process.
Read Stories:
Examiner.com: San Francisco Hosting Bid Gains Momentum
SFGate: Rhode Island Not Ready to Commit
(Story no longer online)
---
Oracle's Barclay Updates Status of Venue Negotiations
Dec 24: Talking with Sail-World, Stephen Barclay, COO of BMW Oracle Racing and their lead negotiator for the host venue, explained the status of the various efforts to reach agreements in San Francisco, Newport, and a third city in Italy. GGYC still expects to make a decision by December 31, as currently required by the Protocol.
Regarding San Francisco: "We all know that San Francisco Bay is a fantastic amphitheatre for sailing, so we can put a tick in that box."
Newport: "We would like them to get to a binding Letter of Intent."
Italy: "It would be fantastic to have an America's Cup in a country which is as enthusiastic about the America's Cup as New Zealand is."
Read more from Richard Gladwell at Sail-World

---
BMW Retires from the America's Cup
Dec 23: Press Release: At the end of the year BMW will bring to a close its longstanding partnership with Oracle Racing and thereby end its involvement in the America's Cup. This is by mutual agreement of both partners. Both parties set ambitious goals and achieved the ultimate objective: winning the America's Cup.
BMW has partnered BMW Oracle Racing since 2002. Technology and skills have transferred freely between the automaker and sailing team, most notably in the fields of structural engineering and high-modulus composite construction. The result was celebrated in the February when the yacht USA 17, the fastest yacht in the history of the America's Cup, won the 33rd Match with a resounding 2:0 victory off Valencia, Spain.
"On the design and engineering front, BMW engineers set new benchmarks in terms of intelligent lightweight design," said Ralf Hussmann, General Manager BMW Sports Marketing and Brand Cooperation. "In winning the 33rd America's Cup, we achieved all of our ambitious goals. We will continue to be involved in the sport on a national level."
"The America's Cup combines a technological challenge with a sporting one and success is measured by the result on the race course," added Russell Coutts CEO of BMW Oracle Racing. "In that sense, both the team and BMW are proud that our collaboration resulted in victory."

---
Australia Challenges for the America's Cup
Dec 22: A group led by Ludde Ingvall has submitted their Notice of Challenge for the 2013 America's Cup, making a total of six teams entered to date, with more expected shortly. Associated with the YuuZoo Big Boat Racing Team that Ingvall has skippered, the Aussie team is excited by the possibilities of promoting national sailing efforts, and possibly bringing America's Cup racing back to the Land of Oz. Project manager Dario Valenza: "Bringing an event to Australia would rival Oprah's visit in tourism value as well as boosting Australia's marine industry."
The Australians were a mainstay of the America's Cup from the 1960s through the 1990s, but the Young Australia 1999/2000 campaign, which helped launch Cup-winner Jimmy Spithill's career, was the most recent challenger from down under. Mobile media company YuuZoo Corporation appears to be the main sponsor, though the official name of the challenge and the yacht club they represent are still forthcoming.
Also, see story at The Australian: "Excellence in youth sailing is my objective," Ingvall said. "We want to bring home the many talented Australians sailing for other countries and give them the chance to compete for their country. We want to create a legacy for the next generation, something to aspire to, a reason for any Australian youngster to get out there and take part in our wonderful sport of sailing at all levels."

---
Tug of War Over America's Cup Venue
Dec 22: America's Cup supporters, including America's Cup and Volvo Ocean Race skipper Ken Read, staged a rally in Newport to show their enthusiasm for hosting another Defense. Story: "Rally to Bring America's Cup Back to RI" at WPRI -- Though some Rhode Islanders raise questions of cost, too: Providence Journal
Also, Stuart Streuli talked with Brad Read following the rally, exploring what it is Rhode Island believes the Defender likes so much about the Newport scenario: Read Interview with Brad Read
And Sail-World finds Tom Ehman of BMW Oracle at the Rhode Island Economic Development Commission, saying that their bid is a "top option" and dangling the prospect of staging America's Cup matches every two years.
Meanwhile, San Francisco is trying to see what changes could help satisfy the Defender's objections on sites and expenses. "We've been working aggressively behind the scenes to address those concerns," says Mayor Gavin Newsom of San Francisco in the SF Examiner. "I've been on the phone steadily for the past five days," Newsom told SFGAte. Stories: "Officials Work to Keep America's Cup Bid Alive" at SF Examiner and "Newsom Scrambles to Land America's Cup" at SFGate.com

---
Argo Challenge's 2013 Campaign
Dec 20: Argo Challenge, who emerged at the end of the 2007 America's Cup with a team featuring disabled sailors intent on competing in the America's Cup, has re-affirmed their goals, and led by Lars Grael, skipper, and Antonia Spinelli, is exploring a new multihull challenge for 2013. The team has raced in the Rolex Maxi Challenge and trained aboard the 12-meter "French Kiss" 12 F-7.
Read Argo Challenge Press Release
See Argo video at YouTube | Team Site

---
Golden Gate to Work on Formal Agreement with Rhode Island to Host Cup
Dec 20: Representatives of America's Cup defender Golden Gate YC will present a letter expressing their interest in negotiating a formal agreement for hosting the 2013 America's Cup match there. On Monday afternoon, Tom Ehman will speak with the state's Economic Development Corporation, making a public statement of their desire to work on the agreement, and answering questions. Negotiating an agreement is not a commitment to hold the regatta in Newport, but an exploratory step to see if the formal requirements needed can be met.
Read stories at Providence Journal and Sail-World

---
San Francisco Waits
Dec 18: City officials and Bay-area America's Cup fans cautiously wait and wonder what the future holds, while Golden Gate YC officials evaluate their options. Mayor Gavin Newsom, who spoke with BMW Oracle Racing's Larry Ellison this week, sheds little light on the city's prospects since signing the potential hosting agreement approved earlier this week.
---
Newport Getting Serious Attention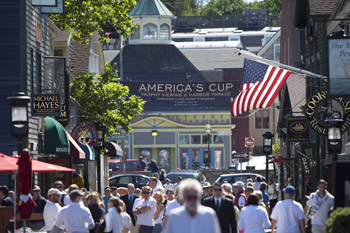 America's Cup Victory Tour in Newport, last summer. Click image for more photos.
Photo: ©2010 Gilles Martin-Raget/BMW Oracle Racing
Dec 15: With a hosting agreement in hand from San Francisco, signed by their Mayor even, Golden Gate YC and America's Cup officials are turning to Newport, Rhode Island, for in-depth exploration of the feasibility of staging the historic yacht race in the east coast location it enjoyed from 1930 to 1983. Stephen Barclay, (GGYC's lead negotiator), Craig Thompson (CEO of the America's Cup Event Authority), and Regatta Director Iain Murray are among the Cup leadership meeting with RI officials, including incoming governor Lincoln Chaffee, who has also been the state's senator, continuing discussions that began earlier in the week with GGYC representatives.
The defender's December 17 deadline for a signed agreement from San Francisco is now met, but it's not clear if GGYC will make a decision much before the 2013 America's Cup Protocol's December 31 requirement, nor what would be required of Newport before that date to provide a reliable formal commitment as an event host. Is Newport to play a contingency role if San Fran encounters obstacles? Is Rhode Island a counter-bidder to leverage in hopes of gaining key deal points on the west coast? Or are they the safe harbor for the 34th America's Cup in its media-blitzing multihull transformation? Answers forthcoming....
(A NZ Herald Story linked to this story is no longer available online)

---
Protocol Amended to Aid Teams
Dec 15: The protocol for the 34th Defense of the America's Cup has been modified to lower some of the financial hurdles for entry, and to provide teams with more time to design and build the new 72-foot multihulls they will need in 2012. The amendments were made based on feedback from entered and potential teams at recent competitor forums.
The entry fee is now $100,000 USD instead of €1 million. The performance bond, designed to ensure an entered team participates and complies with other rules, has been reduced from $1.5 million USD to $200,000 and $800,000 at various deadlines.
The deadline the team's face for building their first AC72 yacht is extended from December 31, 2011, to April 1, 2012. The restriction preventing teams from sharing design data has been pushed back by two months, to June 1, 2012.
Read text of the amendments (8 pages, pdf) This is the third amendment to the 2013 America's Cup Protocol. In late September, the first amendment changed the date for release of the AC72 Class Rule, and the at the end of October the second amendment modified terms related to the boats.

---
San Francisco Votes Yes on America's Cup Agreement
Dec 14: The city's Board of Supervisors voted 11-0 Tuesday afternoon in support of hosting the 2013 America's Cup defense. This is not the final step in bringing the Cup to San Francisco, because race organizers have objected to some modifications that the city made to the agreement along the way.
Board approval of the resolution authorizes the city to work with the America's Cup representatives to reach common ground, provided any further amendments protect at least equivalent financial terms for the city. All sides will have to move fast if this process is to be successful. Under pressure to secure a venue for the 2013 defense, Golden Gate YC and BMW Oracle Racing have said that an agreement needs to be signed by Friday, December 17.

---
Power Points for Next Cup
Dec 14: Jimmy Spithill, BMW Oracle Skipper, addressing the World Yacht Racing Forum about the defender's plans for the 2013 America's Cup:
"What I'm excited about for the next America's Cup is going to be match racing multihulls. Earlier this year we carried out an intensive four days of testing and trialing in Valencia. In some of the exercises, we deliberately put our Extreme 40 catamarans into really constrained spaces, such as a start box that was only six boat lengths wide and six boat lengths deep, or course boundaries that forced the boats to tack or jibe in quick succession.
"The racing was awesome, it brought you the close quarters racing you get in monohull racing, yet brought the excitement and lead changing from the high-speed multihulls. Will the racing be different from monohull match racing? Of course it will be!
"And what I am looking forward to most is the downwind legs. This is because in a multihull you can pass so much more easily than a monohull. And great racing needs passing and lead changes.
"In monohull match racing and past America's Cups, if you win the start or lead around the top mark there is only a 10-percent chance of the trailing boat passing. Does that sound like good close racing to you?"
Read more from Jimmy Spithill at BMW Oracle
or See video of the presentation at Faravela.net

---
Australian Team for the 2013 America's Cup?
Dec 13: Sydney-to-Hobart winner Ludde Ingvall is exploring the possibility of the first Aussie challenger since Young Australia in 2000.
---
San Francisco May Vote Tuesday on Hosting 2013 America's Cup
Dec 13: Revised financial studies led the city's budget committee Monday afternoon to approve sending the Hosting Agreement for the 2013 America's Cup Match to the full San Francisco Board of Supervisors for a vote. Still unclear in the wake of comments made by defense organizers is whether the agreement, as modified by San Francisco, will reach a form acceptable to Golden Gate YC before Friday's deadline. The meeting starts at 2:00 pm PT.

---
America's Cup Clock Running Out for SF
Dec 12: With Golden Gate YC and BMW Oracle Racing committed to potential teams that they will decide the location of the 2013 America's Cup before December 31, the defender has told the City of San Francisco that a signed agreement is need by Friday if the city is to host the match for yacht racing's most historic trophy. Potential challengers have already been frustrated by trying to secure funding with the key element of the location of the defense and the accompanying Louis Vuitton Cup still up in the air.
A hearing Monday 1:00 pm PT in the Budget and Finance Committee (continued from last week) will precede a potential Tuesday vote by the city's Board of Supervisors. Complicating factors have been a late switch in locations, which though considered a real improvement in many respects, still requires supporting financial studies in order for officials to make their evaluations.
Pessimists believe that GGYC and BMWO and Larry Ellison are not excited by the northern location even if it is approved. In addition to the Italian bid that the defender has said is an alternative to San Francisco, rumblings are also being heard the Newport might be a contender again. Conspiracy theorists mistaking Nob Hill for a grassy knoll think that the defender intended Italy from the beginning knowing that SF could never get a feasible deal through their political and bureaucratic process.
More realistically, and of greater alarm, Stephen Barclay, COO of BMW Oracle and their lead negotiator, told Sail-World that a big part of the problem is the changes to the hosting agreement that came along with the new focus on the northern sites. Barclay says that the new deal structure faces rejection from the defender even if the city passes it, since it rewrites important terms that all parties worked on for several months.
Ellison has been speaking in public since winning the Cup about his enthusiasm for defending the trophy on the Bay, if the deal can be worked out, and he certainly could have made much more severe demands if he simply intended to walk away. Barely weeks ago a deal looked to be in hand, a global economic opportunity for San Francisco of the kind most cities never see a chance at, and an ideal and well-timed venue for a famous international sporting event. Now, anything can still happen, of course, but the possibilities at this point doesn't seem to be all that good.
Read Stephen Barclay's discussion in story by Richard Gladwell at Sail-World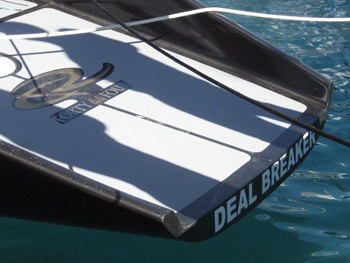 The real pointed end? Russell Coutts' RC44........
Photo:©2010 Cheeko Matsusaka/CupInfo

---
Going Forward
Geordie Shaver, veteran sailor and bowman for Stars&Stripes, talked with CupInfo about the changing crew roles for the new America's Cup boats, and the prospects for yachting's most historic event:
"These are going to be 72 feet, so the bowman is going to have his hands full. And those high speeds create a lot of apparent wind and to be able to get these big roller-furl gennakers up -- you're dealing with roller furlers at the front of the boat -- it's going to be a handful for these guys to do in any kind of seaway and at that pace. "
Read more with Geordie Shaver at CupInfo

---
RC44 Oracle Cup Underway in Miami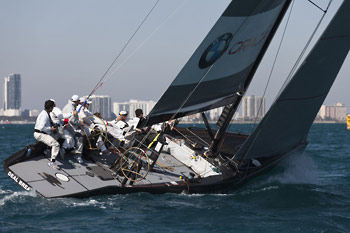 Photo:©2010 Gilles Martin-Raget/BMW Oracle Racing
Click image to enlarge.
Dec 6: The North American premier of this one-design series features a long list of America's Cup sailors, owners, and teams. Fourteen boats will be competing in match race and fleet race series, a record number of entries for the RC44 Class conceived by BMW Oracle's Russell Coutts.
Light Winds Stall Racing on Day 2, Match Race Final Thursday: Read Press Release
Challenging conditions for Match Racing on Day 1: Read Press Release

---
Challenge from Canada?
Dec 1: A group centered on three Canadian yacht clubs is exploring a possible challenge for the 2013 America's Cup. Dubbed "Red Maple Racing" in honor of the Canadian national symbol, backers from Royal Canadian YC, Royal Halifax YS, and Royal Vancouver YC intend to spend the next 60 days evaluating their prospects and laying groundwork for what could be Canada's first try for the Auld Mug since 1987. Paul Henderson, former head of ISAF, is involved, as is investment banker Kevin Reed. The team's initial budget target is in the $30-45 million range, and the potential of a 2012 America's Cup regatta in one or more Canadian cities is a significant lure for the team.
---
20 Potential Challengers Meet in Dubai
Nov 25: Representatives of 20 possible 2013 America's Cup teams met Wednesday, taking advantage of a layday during the Louis Vuitton Trophy Dubai. This is the such second meeting held by the America's Cup organizers, intended to foster the efforts of formative teams in establishing funding and recruiting staff and sailors. Much hinges on Golden Gate YC's upcoming decision of where they will defend the America's Cup in 2013, which is due before December 31. Details of the America's Cup World Series and up to five other regattas planned for next year will be set by the end of January.
Read Stuart Alexander's story at The Independent

---
Keeping Options Open in SF
Alternate SF Site Could Still Be Selected
Nov 15: In an article at The Bay Citizen, BMW Oracle and city sources clarified an earlier report that the city of San Francisco had proposed moving the location of the America's Cup facilities from the position currently described in the pending Host City Agreement (see illustrations at right).
A story earlier this month suggested that the World Champion San Francisco Giants baseball team, whose stadium is located adjacent to the pier featured in concept plans, had just recently requested relocating the Cup village, which GGYC quickly ruled out. The article at Bay Citizen reports that a key factor in GGYC balking at the switch is simply because completed feasibility, legal, and legislative work on the pending agreement has been centered on the Pier 30-32-50 sites south of the Bay Bridge, and time pressures require action shortly by both sides on the host city decision.
However, Stephen Barclay, BMW Oracle Racing COO, expressed enthusiasm for the alternate proposal which would move the America's Cup village between the Ferry Building and Fisherman's Wharf, but the essential need of the challengers to have the venue choice finalized means that proceeding with the southern site for agreement purposes is necessary. With a venue decision in hand, though, Barclay suggests that feasibility and entitlements could proceed on both the northern and southern options in parallel.
The northern site, on Piers 19-29, is not only in a prime tourist location, but it would also be much closer to the race areas, a benefit for the sailors and spectators alike.
---
Murray Sheds Light on AC45
Nov 14: With the launch of the first of the new 45-foot multihulls coming before the end of the year in New Zealand, where else to go but visit Auckland's Portside restaurant to check on the situation? (And to check on the whereabouts of their Speights Gold Medal we can only hope)
The man in charge of the sailing side of the next America's Cup, Iain Murray, Director of ACRM (America's Cup Race Management), talked with Richard Gladwell recently about AC45 start-up progress, the many practical issues that need to be solved to pull off 2011 regattas with the boats, and the "S-Word" rarely spoken by Cup teams, but occasionally practiced: Spying.
Iain Murray: "In the first year there is going to be a lot of learning how to sail and dealing with wings, and rotation and twist angles. They are all one-design. How much spy stuff will go one? There is probably not a lot to spy on. There is nothing from stopping the teams from trialing new wings or foils, but they will have to race in ACWS events in their one-design mode. The development work will take place away from those spying eyes, I guess."
Read Richard Gladwell's article at Sail-World

---
San Francisco's Hosting Chances Near Moment of Truth
Nov 9: San Francisco has finished negotiating a potential agreement with Golden Gate YC that could be the basis for holding the historic regatta on the scenic (and usually windy) bay. Built around the points of the "term sheet" which the city approved on October 5, the hosting agreement affirms the duties and responsibilities of both parties, but by itself is not the commitment to hold the America's Cup Match in SF. Approval of the agreement by the city's Board of Supervisors is the immediate next step before GGYC and BMW Oracle Racing determine where they will defend the America's Cup.
The Associated Press quotes Tom Ehman, spokesman for GGYC and BMW Oracle, saying that the terms of a counter-offer from an Italian candidate city will be considered before making the final decision, and adding that Valencia is no longer under consideration for the 34th Defense.
Read Stories:
AP story by Bernie Wilson
and Article at SF Gate
The text of the agreement provisionally shows the America's Cup Match in September, 2013, preceded by Rounds Robin and eliminations for Challenger Selection in July and August. In practice, though, the Protocol quite rightly leaves it up to the Challengers to determine important aspects of their selection series, so at this stage the exact dates and formats are only placeholders.
That said, races are assumed to be as short as 45 minutes in the early rounds, and one hour for the Challenger/Defender selection final and the America's Cup match itself. The document also dangles the possibility that BMW Oracle Racing will bring the giant Cup-winning multihull USA 17 to the Bay for exhibition purposes. Some notable initiatives revealed in the text are extensive community and youth outreach programs, plus stringent environmental sustainability goals.
Download the Host City Agreement (50 pages, pdf)

---
Artemis Announces America's Cup Challenge
Nov 8: The Royal Swedish YC, represented by Artemis Racing, was the first new team to submit their notice of Challenge for the 2013 America's Cup. Paul Cayard, Artemis CEO, announced that the team has hired designer Juan Kouyoumdjian and boatbuilder Killian Bushe, plus Cup guru Tom Schnackenberg. Terry Hutchinson will be the lead helmsman along with a posse of experienced America's Cup vets.
Artemis will be test sailing on the new AC45 multihull in New Zealand after the start of 2011, and will also campaign Extreme 40s next year to help build experience. The team plans to launch their first AC72 January 1, 2012, with a second boat to follow. Teasing hints about San Francisco appeared throughout the presentation, which included comments from ACEA Head Richard Worth, who attended in person along with Russell Coutts.
Read Artemis Press Release
and Brief Recap at Americascup.com plus more comments from sailors at ESPN.com

---
RC44 Class To Hold San Diego Cup
Teams Race on West Coast in March 2011 following December's Regatta in Miami
From the RC44 Class, Nov 5: The RC 44 fleet will stay in the United States over the winter, with some teams competing in Key West Race Week in January before heading to the West Coast for the RC 44 San Diego Cup (March 2-6). Commenting about this event, Russell Coutts, who won the America's Cup in San Diego for the first time in 1995, before winning the event three more times in 2000, 2003 and 2010, said: "I really enjoy racing in San Diego and I am looking forward to a great regatta."
---
Halsey Herreshoff Sets Retirement from Herreshoff Museum Presidency
Press Release, Nov 3: One of America's outstanding sailors, Halsey Herreshoff is the grandson of the legendary Wizard of Bristol, Nathanael Greene Herreshoff, and is himself a naval architect and marine engineer. Along with the late Edward duMoulin, he founded the Americas Cup Hall of Fame in 1992, an additional attraction at the Herreshoff Marine Museum. Through his sailing prowess and the Hall of Fame, Halsey Herreshoff has made friends around the globe, adding considerably to the prestige of Bristol. Halsey is perhaps best known for his career as an Americas Cup sailor, having served on many cup defenders of the 12 Meter Era, first as bowman on Columbia in 1958 and concluding as navigator on Liberty in 1983.
Read Herreshoff Marine Museum/America's Cup Hall of Fame Press Release

---
Going Up: Solo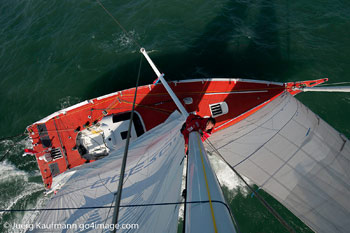 Photo: ©2010 Juerg Kaufmann/go4image.com
Zbigniew 'Gutek' Gutkowski is in second place in the multi-stage round-the-world Velux 5 Oceans, battling Brad van Liew for the lead at last report, after climbing the mast in 4-6m waves and then injuring himself when his head ended up in the path of the wind-generator propeller. Click image to enlarge or see 3D.

---
Dalton Explains ETNZ Outlook
Nov 1: Michelle Slade interviewed Grant Dalton, CEO Emirates Team New Zealand, on his current assessment of the upcoming America's Cup and what it means for his team and the sport.
Question: Is there one venue over another that is easier for you?
Grant Dalton: "Better, easier, nicer, more preferred in every other way is San Francisco -- we'd far prefer San Francisco. It makes no sense to me that an American defender would even contemplate taking the Cup to Europe. It doesn't make any sense."
Question: Is 2013 an aggressive date for AC34?
Dalton: "No, a team that can't get itself together will say it's aggressive, not possible and it should change. The world has had enough of the mess of the America's Cup and I think correctly BOR has identified an aggressive date -- a lot of teams will cry that they can't be ready for 2013 -- for sure they will. But the fact is that they couldn't be ready in 2020 because they could never raise the money."
Read the full interview at Marin Independent

---
America's Cup International Jury Appointed
Oct 29: Bryan Willis (GBR), Graham McKenzie (NZL), John Doerr (GBR), and Josje Hofland (NED) have been named to the Jury Panel that will administer rules disputes for the 2013 America's Cup, along with David Tillett (AUS) serving as Chairman. The five were selected by the International Sailing Federation in consultation with America's Cup Race Management.
Cup fans with photographic memories may remember that this same group of men served as the Jury for the 33rd Defense of the America's Cup. All have Jury experience from earlier Defenses as well.
ACRM comment: "This Jury represents depth of experience and a track record for a fair interpretation of the rules," said Regatta Director Iain Murray. "We thank ISAF for their support in appointing this world-class Jury that will independently arbitrate the 34th America's Cup."
ISAF comment: "ISAF is pleased to appoint the independent body to provide a fair arbitration process for the 34th America's Cup", said David Kellett, ISAF Treasurer and Executive Board member responsible for the America's Cup.
Read more about the Jury Members at ISAF site

---
Louis Vuitton Trophy Dubai Nears
Oct 28: Racing begins November 14th in Dubai, with six teams racing over two-weeks of the final Louis Vuitton Trophy Regatta. All4One, Artemis, BMW Oracle, Emirates Team New Zealand, Mascalzone Latino, and Russian Synergy will compete rotating among four America's Cup Class yachts, and an Louis Vuitton Junior Trophy program will provide opportunities to 40 younger sailors.
---
Peyrons to Challenge
Oct 26: According to a report at The Daily Sail, Loïck and Bruno Peyron, French multihull experts, are launching their own challenge effort for the 2013 America's Cup. Though the campaign will initially seek its own sponsorship, TDS says that they are considering the possibility of teaming in the future with Aleph or All4One. Loïck Peyron: "One hears that the America's Cup is a business of specialists...that is good news! From Formula 18 to the Route du Rhum to the Jules Verne Trophy, the French are the specialists in multihulls, so let's go... together!"
Read more at The Daily Sail
Also: "Les Peyron visent l'Amérique":
Story at sport.fr (in French)

---
Competitors Meeting in Paris
Oct 22: Representatives of 24 teams from 13 countries met with America's Cup Event Authority (ACEA) and America's Cup Race Management (ACRM) officials in Paris Friday for a briefing on the arrangements for the 2013 America's Cup, and discussion of future plans. The gathering is aimed at providing information and supporting the efforts of Challenger hopefuls to secure sponsorship, recruit appropriate talent, and shape their campaigns.
The Challenge acceptance period opens in less than two week on November 1 and runs until March 31, 2011.
Iain Murray, Regatta Director, explains the substance of the first Challenger meeting: "It was the start of the Event. I think they got more than they were expecting and they were appreciative of our candor and being up front, and our desire to tell them what we know", he told Sail-World.
"Essentially they were briefed with everything that we know. Where we were with the AC45's; the delivery dates for those boats; the costings; how it is all going to work; and how we are going to sea trial those boats."
According to Murray, the first AC45 is expected to be launched before Christmas and sailing by January 1. The plan is to deliver the next four AC45's simultaneously by March 1, 2011, with the first regatta as early as June in a city to be announced.
Read story by Richard Gladwell at Sail-World
Murray told Stuart Alexander at The Independent that America's Cup organizers hope to announce the location of the 2013 defense within 30 days, somewhat ahead of the December 31 protocol deadline, and adds that another competitors meeting is set to take place next month in Dubai during the Louis Vuitton Trophy.

---
Louis Vuitton to Return?
Oct 21: In an interview on French website Voiles et Voiliers, Bruno Troublé says that relations with BMW Oracle are excellent, and a decision on Louis Vuitton's continued involvement with the America's Cup may come in January. Notably, Troublé stresses that LV, who has supported the challenger series since 1983, seeks a more integral role than simply a paying sponsor, and would like to be involved in an organizational capacity.
Read story at Voiles et Voilers (in French)

---
RC44 World Championships
Match Racing and Fleet Racing at RC44 World Championships October 11-15 at Lanzarote, Canary Islands, featuring many America's Cup sailors:
Deductible:
Artemis tagged by BMW Oracle's bow: Video at YouTube
Overall Results: Spithill and the crew of "17" win RC44 World Championship
Match Racing Results: Spithill wins, Hutchinson takes Silver, Coutts gets Bronze
---
Official Version of AC72 Design Rule Issued
After two drafts, the Official Class Rule for the new AC72 catamarans has been released. Designers Morelli & Melvin incorporated the feedback from more than 500 comments received from the America's Cup community. With technology that includes two wingsail sizes to adapt to a wider range of wind conditions, multiple onboard cameramen, and a target top speed of 32 knots (about 37 miles per hour/60 kilometers per hour), the multihulls for the 2013 America's Cup intend to capture fan interest.
Read GGYC Press Release and
Download AC72 Class Rule (pdf)
Also: From September, the draft of the AC72 Class Rule which was the basis for Feedback:
Read GGYC Press Release and
Download Draft 1.0 Rule (pdf)
---
Chairman and CEO Named to
America's Cup Event Authority
Oct 8: Richard Worth has been appointed Chairman of the new America's Cup Event Authority (ACEA), and Craig Thompson has been named Chief Executive Officer. ACEA will run the commercial and media aspects of the America's Cup, including television.
Worth's background is in sports marketing and broadcasting, particularly in the U.K., and he recently worked on European rights for International Olympic Committee (IOC). Thompson, who as a student played volleyball for the University of California at Los Angeles, has extensive experience with marketing, sponsorship, and media efforts across a broad range of sports, including consulting to the IOC and FIFA. Both Worth and Thomson played central roles in creating the Union of European Football Associations (UEFA) Champions League.
---
America's Cup Race Management Appoints Two Directors
Oct 7: James Farmer of ETNZ and Mikhail Tuzhov of Synergy Russia Sailing have been named to the board of America's Cup Race Management (ACRM), the new entity that will be the neutral overseer for conducting the 2013 America's Cup. As representatives to ACRM from the World Sailing Team Association (WSTA), Farmer and Tuzov join Iain Murray, CEO of ACRM. Two additional members, one named by Defender Golden Gate YC, and one named by Challenger of Record Club Nautico di Roma, will be added to the board before a competitors meeting planned for October 22 in Paris. The board composition will be subject to change next May depending on the intentions of accepted challengers.
Read ACRM & WSTA Press Releases

---
Revised Version of Cup Yacht Design Rule is Circulated; Final Due Oct 15
Oct 1: After feedback and discussion with interested parties, a modified draft of the proposed AC72 Design Rule for the yachts of the 2013 America's Cup has been released.
Changes in this version include:
400kg lower sailing weight range,
Lower maximum carbon strength,
Seven HD cameras onboard,
Microphones for all crew plus observer,
Environmental 5.1 surround sound,
Canting the wingsail is not allowed,
Hiking straps and some similar aids for crew are allowed within limitations
Download AC72 Design Rule Draft 2.0 (pdf) and
Compare with Draft 1.0 (pdf)

---
Coutts Says Venue Decision May Be Soon
Oct 4: At the Leukemia Cup regatta held Oct 2-3 in SF, Russell Coutts encouraged the hopes of Bay area sailors for hosting the America's Cup, and suggested that a decision could be made this month. Coutts was the featured speaker at the SF event, which in recent years has been number one in total funds raised among all the Leukemia and Lymphoma Society regattas across the country.
From Kimball Livingston: The Leukemia Cup Regatta, Coutts said, "is about combining the sport we love with support for people we love." He also had a word for the doomsayers who declare the America's Cup dead, its future in fast catamarans devoid of all the features of proper match racing. Those are, in his words, "mainly people who haven't gone out and experienced match racing in fast multihulls, which we have done extensively." The catamaran choice depended upon that experience.
Read more at Blue Planet Times

---
Team Germany Won't Challenge
United Internet Team Germany announced that they would not be a challenger for the 2013 America's Cup. UITG was a 2007 Challenger candidate eliminated in the Rounds Robin, placing 10th of 11 teams, winning 2 races (both against China) and losing 18. See 2007 LVC Results
UITG Press Release: Based on the new format for the 34th America's Cup, which was recently announced by BMW Oracle, the United Internet Team Germany refrains from participating in the competition for the world's oldest sports trophy. Since 2007, the German team has been waiting to sail for the America's Cup again.
"With regards to the new rules that have been established by BMW Oracle, the United Internet Team Germany will not be able to register for the 34th America's Cup," said head of syndicate of United Internet Team Germany, Michael Scheeren.

---
Team Origin Bails Out
Oct 1: After three years of promising talk, and the signing of sponsors including Jaguar, Britain's Team Origin has shrugged off actually entering the America's Cup for 2013. Saying that they were bitterly disappointed not to be competing, Sir Keith Mills, Team Origin's backer, cited that the format and multihull yachts do not suite Team Origin's commercial requirements. It's also likely that the competition with the 2012 London Olympics for resources including time and money (especially British sponsors' money) complicated Origin's task.
Origin Sailors "Stunned":
Read more at Sport Telegraph
Also: Read story by Stuart Alexander at The Independent
Oct 2: "I built the team around Ben, Iain, and Andrew, I think they are three outstanding sailors. Ben will, I'm sure, one day win the America's Cup": Matthew Sheahan's extended interview with Sir Keith Mills at Yachting World

---
New Class Rule Now Coming October 15
Sep 30: America's Cup Race Management has called for a second draft of the AC72 Class Rule to be issued with time for feedback from interested parties. The Class Rule, originally scheduled for release September 30th, will allow time for comment on the second draft beginning October 6th, with the finalization date now expected to be October 15th.
Technicalities Department: Moving the date for the Class Rule required an amendment to the new Protocol for the 2013 America's Cup, which has been executed.


---
Stopped: Louis Vuitton Trophy Hong Kong
After the upcoming regatta in Dubai, UAE, team activities will switch to America's Cup preparations: Read Louis Vuitton Trophy Press Release

---
State Help to Help Launch America's Cup in California
Aug 30: A resolution supporting the America's Cup was approved unanimously in the California Senate last week and now awaits passage by the Assembly when they reconvene today. In addition to declaring support for the world's most famous sailing event, and demonstrating the immediate economic and cultural benefits to the state if America's Cup history is made in San Francisco Bay, the legislation also would help the organizers, sailors, and other team members work with state government to handle bureaucratic issues.
Among other items, SCR 124 "...urges the state to execute the formation of a single face of state government for the purpose of securing state permits for the America's Cup in San Francisco, or other state documents, such as driver's licenses for the international competitors...."
Read full text of the resolution
Update Aug 31: The America's Cup resolution was passed Monday night by the Assembly with a vote of 78-0, making it unanimous in both chambers of the statehouse.

---
New Tack for SF
Aug 27: Sensing the political header they were sailing into, San Francisco city officials have decided now not to seek the exemption from California environmental laws that earlier looked like the key to reaching an agreement with Golden Gate YC and BMW Oracle Racing leaders to hold the America's Cup on the bay.
Instead after working with the major private environmental organizations that are sometimes active in Bay-related issues, particularly when it comes to opposing local projects, the city appears to have consensus support for the current plans for the America's Cup amenities and infrastructure which the Defender is seeking. Without the exemption, though, the EIR process mandated by California state law will have to proceed, which at a minimum will take several months to complete depending on design and technical issues along with other logistics.
The operable question now is whether this more conventional approval scenario meets the needs of Larry Ellison, Russell Coutts, GGYC, and BMW Oracle as well as the Challenger of Record Mascalzone Latino and other potential challengers.
---
Checking In with Russell
Aug 24: PJ Montgomery follows up on rumors, including some he himself helped spread, and talks with Russell Coutts, BMW Oracle Racing CEO, on the status of the effort to stage the next America's Cup in San Francisco and other open decisions for the regatta.
---
Keeping America's Cup in San Francisco May Hinge on State Law
Aug 19: SF officials will need the help of the State of California to make holding the America's Cup in San Francisco Bay a possibility. Construction of the shoreside facilities needed to host the high-tech sailboats and their spectators requires discretionary approvals from the city, and in turn California state law first requires that an Environmental Impact Report (EIR) be prepared which determines that the city's discretionary actions in approving the construction would not be inappropriate.
Such a finding in the EIR, termed a negative declaration of significant effect or "negative dec", is not unlikely since consideration of the project's overall economic effect on the region can outweigh the more incidental environmental factors, and provisions can be made to mitigate many impacts, but completion of the EIR process in time for the necessary planning commitments of the America's Cup is essentially impossible, especially with the required periods for response and comment.
In hope of bringing yacht racing's most historic event to the City by the Bay, SF officials are working to seek an exemption from the normally strict EIR preparation requirements. Such an exemption is exceedingly rare and may be done only as an act of the state legislature, with attendant politics. Environmental groups are concerned that even a few EIR exemptions would create precedents that weaken the law. The question is how government can balance the ability to respond to the unique opportunity of an America's Cup event with being sensibly protective of the environment.
With the legislature only in session for the next two weeks, the degree of difficulty rises yet again.

San Francisco Is Chosen to Host the 2013 America's Cup!
Dec 31 (5:50 pm PT): Golden Gate YC and race organizers reached a deal with city officials late Friday to hold yachting's most famous and historic regatta in San Francisco in 2013.
A formal press conference is expected next week. Communications between GGYC and the City tentatively establish July 13 to September 1 for the Challenger and Defender selection races, and September 7 to 22 for the America's Cup Defense. Firm dates and formats will be determined by the end of January.
Read America's Cup Press Release
Also: See Computer Generated Promo at YouTube
As for Newport's prospects: "Rhode Island has made a super-human effort with very little time and late in the game here," said Thomas Ehman, head of Oracle Racing external affairs and a member of the Golden Gate Yacht Club America's Cup committee. "It's not only very much appreciated, but was an extraordinary effort. … Unfortunately for Rhode Island, we've run out of time and San Francisco's bid has been accepted tonight." Despite not being selected, Newport may head the list to host preliminary regattas.
Read story at Providence Journal

And if difficulties interfere with San Francisco's progress, Newport could get the America's Cup after all: "Should there be any problem with San Francisco fulfilling their end of the deal, we'll be looking to Newport to jump in," America's Cup representatives told the Associated Press. Read AP Story at Forbes.com
---
Defender and Challenger Announce:
"America's Cup Transformed"
The Best Sailors in the Fastest Boats
72-foot catamarans with 131-foot tall wing sail rigs for the next America's Cup in 2013, plus a 45-foot boat for a youth series. New Protocol, new media initiatives, and new competitors. Three lead-up regattas (and possibly more) will take place in 2011, six to seven regattas in 2012, before the Challenger Selection races and the 34th Defense of the America's Cup in 2013.
The location of the next Defense was not named today, but is promised before the end of the year. Of note, the new Protocol holds open the possibility that the Challenger and Defender Selection Series could be sailed in multiple venues.
Changes to the America's Cup for 2013 include:
New, exciting class of boat, the AC72 wingsail catamaran

New annual World Series starting in 2011

New Youth America's Cup from 2012

Transformed media for television broadcast and online

Shorter, action-packed race format

Race delays minimized – new boat and venues with reliable wind

Independent race management and fully empowered International Jury to avoid show-stopping disputes

Effective cost-cutting measures

Branding freedom for teams

One global website for all team and racing content
Read Golden Gate Press Release and
Read 2013 Protocol (41 pages pdf)
| | | | |
| --- | --- | --- | --- |
| AC72 Specs | | Metric | English |
| Length Over All | : | 22.0 m | 72 ft |
| Beam | : | 14.0 m | 46 ft |
| Displacement | : | 7,000 kg | 15,500 lbs |
| Wingsail area | : | 300 sq m | 3,229 sq ft |
At Official website: Watch Press Conference Video
The AC72 will be able to fly a hull in 5 to 6 knots true windspeed. Target boatspeed in winds under 10 kts is 1.2 times the true windspeed (upwind) and 1.6 times true windspeed (downwind). No engines will be used for trimming, but electrical control might be permitted for some wingsail operations. Soft-sail alternatives are possible for certain venues and conditions. Already under construction, the AC45 will be sailed by all teams in 2011, with the AC72s coming online in 2012.
Read more about the new AC72 and AC45 Classes
AC72 Class Rule Unveiled for Feedback:
Read GGYC Press Release | Download Draft Rule (pdf)

---
Shaping the New Cup
Dec 12, 2010: Before an attentive audience at Cal YC in Marina del Ray, Tom Ehman, of BMW Oracle, and multihull designer Pete Melvin, of Morelli & Melvin Design & Engineering, recently explained the thoughts behind some of the radical changes they helped conceive for the 2013 America's Cup. Diane Swintal was there and brings us her report:
Pete Melvin: "The wing is a huge performance element and that's where I think a lot of the gains will be made. Hulls are fairly well understood -- with a monohull, where the hull is very, very critical and a very key part of your design, you'll spend a lot of your resources developing the hull shape. Multihulls are all long and skinny things and whether you make one with a little more 'vee' or a little less rocker, it's not going to change the drag characteristic of the hull that much. So a lot of those resources that you might have put into design engineering will go into the wing or the foils, and less on the hulls."
Read more about Pete Melvin's talk at Cal YC
Tom Ehman: "...We're not taking the Cup to some media-centric era, we're taking the Cup back to the way the Cup was from 1851 until they moved to Newport."
Read more about Tom Ehman's talk at Cal YC

---
New High-Performance America's Cup Yachts
Golden Gate YC has engaged US Sailing and the RORC to author design rules for mono-hull and multi-hull classes that could represent a new "High Performance" yacht to be used in the next America's Cup. GGYC reveals that the mono-hulls will aim for a crew of 13, possibly with unlimited gennaker sail area and canting keels, while the multi-hull design would have a target crew of 11 and possibly a wing mast.
Ian Burns: "These boat concepts are all about similar performance between competing yachts throughout the wind range," said Burns. "Unique configurations are the expensive part of the America's Cup. We don't want a light-air boat taking on a heavy-air boat. The rule should ensure close racing while being able to sail in a wide range of conditions."
Read Concept Papers (pdf):
Mono-Hull Canting Keel Concept Paper and
Multi-Hull Concept Paper
Read Golden Gate YC Press Release
The new boats of either design are intended to be much more physically demanding on sailors, and though a canting keel would use mechanical power, trimming sails would still rely on human effort. GGYC states that the overall size of the new yachts has been scaled down from approximately 82 feet (26m) to 72 feet (22m) for reasons of cost.
The mono-hull design could allow bow rudders and up to two stern rudders in addition to the canting keel, though the concept eliminates a trim tab. The canting keel technology including power, controls, and mechanicals would be standardized among all boats. Canting, rotating, or wing masts would not be permitted.
The multi-hull concept would potentially use a wing mast of 144 feet (44m) (!), allow unlimited sails downwind. Mechanical power could be allowed to raise and lower appendages.
In either case, interpretations sought by teams from the Technical Director regarding compliance of design features with the Class Rule would now be an open public process and "private" interpretations would no longer be allowed.
Also see:
Commentary by Kimball Livingston
---
Draft Protocol for Next America's Cup Released
June 23: Preliminary draft of rules and power structure for the next America's Cup match is circulated to interested parties for review. The draft outlines provisions for neutral race management, cost control via limiting sailing time and number of yachts and components, and media and business initiatives including revenue sharing, while also delineating the competitive and political balance of the event.
Notable Provisions in the Draft:
All Challenger Candidates will have to be eligible to become Challenger under the Deed of Gift.

Six to eight pre-regattas to be held in 2011 and 2012. Either 8 or 10 challengers will advance to 2013 pre-regattas and the Challenger Selection Series, depending on number of entries.

The Challenger Candidates will control the format of the Challenger Selection Series.
America's Cup Class yachts to be used for competition after March, 2012.

Competitors limited to building 2 yachts, 4 masts, and 4 keel fins.

1.5 million Euro entry fee to non-WSTA teams.

Late challenges after January 31, 2011, potentially accepted with $1 million US late fee.

Notices of Challenge from insufficiently capable entries may be rejected by the Defender.

Any competitor or the Regatta Director may request the America's Cup Jury to revise decisions of the Defender that do not respect the collective best interests of challengers and defender.
The draft hedges on nationality requirements, proposing either no requirements for crew and designers, or possibly a 20% requirement based on criteria also used for Olympic competition.
Read draft protocol (pdf)
Read GGYC Press Release (pdf)
Reactions:
TeamOrigin: "We are very encouraged to see that GGYC and Club Nautico di Roma are keen to empower and include the future potential challengers in this process as we move forward." Read Complete Statement

---
New America's Cup Class Meetings
"The teams want a new boat; the fans deserve one too," commented Russell Coutts, four time winner of the America's Cup. "It will not be a 'defender's boat'. It will be the product of genuine discussion and dialogue," Coutts added.
Read GGYC Press Release and Watch Video

---
New: Next America's Cup: Some Details
From GGYC/CNR Press Conference:
"A Clear Signal of Cooperation"
New protocol due in August 2010, new design rule to be selected by the end of September 2010, and the venue announced by December 31, 2010, along with Sailing Instructions and Notice of Race. Challenger entries open October 1, 2010, through January 31, 2011. Designers Bruce Nelson and Morrelli&Melvin are drafting monohull and multihull concepts for review at an upcoming open conference in Valencia.
Coutts says restrictive wind limits will be gone, the boats will be more exciting and more physical, and the defense would welcome a second US defender candidate to compete with BMW Oracle Racing in a Defender's Selection Series. The media and television presentation of the sport is getting a "bow-to-stern rethink" along with online and mobile accessibility aimed at making the fans feel they are onboard.
It is hoped that the new America's Cup class will see racing in regular 2012 events. There was no commitment yet to nationality rules for crew, but Coutts said personally that he favored a nationality component in the long term, even though some balance is needed to help cultivate new teams around the world.
No definitive announcement was made about Louis Vuitton's return as sponsor of the challenger selection series in addition to their support of the WSTA through the Louis Vuitton Trophy, but Russell Coutts did make hints that point toward another Louis Vuitton Cup. "We think a lot of these changes are going to make it more fun and much more compelling for commercial partners to come into this event," Coutts said. "And by the way there are some fairly major commercial partners of the past that are now really enthusiastic about this event again."
Coutts emphasized that quantity of challengers isn't as important as the quality of competition, having teams that are very competitive, and citing a fleet of eight-to-ten great teams as "fantastic". Vincenzo Onorato and Coutts reaffirmed their pledge of a fair and neutrally-conducted event, and many of the specifics of the rules and format will be sorted out with the prospective challengers over the coming months. Some discussion with potential teams will take place in La Maddalena during the upcoming Louis Vuitton Trophy regatta this month, as it did in Auckland last March. The Protocol of the 2007 America's Cup has been circulated to potential teams to serve as the starting point for comment on the new agreement.
Asked whether Golden Gate YC wanted to amend the Deed of Gift to solidify some of the changes they intend for the event, Coutts suggested that altering the Deed would probably be a difficult process.
With a politician's dexterity, the question of where the next Defense will be held, and when, was discussed but little was revealed. 2013 or 2014 were termed by Coutts as realistic dates for the match itself, depending on the venue selection.
Read Golden Gate YC/CN di Roma Press Release
Also: Replay webcast at Official America's Cup site
Read Selected Stories:
The Usual Cogent Analysis by Kimball Livingston at Blue Planet Times: "...we don't have to invent the America's Cup; we just have to reinvent it."
Plus: Story by Stuart Alexander: The Independent and Morelli & Melvin Statement: Sail-World and WSTA Welcomes Announcements: Press Release

Onorato made an effort to point out that the Challenger of Record and the Defender had "a responsibility to preserve the tradition and make the competition even better in the future," adding that he and Coutts were united to serve the Cup, not to have the Cup serve them.
An underlying theme to the presentation, extending even to the location of the press conference in the Challenger's home town, was the return of the America's Cup to a Challenger-driven competition. The Challenger Candidates will determine the format of the Challenger Selection Series, not the Defender. And repeating February's affirmation that the Defender will not sail in the Challenger Selection Regatta, a rejection of one of the most obviously offensive changes proposed for the previous match, yet again brought applause from the gathered journalists.
Asked if the Defender needed to seek extra advantage for themselves, as was the source of so much unrest following the 2007 America's Cup, Coutts replied: "I didn't think that the fact that the Cup's difficult to defend is necessarily a bad thing," Coutts said. "It's probably a good thing. I think many of the people on our team love a good challenge, that's for sure. And we look forward to racing against strong teams. If the changes that we're proposing make it more difficult for us to defend the Cup, so be it."
---
12-Meter Reunion Strikes a Chord
Sept 19: "With their multihulls and carbon-fiber bodies, the new America's Cup boats are light and lightning fast. But it is their predecessors, the sleek 12-meter yachts used from 1958 to 1987, that warm the hearts of veteran sailors. More than 700 people, including 250 sailors, gathered last week at the waterfront home of the New York Yacht Club for their first reunion, three days of racing and a backward glance at what many call the golden age of sailing."
From New York YC, Sept 17: "The team on American Eagle -- 40 years ago a converted 12-Metre on which Turner won the World Ocean Racing title in 1970 -- showed their expertise during the three-day 2010 North Americans, earning five bullets in the regatta and winning their division. The many on-the-water spectators included a whale. This was the perfect kickoff to the 2010 America's Cup 12-Metre Era Reunion presented by Rolex and hosted by New York Yacht Club."
---
Wish List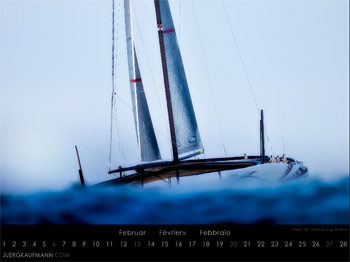 Photo: ©2010 Jürg Kaufmann
Beautiful 2011 sailing calendar with 12 great images from photographer Jürg Kaufmann, just in time for the holidays. See slideshow of images at his website

---
Mariette and the Herreshoff Schooners
Captain Nathanael Herreshoff, the most innovative and successful of American naval architects, won the America's Cup six times, crafted the lines of over 400 yachts, and built more than 2000 boats in his career. Yet, at a time when the Schooner was the pinnacle, the undisputed genius of American yachting built only 15 schooners in his lifetime.
A new book from yacht historian Jacques Taglang explores the 1915 schooner Mariette, beautifully restored and a rare Herreshoff survivor. With the help of many contributors including Maynard Bray, Luigi Lang, and Llewellyn Howland III, this book documents Mariette's own history, along with the stories of her built and unbuilt sisters, on the way to illuminating the evolution of Captain Nat's design process over the course of his career.
---
Cup Teams at MedCup


Multimedia images of the Audi MedCup Barcelona from photographer Jürg Kaufman. Video:©2010 Go4Image

---
Keeping the America's Cup Great:
Balancing Sport, Media, and Business
From Iain Percy: "The thing that makes sport special is not the size of the show. The Olympics and America's Cup have been contests of sporting excellence for generations, always hotly contested by teams and individuals wanting to prove they are the best, and more recently watched by spectators enjoying exactly that passion. I hope sailing can follow the examples of other sports and keep the sporting contest uncompromised (not necessarily unchanged), while at the same time work on technologies that can bring our complex and multi-challenging sport into the living room."
Read more from Iain Percy at The Daily Sail

---
New J-Class Yankee Begins
Sep 24: Launching expected in 2012 for this new-build replica of the 1930 US Defender Candidate. Yankee should make a total eight sailing J-Class yachts, all of which are planning to race in England in 2012.
San Francisco Now Only US Venue Being Considered for America's Cup
Newport, San Diego are out:
Four European Cities Said Still Possible
Golden Gate YC today announced that SF is the only American city being considered for the historic sailing event. The move appears intended to strengthen San Francisco's chances of securing the broader government cooperation needed to make it feasible for the city to host the next defense of the America's Cup, especially clearing California and Federal regulatory and legal hurdles that will permit the necessary infrastructure to be built.
From GGYC: San Francisco has put forward a strong, well-rounded venue proposal, and is now the only city in the USA under consideration to host the 34th America's Cup match.
"Our team has said from the outset that San Francisco and the Bay Area have the potential to provide a superb stage on which to host a memorable America's Cup," commented Russell Coutts, CEO of BMW Oracle Racing. "Our team owner, Larry Ellison, has called the Bay 'a fantastic natural amphitheatre'."
In being granted status as the sole venue candidate in the USA, San Francisco can forge ahead with plans to provide the necessary facilities for the America's Cup along the City's waterfront, south of the Bay Bridge. It also now allows San Francisco to "nationalize" their efforts and to seek support from the State of California and the federal government in Washington, D.C.
Also: Read Story at SF Gate.com

What about Newport:
GGYC's decision at the same time increases expectations that Newport, Rhode Island, will be selected to host earlier regattas in the build-up to the actual America's Cup Match in 2013 or 2014. Russell COutts, CEO BMW Oracle Racing, says that Newport now has "top priority" for any additional events. Read story at REIDC.com

---
America's Cup Video Talent Competition
Are you a moving picture visionary? A artist with Adobe Premiere? An Avid expert? The America's Cup wants you! Enter the Video Talent Contest and change the way the next America's Cup is seen. If you were born after the NYYC's 132-year winning streak ended, you can enter.
Read GGYC Press Release or Watch Video

---