With the 34th Defense, Emirates Team New Zealand's Chris Salthouse notches his sixth America's Cup with the storied racing team. Salthouse was a mainsail trimmer for most of those campaigns, but the AC45 and new AC72 wingsail multihulls have changed the ballgame considerably. Salthouse now drives the team's chase boat and handles logistics – and in typical Kiwi fashion, he doesn't mince words when explaining what prompted the switch from sailing on the boat to working on the shore crew.
"Age!" he says, smiling. "It's a new game. The level has changed a lot – it's a young man's sport and I'm 43- years old now. I used to trim the mainsail, and for trimming the wing and maneuvering in these boats, I think you need to be younger and a bit stronger. But I really enjoy this side of things – it's my responsibility to get the big boat off the dock and into the water. Over here, I look after the wing, so I'm enjoying the change.
"Sometimes, it is hard to watch, because these new boats are pretty cool, but if you want to stay in this sport, you have to adapt and roll with it. And it's cool to be able to follow along behind the AC72 – I'm looking at the wing, at the sails. I've got the coaches and the sailmakers with me, and it all becomes rather collaborative. We can watch them trim the sails and we can all look at the differences. So we're a bit removed, but not really."
Salthouse has carved out another niche with the team, putting him in charge of a pretty cool new toy – he worked with Pete Melvin of Melvin & Morelli Design & Engineering, one of ETNZ's AC72 designers, to come up with a state-of-the-art catamaran chase boat that meets the daunting task of keeping up with the team's America's Cup boat.
A cat for cats.
Photo:©2012 Chris Cameron/Emirates Team New Zealand

"We started with a blank piece of paper, and a budget," explains Salthouse. "The old Protector boats were great for working with Version 5 boats; they could go all day at 12 or 13 knots. With these big boats, it's one thing to be able to go fast, but you've got to be able to go fast for long periods of time. With the 30-day rule between now and February, the days on the water are going to be long, 12 or 14 hours. If you're doing 30 knots all the time, you have to have something that's efficient and fast, with a range capable of being out there all day to support the boat.
"You've also got to have a boat big enough to carry all the spares to keep the boat on the water. We can't keep coming back to the dock, so we have to carry sailmakers, hydraulic guys, winch guys, engineers, designers – all these guys and all the spare parts, like boatbuilding parts, sailmaking parts, wing repair parts, rigging, all that stuff. That's what drove us to design a catamaran, the need for something fuel efficient and light, something that would go quicker than what we had and could carry more gear.
"I put a concept together and sat down with Pete Melvin and told him what I wanted. He drew the hulls up and we worked together pretty closely on all the rest of the stuff, like the cabin and what needed to fit in where."
With little time or budget to spare, Salthouse and the team turned to a boat builder that they knew would understand the parameters involved: Salthouse Boat Builders, started by Chris's father, now run by his younger brother Greg. Needless to say, the brothers communicated well during the entire build process, with no family tussles to report, as the 14m chase boat came off the line.
"I knew I had a budget to work to and quite a tight time frame, so I thought we could trust Greg to deliver it on time, it would be on budget and it would be what I wanted. I ended up working pretty closely with him at the yard and they did a really good job.
"To be honest, it was really nice to have someone that I could really ask 'what do you think?' He was a great sounding board – if he didn't agree with something, he'd tell me. And he knew that if it wasn't right, he'd be in trouble!
The chaperone and her charge.
Photo:©2012 Chris Cameron/Emirates Team New Zealand

"The boat performs even better than we had hoped. It has a top speed of around 58 knots, but I'm sure we could get it over 60 knots if we wanted to. But with all the fuel and things on board, it will do 58 knots, which I can tell you, is plenty quick enough. You're going about 100km an hour, and things come at you pretty quickly. The biggest thing is to watch for stuff in the water, but you do get used to it. But most of the day is spent doing 25 to 30 knots and that's where the boat is most efficient."
Powering the new boat are four 300hp Yamaha F300B V6 four-stroke engines. Why four engines? Because that's how many engines it takes to right a capsized AC72 – something no one hopes to see, but a possibility that everyone must plan for.
"We put four engines on the back of it for a couple of reasons – if we ever have a capsize, two engines would not be enough to right one of these big boats. We thought we needed the extra power. Also, with the wings, if you break something, you can't just turn and go home, because the wing loads everything up. You've got to be able to tow faster than the wind speed home, which we can do now.
"At 30 knots, with all four engines, we use 100 liters of fuel an hour. That's better than the other chase boats that have two engines. Because they're not working as hard – we're cruising along at 3,000 revs – the engines aren't as loaded. The boat holds 1700 liters of fuel, which means I've got a range of 510 nautical miles at a consistent 30 knots of speed, or 17 hours. That's pretty good."
As Salthouse notes, alongside the spares and equipment also ride all the personnel who need to monitor the AC72 as it tests in the Hauraki Gulf. Finding the balance between comfort and practicality called for more innovations on board the new chaser, so Salthouse returned to that blank sheet of paper.
"We designed and manufactured our own suspension seats for the boat. It used to be that if you were traveling along at 12 knots it was fairly comfortable, but long days at 30 knots mean we're going to get more of a pounding some days than the cat will. So we have suspension seats that work really well. It's a lot more functional than it is comfortable, but the ride of the boat is fantastic. We've been in some really rough stuff and it handles well.
"And we're lighter than the old boats. This boat is five and a half tons, while the Protectors were seven and a half tons. So we can go alongside the 72 without being right next to it – they're pretty fragile boats, so you don't want to risk damaging them. So the 72 can be rolling along at 30 knots and we can be rolling along with it. After a while, the speed starts to feel normal, you have to look at the speeds to realize you're both doing 30 knots."
With the first week of testing with the first of their two AC72s behind them, Emirates Team New Zealand is pleased with where they stand as the lead in to the 34th America's Cup begins.
"We did a good job of estimating what we needed, like realizing we needed weighted trolleys to help lift the wing onto the boat. We've also bought little tugboats from Rayglass with a little engine in the middle that swings around, so you can turn the AC72 in any direction.
"But it's 'so far, so good.' We've lifted the wing in 20 knots, in 25 knots. But it's the day that you're starting to get comfortable with the whole thing that it will bite you. We know a day will come that it will be blowing 30 knots and we'll have to get the wing out – and it will remind us pretty quickly how big it is."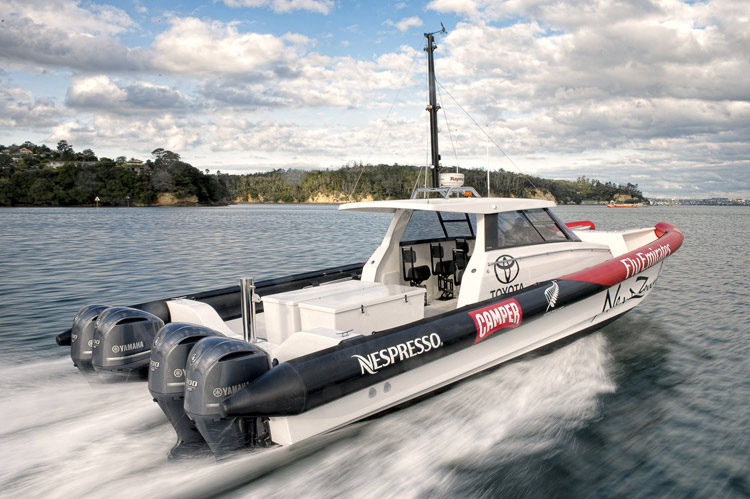 Four engines, no waiting. Photo:©2012 Chris Cameron/Emirates Team New Zealand