Stars&Stripes in Fremantle, 1987
Photo:©1987 Daniel Forster/go4image


CupInfo: You have both been to many America's Cups, Daniel going back to 1977. Which was your favorite as a photographer?
Jürg: I think this America's Cup is great. It's down to the basics, two personalities with almost unlimited resources showing up at the event with amazing boats, fighting for the oldest sports trophy by giving their best. It would be better if this would happen in the summer, or a bit more south with more constant wind and warmer temperatures, but it's happening here and now and that's good.
Daniel: My favorite one as a photographer was the 1987 Cup in Perth/Fremantle. Every day by 11:00 am the "Fremantle Doctor" arrived: 25-30 knots of wind with big waves and bright sunshine and the 12mJI yachts sailed, unlike here!
CI: How has the America's Cup changed over the time you have been going?
Daniel: The Newport events in the 70's and 80's were a two-week event, run by the New York Yacht Club. The sailors had their expenses paid and some pocket money. In 1987, the whole family moved to Australia. In 1992 and 1995, crew and families spent 18 month in San Diego: America's Cup Sailor became a job description. And that set the tone for Auckland and Valencia. Over 100 families lost their jobs after the 2007/2008 decisions. And now they are using motors: another group, the grinders, is gone. What would Darwin say?
CI: What's your favorite yachting event not counting the America's Cup?
Jürg: There are many very outstanding events and it is hard and unfair to talk only about one. For sure, one of the most spectacular events is the Voiles de Saint-Tropez where we made a book together called Classic & Modern Yachts in Saint-Tropez.
Daniel: The Rolex Sydney-Hobart Yacht Race. A tough race where it gets colder the closer you get to the finish. Too short to get a decent length of sleep. Only the well experienced sailors attempt it. Working for Rolex I covered it for the last ten years. One year by helicopter, 20 hours in three days, and the other year on a boat, the start and then the finish with the majestic Cape Raul or Tasman Island in the background.

CI: You have photographed many of the most historic and beautiful vintage yachts in the world. Which ones stand out most in your memory?
Jürg: Same as for the events, it's really hard to choose, there are small yachts like Lady Trix who are a dream, amazing stories like Rowdy and the Moonbeam's. My first yacht I had the chance for a onboard shooting was Mariquita. It's a bit like in life; you never forget your first love.
Daniel: There is not one in particular. There is an outstanding event, the Voiles de Saint-Tropez. You can witness hundred year old yachts, which belong into a museum, racing each other.
CI: What sailing do you do yourselves? At what age did you start sailing?
Jürg: It all started on an old dinghy with my father, I must have been around the age of six. Then the big step to heaven, an Optimist, I will never forget the moment when I had my first tiller in the hand. A few years later, Laser on the European circuit, followed by racing on bigger boats up to some offshore races. In the last 10 years I did a lot of match race umpiring, and I learned to anticipate the tactics and maneuvers and this helps a lot in yachting photography, especially for action shots.
Daniel: I started dinghy sailing on Lake Murten, the Swiss lake where I grew up, when I was 16 years old. I have been sailing ever since whenever I could get my shoes on a deck. The great thing about sailing photography is that one can participate in the sport while one photographs it. I did the last leg of the 1986 Whitbread Race from Uruguay to Southampton, 31 days, as a crew and photographer. I raced in two Rolex Middle Sea Races, around Sicily, and sail now in Newport, Rhode Island, in local regattas. I do own a Laser, a great instrument to unwind.
ETNZ in the 32nd America's Cup
Photo:©2007 Daniel Forster/go4image.com

CI: Do you plan ahead to compose your images of racing, or do you rely mostly on intuitive response to the moment?
Jürg: I try to plan ahead as much as I can, this means having a driver who gets you in the spot you have in mind and being ready. Sometimes you get good shots out of the blue and sometimes you have no time and you just need to be ready and take the chance.
Daniel: Sailing photography is mostly about planning ahead, or you miss the action of the foredeck man at the windward mark. Intuitive response is fine when one is on board, but I still plan ahead to be on the right place during a maneuver to get the faces of the crews and not get smacked by the boom.
CI: For artistic reasons do you crop your images or are you purist about what you saw through the viewfinder?
Jürg: The post-processing becomes more and more important. The digital technology allow us to try out new ideas and be more creative.
Daniel: I mostly crop to highlight the essential action in the photo.
CI: How have you planned ahead for this America's Cup match?
Jürg: For a while we have worked together on projects, this gives us the chance to cover more complex shootings more easily, such as the 33rd Americas Cup. The distances are so big it is impossible to shoot at the start and then be on time at the weather mark. Therefore, during the 33rd America's Cup we will share the positions on the racecourse with the goal of giving better coverage to our customers.
Daniel: For me, this America's Cup match is a twice in a lifetime event. The last Deed of Gift match happened in 1988, but the yachts were so different that the outcome was clear before the racing started, unlike here where everybody, the two teams included, is guessing. As Jürg says above, it is an offshore race and one photographer cannot possibly cover it. We are splitting our positions to cover two different angles.
CI: Did you have training or schooling in photography or other arts? How did you learn and how did you get started photographing race yachts?
Jürg: Photography was a hobby for many years. At the age of 14 I had the chance to take a course at school and since then I'm shooting. The rest was learning by doing, mostly by trying out new ideas, and that's what I'm doing still today. A few years ago I decided to leave my job and shoot full time. The choice of yacht racing photography was obvious as my first customers came out of this business.
Daniel: I did an apprenticeship and went to a photo school in Berne, Switzerland. Then I took photos of my friends sailing and the Swiss Yachting magazine published them. My hobby and my job merged. I went to the 1972 Olympic Games and the 1977 America's Cup and never looked back.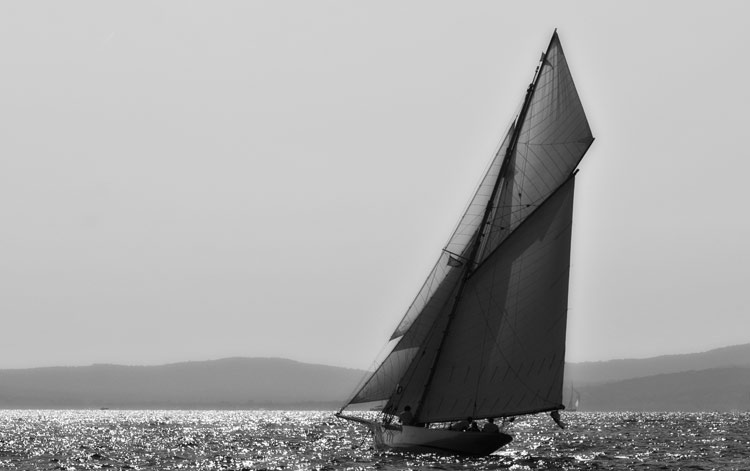 Photo: ©2009 Kaufmann/Forster go4image.com

CI: Do you register a change over your careers in the artistic/visual nature of your photos? How has your photographic "eye" evolved over time, if it has?
Jürg: Yes, a big change, I think one of the great things in photography is that you never arrive at the end, there is always a different way to see a particular moment and try to capture it and play with the light and the elements.
Daniel: Thanks to digital photography we have more control over the processing of the files. I concentrate more on the human aspect of sailing, people handling sails and sheets on board and enjoying the sport.
Technical Aspects:
At a major event, each photographer often shoots enough daily to fill two 8GB memory cards, which the pair assesses back on shore. "Once we are back home in the warm media center," says Jurg, "we choose, capture, edit our pictures, and then upload them to the different FTP servers ourselves."
Jurg and Daniel will comprise Go4Image's entire staff for the America's Cup, but sometimes an assistant is used, such as at the Rolex Yachting events. "He or she downloads the files and edits the pictures we choose together," Daniel says.
CI: Obviously with digital photography, it's easy to take a lot more shots now (and at low cost per shot), but what else has digital done to make your work easier, and has it made anything more difficult?
Jürg: The biggest change is the simpler and almost immediate access to editing possibilities. The data volume is increasing drastically and professional storage costs are much higher. Today we change the bodies of the cameras almost every two years -- this is another cost-driving factor -- therefore the production cost of a good image is probably the same. It's probably easier to enter into the market of yachting photography than years ago. But it's for sure harder to stay in and make a proper living out of it.
Daniel: Offshore photography is still a hard job, considering that we depend so much on the weather, the boat, the driver, and we have to spend so many hours on the water. The film is free, but the cameras are costing much more and we have to keep up with the changing technology by upgrading the hardware and constantly learning the new ways of digital editing. That is the fun part!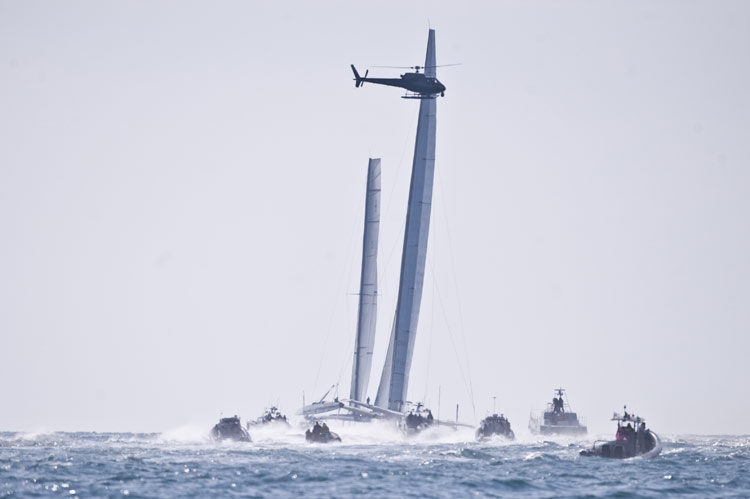 Race 1, 33rd America's Cup. Photo:© 2010 Kaufmann/Forster go4image.com

CI: Digital cameras keep making big advances in quality, are the lenses keeping pace? It seems like the glass used to be the most important thing, but the cameras make so much difference now.
Jürg: Yes, they do, which is great but at the end of the day despite all the great new features the biggest challenge is still to understand what is going on, being in the right position at the right time, and capture the essence of it.
Daniel: The lenses are still very important, only the best glass will do, with the highest resolution chips.
CI: Canon or Nikon? Any reason why?
Jürg: I shoot with Nikon and have good reasons to do it. Daniel is shooting with Canon and he would not like to change. At the end of the day we both like to tease each other about it, but both companies are doing a great job.
Daniel: As Jürg says, the photographer is still the most important link in the chain. I started with Canon in 1971 because they had better test numbers then. And I am still extremely happy.
CI: What's the new lens you are using for the America's Cup and how is it working so far?
Juerg: Here I'm working with long focal lenses mostly because of the bigger distances we have from the boats. Nikon gave me a 500mm lens with their new vibration reduction system to try out. Once back home I will write an article about it for them.
Daniel: No new lenses here, I have been fully equipped for a while. My Canon EF 400mm f/4 DO IS USM is still my favorite tool.
CI: How do you protect your gear and how often do you lose something?
Daniel: I am touching wood, but I lose about one lens every eight years, sometimes from a helicopter….The cameras stay in a waterproof bag or a cooler when I do not use them, surrounded by towels or extra clothing.
Last Few Questions:
Daniel Forster, a silver mug, and Jürg Kaufmann.
Photo:© 2010 Kaufmann/Forster go4image.com
CI: You met and worked with many of the world's top sailors, do you see something they have in common?
Daniel: Commitment to the sport, never stopping to adjust the sails, and love of the elements.
CI: What's the most difficult assignment you've had for sailing?
Jürg: Sailing!!!...Shooting in the streets of Rio de Janeiro and on the Copacabana beach a few weeks ago during the Star worlds with professional equipment worth over 10,000 Euro, without a bodyguard.
Daniel: I treat each assignment as a difficult one, even after all those years. Consistently coming back from the sea with an outstanding selection of photographs is a constant challenge.

-- Thanks Jürg and Daniel!

---
Links of Interest:
Photo galleries and more information at the photographers' site: go4image.com
Books by Kaufmann and Forster, with Lynn Fitzpatrick:
Classic & Modern Yachts in Saint-Tropez

Celebrating 10 years of Les Voiles de Saint-Tropez, with more than 300 of the most beautiful yachts in the Med at the 2009 gathering.

See photos and preview the book at regattabook.com

Louis Vuitton Pacific Series: The Friendly Games

120 pages of photographs from the first LVPS in Auckland, NZ.

Read more at regattabook.com
---