When you ask America's Cup sailors Ben Ainslie and Nathan Outteridge to sum up their feelings following gold medal performances at the London Olympics, you get one simple answer: "Tired."
Neither has had the chance to take a breath and process their Olympic experiences. Ainslie was sailing his Finn Rita along the Thames in London just last Thursday before boarding a flight to San Francisco. Outteridge's route took him even further afield, with one night at home in Sydney to re-pack before the long flight to California. Both sailors took time at the start of the America's Cup World Series San Francisco to reflect briefly on their recent Olympic efforts and to look toward their America's Cup futures.
Ben Ainslie, BAR:
Ainslie carried the psychological weight of an entire country, serving as a sailing poster boy for the London Olympics, with actually winning a gold medal in the Finn class being something approaching a national expectation. But last January, he had already revealed the direction for his post-Olympic future, announcing a partnership with Oracle Team USA that has him forming his own America's Cup World Series team, J.P. Morgan/Ben Ainslie Racing, for the AC45 regattas and serving as the other half of the Defender Trials against Oracle stalwart Jimmy Spithill.
Ainslie had a rather full plate from January until the July 29 beginning of the Finn portion of the Olympic regatta. Delegation was the order of the day.
"I had to just compartmentalize the whole thing, really, and just put the America's Cup stuff to one side so I could focus on the Olympics and the job I needed to do," Ainslie explained. "Thankfully, I've got a great team around me, so they got on with the job of preparing the boat and the sponsors. I was able to just focus on the Games – and thankfully, I got that job done – but I tried to keep an eye on things, on the general direction of the Cup team, and have input on that. And now it's completely about 'turn and focus on the America's Cup,' which is really exciting, for the next 12 months.
"But it's been crazy. It would have been nice to go away for a couple of weeks and just have some rest and take it all in, but it's been a complete rush. I'm pretty tired, but at the same time it's quite a buzz to be here and sailing in these boats, so I am pretty excited about being here."
Ainslie's comments regarding the move away from monohulls two years ago – and the demise of the British Team Origin – were rather critical; words he remembers somewhat ruefully.
"I suppose I was a bit of a traditionalist. I preferred the monohulls, that's what a lot of us had been developing our skills in. But then I watched the AC45 racing on TV and was impressed by the program, the boats and the competition, and I wanted to be a part of it. So that's how I got involved with Russell and Oracle Team USA, and started my own team."
Once the America's Cup gets underway next summer in San Francisco, the challengers will compete in the Louis Vuitton Cup for the right to take on Oracle Team USA representing Golden Gate YC in the America's Cup Match. But Oracle won't be just waiting quietly in the wings, Ainslie and Spithill will be out on the bay sharing courses with the challenger selection series, racing their two AC72s in a Defender Trial – of sorts.
"It's not really about Jimmy or [me], it's about the team and getting the team in the best place to defend," says Ainslie, with praise for the job Spithill has been doing. "It's not about me trying to take his role, it's about me trying to support him and the whole team."

Nathan Outteridge, Team Korea:
Australia's Nathan Outteridge was putting all his focus into his 49er Olympic campaign in the years leading up to the Games. He saw heartbreak four years earlier after losing a gold medal within sight of the finish line and he wasn't about to let that happen again. He was all-in with his Olympic preparations when a bit of a wrench was thrown into the works in February. Team Korea had just lost skipper and former 49er sailor Chris Draper, and was searching for a replacement.
"I got a phone call from the team at the start of the year," remembers Outteridge. "They said that Chris had left and they were looking for someone to drive the boat for the season. I had big commitments with the Olympics and the 49er was the priority, so they asked if I could fit it in. They gave me the dates for the Europe races and Newport, and it worked out perfectly. I went from Naples to two 49er events in Europe, then straight to Venice, off to Weymouth for the Olympic test event, then to Newport. So I was going between the two. It was a bit tiring and time consuming, but I was confident it wasn't going to affect the Olympics in any way.
"But I told the team that as soon as I left the AC45 event, I would shift. The 49er was my job – the team kept ticking over and I was being informed on what was happening, but the focus shifted to the next class. I left Newport and went home to Australia for a few days – I hadn't had a break since March. I needed some time to relax and not live out of a suitcase. But then it was on to Weymouth, some training, then the Opening Ceremonies, so we could get involved in the Olympic atmosphere. Then the regatta."
Outteridge and crew Iain Jensen blew the competition away in Weymouth, winning five races and securing the gold medal before the medal race even began. For Outteridge, it was the culmination of four years of effort toward a concentrated goal – but a win that gave little time to celebrate his victory.
"We were the most prepared team and we just went out and did our job. By the time the medal race came along, we had enough of a point lead that it didn't matter. It was a really nice week for us. I went to the Closing Ceremonies, then hoped on a plane home to Sydney and had one night at home. I dropped off my Olympic kit, picked up my Team Korea kit, got on a plane and came straight here last Thursday, and was on the water within an hour. I'm still jet-lagged and recovering from the gold medal party! I do have to say I'm looking forward to a break at home after this.
"It is hard mentally to have been preparing for one event for four years and then go straight to the next job. You miss being able to thank all your family and friends, everyone who supported you. Luckily, I sail on a two-person crew, so Iain is taking care of all that – I'm sure he'll have plenty on my behalf!"
Outteridge considers it a plus that he's been able to race so many different kind of boats and gain knowledge from many different sailing arenas while avoid the dreaded sailing burnout.
"For the past four or five years, I've been sailing multiple kinds of boats – if I was just fully focused totally on the 49er, it could have gotten a little bit tough, like a full time job. It's nice to have a break, do some other sailing, where you're learning – and whatever you learn, you can bring back to the 49er. I was going back and forth between the 49er and the AC45 and taking what I learned which each boat to the other program, which complimented each other very nicely. And now that there's not much to do on the 49er, I'm focused on this now – it's nice to really have some time to spend in the 45."
This iteration of Team Korea first hit the water at the America's Cup World Series event in Naples, giving the team a limited amount of preparation to get to know each other and streamline boat maneuvers. The team has gotten off to slow start, but looks forward to starting anew – with next year's America's Cup in their sights. Much of the reason Outteridge made such an extreme effort to get to San Francisco was to make sure that the seat in the back of the team's AC72 remained his.
"I had five days training before the regatta in Naples – and most of it was really light, under 10 knots of breeze. So it was great, but it wasn't like the speeds I was expecting from the boat. Since arriving here and sailing in some proper wind, I can see that they're impressive boats, and very powerful.
"The plan is for me to stay on through the America's Cup – that's why I'm here! I could have easily told the guys that I needed this event off and they could have found someone else to drive the boat and I could have missed my chance for the next year. So I'm looking forward to experiencing everything over the next year!"
--Diane Swintal for CupInfo/©2012 CupInfo.com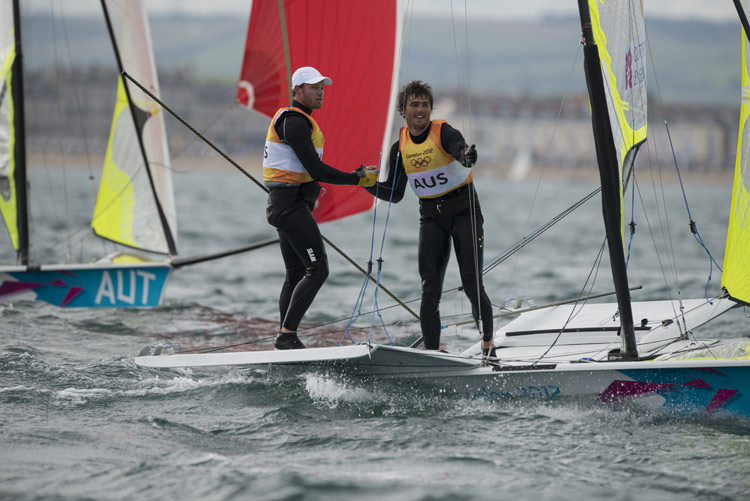 Outteridge and Jensen celebrate on the water. Photo:©2012 Jürg Kaufmann/go4image.com
---