| | |
| --- | --- |
| | |
| © 2004 CupInfo | |
It felt like just another night in paradise. Balmy trades blew in from the East carrying the sounds of music and camaraderie on the breeze, but this wasn't just any night nor any Caribbean bar.
St. Thomas Yacht Club was raising money for some young sailors from Antilles High School, St. Thomas, U.S. Virgin Islands. These kids had won their way through the qualifier and were among 12 of 300 sailors going to Annapolis for a Club 420 team sailing event mid-May.
Not a blue blazer in sight, STYC is a friendly family club. Cocktails flowed from the bar to the left, kids squealed at a cakewalk to the right. In the middle, a canopy covered the patio from a towering mast doubling as flag pole to the Club proper. People of all ages were enjoying the night.
Saturday morning dawned bright with a building breeze. Some set off to race at nearby St. John while others swapped tales on the patio. We had planned to ask how the club stocked their youth sailing program, but if the fund-raiser from night before was not answer enough, the little ducklings setting out in a fleet of Optis sufficed.
We caught up with helmsman Peter Holmberg, just back from Antigua Sailing Week, who shared his thoughts about the Cup to come.
CI: So, tell us about Antigua Race Week …
Peter Holmberg: Antigua was great! I did two things actually – the Classic Regatta the week before, the first time I'd ever done that, and Race Week. The Classic Regatta was great, big wooden yachts. I raced on a boat called Ranger, a brand-new remake of the yacht Ranger. It was very exciting and I had a bunch of the Alinghi guys with me. Brad [Butterworth], it was the first time I've raced with Brad and some of my new team members on Alinghi. Fantastic! And then Race Week itself I sailed on Titan, a Reichel-Pugh 75, about a year old. There's a new generation of boats out now, the 86s with canting keels, and they're obviously state-of-the-art machines. But we had a great week of racing. It was blowing 20 to 30 knots for the whole week – just nice and refreshing to have a full week of heavy air, big seas and good, close racing. I must give credit to our Caribbean Rating Rule, called CSA. To rate all these different boats and have us within a minute or two, it was pretty phenomenal, so it was good racing.
CI: You have a very long history with St. Thomas Yacht Club. Did you grow up on the island?
| | |
| --- | --- |
| | |
| © 2004 CupInfo | |
PH: Yes. I was born here on St. Thomas. When I was about 5 or 6 years old, a group, my parents, etc., got together and started this club. It was a little dirt area and scrubby beach. They cleared it out, got a group together, formed the yacht club, built a little wooden shack to start out with, and it grew into this facility. So yes, this is the bay where I grew up, Cowpet Bay, with Christmas Cove across the way.
CI: You've said that your passport is U.S., but that you are a Virgin Islander?
PH: It's an interesting relationship, hey? We do have U.S. passports as you say, but I consider myself first a St. Tomian, St. Thomas Virgin Islander, then American. It's a unique culture. On top of that we are a separate nation in the Olympics, which they granted to a lot of the Caribbean Islands, former territories of France or possessions of Holland. They give us separate status. That's part of it. The other part is our culture, where we are 95% black people of African descent, not American, that's all. We have the American flag above us as well and a lot of American influence, but we have a unique culture of our own.
CI: You have some history with the Olympics, won the silver medal in the Finn, correct?
PH: I did '84. I finished college in '82 and set my sights on the Olympics in '84 with a short campaign in the Finn. I saw that was what I really wanted to do, so for '88 I prepared really well and trained for that.
CI: It was exciting to hear last night that someone from your club is going to Turkey in the Laser.
PH: We have a new crop of kids here that are getting to be of that age that they're getting serious about it.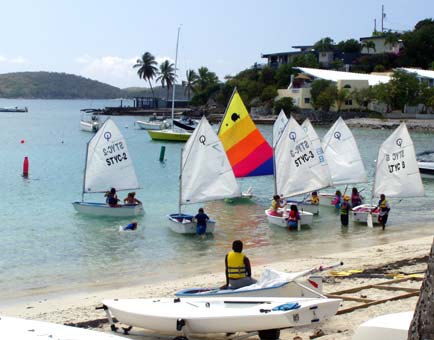 © 2004 CupInfo
CI: And some are off to Annapolis to sail 420s in team racing?
PH: Yep, team racing. It comes in waves. When I grew up there was myself, my brother and a handful of kids the same age group. Then there was a 10- to 20-year gap almost from the kids of our generation. We are a smaller island, so we go through cycles and now there's this crop that's coming of age, a talented group that came out of the Opti program here and their parents did a great job of fostering them.
CI: The St. Thomas Yacht Club hosts an Opti Regatta for 2004 per your website?
PH: Yes, every year. It's almost 10 years now that we've been doing it – the ScotiaBank Caribbean Opti Regatta. Big. Really big. And they do a great job of it. The whole Caribbean, the States and some contestants from South America come in for it.