Safety issues with the Americas Cup radical new 72-foot-long catamarans have been a hot topic since the design was unveiled. Capsizing wasn't an "if" but a "when" -- and "when" arrived on Tuesday, when Oracle Team USA pitchpoled in 30 knots of wind near San Francisco's Golden Gate Bridge.
Dirk Kramers, Oracle Team USA's engineering guru, and Iain Murray, Americas Cup Regatta Management Director, recently addressed the risk issues inherent in the boat's design and how best to manage the aftermath of flipping one of these huge race yachts.
2013 will make the fifth Cup cycle for Kramers, who was one of the multihull experts behind the Stars&Stripes 88 and Alinghi 5, as well as the Alinghi and Young America monohull campaigns. His experience with the America's Cup is one of the most extensive of any active player. Kramers believes that the safety systems designed into USA-17 are fairly self-explanatory personal safety equipment, rescue personnel, righting lines -- but noted that many safety systems would not really see active practice. At least not planned practice. Post-Tuesday, that may be a different story.
"There are a lot of different safety aspects, most of which are common sense, like wearing life preservers and helmets", said Kramers on a recent tour of the team's Pier 80 base. "It's also important to always have a knife on you in case you get stuck or caught somewhere, like a diver you can cut yourself free."
"The boat is set up with righting lines, in case we have to right the boat. We also have buddy-breather cartridges, so if you have to dive, you can go under longer. But it's also an organizational issue; we have three to four boats out there supporting us, and there's a whole set of response maneuvers that we've practiced to make sure that we do the right thing at the right time. For example, if someone falls off and gets hurt, that's the first priority. The next priority is getting the boat head-to-wind. So there's a whole series of events that have different response maneuvers."
Oracle went with a design that includes a large pod below the boat's hard wing that acts as something of a wing extension, providing more power closer to the waterline. That's a positive contribution, but one negative with the pod is it means the sailors cannot do the "monkey dance" down the netting to safety.
| | |
| --- | --- |
| | |
| | |
| | Photo:©2012 Guilain Grenier/Oracle Team USA |
"One of the aspects that's difficult about this kind of boat is that once it's capsized, you can't really climb up or climb down. So you're sort of stuck. With the AC45, you can climb up and down, but this boat has the big pod in the middle. And you can imagine falling off, if the boat is at 90 degrees. If you fall down into something hard, that's not going to be good. We've had a lot of guys falling off the AC45s, but we've been lucky that no one has hit something hard yet -- like what happened to Russell, it was inches away from it being a big problem. And it's happened to other guys. That is the biggest thing, making sure the guys have something to hang onto.
"When we sailed the big boat event [in 2010], there was a lot of talk about whether you were better to jump or to hang on. But you're hanging 90' in the air -- that's a long way to fall. At that point it was better to hang on and dangle and wait for someone to come get you rather than trying to save yourself."
"During that campaign, [Alinghi] capsized one of the 60-footers and it was a real eye opener," says Kramers referring to the Swiss team's practice on an ORMA trimaran. "Some guys got caught underneath the boat, which really brought to light that you need a knife. But this boat floats fairly high because of the pod if it's upside down, so hopefully that won't be as big of a problem. But in the trimaran it was an issue. Some of the guys were holding the net up so the guys underneath could breathe."
Once the boat has capsized, getting a 72-foot catamaran righted is an entirely different proposition. Righting lines are run to both sides of the Oracle AC72, since once the boat has gone over, there's no guarantee anyone will be able to rig the lines. But plans remain theory only until tested in practice, and as we saw on Tuesday, righting an AC72 is an incredibly difficult task, especially in wind and waves.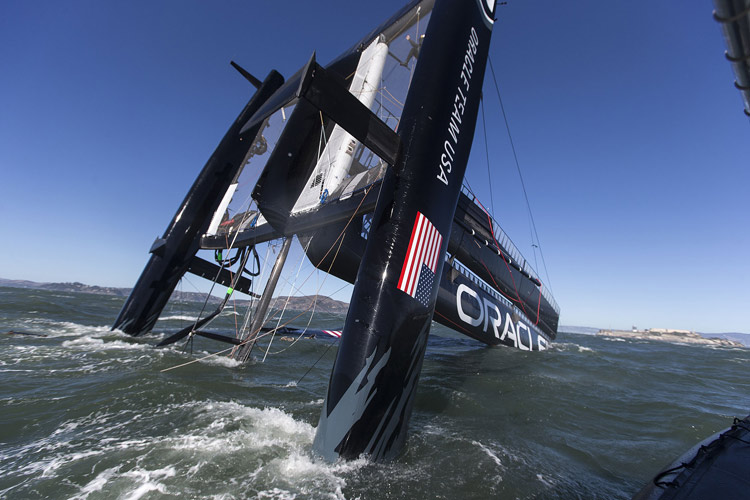 Photo:©2012 Guilain Grenier/Oracle Team USA

"The biggest thing is keeping the boat head-to-wind so you don't start going dead down wind, and do it fairly quickly," Kramers said. "The problem Team New Zealand had in Newport was the wing extension filled up with water and they couldn't get the boat up quickly. But the French team was able to right themselves, since they were quick enough. So you have to be quick and you have to plan exactly what you're doing."
"There are righting lines led to both sides, so even if the boat is on its side with no one up high, you can get to the righting line. But the righting process is not something we're going to practice!"
New on AC72 are the foils, which pull the hull off the water. Whether the foils make the boat faster around the race course or not is a point that will be explored for the next several months, but the question is also whether the foils make the boat more or less stable. The answer appears to be "It depends."
"The foils actually help you," said Kramers. "Our hull is quite small, much smaller than Team New Zealand's, so we are reliant on the foils to keep it from pitchpoling in a bearaway. But on the other hand, when you're flying, if you have a mishap with the foils, it can bring you to a stop very quickly and you can pitchpole that way, if you make a wrong maneuver with the foils. It will be interesting to see how much we'll actually be foiling. There's no guarantee that once you're up on foils, you're faster."
Once the unthinkable has happened, the teams know they must be prepared with rescue equipment and personnel. And safety is the team's responsibility during testing, not that of the official America's Cup organizations. America's Cup Regatta Management (ACRM) will take care of all rescue requirements during the regattas, but Regatta Director Iain Murray notes that when the teams are testing, they are on their own.
"We're not involved in setting the procedures within the teams," said Murray. "They'll have their own safety drills and procedures within their support staff safety manuals with the crews, how they'll deal with capsizes, righting moment, possible injuries, all of that."
"We bring all that to the table when they come to the race course. We have all of our plans in place now, including safety paramedics in wetsuits in jet boats with stretchers in case there is an accident. That will obviously get bigger with the bigger boat next year, with more craft and more people because the incidents could be bigger and the danger is probably more.
"So we'll take care of them during regattas and official practices, but when they're trialing, they have to make their own arrangements. We're happy to help and work with them and we do, as the teams are adopting a lot of the same principles in how we go about things, so it's consistent all the time."
Murray's team has spent the past six months putting together an AC72 crisis preparedness manual, detailing the types of responses for each emergency situations. The manual has been managed by a security company comprised of personnel well-schooled in dealing with critical situations.
"We have a plan that's about 100 pages that covers the event. We have a security company made up of former military people that manages all of it. It's a very thorough document and it combines the police, the fire department, homeland security, and Coast Guard. It's been a work in progress for the past six months so that everyone is brought into the same safety policy."

--Diane Swintal for CupInfo/©2012 CupInfo.com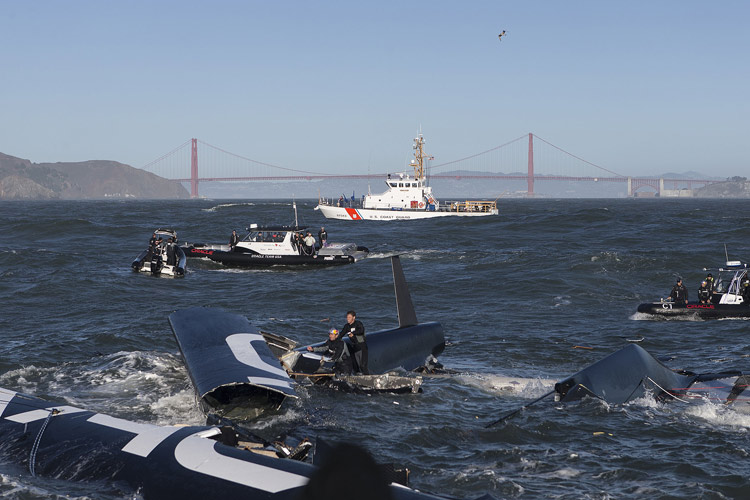 Photo:©2012 Guilain Grenier/Oracle Team USA

---
Links of Interest:
Oracle Team USA AC72#1 Photos: Day Eight Capsize
Sailing Day : One | Two | Three | All Team AC72 Boats

---