---



As plans get underway for AC 34, BMW Oracle Racing CEO Russell Coutts and helmsman James Spithill look back at the Cup that was and share their thoughts on what the future might hold.

Having gone immediately from victory in Valencia to getting the keys to San Francisco and ending with a stop at the site of the team's training base in San Diego, with another key to the city, Coutts is understandably non-committal about plans. No date has been set to publish the protocol.
Mayor Gavin Newsom of San Francisco receives a BMW Oracle Racing Jacket from Larry Ellison.
Photo: ©2010 Gilles Martin-Raget/BMW Oracle Racing


Larry Ellison accepts the key to the City of San Diego from Mayor Jerry Sanders.
Photo: ©2010 CupInfo

"We've only just won the thing, so we've only just started putting groups in place," said Coutts. "We're just starting to assemble the ideas and of course we want to talk all the other teams -- and the potential teams -- to see what kind of criteria suits them, so we can have a good, multi-challenger, event. We want to talk to the television people as well, to see what they think, and review past Cups and come up with the right format. That kind of consensus process will be key over the next few months. We've only just started."
The number one question on everyone's mind is where the next Cup will be held. Naturally, since the winning club, Golden Gate Yacht Club, is based in San Francisco, that city seems to be in first place. But not so fast, says Coutts.
"One of the first things we have to establish is where the venue will be. We want to have a village like they did in Valencia. That's one of the main criteria we're looking at when we look at cities. Larry Ellison would like it to be in the United States, if possible. Obviously, he's from San Francisco, so that's a favorite of his, but we've got to look at all the practicalities and see where the best event would be. He has said he'll stage it where the best America's Cup would be."
The Louis Vuitton Trophy in Auckland next month will take place without BMW Oracle Racing, while the team management takes the time to answer the Cup community's burning questions. Team founder Larry Ellison made some specific promises after winning the Cup in Valencia, and Coutts will work to make those promises a reality.
"Right now, we're going to take some time off [from sailing] to get some of these other things resolved and at least give the America's Cup community a timeline of when the major decisions will be made. We're committed to independent management of the on-the-water event, rules, etc. I think that will help teams a lot, and help bring back sponsors. We have to decide with the other teams how that will be done, whether it's a mutually elected group, a regatta director -- we have to decide how that's going to be done."
Looking back on the 33rd America's Cup, even Coutts could not have predicted how the races turned out. He knew he had a weapon in the winged trimaran, but even he was caught by surprise at just how good USA was.
"We liked our chances but honestly, I didn't expect to win it like that. I thought it would be a little closer than what it turned out to be, but it just shows that the team we put in place worked very hard to get the best out of the technology and, really, the technology that was created was pretty special. We're really proud of what was achieved. The wing sail was a breakthrough and proved to be a significant part of the winning formula, but our whole package was significantly better than what Alinghi put together. But what was most important was that we didn't have a breakage in those two races, which was one of our major concerns."
Jimmy Spithill, USA's Skipper and Helmsman, at 30-years-old is the youngest winner of the America's Cup. Spithill knew he had a great ride, but makes the surprising admission that the team had done no actual race preparation, meaning that racing their advanced yacht was an unknown quantity.
"On the sailing side, we really focused on boat speed and performance. A lot of people are surprised when we tell them that our first go around a racetrack was day one -- that's how focused we were on boat speed."
It seems impossible to contemplate going into the Cup with no actual race rehearsal, but with two-boat testing beyond impossible and a tight window of design work and testing, start practice crept ever further down the long to-do list.
"You can't really train for the race. We'd actually scheduled some time to do some practice racing and maybe some practice starts, but with a boat like that, it's quite complex and there are always issues. So, unfortunately, that just kept dropping down the list. So I think the sailing team onboard did a pretty nice job to come in cold and that's what made it exciting."
"I think in the end, the wing was the difference -- it was an absolute weapon -- but it was the whole package, really," said Spithill. "If you look at a picture of the boat when we first launched it to the configuration when we actually raced, there was a lot of development work."
And now that the truth can be told: Just how fast was USA?
"The biggest speed we saw was 42 knots off Point Loma, but I think if we changed the configuration just a little bit, I reckon we could be high 40's and have a crack at 50."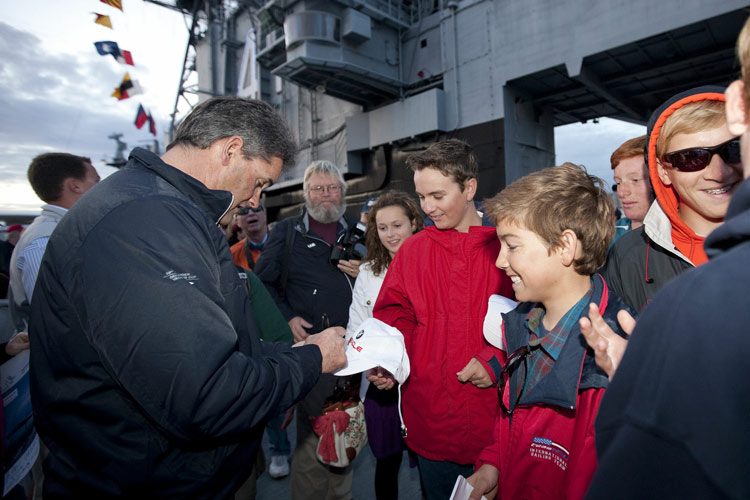 CupFans: Russell Coutts signing autographs in San Diego. Photo: ©2010 Gilles Martin-Raget/BMW Oracle Racing

Spithill had only limited multihull experience, and most of the sailing team did not have any, but sailing a multihull for two years has changed his perspective -- and his plans for the future. This experience, he believes, has upped everyone's game and opened a whole new avenue of sailing possibilities.
"The majority of the sailing team came from monohulls so I think everyone's skills have been really improved," Spithill said. "Yes, it's been a shame with all the court action, but the positive was to see those two amazing boats on the water. The sailors have been opened up to a completely new discipline of sailing. And the technology; you look at that wing sail -- I think that's going to flow down into the sport. It may not be the last wing you see.
"It'll be tough [to go back to monohulls]. With the tri, it's such high adrenaline sailing, every day you look forward to sailing. When you go home, that's all you're thinking about. So the performance side, we'll really miss. But the good thing about this sport is the variety -- it'll be great to go back to the smaller boats and do some racing. The hardest thing about the wing and the big boat is the logistics. It takes a team of about 150 people just to go for a couple of hours of sailing, where the ability to just jump in with a couple of mates and go do some racing, that's pretty easy. It'll just be great to mix it up again. But I'm still going to do some multihull racing. I've really enjoyed it."
A slimmed-down BMW Oracle Racing will continue, with the core of the sailing team getting back to a steady diet of match racing: The Louis Vuitton Trophy, TP52s, The World Match Racing Tour -- it's all on the table. Winning the America's Cup is one thing; keeping it is something else entirely.
"Our plan is to defend it, to hold onto it. So we're going to set up our racing calendar for the year. We're going to compete in the Louis Vuitton series, but we're not going to do Auckland, that would just be too much. But we'll definitely be there for the rest of the tour; it will be a great training ground for us. A lot of the other teams have been racing, we've just been boatspeed testing, just straight-lining, so we've got a lot of catching up to do. It'll be great to go back to the match racing. There are just so many young guns that have come through and are just dominating, so it'll be good to get in there and mix it up with them."
For Spithill, just finding himself in a cockpit with other sailors around will be the first big adjustment.
"I felt like I was solo sailing sometimes out on the tri, you're sort of out there on your own!"

--Diane Swintal for CupInfo/
©2010 CupInfo
---