Day 2 Race Report: Big Teams Back in Control
November 8, 2008
---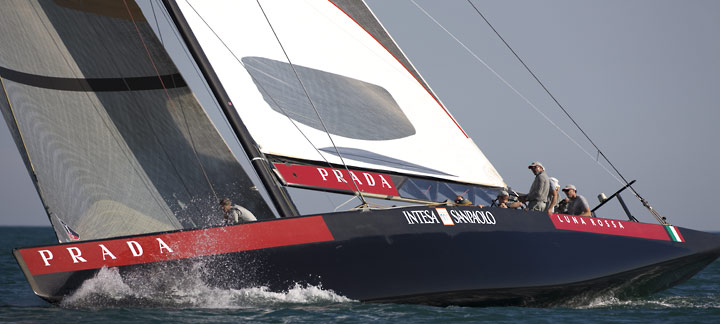 Peter Holmberg skippering Luna Rossa Photo:©2008 Carlo Borlenghi/Alinghi
Today instead of their normal azure blue, the Mediterranean waters looked a shade of green. But the boats in front were most definitely black.
As with many things Spanish, the breeze finally decided to turn up a little late again, but finally heaved itself up to around 10 knots and racing was able to get underway just after 2 pm in beautiful sunny conditions.
Race 3:
Luna Rossa was on time for the start tight around the back of the committee boat, all sleek Italian finesse, with Team Origin trailing in their wake, Desafío Español starting to leeward, and Alinghi down near the pin end.
Team Origin tacked straight off, followed shortly after by Desafío and Luna Rossa, whereupon Desafío almost immediately tacked back again, costing themselves a small fortune in the process. A down speed tack 100 meters off the line was almost suicidal, or at least it would have been in a match race.
But they worked hard and edged Team Origin by the end of the beat. At the finish, Alinghi was a clear winner, Luna Rossa second, followed by Desafío third, and Team Origin.
Race 4:
The second race saw a mixed start with Luna Rossa and Team Origin having a small fracas towards the pin end leaving Luna Rossa almost dead in the water and Team Origin moving slowly at the gun, albeit in clear air. Things settled on the first leg down with Alinghi again picking up her skirts and moving off. You can see why she won the Cup. She makes it look effortless. Or rather they make it look effortless. Luna Rossa, to their credit, showed good pace and were never far away.
Around the last mark and Desafío and Team Origin were into a nice gybing duel that was eventually decided in favor of Team Origin.
Alinghi hit their stride after the multiple spinnaker problems of Day 1, and once back on form the defender again looked unassailable.
Tomorrow should see two more fleet races to wrap it up. It would be a pity if there were no match races, but nonetheless, it's great to see the boats out there.
All is well with the world....
--- ©2008 John Crisp for CupInfo

---
Links of Interest:
Race Report: Day 1
Watching: ACC Machines Up Close
Curtain Raiser: The Beast Awakens in Valencia
Crew Lists (pdf format)
---