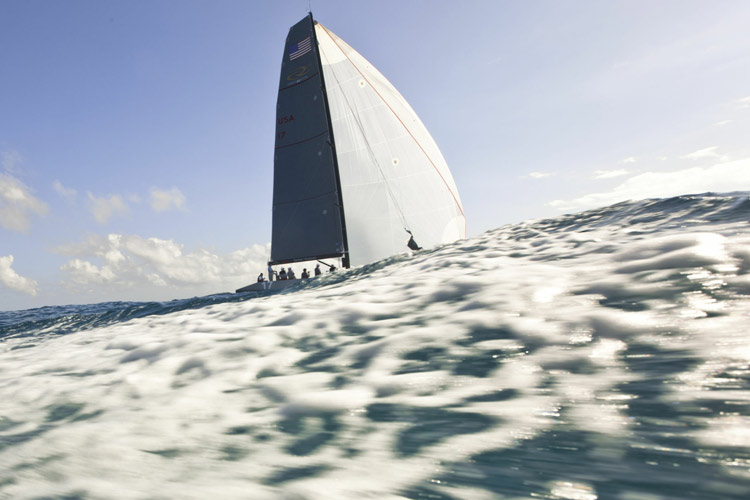 Photo:©2010 Gilles Martin-Raget/Oracle Racing

If you want to catch beasts you don't see everyday,
You have to go places quite out-of-the-way.
You have to go places no others can get to.
You have to get cold, and you have to get wet, too.
--Theodor Suess Geisel, "Dr. Seuss"

When I took time off from my real job as a cellist in an orchestra, my colleagues asked me what I would be doing. I explained to them that I was going to Miami for the Oracle RC44 Cup regatta. While I was actually in Miami, they came up to a good friend and asked, "What is she really doing?" Is this so hard to believe -- that someone loves sailing so much that they would take time off from work to follow a yachting event? Well, yes and itís not for the reason you might expect. I don't sail. I mean not at all. My brief experience with learning to sail went as far as a tip-and-right lesson and it was downhill from there. Nevertheless, I continue to love sailing from the shore, and follow yachting events like the America's Cup with a passion. I'm not sure why it worked out this way, but as the old saying goes it doesn't matter so much the why; what matters more is what you do.
Despite that bold conviction, a concerned voice said "How can you possibly go to this regatta thingie and write about it? You don't know how to sail and you know even less about racing. What the hell are you going to write about?" My first reply was "Yeah, what am I going to do?" After a few minutes, I decided I would do what I always do. I have never been one to let people or convention dictate to me what I could or should like. I also happen to think that ignorance can be a wonderful place to start a journey because it inevitably means that everything is new, everything a discovery. I decided that I would write about what I found in my search for "beasts you don't see everyday," and find the thread of common language that continues to keep me in tow behind the boats.
Before embarking on my Don Quixote-esque quest, I made sure to do some homework and read up on the boat itself. Fortunately, I didn't need a degree in naval architecture to find something appealing about this boat. It is a light, high-performance boat with huge sail area, designed by Americaís Cup luminary Russell Coutts and naval architect Andrej Justin. It was created for top-level racing, hosting a crew-mix of professional and amateurs. In its brief existence, the class association has attracted world class match racers and grown from a fleet of six to twenty. Impressive numbers in just four years.
Maybe it's because I am a cellist and have to deal with the nightmare of traveling with my instrument on airplanes, but for some reason I was fascinated by the fact that the RC44 comes apart for ease of transport. I wish my cello did that. The stern is removable and the mast disassembles in two pieces. This, along with a special canting trailer, allows the 44-ft boat to fit in a standard 40-foot shipping container. It's a boat that comes in a box!
When Vincenzo Onorato likened the RC44 to a Stradivarius violin, I found a thread that engendered a familial appreciation for these race boats. In the classical music world, indeed the Stradivarius is a thoroughbred -- a very expensive one -- and like all thoroughbreds they can be twitchy and demanding even to the very best violinists in the world. And yet despite these unforgiving characteristics, violinists covet these instruments because of those very demands. It makes them better players. When I asked Dirk de Ridder of BMW Oracle about the benefits of sailing on a RC44 his thoughts were in kind: "We keep the RC44 in the mix, itís good sailing. We tend to keep doing it all the way through, so itís a good level. Itís not a very easy boat to sail, so you have to keep changing things and its always evolving, so in that way itís a good boat."
I arrived in Miami just in time for the first day of match racing. There were fourteen boats out on the water, circling around, flying by the spectator boat. It was utter chaos. It was unseasonably cold for Miami and the winds were gusting over 20 knots. Despite the excellent on board commentary, I was lost in what I was seeing. It was magnificent. It was a big, beautiful, chaotic combination of sight and sound.
Guest spots on the transom of these race-cars were canceled for safety reasons and that seemed sensible considering the dramatic sight of these boats heeling in the water. Nevertheless everyone managed to stay upright for the most part. Spinnakers tore, a mast was broken, but the beast remained undaunted. "...Itís a light boat, but when itís windy out [the crews] seem to throw them around with ease," says yachting journalist and Oracle press officer Sean McNeill. "Iím just impressed with how easily they handle the boats and how well the boats themselves handle the conditions. Because itís such a narrow boat youíd think itíd be quite tippy, but it seems like the whole platform is very solid."
Once the winds started to calm, guests from the spectator boat were escorted via RIBs to the moving RC44s. As others looked on in envy, I looked in horror at the cowboy skills required to board from one moving boat to another and counted my blessings. This shore-hugger does not have the sea legs to accomplish this feat. However, when these guests returned, I could see the look in their eyes. It had been a short ride in a fast machine and I was envious.
The fleet racing was even more spectacular. If I thought fourteen boats out on the water waiting for their matches to start was impressive, nothing would compare it to the sight of these boats lining up at the start and then rounding the marks. I should make note that the Miami event was not only the US debut of these boats, but it also featured the largest fleet to date.
"Normally the fleetís not this big," says de Ridder. "Itís the first time we've had this many boats, and especially in a chop, the boat's quite challenging to sail. Thereís quite a big tack loss during that so you have to time everything well, so yeah, yesterday was quite exciting from time to time, especially at the top mark. We had a few close calls which makes good fun but exciting."
Over the years I have managed to pick up some basics on sailboat racing -- like someone wins and someone loses. While I can't have a meaningful discussion on the benefits of a Sambuca over a bear-away set, that doesn't stop me from wanting to see more, wanting to learn more. Even when the second day of racing was abandoned due to the dreaded lack of wind, I had enjoyed my day out on the shockingly blue water. I watched as they took down their sails and followed the reflection of our small press boat reflected on their shiny hulls. It wasn't sailing, but it was idyllic. Am I so strange? Apparently so, according to the traditionalist sports media.
Sailing lags in television ratings among all Olympic sports, and doesnít have the frenetic pace that conventional wisdom assumes is necessary in a hyper-caffeinated age. "Even if you consider a close tacking duel," says one yachting photographer here, "there's a tack every 45 seconds. Watch any basketball game, something happens every 5 seconds, which is crucial for the rhythm. [Sailing] is very slow action."
So why, why, why do I love this sport? Is it that romantic notion of man in nature and the journey without a destination? Perhaps, but there is something more that I couldn't put my finger on until I experienced the RC44s up close in Miami. It brought to light a new aspect of sailing that I had not seen before. Like the hopping from one moving boat to the next, there is an art to going with the flow -- blending into that which has already been set into motion and landing on your feet. What I saw the day races were abandoned was patience and discipline; over all respect for the things we cannot change, respect for the elements, respect for our place in the greater order of things. I also discovered something from meeting and talking to these people; genuine humility. I don't think sailing could work without these qualities. "Well, sailing is all about just going out and sailing," says McNeill. "To have a cohesive crew that works together and that can rely on each person. Youíre only as good as the person behind you and all the way to the back of the boat.... Itís still about learning to rely on the guy next to you."
Strange as I might seem to the lifelong sailor, I know there are others out there, lurking in the mangroves. People wanting to follow and watch but can't find the opening or the familiar thread to grab hold. To my fellow lurkers, take heart. A change of conventional attitude is on its way. The America's Cup event planners are hard at work trying to create a number of ways for you to join the obsession. They're taking a big gamble, but I believe it is worth the risk. They are going to lead the horses to the water and I firmly believe that if itís done right, they will drink, discover and uncover that special thread that will pull them in and take them in tow.

--Cheeko Matsusaka/©2011 CupInfo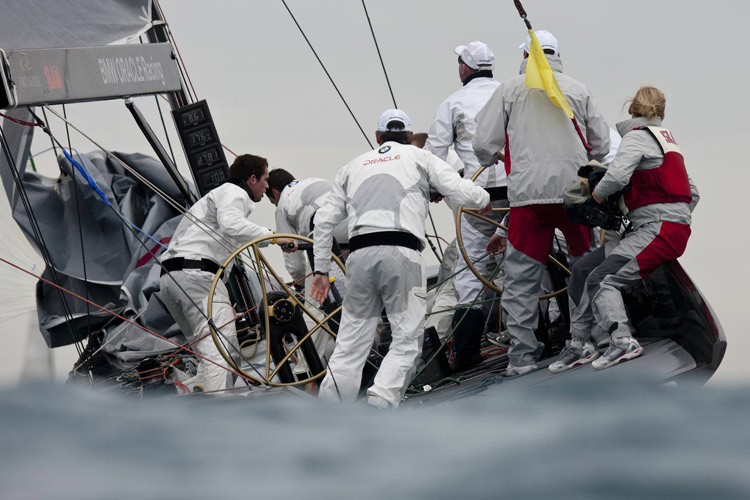 Photo:©2010 Gilles Martin-Raget/Oracle Racing

---
Links of Interest:
RC44 website: rc44.com

---