More America's Cup News:
June 29: BBC's Top Gear to feature Ben Ainslie and AC45 cat, June 30 in UK, July 8 in US: Preview at YouTube
Dec 26: Ben Ainslie working to meet year-end fund-raising target for British America's Cup challenge:
EuroSport
Dec 24: Russell Coutts suggests compressed America's Cup format for 2017:
NZ Herald
Dec 23: San Francisco's America's Cup hosting proposal for next defense expected today:
SFGate
Dec 14: Pippa Middleton crews for Ben Ainslie, adding visibility to British Challenge efforts:
Telegraph.co.uk
Dec 11: Nathan Outteridge and Iain Jensen re-sign with Artemis Racing for AC35:
Sail-World
Dec 10: Nationality Requirements for Next America's Cup? Hints on AC35 from Russell Coutts:
Yachting World
Dec 10: Hobie Cat offering Oracle Team USA-themed boat to promote sailing: TradeOnlyToday
Dec 4: "CFD Provides the Winning Edge" for Oracle Team USA says Desktop Engineering
Dec 3: Ben Ainslie says fundraising for a British America's Cup challenge is doing well: SkySports
Nov 30: Iain Murray's leadership of Australian Challenger should be good for America's Cup: Yachting World
Nov 1: 'Stretch' Ryder, America's Cup winner on Courageous (1977), passes away
Port Washington Times
Oct 31: Andrew Simpson Sailing shortlisted as official Cowes Week charity
Oct 26: John Bertrand's thought on Australia and the next America's Cup: Brisbane Times
---
2013 America's Cup Match:
Watch Replays America's Cup YouTube Channel
---
Oct 20: Oracle regatta brings 'unique' NZ unity: Paul Lewis in the New Zealand Herald
Oct 15: Faster...Dirk Kramers and Pete Melvin spill a couple speed secrets to Kimball Livingston:
Blue Planet Times
Oct 7: ETNZ's AC72 catamaran Aotearoa may not go to NZ Museum after all: msn.co.nz
Oct 5: A quick visit with Oracle's design leader Dirk Kramers at NY Times
Oct 4: ETNZ's AC72 catamaran Aotearoa may go to NZ Museum: New Zealand Herald
Oct 1: Racing Heroes: Briggs Cunningham, skipper of 1958's winning America's Cup defender Columbia, is profiled in both his sailing and auto racing careers with period photos of the latter: Read at Hemmings Blog
Oct 1: ETNZ must be funded soon or lose key people to other teams, says Dean Barker:
NZ Herald
Oct 1: Dean Barker, back in NZ, thanks supporters for terrific welcoming reception: Dean Barker's Blog
Sep 28: National Obsessions and Grassy Knolls, Kimball Livingston puts the 2013 America's Cup in its proper place: SailFeed

Sep 27: Sources say Hamilton Island YC is new Challenger of Record:
Reuters.com
Sep 26: Win on Wednesday, Sell on Thursday. Larry Ellison back to work: Market Watch
Sep 26: Kiwi Fans' emotional rollercoaster ... Kia Kaha Aotearoa: Watch at Vimeo
Sep 24: See photo galleries of 2013 America's Cup race images from Sander van der Borch
Sep 24: Oracle ties ETNZ, forcing winner-takes-all Race 19 for America's Cup:
ACEA Press Release
Sep 23: Oracle Team USA makes it five wins in a row:
ACEA Press Release
Sep 22: Defender add two wins on Day 12, closes up on ETNZ: ACEA Press Release
Sep 20: America's Cup Race 13 Leg 2 Penalty Cross:
Photos from Gilles Martin-Raget and John Eric Mangino
Sep 18: America's Cup Race Day 8: Race photos from Chris Cameron | Fan Photos from Jan Pehrson
Sep 18: Post-race Press Conference: America's Cup YouTube Channel
Sep 17: Too windy for racing, but Oracle and ETNZ were out sailing anyway:
See Photos
Sep 15: Oracle Team USA and Emirates Team New Zealand split races Sunday:
ACEA Press Release
Sep 15: America's Cup Race 9 and 10 images from Jan Pehrson:
See Photos
Sep 14: Both Oracle and ETNZ yachts get new measurement certificates Saturday:
Official Site
Sep 12: America's Cup Day 4 - Emirates Team New Zealand Takes Two Races:
ACEA Press Release
Sep 12: Oracle Team USA's Grasp on America's Cup slipping away:
Reuters.com
Sep 12: Post-Race 6 and 7 Press Conference:
Replay on YouTube
Sep 12: Oracle Team USA Risks Fatigue in Pursuit of Improvements:
NZ Herald
Sep 11: Ben Ainslie says despite troubles, America's Cup can still be won by Oracle Team USA:
Video at SkySports
Sep 10: Oracle Team USA calls timeout After Kiwi Trouncing:
Story at Reuters.com
Sep 8: Close racing on the Bay for America's Cup Day 2:
ACEA Press Release and Oracle Team
Sep 7: America's Cup Day 1 Sights of AC34 from the water: Photos
Sep 7: Racing Rules of Sailing for America's Cup (RRSAC) updated: Read via Rules Guide
Sep 4: Golden Gate YC vs. St. Francis YC, the NY Times peeks into the other long-running sailing contest.
Sep 3: America's Cup Sailing Instructions amended, normal starts 5 min later, latest possible is 2:40pm: Read via Rules Guide
Aug 29: 46 pictures about two teams: Louis Vuitton Cup Trophy Ceremony: Photos from Chuck Lantz
Aug 28: Sailing Instructions for America's Cup Match issued:
Read via Rules Guide
Aug 27: Matteo de Nora, a glimpse of ETNZ's low-profile high-impact benefactor: New Zealand Herald
Aug 25: Emirates Team New Zealand beats Luna Rossa to Win Louis Vuitton Cup: ACEA
Aug 24: Winning Race 7 puts ETNZ one win away from LVC:
ACEA Press Release
Aug 24: Luna Rossa Piranha Awarded ACWS Overall and Fleet Win:
Team Press Release
Aug 23: Le Foiling: Loïck Peyron of Artemis/Energy Team switching to Moth: Video at YouTube (0:54)
Aug 23: ETNZ takes a 5-1 lead in LVC Final after Race 6:
ACEA | Luna Rossa
Aug 21: Luna Rossa Race Report:
Team Press Release
Aug 21: ETNZ takes races 4 and 5 in LVC finals:
ACEA Press Release
Aug 19: ETNZ takes 2-1 lead in LVC finals: ACEA Press Release
Aug 16: Explaining the wingsail, video from Oracle Team USA at YouTube
Aug 16: 12-meters, America's Cup Class, and the Cats. See a visual history of every America's Cup boat 1983 to 2013: Drawings by Karl Urtz
Aug 15: Luna Rossa and ETNZ Ready for 30th Anniversary Louis Vuitton Cup Final Match:
ACEA Press Release
Aug 10: Justin Chisholm assesses the implications of Oracle's ACWS violations: SailRacingMagazine
Aug 9: Silver Screen: ETNZ sponsor Nespresso's "A Day in the Life" of the America's Cup trophy: YouTube
Aug 8: They're winning, but is Luna Rossa up to speed in the Semi-Finals? Matthew Sheahan at Yachting World
Aug 5: Artemis ready to compete in Semi's, ribbons will honor Andrew "Bart" Simpson:
Team Statement
Aug 5: Emirates Team New Zealand foiling upwind Monday with huge wingsail twist: Photos at Sail-World
Aug 5: Oracle's Java-based system for real-time AC72 performance data on crew wrist-tablets: Java Magazine
Aug 2: LVC Semi-Finalists Luna Rossa and Artemis talk to media about upcoming match:
ACEA Press Release
July 31: Performance Culture at Oracle Racing, learning and improving at the boundaries: Oracle.com
July 25: Artemis Racing AC72 #2 first sail video and foiling: Watch at YouTube (5:41)
July 23: Crunching some numbers from Round Robin 3: Matthew Sheahan at Yachting World
July 19: Cats, cats, cats! Going fast. USA x 2, ITA, and ETNZ's 50 mph blast:
Video at YouTube
July 18: Artemis prepares AC72 wing for take-off: Instagram Photo
July 13: Artemis Racing exploring how to remain viable under rules following Jury decision:
Team Statement
July 12: Oracle Team USA's two boats dance along, awfully close together:
Video at YouTube (5:44)
July 11: ETNZ pleased by Jury Ruling on sanctity of AC72 Class Rule:
Team Statement
July 10: Artemis AC72 #2 emerges from shed as load testing advances:
See photos
July 9: "I like to be a free electron..." Loïck Peyron's high energy profiled at New York Times
July 9: Touring Artemis Racing's Base:
Photos and Video
July 5: Opening Ceremonies celebrate start of 2013 Regatta: ACEA Press Release and photos
July 3: "Sailing on Air with America's Cup Catamarans": Story at New York Times
July 2: Luna Rossa protests Regatta Directors actions to America's Cup Jury: Read Team Press Release
---
Feature Stories:
Design: Genetic Optimization of America's Cup Yachts

Quick Chat with Stan Honey
(Dec 24) Christopher Clary of the New York Times talked briefly with Stan Honey about prospects for the Sydney-to-Hobart Race, where Stan will be navigator on Perpetual Loyal. Also worked into the mix was a light-hearted question about what will follow the Liveline system created for the 2013 America's Cup.
Question: After the America's Cup, has anyone asked you to help revolutionize television coverage of badminton or Nordic skiing or any other niche sport?
Stan Honey: (Laughing) The tricky thing is that the systems are expensive, and in the case of the America's Cup, we had a sport where there were a lot of important things that were hard to see. The current systems I've worked on benefit sports that have that characteristic, where there's a lot of important things to the sport that happen a lot and are hard to see, like the first-down line in football or where a baseball misses or goes through the strike zone. But not all sports have that. Basketball is a sport I love and used to play, but there's nothing important that's hard to see there, or at least that we've been able to figure out.
---
City of San Francisco Proposes 2017 America's Cup Plans
(Dec 23) The City of San Francisco has sent a formal proposal to America's Cup organizers outlining their plans for hosting the next America's Cup, expected though not yet officially confirmed for 2017. The basics of the 2013 arrangements would not change drastically, based on initial information, with the exception of relocating the team bases to Piers 27-29, which was the site of the America's Cup Park in 2013.
Read ACEA Press Release
Also: Read story at San Francisco Business Times

---
CupExperience Beats Goal Deadline
(Dec 20) Jack Griffin's proposed crowd-funded eBook about the 2013 America's Cup reached it's goal of full funding by December 20th, and his project, now at 125% of target will be going forward.
Learn more about the project at Kickstarter

---
Iain Percy Remembers Andrew Simpson
(Dec 17) Iain Percy: "We were close through childhood and university but our friendship and sailing partnership was cemented after the 2000 Olympic trials. On the night of the last race of the trials, we were having our normal post-event beer and Andrew came out with an extraordinarily generous line. Instead of concentrating on the possibility of not qualifying, he said: "What do you need me to do over the next 12 months to help, because we are going to win you a gold medal?"
Read article at theguardian.com

---
Barker and Spithill Interviewed
(Dec 16) The skippers of the Challenger and Defender of the 34th America's Cup both spoke at length to Radio New Zealand, looking back on the match.
Jimmy Spithill, Skipper, Oracle Team USA: "To learn the most, you need to be pushed by the best."
Dean Barker, Skipper, Emirates Team New Zealand: "As the event went on they sort of made [fewer] mistakes and got better performance, and finally that translated into results."
Listen to interviews:
Dean Barker and Jimmy Spithill

---
Team France Sets Off for America's Cup with a Unified Effort
(Dec 12) The newly announced Team France will have the combined resources of a number of experienced figures in multihulls, media, and past America's Cup campaigns. Bruno Bich, whose father led the first French entries into the America's Cup, is behind the team, as are leaders from the French television network Canal+ and dedicated yachting sponsor Groupama, along with the sailing talents of Franck Cammas, Michel Desjoyeaux, and Olivier de Kersauson among others. Representing Yacht Club de France, the team announced themselves Wednesday at the Paris boat show and stressed the breadth, depth, and unity of their new undertaking.
Read Team France Press Release (in English)
Also: Press Release in French

---
Team France Launches for 35th America's Cup
(Dec 11) Franck Cammas, Michel Desjoyeaux, and Olivier de Kersauson announced the formation of Team France, an intended challenger for the 35th America's Cup. The effort is said to have sponsorship from Groupama, which has a history of supporting Cammas in his multihull programs, a preliminary research budget reported at €20 million, and is seeking recruits while proven America's Cup talent is still on the market.
Read more at ouest-france.fr (in French)

---
Dalton "Cautiously Optimistic" Next NZ Cup Campaign Can Be Launched
(Dec 5) Grant Dalton, CEO of Emirates Team New Zealand, has spent the last couple weeks touring the globe, seeking financial support for another Kiwi tilt at the Auld Mug, and Dalts was encouraged by what he found.
"The reception from the sponsors was very, very good," said Dalton. "I'm cautiously optimistic it's a doable proposition."
Hard commitments, though, appear to hinge on having firm details in hand. "In the end it will depend on the event," said Dalton. "Until we have an event, we have nothing to sell."
---
Spithill Tries to Keep Pace After Victory
(Dec 4) Jimmy Spithill, Skipper of Oracle Team USA, followed up his America's cup win with a whirlwind media tour and newfound celebrity. USA Today checked in with Spithill two months after the historic win and found he was surprised in many ways to learn what the team's victory has meant to people:
Excerpt: "None of the attention surpassed what Spithill found most moving: people suffering from cancer and other serious ailments who came up to tell him they were inspired by his never-surrender attitude. 'I expected people who enjoyed sport to come up to me,' said the ultra-fit Spithill. 'But I didn't expect that. That was by far the coolest thing about the whole aftermath.'"
---
Murray to Lead Australian Challenge
(Nov 27) Iain Murray, skipper of the Defender in 1987 and Regatta Director for the 2013 America's Cup, will take the reins of the new Challenger of Record. "I have long been an avid supporter and ally of Bob Oatley," Murray said. "When I received the invitation to lead Australia back into the America's Cup for the first time since 2000 on behalf of their Hamilton Island Yacht Club, there was only ever going to be one answer."
---
Team New Zealand Gets $5 Million to Keep Key Staff Onboard
(Oct 21) The New Zealand government is supporting Team New Zealand with $5 million NZD to help the team bridge from the last America's Cup campaign into the next without losing top-level personnel to other teams. The funding is likely to be just the first part of a larger public contribution totaling about $36 million, similar in amount to NZ support for the 2013 challenge, with the rest of the estimated $100 million budget coming from corporate and private sponsors.
---
Team New Zealand May Receive Funding Commitment Monday
(Oct 20) A NZ government commitment for Team New Zealand that will allow them to retain core personnel appear likely to be approved shortly, funding about one-third of the expected budget and giving TNZ time and the organizational stability to approach commercial sponsors as viable team.
Dean Barker mentioned that both he and Grant Dalton feel re-energized by the support the team has received at home despite their loss after coming within one race of winning the America's Cup.
ETNZ leaders have been concerned since the final race about losing key personnel to the lure of contracts from other teams while TNZ's funding remained uncertain. The benefits of the international visibility gained by NZ's tourist and export industries in the recent regatta in San Francisco, and the possibility that a win in AC35 would bring the Cup back to Auckland, appear to be a convincing government ministers to make the investment.
Barker also mentions in the article that the next defense might not take place until 2017, with protocol details and other event decisions expected early next year.
---
Dust to Dust: USA-71
(Oct 14) What to do with an old America's Cup Class yacht? Oracle's ACC USA-76 was a familiar sight on San Francisco Bay this summer during the recent America's Cup Match, racing also in the Superyacht Cup. USA-76 was the competition boat from Oracle BMW Racing's 2003 America's Cup challenge, the second of two boats they built for that campaign. Her slightly older sister, USA-71, has been displayed at the Oracle Corp. headquarters for the last six years, but her composite hull and mast are now destined to be recycled via a process developed by the Boeing Company.
Read Oracle/Boeing Press Release

---
Grant Simmer Takes Stock
(Oct 10) Michelle Slade talked with Grant Simmer, General Manager, Oracle Team USA, about how the team adapted during the America's Cup to beat Emirates Team New Zealand, and about what comes next. Some excerpts:
Question: What is a Stability Augmentation System and how did it come about?
Grant Simmer: [Laughs] "Firstly, I don't know what it is, and secondly, we didn't have one. We didn't change anything to do with our foils control system for a period of about six weeks prior to the Cup. We made no changes in that regard."
Question: What do you see as the biggest challenges of moving on to create AC35 compared to all previous Cups?
Grant Simmer: "We need to get more teams. We need to come up with a formula that gets more teams, but on the other hand it's going to be very difficult not to have an event that matches AC34 in terms of being impressive. Going to a much slower multi or monohull -- I think that would be difficult."
Read interview at Sailing World

---
Next Time: Coutts Speaks
(Oct 7) Russell Coutts talked to Sport Pro Media about his thinking for the next America's Cup.
Coutts: "We can't take a step back but we've got, simultaneously, to address the cost issues because the cost of these teams is completely out of line with commercial sustainability. The main thing to address is the number of personnel on each of these teams. The personnel is somewhere between 50 and 60 per cent of the running costs of the teams, so we simply have to find ways to reduce the number of people on-site in these teams.
"We can do that in a variety of ways. We could consider making some of the components one-design, which would probably make the racing more compelling as well. I emphasize 'some' of the components because there should still be a technology element -- that's a part of the brand -- but it should be technology that doesn't absolutely destroy the racing, so that we can still keep the focus on the athletes and teams."
Read interview at SportsProMedia

---
Big Data for Big Cats: Oracle's Asim Khan
(Oct 4) Oracle Team USA's AC72 yacht generated vast amounts of information every second, 300 sensors and gauges streaming a torrent of information. Oracle ultra-tech Asim Khan was involved in putting all that data to their advantage. "On a daily basis, you can't really analyze it unless you've got really good tools," said Khan.
In 2007, the 4 Gigabytes of data archived from Oracle's challenge fit on a single DVD. This time around, there was about 300GB, instantly accessible to the sailors, and integrated into their testing, training, and racing for maximum benefit.
"To me, there wasn't a lot of change in straight-line performance during the regatta, but there were gains in the tacks and gybes and better balance and that was more because of technique," said Khan. "A lot of things, such as changes to the rudders, were born out of analysis. But there wasn't anything magical that we found in the data. There were just a lot of small incremental changes."
---
Oracle Reveals (Some) Speed Secrets
(Sep 29) While Oracle Team USA might not reveal all for a while, with the America's Cup now won team leaders have relaxed enough provide a guide to what they did to improve their performance between Race 1 and Race 19. They stress that their focus was as much or more on the sailing and tuning as on the tech bits.
Dirk Kramers, Design Executive, Oracle Team USA: The changes to the defending yacht were "all small and all visible, said Kramers. "A lot had to do with the balance of the boat."
Grant Simmer, General Manager, Oracle Team USA: "The sailors made a change to the way they were sailing the boat so we adapted the boat to help them make that change. There was no silver bullet," said Simmer.
Budget numbers for the overall cost of the defense are suggested, with salaries and personnel expenses said to take up slightly more than half of the total.
Matthew Sheahan at Yachting World has catalogued the nuts and bolts of the many individual changes:
Read more at Yachting World

---
Australians Officially Announced as Challenger of Record for Next America's Cup
Australia's Hamilton Island Yacht Club was publicly announced by Golden Gate YC as the Challenger of Record for the next America's Cup, with the new challenger backed by Bob and Sandy Oatley.
Read GGYC Press Release
---
What Comes Next? America's Cup 35
Larry Ellison confirmed at the post-race press conference that a Notice of Challenge for the 35th Defense of the America's Cup has been accepted, but the details of the challenge will be disclosed at a future date. Specifics involving the types of boats and other aspects like format, timing and location will be explored with the potential challenger community to help increase participation, and build on the successes of America's Cup 34. While praising San Francisco, and saying he would love to come back, he did not commit to where the next Defense would be held, and said that the topic would need to be explored with the city.
On September 30th, publicly announced that Hamilton Island Yacht Club of Australia was the next Challenger of Record, confirming recent media reports. The Notice of Challenge was received on the water as the winning yacht cross the finish line in the last race of the 2013 America's Cup. Representatives of GGYC and HIYC will negotiate the terms of challenge and establish the initial rules to accept additional challengers for the 35th defense. A report at SFGate says that the Canadian Royal Vancouver YC was also willing, but the Aussies expressed interest first.
Post-race, Grant Dalton deferred answers about Team New Zealand's future, saying that he did not plan to be back in his current role. New Zealand officials say they are reviewing funding prospects now that the match is settled.

---
America's Cup: Wednesday, Sept 25
Day 15: Final Race 19
Wednesday's Program:
1 Match Race, Race 19.
Challenger vs. Defender: Deciding Race
Emirates Team New Zealand vs. Oracle Team USA
Series is tied at 8-8, first to 9 points wins the America's Cup. Start time 1:15pm PDT. ETNZ has Port Tack entry into starting box, entering 2 minutes and 10 seconds before the gun. Oracle Team USA enters on starboard at 2 minutes even.
Conditions:
Forecast for winds 20-25 knots, higher than Tuesday. Low Tide 10:08-10:26am, High Tide 4:04-4:18pm, Slack water 10:59am, Max Flood 2:04pm, times approximate and varying across the course. Flood current for racing. Wind limit is 24.4 knots (23-knot nominal limit plus 1.4 knots of flood current).
Regatta Director Iain Murray expects that even with the higher winds forecast, that there will be a window for racing today. Once a boat reaches Mark 3, completing the upwind leg, the race cannot be abandoned for winds breaching the safety limits.
Watch:
USA: Live television broadcast on NBCSN at 4:00pm ET/1:00pm PT. No live YouTube in USA during racing. For more details, international coverage, and other options see: How to Watch
Also:
Check live wind and race data: VirtualEye Live Stats
Official Race Chatter and updates: @AmericasCupLive
Final Race 19:
Start on time at 2:15. ETNZ into the start box. Oracle Team USA enters slightly late. ETNZ goes deep into the box. Both come back, nearly simple time and distance starting strategy, very little engagement, just a few testing moves. Clean start, Oracle to weather, ENTZ to leeward. Drag race to Mark 1, they are neck and neck. Just short of the mark Oracle falls off her foils. ETNZ will round first. Delta at Mark 1 is 6 seconds.
Onto Leg 2, ETNZ just leading. Oracle 35m behind, trying to roll up on ETNZ. All the way down to the offshore boundary they sail, gybing together. Lead is about 1 length with Oracle directly astern of ENTZ now. 40 knots on starboard tack. Getting ready to prepare for the downwind gate. Both into the gate, ETNZ turns left, Oracle Team USA turns right. Delta was 3 seconds. Utterly flying.
Upwind, slight lead for USA as ETNZ tacks also to starboard. Lead out to 70m, then Oracle Team USA tacks. Cross comes with ETNZ on starboard and right of way, Oracle has to duck, lead back to NZL. 66m. ETNZ out to the shoreside boundary. They tack. Both on starboard, lead nearly even. Oracle tacks, cross coming now with Oracle on starboard. ETNZ goes behind them, no need to dip. Can NZ gain on the left? Oracle tacks near the shore. ETNZ tacks to starboard, cross coming. Very close. Oracle is just ahead and can make it. NZL to the shore and tacks. Oracle doesn't go too far, and comes back again, covering, still ahead. USA ahead 120m at the cross. ETNZ has to hang in with them. Winds have been 17-20 knots. After the next Mark wind limits cannot abandon the race.
ETNZ coming back to the middle, but is still trailing. Oracle Team USA is opening up a small lead, similar pattern to Race 18. They tack back from the middle to cover. ETNZ steaming up on port. A few more tacks before the upwind gate. Still trading tacks. 250-260m lead. Oracle heading out to the right on port, ETNZ makes last tack on the boundary, come up the top of the leg on port, too. Both about to set up for a rounding. Lead out to 300m. Oracle Team USA foiling upwind. Saving tacks in the rounding will be key. A lot of wind for the mark rounding, too.
Oracle Team USA tacks on the port layline, can lay the mark, looks to turn right. ETNZ might need another tack. Oracle rounds, turning right. ETNZ manages to point and lay the mark. USA is off and running, ETNZ rounds to the left. Delta is 26 seconds.
On the final downwind the lead is 500m to Oracle Team USA. Slow gybe very close to the boundary for ETNZ. Race is now on Leg 4, it will go into the book, no abandonment. Lead is 600m. Halfway down the leg, lead isn't shrinking. 700m plus for Oracle Team USA. Oracle's wind drops a bit, ETNZ closes slightly, but not enough. The race track is getting very very short. Oracle now on port gybe will need one gybe to starboard for rounding the final mark.
Golden Gate Yacht Club and Oracle Team USA have Defended the America's Cup!
USA wins Race 19 by 44 seconds.
See Complete race timing at LiveStats
Golden Gate YC defends the America's Cup by a score of 9-8. Celebration on the water, trophy ceremony coming up within the hour.
Congratulations to Oracle Team USA and Golden Gate Yacht Club, Winners of the 34th America's Cup!
Thank you to Artemis Racing, Luna Rossa, and Emirates Team New Zealand for enormous sporting efforts and incredible sailing.
Preview:
The America's Cup is on the line today, up for grabs to the first boat that can get around the five-leg course on San Francisco Bay and cross the finish line at the end of Piers 27-29. That should take less than 25-minutes from the 1:15 pm start. A little after 2:30 the silver trophy won by the yacht America that August day in 1851 will be hoisted in the California sun, dripping with champagne.
Both Emirates Team New Zealand and Oracle Team USA have roundly earned respect for the fight it took to get here, in the racing since September 7 of course, and the unending slog that started back in 2010 to design, build, and learn to control these tremendous boats. There will be a lot of celebration for the winners, and plans for Cups to come, but it's going to be hard on the losing side whichever that may be.
Oracle skipper Jimmy Spithill spoke of a comeback when he was down 7 races, and delivered it. He leads a team that had not just every resource imaginable, but enormous talent, too, and just couldn't get ahead, stay ahead, and win. Their resurrection is a heartening rebuke to those ready to dismiss them over a few fractions of boatspeed here and there. Will what they've accomplished matter, will that be remembered or forgotten if they lose?
On the other side, Dean Barker has been here before, in 2003 as the defender, facing a tough team backed by Russell Coutts, his mentor and teammate in the 2000 America's Cup. Team New Zealand in 2003 went from invincible to a frustrating second place, plagued by breakdowns, losing the Cup in circumstances that still irritate, their trophy taken away by the very same people who not long before had won it for New Zealand in a flourish of national pride. Barker and leader Grant Dalton are here with their team after an almost non-stop ten-year crusade to reverse that slight, which included the America's Cup Final in 2007 as the 2007 challenger facing a billionaire-backed defender that proved to be slightly faster. They have worked incredibly hard to be here, and looked all but flawless until 7 races ago, with the Auld Mug one win away from being theirs. They are so close. What will change if they don't get that one race they have needed for so long?
What it will really mean in the big picture if Oracle defends the Cup or not is hard to say. Will the perception be that it's too hard to beat Larry Ellison's team, discouraging potential challengers? Or like the NYYC's 132-year winning streak, will a Golden Gate YC win make more compelling the obsession to wrest it away? If New Zealand wins, does the prospect of a wide-open playing field draw new challengers and sponsors out of the woodwork? Or is it back to square one on securing funding while the nature of the regatta is reinvented once again with different format, rules, yachts, and accessibility? Both sides may have plans, but until they win, everything is just an idea.
The yacht racing has been exciting, close, tactical, and often epic. The America's Cup Match today is on the front page of newspapers across the globe, every possible measure of online activity is at levels the sport has never seen. It's hard to imagine the tension that a final and deciding America's Cup race will hold today, and the millions pf people that can and will be following it live.
Leaving whatever politics aside, if that's even possible, just the pure sporting occasion is off the charts. A seven-win streak for a comeback? Versus a ten-year dedication just to get the opportunity. Somewhere between the joy and relief and a bit of something else, a lot of history is going to take place in that City by the Bay today.
Wednesday Morning Stories:
A Comeback for the Ages: New York Times
Historic America's Cup Comeback: Reuters
Ellison Skips Speech, Watches Cup: Reuters
ETNZ Fighting for Existence, Loss Could Mean End of Team: New Zealand Herald
---
Previous America's Cup Races
Race Report, Results, Photos, and links to more
See CupInfo's America's Cup Match main page

---
Technology and The 2013 America's Cup

(Sept 13) The yachting world's most historic regatta is well-known for employing the cutting edge of high-tech to make America's Cup boats faster, but it's a two way street and the innovations employed in trying to win the Auld Mug have a history of flowing back into the "real world" too.

From the 2013 America's Cup, clothing manufacture PUMA has tested new materials, business school professors are looking for ways to use the data stream to teach decision-making, and commercial aircraft wings may someday work more like an AC72 yacht's wingsail:

"

You could envision an airplane wing where you had full-span flaps that did a number of functions," Oracle engineer Tom Speers said. "They would move together for both roll control and as landing flaps or for maneuver load alleviation and so forth."

Read "The Trickle Down Technology of the America's Cup" at Reuters

---
Previous America's Cup 2013 Races:
See CupInfo's America's Cup Match Main Page

---
Pre-Match Press Conference
Oracle Confirms They Will Race Boat #2
(Sept 5) James Spithill, Dean Barker, Glenn Ashby, and John Kostecki met the media today and answered questions in anticipation of the America's Cup Match starting Saturday. Also, the skippers established the entry order for the starts and Oracle Team USA confirmed their selected boat will be Boat #2.
Dean Barker, skipper, ETNZ: "It's exactly as it was two years ago. We have to win nine races. We're happy with our preparation, but if we're not fast enough, we're not fast enough. It's no more complicated than that. We've had 100 days sailing this boat, but you can always do things better. A lot of the decisions in hindsight we would have made a lot differently."
James Spithill, skipper, Oracle Team USA: "We've faced a lot of challenges as a team and that gives us confidence, but if we can have the hometown crowd behind us, it will be critical. We want to keep the Cup here."
Read Press Conference Report from Diane Swintal
Also: Read ACEA Press Release

---
Oracle Team USA Penalized, Sailor and Shore Crew Excluded from Event
(Sept 3) The America's Cup Jury issued decisions on several aspects of the "Weight-Gate" case involving illegal modifications of the Oracle Team USA AC45 yachts as used in several America's Cup World Series events.
Most notably for the America's Cup match, Oracle Team USA and Golden Gate YC will be docked the first two points they might earn in the series against Emirates Team New Zealand, representing Royal NZ Yacht Squadron. Since the Match is a first-to-nine-points competition, Oracle Team USA would have to win 11 races on the water in order to defend the America's Cup, while ETNZ would only have to win nine races to win the Match. Oracle Team USA will also be assessed a $250,000 USD fine.
Read the Jury Decision (JN117) (pdf)
(JN117 addresses Protocol Article 60 issues)
The jury also lifted some of the confidentiality aspects of the proceedings, and weighed in on the roles that individual shore crew and sailors played in the illegal modifications to the boats. In some cases, the jury found that persons involved were not expert in the rules and apparently did not realize that violations were being committed. However, in a few cases, the Jury's finding is that the transgression was done with knowledge and intent. In lifting the confidentiality, most of the figures are now named. Two shore crew and one sailor, Dirk de Ridder, wingsail trimmer, will be excluded.
Read Jury Decision (JN116) (pdf)
(JN116 addresses RRSAC Rule 69 allegations of Gross Misconduct by indivuals)
Read Press Releases:
From ACEA: "The International Jury confirmed that only a handful of individuals were involved, and that all members of senior management of Oracle Team USA including skippers Jimmy Spithill and Ben Ainslie, CEO Russell Coutts, General Manager Grant Simmer and Shore Team Director Mark Turner were not aware or involved in any way." Read More
From Oracle Team USA: "The rules infractions involved only a few of our 130 team members, and were done without the knowledge of either our team's management or the skippers who were driving the boats," said team CEO Russell Coutts. Read Team Statement
Read News Stories:
NZ Herald: Oracle Begins Minus 2
and Heavy Toll on Oracle
Also stories at Associated Press and San Jose Mercury News

---
Dialing in LiveLine
(Aug 29) Stan Honey was the driving force behind the LiveLine system that elevated the presentation of America's Cup racing on TV for the 2013 America's Cup, and in the process brought umpiring and race management into the 21st century along with it. Applications for the high-precision data stream, and the augmented reality it supports, could benefit other sailing events, too. LiveLine has been explained before, but here, with Ken Milne, Honey discusses many technical details behind LiveLine.
Excerpt: "A typical green-screen chroma keyer detects where the image is green, and that's where it "draws" the weather map image; otherwise, it draws the foreground image of the newscaster. Boats sailing on an ocean don't have a reliably consistent background—the water's appearance can vary depending on the weather and the direction of the sun. So the AC Liveline system uses a specialized chroma keyer that allows a wide range of background colors; an operator manually picks the correct water color by clicking a mouse over an image of that water."
Read "The Augmented Reality America's Cup" at IEEE Spectrum
---
Straight Talk with Iain Murray
(Aug 22) Regatta Director Iain Murray spoke with Michelle Slade about the America's Cup and Louis Vuitton Cup so far. In a wide ranging conversation, with Murray's typical candor they talked about the what's been learned in this Cup cycle, what's worked and what hasn't, and changes that might work better for next time.
Iain Murray: "It's easy to sit here now, look back and say, 'We should have done this or that.' I think probably the biggest disappointment to people is the fact that we're so short on challengers, and you can ask yourself why is that so? Clearly the cost of the campaign is an issue, the complexity of the campaign is another issue. I think everyone looking forward is saying, 'These boats are really cool, the guys love sailing them, we're in the first generation of boats foiling and understanding the race formats.'"
"We came off something that was pretty good at the end with the AC45s and high expectations with 10 boats roaring around, a great event in Naples, great events here in San Francisco, and Newport. In many ways coming back to three boats has been a dip. If you look back, you can say we need more controls, we needed something more like an AC45, something that was maybe not an AC72, but not an AC45. Maybe we should have done it in an AC45—I don't know. I think a 55- to 60-foot semi one-design boat is probably what you'll see the teams looking toward."
Read interview at Sailing World

---
Faster
(Aug 16) Ken Read got an outing on ETNZ's AC72 yacht, with plenty of wind, and set a personal best for speed on the water. Read provides a short re-cap:
Ken Read: "I sat there in the middle of the trampoline thinking to myself that it was all a bit marginal when tactician Ray Davies said over the ear piece to skipper Dean Barker something like "not sure how good an idea this is Deano as I really can't see a thing." You think this isn't a great idea Ray? It just goes to show how relaxed all these crews have become at incredibly high speeds."
Foils That Shaped the Cup: Part 2
Gino Morrelli, partner at Morrelli & Melvin Design & Engineering, has worked on ground-breaking multihull designs for three America's Cups now, going back to 1987. Before joining Emirates Team New Zealand's design team for 2013, he helped author the AC72 Class Rule. Few people know better where extreme multihull technology came from, and where it's going. Morrelli spoke with CupInfo about making lifting foils work on the America's Cup boats, and where foils are showing up next:
Gino Morrelli: "We've already got clients looking for us to design basically semi-lifting -- what we call lift fractions -- to start putting lift fractions onto cruising cats, big custom carbon things. That trickle is happening as we speak. We recently just stuck a set of big asymmetric canted-end foils on one of our Gunboats, escalating that war down there in the Caribbean. That's a 62, it's a 40,000-pound boat."
"You're going to see some pretty wild 90-100-foot cruising cats flying a hull around the course in the near future."
On helming an AC72: "It's more like aiming a rocket," Morrelli says. "You're not really sailing a boat. You are looking at targets and you are aiming."
Read more with Designer Gino Morrelli at CupInfo

---
Foils That Shaped the Cup: Part 1
Pete Melvin was one of the authors of the AC72 Class Rule and then became a member of the Emirates Team New Zealand design staff. Melvin knew that foiling a large wingsail cat was possible in theory, but even he was surprised by how far the technology has progressed and what it's meant for the racing. Diane Swintal caught up with him and has this report:
Pete Melvin: "At Team New Zealand, we developed a new type of foil that allows you to keep your height above the water more or less steady. No one had been able to do that before, at least not on a course-racing boat that was not going downwind. We developed that mostly on our SL33 test boats. They came with the stock constant curvature 'C' foils and with those kinds of foils, you can generate 50% boat weight lift before they get unstable. But we noticed that when we could get one boat up fully foiling for a few seconds it would really accelerate away from the other boat -- and that got the wheels turning. How, with such a huge potential benefit, can we achieve stable flight downwind?"
Read more with designer Pete Melvin at CupInfo

---
Small Boat Sailors Drawn to America's Cup Cats
(Sept 6) Demand for the skills that make 2013 America's Cup boats go fast opened the door for a whole flock of young talented sailors who had never expected their résumés would lead to an America's Cup career. 27-year-old Aussie Nathan Outteridge talks to CupInfo about transitioning from a small Olympic dinghy to a big AC45 to a huge AC72, becoming a leader at Artemis, and learning to race a foiling wingsail multihull in eight days
Read Nathan Outteridge at Cupinfo

---
Team of Rivals: Ainslie vs. Spithill
(Sept 4) Oracle Team USA has relied on in-house training to prepare for the America's Cup, but is it the same intensity as real racing?
"We are pushing as hard as we can," James Spithill says. "It's hard not to be at full throttle on these boats, there really is no in-between. We're getting pushed, we're getting under a lot of pressure – and that's exactly what we need."
Read Ainslie vs. Spithill at Cupinfo

---
Louis Vuitton Cup
Results, Schedules, Photos, and links to more:
Louis Vuitton Cup Main Page or jump to:
Finals Page | Semi-Finals Page | Rounds Robin
LVC Final Race Reports:
Day 1 | Day 2 | Day 3 | Day 4 |
Day 5 | Day 6 | Day 7
LVC Semi-Final Race Reports:
Race 1 | Race 2 | Race 3 | Race 4
CupStats: LVC Final
See Average Speed Polar Plot for ETNZ and Luna Rossa plus LVC Race 7 Stats Table.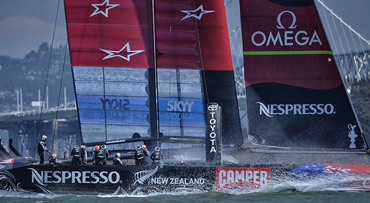 Day 4 brought exhilarating close race and tough losses for Luna Rossa. Click image image to view photo gallery from Rick Dole. Photo:©2013 Rick Dole
---
Red Bull Youth America's Cup
Day 1 (Sept 1):
Day 1 of the Red Bull Youth Americas Cup had plenty of action, -- and most importantly some close, hard boat racing. The RBYAC, for sailors aged 19-24, was conceived as a path for young sailors to get into the America's Cup. And what better way to showcase their talents than in the AC45 multi-hulls the pro sailors themselves used for the Americas Cup World Series?
It would be easy to simplify by saying that in both of Sunday's races, the leader at the reaching mark won the race. However, that wouldn't tell the whole story. America's Youth Sailing Force (AYSF) did indeed maintain their lead throughout the first race, but only after adventures that included hitting a mark, fouling the second-place New Zealand Sailing Team, and a near-capsize almost throwing a crewman into the bay. In Race 2, NZL1 Full Metal beat Sweden and France in a race highlighted by multiple lead changes and penalties.
If this is a glimpse of the America's Cup talent for the next 20 years, the sport may be in some capable hands.
Read Day 1 Press Releases:
ACEA | Switzerland's Team Tilt
Day 2 (Sept 2):
Wins for ROFF/Cascais Sailing Team and Swedish Youth Challenge, while NZL, USA, and SUI top the leaderboard after a second day of close racing in AC45's. The regatta continues though September 4.
Read ACEA Day 2 Press Release and
Team Tilt (SUI): Climbs to Second Place on Day 2
AYSF "The Force" (USA): Tied for First with NZL
Day 3 (Sept 3):
Peter Burling and NZL Sailing Team won both Red Bull Youth America's Cup races Tuesday, solidifying their place at the top of the standings, while the Australians finished second in both races and climbed a few rungs up the ladder. NZL Full Metal Jacket Racing and USA's Youth Sailing Force round out the top three. The Americans were hampered when their tactician fell overboard in the first race of the today.
"That was kind of a setback", said skipper AYSF Mike Menninger. "It's hard to sail these boats with five guys. Our maneuvers weren't as crisp and our boatspeed took a dip."
Read ACEA Day 3 Press Release and
Team Tilt (SUI): Challenging Day 3 Results
Final Day (Sept 4):
Switzerland's Team Tilt rallies to win the final race of the event, finishes fourth overall. NZL Sailing Team wins the inaugural Red Bull Youth America's Cup regatta overall.
Final Standings:
1. NZL Sailing Team (NZL) – 57 points
2. Full Metal Jacket Racing (NZL) – 45 points
3. ROFF/Cascais Sailing Team (POR) – 44 points
4. Team TILT (SUI) – 43 points
5. American Youth Sailing Force (USA) – 42 points
6. Swedish Youth Challenge (SWE) – 39 points
7. Objective Australia (AUS) – 38 points
8. Next World Energy (FRA) – 37 points
9. All In Racing (GER) – 30 points
10. USA45 Racing (USA) – 15 points

---
162 Years Ago: America
(Aug 22) 162 years ago today the yacht America won her race around the Isle of Wight, beating all British comers, a revolutionary act in the world of yachting that still echoes today. The famed yacht sailed for many years after, and the leading authority on her history, W.P. Stephens, had the chance to inspect not only paper documents but the boat herself and wrote this letter in 1921 highlighting some of what he had learned:
Excerpt from Stephens: "While originally built from a block model, cut in the basement of the old house at 91 Cannon Street, New York, by George Steers, it is unlikely that finished plans were made, as would be the case to-day; the designer-builder working out all details as the work progressed. It is said that the custom of George Steers was to "kick" the battens on the floor: that is, as he laid down the full-size lines in the mold loft by means of long thin strips of wood held in place by awls or nails, he would move these battens in or out, thus altering at the start from the original block model."
Read Stephens' complete Letter on America

---
Ballast Response from Coutts
(Aug 14) Russell Coutts, CEO Oracle Team USA, has given some additional comments on the rules violations that were disclosed on the team's AC45 yachts, citing the team's analysis that the change had little effect on performance, though he does not explain what motivated placing the weights in the struts.
Russell Coutts: "The measurers first found the extra weight in Ben Ainslie's BAR boat, which had been the Aleph boat. Our team then determined that we did it, and we also found that the change was made to Oracle4 and Oracle5. So all three boats were in contravention of the rules."
"After the discovery, we had our designers run the VPP to determine the impact of the weight. I think the finding was the weight would induce something like a 1/100th of a degree angle change to the boat. The performance impact was hardly measurable. It induced a near insignificant improvement upwind and a similarly small detriment to downwind speed."
Read more at Scuttlebutt Sailing

---
Oracle Withdraws from Past World Series Regattas over AC45 Modifications
(Aug 8) Oracle Team USA issued a statement today that due to violations of rules when shore teams modified their two AC45 yachts, the team has chosen to retroactively withdraw from the four most recent America's Cup World Series events.
"Our team is very disappointed by this turn of events, and I believe that voluntarily withdrawing from these past AC45 regattas is the appropriate corrective action," said Russell Coutts, CEO of Oracle Team USA.
The team does not detail the nature of the modifications to the AC45 yachts, but does note that internal procedures were not followed, senior managers and sailors were not aware of the changes at the time, and no performance advantage was gained. Other sources report that adding weight improperly was the source of the infractions. The previous four events were Naples (April 2013), San Francisco (October 2012 and August 2012), and Newport (June 2012). An Oracle boat placed first or second, and sometimes both first and second, at those events.
Read Oracle Team USA Statement
Also see:
AP Story at San Jose Mercury News
ACEA Reaction: "Dismayed"
Grant Dalton "stunned" by revelations: ETNZ Blog

---
Outteridge on Artemis Prospects
(Aug 1) Nathan Outteridge, helmsman of Artemis Racing, spoke to Genny Tulloch for AC Uncut about his team's outlook on the upcoming Louis Vuitton Cup Semi-Finals.
Question: Semi's start next Tuesday, August 6. What do you think realistically of your chances right now?
Nathan Outteridge: "We're pretty happy with how our performance is going. We'd like another 50 to 100 days of training, for sure. We're pretty rusty and we've got a lot of improving to do, but at the moment our learning curve has been really steep. Today we're going to go do another day on the race course and we're going to get an idea of how fast we're actually going around the course. We'll have a better indication of how we're going to be looking by the end of today, but I think we're still a fair way behind Luna Rossa. We've got a lot of catching up to do and we've only six more days of training."
Watch interview at YouTube (2:06)

---
Olin Stephens' Dorade wins TransPac
(July 25) The historic yawl Dorade, designed by America's Cup-winning designer Olin Stephens, has won the 2013 TransPac race from Los Angeles to Honolulu. Stephens, whose boats succeeded in defending the America's Cup eight times, rose to prominence first with Dorade, built to his design by Minnefords on City Island in New York, and sailed to victory in the 1931 Trans-Atlantic race, and the Fastnet, by Olin with his brother Rod also among the crew.
This year's victory is the second time Dorade has taken first place in the TransPac, with the previous win coming in 1936, 77 years ago. The yawl won numerous other honors in major races and was tremendously influential in the design of ocean racing yachts. Stephens lived until 2008, long enough to see his boat restored in the late 1990s and to sail aboard her again. Dorade will be in San Francisco during the America's Cup match this September. Her current owner, Matt Brooks, has plans for the yacht to revisit the other major races in which she made history.
Read story at New York Times
and Visit Dorade web site for more

---
Optimizing America's Cup Cats
(Aug 1) Andrew Mason used Evolutionary Modeling techniques to help Oracle Team USA find optimal hull configurations for their two AC72 catamarans. Here Andrew explains some of the analysis and design decisions that shaped the defender's America's Cup yachts, and illustrates some key points of difference with the challengers.
---
Adventure for Even Extreme Photographers
(Aug 1) Another story looking at the new configuration of the America's Cup in the New York Times also includes the story of Mike Escamilla, a professional stuntman and extreme sports photographer who recently rode on an Oracle AC72. Escamilla expected a fast sailboat, but nothing like what he found, a low-flying airplane that left him exhausted after just being a passenger for 25 minutes.
"I've been in a lot of situations, and I don't really get scared — I get concerned," Escamilla said. "When we got moving, I spent a lot of time looking at people's faces to see how things were going, and there were times when I was very concerned."
---
ETNZ Chooses Louis Vuitton Cup Final
(July 28) Emirates Team New Zealand as winner of the Round Robin stage exercised their choice to go directly to the LVC Final starting August 17th and leave Luna Rossa and Artemis Racing to meet in the Semi-Finals August 6th. Dean Barker speaking at a post-race conference Sunday cited the desire to have the time to improve their boat as a consideration in the decision, though they had also weighed the value of increased racing experience looking forward ideally to the America's Cup Match.
See Louis Vuitton Cup Format

---
Teams Agree to Permit Artemis to Race Overweight Following Repairs
(July 24) The Challengers have unanimously agreed to permit Artemis Racing to sail in the Louis Vuitton Cup with a boat that exceeds the initial weight range permitted in the AC72 Class Rule. The Swedish team's yacht was structurally reinforced prior to this week's launch, increasing her weight beyond the original design intent, but the modifications will be considered repairs per provisions of the Protocol. Before each race the excess will be verified by the measurers and their opponent will have the option of adding corrector weights to compensate for the difference.
The agreement was signed yesterday and announced in Regatta Notice 207, which provides more explanation.
Download Regatta Notice 207 (pdf)

---
Artemis Racing Launches New Boat
(July 22) Swedish team Artemis Racing finally has their new AC72 yacht on the water, more than two weeks after the start of Louis Vuitton Cup racing began, and more than two months after the fatal accident in which their first yacht was destroyed.
"This is a great day for many reasons," said Torbjörn Törnqvist, team founder. "It's the culmination of a heroic effort to put together this beautiful boat. The shore team has put so much into this, and now for our sailing team to get out there and give her justice. I am proud to share with you this great moment."
Also:
Read Reuters story at New York Times

---
Artemis Lines
(Jul 15) Sweden's Artemis Racing is preparing their boat for launch. Based on recent photos released by the team, François Chevalier and Jacques Taglang have a first study of the lines of the new AC72 on their blog.

---
Luna Rossa Working Hard to Narrow Gap Against ETNZ
(Jul 15) Max Sirena and Chris Draper, the Skipper and Helmsman of Luna Rossa Challenge, talked with Sail Racing Magazine on how their team is responding to the deficit they ran against Emirates Team New Zealand last Saturday, when the Italian boat finished over 5 minutes behind the Kiwis in their first match of the Louis Vuitton Cup.
"Upwind we knew we were slower from lining up with them previously but downwind we think we are competitive," Chris Draper said. "We have got a lot to do and we have known that for a long time.
"We have got some good add-ons to come on to the boat which will make us faster upwind but the boat handling is the key. We have just got to work hard at that and it is going to mean long hours. It's going to be difficult for us to keep a balance between working really hard to get the boat right and not getting too hard.
"If we can finish four minutes behind them in the next race and three minutes in the one after that then we will be getting better and better. That's all we can hope for. We have got to be realistic and we are doing that."
Read article at Sail Racing Magazine

---
Jury Decides Class Rule May Not be Amended by Regatta Director
Impact on All Teams Still to be Addressed
(July 11) The America's Cup Jury ruled that Regatta Notice 189 (RN 189), in which Regatta Director Ian Murray effectively changed the AC72 Class Rule, is in violation of the 2013 Protocol. As such, the Jury has directed that the Notice be rescinded, and with it the changes to the Class Rule that the competitors did not unanimously agree to, upholding part of Emirates Team New Zealand's protest on the matter.
Excerpt from the Jury Decision (Note that RN 189 is the notice of the USCG event permit, incorporating changes to the AC72 Class Rule):
186. Regatta Notice 189 has the effect of changing the Class Rule and is therefore not in accordance with Protocol Article 4.3(k). The Regatta Director is ordered to withdraw RN 189. 187. The Jury will not make an order under Protocol Article 15.4(b) or (e).
188. To the extent that the Measurement Committee has acted as if RN 189 has amended the Class Rule, the Measurement Committee is ordered to apply the Class Rule as it existed before the issue of RN 189.
189. The Jury orders the Regatta Director to make the views of all the Competitors known to the CG with regard to the Marine Event Permit if circumstances necessitate a change to any component of the safety plan along with the assessment on how the change affects the overall safety of the event.
More to come on the Jury Ruling (pdf, 23 pages).
Reactions from the Parties:
ACEA has published a statement (see below) that suggests that somehow even though the Jury has just said that the rules changes as proposed can't be made by the Regatta Director, that there needs to be "voluntary" compliance in order for the regatta to proceed. Exactly what scenario is in keeping with the ruling, the safety requirements, the USCG permit, and will let all teams participate is likely a matter to be taken up between the teams and ACRM in renewed discussion.
ACEA/ACRM Statement: "Emirates Team New Zealand and Luna Rossa are complying with both the AC72 Class Rule and the Safety Rules. Artemis Racing, who is still preparing its AC72, has previously advised that they cannot immediately comply with both. Exactly how this decision impacts Artemis Racing is something we need to look at through our discussion with the teams."
Read ACEA Statement
From Artemis Racing: "Artemis Racing is disappointed that the Jury's decision leaves uncertainty. Artemis Racing is here to compete and remains confident that a solution will be found allowing for a safe regatta that all can compete in.
"Our team is working hard and we are currently in the midst of completing the structural testing of our boat. This should be completed by weeks end. Final assembly of the boat will take place next week with the goal of getting on the water in ten days time. Artemis Racing has been working intensively for two months and we are eagerly looking forward to racing."
From ETNZ: "Emirates Team New Zealand is pleased the jury has maintained the sanctity of the AC72 Class Rule in ruling that it can be changed only by unanimous consent of the competitors and the Regatta Director."
Read Full ETNZ Statement
Oracle Team USA Statement: "We respect the decision of the America's Cup Jury," said Grant Simmer, Oracle Team USA General Manager. "We continue to support the Regatta Director and we believe all teams have benefited from his review. We don't have an issue complying with the Class Rule, and we will be ready to race under the rules affirmed by the Jury."

---
Luna Rossa Will Not Race Sunday
(July 6) Luna Rossa has announced that they will not race Sunday against Emirates Team New Zealand in the scheduled first race of the 2013 Louis Vuitton Cup. Team Statement: "As already informally stated in the last few days, Luna Rossa is waiting for the International Jury decision on its protest against the measures introduced by the Regatta Director."
Read Team Statement at Americascup.com
Update (Sunday): Max Sirena, Skipper of Luna Rossa, clarified his position: "By racing under these rules, enforced by the Regatta Director with Race Notices 185 and 189, we would somehow silently approve them." Read More
From ACEA: "This isn't unexpected, but it's still disappointing," said Stephen Barclay, CEO, America's Cup Event Authority. "It's a case of won't race, not can't race.
"The people really hurt by this are the fans, who have waited for more than two years to see the first race in these spectacular AC72 catamarans.
"This is particularly disappointing considering Luna Rossa was out sailing on the race course on Saturday."
Read ACEA Press Release
---
Luna Rossa to Decide on Racing
(July 5) Italian challenger Luna Rossa will make a decision on Saturday whether to race in their scheduled match against Emirates Team New Zealand on Sunday. Skipper Max Sirena is said to want to wait until their protest of rules issues is heard before the America's Cup Jury on Monday, according to reports. Cup organizers are none too pleased about the possibility, and fans and others looking forward to finally seeing racing are likely to be disappointed, too. ETNZ's Dean Barker says that his team is ready and willing to race as planned.
Bring on the Racing
(July 6) From Stuart Alexander in The Independent:
"Eventually, things will be settled on the water, though that will not be until September when Oracle races the winner of the Louis Vuitton Cup elimination series.
"Whatever happens, the event has taken a costly knock. Whatever happens, it will live to fight another day. Vast amounts of valuable experience, commercial, sporting and technological, have been banked.
"And, if the boats are close in performance, the best of 17 which starts on 7 September, assuming they can both stay in one piece, may produce the lushest of fig leaves in the form of the most spectacular racing in 162 years."
Read Story at The Independent online

---
Iain Murray Speaks to Media
(July 3) Iain Murray, Regatta Director and CEO of America's Cup Race Management, met with the media Wednesday to discuss the changes to yacht design rules that he has enacted to elevate safety for the 2013 America's Cup. Some of the teams, and others in various forms of media, have been not only critical of the changes, but also saying that the action was at the direction of Oracle Team USA. Murray pointed out that even the changes to the rule that are generating complaint are in line with needs that the protesting teams have previously sought.
See Press Release at right and Read Stories:
San Jose Mercury News and Sail Racing Magazine
Ahead of the media conference, quoted on Americascup.com Murray was emphatic about his independence and the integrity of the decision.
"On a personal level, I have to say I find it upsetting when people say these safety recommendations aren't for safety but to increase the performance of one team," Murray said. "The implication is that I'm doing this to favor Oracle Team USA. That's an attack on my character and I don't accept that. Quite frankly I find it insulting."
"In terms of these changes being at the behest of Oracle Team USA, I'd remind everyone that the Regatta Director is appointed jointly by the competitors to act on behalf of each and every one of them in a fair and neutral way. America's Cup Race Management, which I lead, is owned and controlled by the competitors.
"I do not answer to ACEA. I do not answer solely to Oracle Team USA nor do I answer solely to Emirates Team New Zealand or Luna Rossa or Artemis Racing. As the Regatta Director and CEO of America's Cup Race Management, I am responsible for providing 'neutral, independent, professional and fair race management.'
"The 37 safety recommendations are what I believe to be necessary to ensure the regatta is as safe as possible this summer."
Murray also noted that the Safety Recommendations were agreed in principle last month by all four teams.

---
Regatta Director Responds to Complaints
(July 3) Iain Murray, Regatta Director, made several points in response to recent criticism of some aspects of the Safety Recommendations he has implemented for the 2013 America's Cup. The teams not only agreed in principle to the changes last May, but had recently requested similar changes on their own initiative. Questions about whether ETNZ and Luna Rossa would be eligible to race in current form were addressed, as well.
---
Ted Hood, Sailor, Designer, Sailmaker, Dies at Age 86
(July 1) Frederick E. "Ted" Hood, a central figure of the America's Cup landscape of the 1960's and 70's, died June 28. As Skipper Hood won the America's Cup in 1974 on Courageous, but he had already changed sailing. An innovative sailmaker, Hood wove his own cloth from synthetic fibers, and Hood Sails spread around the world, flying on every America's Cup winner from 1958 to 1977. Creative and prolific like few others, Hood was an accomplished yacht designer and successful businessman, also manufacturing Little Harbor yachts among countless other accomplishments including being named to the America's Cup Hall of Fame.
Read Stories:
Notice at EastBayRI | Eastern YC
Read Profile at TedHood.com and
obituary at New York Times
Recommended Reading:
2006 Story on Ted Hood in Soundings Magazine

---