Ed Baird
Photo:©2006 Th. Martinez/Alinghi

Coach. Skipper. Commentator. Helmsman. Ed Baird has done it all. And in his 10-plus years in the Americaís Cup, heís pretty much seen it all as well.
Now he's enjoying the view from the cockpit of defender Alinghi, with plenty of perspective on the journey that's brought him to this point.
"The America's Cup has changed a lot since my first involvement. It's a much greater spectacle than it was in San Diego and it is going to be even greater in Valencia than it was in Auckland. The facilities, the teams, the budgets, and the technologies have grown, so it really has matured into an incredible international spectacle and thatís great to see."
When Baird arrived in San Diego in 1995, the Americaís Cup looked very different. Team bases were scattered across San Diego Bay, and as a whole the general public barely took notice of the Cup -- unless someone was sinking or an aircraft carrier wandered onto the race course.
Baird signed on to Team New Zealand as sparring partner for Russell Coutts and the "A" team Ė- most days, he would "grab sailmakers and some of the office staff to go out and try to beat up on Russell."
Team New Zealand stormed through the Cup, losing only once on the water, and they made quick work of defender Stars&Stripes. Now it was the Kiwisí turn to unbolt the Auld Mug, with Baird in the middle of the champagne-soaked mob scene having contributed greatly to the fine-tuning of Russell Coutts.
"My experience with Team New Zealand was incredible because it really opened my eyes to the levels people could reach. I thought I knew a lot of the better sailors in the world until I got onto that team and realized there was another substantial step up. It was also impressive to be in a group that was pushing pretty hard the limits in many areas of the sport, but that was also on a very limited budget."
"The Ed Baird
Match Racing School"

The list of Ed Bairdís crew members from 2000 to 2005 in the Swedish Match Tour reads like a whoís who of young American sailors moving into the match racing scene and on to the Americaís Cup. Tom Burnham, Andy Horton, Jon Ziskind, Mark Mendleblatt Ė- theyíve all sailed with Baird on the match racing circuit, as has Hamish Pepper, an America's Cup tactician and strategist.

"Ed made a good decision early on in his career to take the match racing seriously," said Burnham. "He was out there on the match racing tour when it was just beginning. It was 1995 when he first won the Worlds and has since won them in '03 and '04, plus he is on the top of the ranking list. That says a lot for his staying power in our sport.


Winning the 2004 Congressional Cup. (l-to-r: (front) Rob Myles, Andy Horton; (back) Eric Doyle, Jon Ziskind, Ed Baird, Brett Jones.
Photo: ©2004 Rich Roberts/ underthesunphotos.com

"Throughout that time he has had a lot of different people sailing with him who have gained a lot of valuable experience which has helped them to go on and do good things on their own. I was fortunate enough to sail with Ed in an America's Cup campaign, in a Soling Olympic campaign, and on the Match racing tour including winning the '03 worlds. He is a natural teacher and those of us that have gone through the Ed Baird match racing school have been able to make good careers of our own in the sailing world."

Dean Brenner, who sailed with Baird and Burnham on the Soling, now the head of the US Olympic Sailing team, agrees.

"Ed is a great teacher and perhaps the best coach I have ever worked with. I did not learn to sail until I was 20 years old, and was still a relative novice when Ed joined our team. Despite my inexperience, Ed treated me with respect. He expected a lot of me, always knew when I needed to be pushed or encouraged."

Brenner tells a story that illustrates Bairdís touch with young sailors.

"At the 2000 Soling Worlds in Spain, we were gearing up for a big performance. Our trials were only two months away, and it was the Olympic year, so everyone at the event was peaking. The competition was going to be intense. On the morning of the first race, it was quite windy -- blowing a solid 25 and at times hitting 30. I was admittedly nervous Ö big regatta, big expectations, big breeze. And remember, I had only learned to sail a few years earlier.

"Ed sensed my nerves, pulled me aside and said some things to me Iíll never forget. He told me there was no one in the world he would rather be sailing with that day. Now whether he actually meant it is irrelevant. But he said it anyway, giving me a huge boost of confidence. We went out in the huge breeze and started the regatta with a 1st in Race 1 and a 2nd in Race 2. He said exactly the right thing at the right time."

Baird has some good advice for young sailors who would like to join that path.

"The generation of great sailors who pioneered professional sailing is closing in on retirement age. There will be a big transition when the next group of professional sailors comes through. Guys like James Spithill, who is now on his third America's Cup but is only in his twenties. Guys like that are going to be the future of this event. Each person however, gets there in a different way.

"Andy, Tom, and Jon, they have fought hard to get up the ranks. This will be Andyís first America's Cup and Jonís third. Each got here by being talented, obviously, but also by being connected. You have to find out who makes decisions, and then ask them for a chance.

"One of the important things for younger sailors is that they realize that it could happen to them at a young age, like it did for James Spithill, but it is more likely that youíll get a chance to get on a Cup team in your late 20s/early 30s after years of experience and contact with people in the sport.

You get to a point where people realize you are a consistent performer and a good team member. Work hard, sail fair, and get out and do as many events as you can. When you meet people who are involved with America's Cup teams, keep in touch with them and keep asking for an opportunity. One day you may get the chance."
In 1996, Baird signed on with Young America and skippered the team as it led the New York Yacht Club back into Cup competition. With the 2000 Americaís Cup looming in Auckland, Baird found himself trying to keep the team together amid a budget crisis and very public boat difficulties.
"I had much more of a leadership role, which meant a lot more decision making, planning and risk management. I enjoyed that, but it tends to distract you from trying to do your best on the race course. In 2000, we also spent a lot of effort trying to protect our intellectual property from the other teams, which is quite stressful. They want to find out and learn about what you have, and protecting it takes a lot of energy.
"One of the significant disadvantages that we had in 2000 was that we werenít sure that we would actually get all the money that we had budgeted to spend. We were always out to find more sponsors, find more donors, do whatever it took to bring more money to the campaign.
"We ran into a financial dry spot in the middle of the campaign which meant that we had to make some difficult choices about how much time we could spend in our new boats on the water. In the end we chose to spend less time so that we could protect the concept of having two boats."
Young America proved fast, but fragile, and a set of sharp waves in the Louis Vuitton Cup broke the boat in half. The team did not recover from the loss of USA-53, and did not reach the semi-finals. Baird barely took a momentís rest before launching into an Olympic Soling campaign with Young America teammates Tom Burnham and Dean Brenner. The trio lost in the finals, but the lessons were invaluable.
Burnham also joined Baird on a trip to Italy, when the Prada syndicate purchased USA-53 and 58, to give the new owners an introduction to the two boats they knew so well. Burnham stayed, sailing with Prada in í03 (and remaining with the current Luna Rossa team), but he continued to sail with Baird in the Swedish Match Tour.
Bairdís next chance at the Americaís Cup came not from a syndicate, but from TV New Zealand, who offered him the seat next to Peter Montgomery, calling the racing for both TVNZ and for OLN in the US.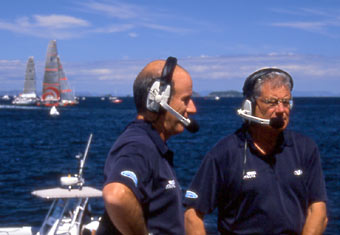 Ed Baird and P.J. Montgomery call the 2003 LVC for TVNZ and OLN. Photo: ©2006 CupInfo

"One of the special unwritten rules," says Baird, with a wry smile, "is that when you break your boat in half, you have to sit out the next Americaís Cup."
"[Working with TVNZ] was a real breath of fresh air. I was in the middle of the event with all its intensity and drama, but able to look and listen and pay attention to everything. Everything! It was a great chance to absorb the event, which is very special, and to appreciate the flavor of all the teams and how they were managed. It was a tremendous case study on how to do things, right, not that right and poorly. However, I did miss the racing...."
Baird didnít stay on the Americaís Cup sidelines for long. Following his successes on the Swedish Match Tour, Alinghi announced that Baird would be in the helmsman line-up, along with Jochen Schuemann and Peter Holmberg. In Trapani, the last Louis Vuitton Act of 2005, Baird took the wheel of an Americaís Cup boat in anger for the first time in nearly six years, and Alinghi continued its dominance of the Acts, winning both the match racing and fleet racing events.
"It is fantastic to get to race again and especially with such a talented team like Alinghi. The job for me becomes trying to catch up to where all these guys are with their skill levels in their particular positions. Itís a lot of fun and I really enjoyed the racing experiences."
Like most participants, Baird enjoyed the new atmosphere surrounding the Acts Ė- in Sweden and Italy last year, teams were side by side, without huge compounds and high fences to separate them. With closeness came a new sense of camaraderie Ė- at a price.
"It was a wonderful experience this summer with all the teams together. In Ď95, some teams told their sailors not to speak to other teams. Can you imagine?
"Now there is a great open atmosphere -- the Acts created that. The flip side is that it became a bit of a free for all with people checking out each otherís equipment. We were surprised at the way some people behaved, taking pictures and sneaking around looking at stuff. That side of it is frustrating, but itís part of the sacrifice of being able to chat over the fence to another team."
With the Acts just about over and done, attention now turns to the Louis Vuitton Cup in 2007, and the Americaís Cup. Teams have had the chance to measure each other, and Baird knows thereís a fight ahead. Whoever wins the challenger series will be more than ready for the defender.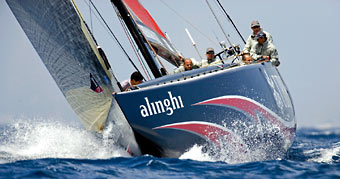 Ed Baird helming Alinghi.
Photo:©2006 Th. Martinez/Alinghi

"If you think back to the 2003 Cup, most people watching the Cup would have made the wrong choice as to who was going to win. Alinghi was discounted as a start-up team. Prada was the team expected to get stronger on the heels of their 2000 performance. It shows you how much can change in that year and a half.
"Here we are, a year away from the Cup, and I think focusing on a team that looks strongest right now gives you a tremendous risk of missing things that a less prominent team might be experimenting with. A good example is K-Challenge coming out and beating us in the match racing in Trapani and doing well overall with a boat that is two generations old. If that can happen, what could happen when they get a new boat? So I donít subscribe to the theory that you need to watch out for one or two teams, I think you have to keep your eye on everybody and pay attention to the ideas that they have, even the ones that donít seem to work, because they might work the next time."
And the next time, itís for real.
-- Diane Swintal for CupInfo
See these CupInfo features also:
Chicago Chat with Ed Baird and Hamish Ross and Alinghi in Long Beach