With a fifth place and two bullets to their name, LandRover BAR lead narrowly lead Groupama Team France in the Louis Vuitton Americas Cup World Series Portsmouth after the first day's racing.
Was it down to good sailing? Or a touch of luck? Regardless the crowd were happy to see the local heroes lead over the line twice.
Groupama was certainly the most improved boat of the day, keeping clear of trouble and sailing consistently, and their level points second place was a testament to that.
With more holes in the light breeze than in a piece of Gorgonzola cheese, most of the teams seemed to struggle with mastering the basic art of rounding leeward marks with some tide. You just can't do it with both hulls down, no speed, and no breeze. Gybing a few meters from the mark and parking the boat was usually an act of folly penalized harshly by competitors. However, the ensuing "dodgem" yacht racing gave everyone some entertainment in the absence of foiling. Crew members trying to push millions of dollars worth of boats apart was an adventure.
The best move of the day came in Race 2 when BAR turned from zeroes to heroes in the matter of a few meters by sailing right through the middle of the fleet in spectacular fashion. The crowd appreciated that one.
Overall, Saturday's racing was a great days sailing, but a shame that there was not more breeze, and more races planned, particularly as the wind built solidly after the three scheduled racing had finished.
With results finely balanced, and with tomorrows racing counting for double points, there is everything still to play for. The forecast is for a little more breeze and that should spice things up nicely.
Race 1
Breeze still in convergence. 6-8-ish knots.
High Tide around 1445 BST, so flooding in and across the race course.
An even start with boats spread along the line. BAR to right windward and Groupama left leeward. Both Oracle and Emirates are over the line at the start.
As they round the top mark the left looks better. Groupama goes left with Emirates following Softbank. BAR stays out to the right, but this was not a good place to be.
Positions at leeward mark, Groupama first, ETNZ second, Softbank Team Japan third, followed by Oracle Team USA, BAR, and Artemis Racing.
Groupama goes right up the beat with Emirates and Oracle. BAR goes left and gets good breeze. Emirates, Softbank and Oracle head out right in tight battle.
BAR tacks back to port and, having made up ground, they cross close behind Emirates, Softbank, and Oracle, whilst Groupama can pick their shifts and pulls away nicely.
Emirates tack on the left boundary, but dies with a gennaker issue (not their first), and by the time they recover they have to duck Softbank and Oracle. Emirates still manages to recover, get a puff, and slip inside Oracle who die on the mark.
At Mark 3, it's Groupama in the lead, followed by SoftBank, ETNZ, and Oracle.
BAR flies a hull and makes the most of clear air on the left, getting up to third.. They gybe, neck and neck with Softbank. But the pair engage and sail themselves into oblivion on the starboard boundary. Wrapped in their own personal battle, they let the boats behind pull ahead on the other side of the course.
Groupama cruises off over the horizon to take a well-deserved win in Race 1!
Mark 4 turns into a bit of carnage. Softbank and Artemis manage to stall and collide on the mark. BAR comes flying down and tries to go round the outside, but Softbank manages to recover. In a drag race to the line Softbank beating BAR by inches and a disconsolate Artemis followed last.
Groupama Team France wins Race 1! Oracle Team USA second, ETNZ third, SoftBank Team Japan fourth, Land Rover BAR fifth, and Artemis Racing sixth.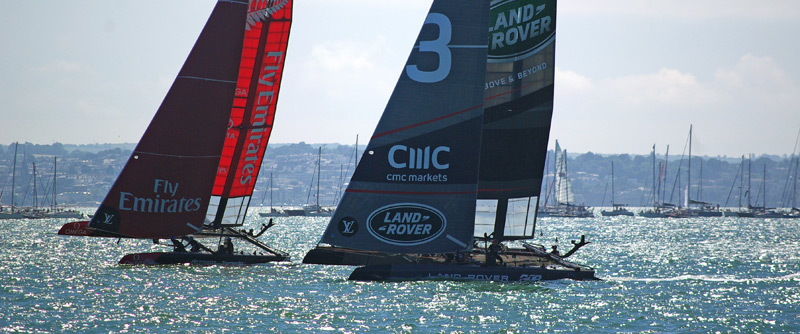 Emirates Team New Zealand and Land Rover BAR fly hulls on Day 1. Photo:©2016 John Crisp
Race 2
Breeze still in convergence. 6-8 knots.
At the start, BAR to leeward, TNZ to windward and leading Groupama. Everyone is over the line early except Groupama, who leap into the lead with BAR slotting in behind them
First windward mark, Groupama leads, followed by BAR and Softbank.
The first three go right with Emirates, Oracle, and Artemis going left. Emirates gybes on port, forcing BAR to gybe right, and crossing in front of Groupama. The left goes soft with Emirates, Softbank, and Oracle virtually dead in the water.
There is a breeze from the right and Artemis comes back a bit, but as the boats close up and converge on the mark BAR execute the maneuver of the day, gybing onto port and Sir Ainslie finds his own personal breeze, allowing him to slice clean through the fleet and into the lead.
At the leeward gate there is a pile up. (LiveTV didn't show the outcome of a lot of this, having cut away....).
Land Rover BAR leads at Mark 2, Oracle second, Groupama Team France third, followed by ETNZ, Artemis, and SoftBank Team Japan.
BAR go right, but the breeze becomes light. Artemis is out to the left and doing quite well with the rest, who are sailing the middle of the course, but then a right-hand shift favors BAR. The shift hurts Artemis, who is headed and slip behind middle pack, but the Swedes recover enough to round the weather mark in third.
As they approach the third mark, gennaker gremlins again affect Emirates. BAR rounds way ahead with a 1:04 delta. Oracle second, and Artemis third.
BAR goes left on the run and then gybe back right on starboard, comfortably in the lead with Oracle next. Emirates recover and are catching the boats ahead. As they come to the leeward mark Softbank, with a very slow gybe, dies on the mark, Groupama is catching up, and Emirates slipping in front of Artemis.
At Mark 4, BAR still leads, Oracle second, and Team Japan into third. Team France, ETNZ, and Artemis follow.
As they round the mark, Artemis tries to slip through to leeward of Emirates, but can't make it. However, Emirates get a penalty and have to slow on the reach to the finish which lets Artemis through at the finish line.
Land Rover BAR winds Race 2! Oracle Team USA second, SoftBank Team Japan third, Groupama Team France fourth, Artemis Racing fifth, and ETNZ sixth.
Looking at the race stats it seems that BAR's strategy is trying to sail fewer maneuvers and least distance. And in these conditions, they have got it working.
Race 3
Breeze still in convergence, slightly up at 8-10 knots.
BAR wants the windward end. Groupama is well back with a late charge for the line. Emirates is to leeward. Oracle and Softbank are both over early. BAR flies over the top of Softbank, but at the top mark Groupama just get inside and Artemis rolls Emirates.
At Mark 1, Groupama Team France leads, BAR is second, Artemis third. ETNZ, Oracle, and SoftBank Team Japan follow.
BAR and Groupama go right, but Groupama gybes earlier. BAR runs on a bit further and then gybes back to the left. Oracle, Artemis, with Groupama now following, go out to the left. Softbank hangs out to the right longer and it looks like a good move as they climb up to second place by the mark.
At the mark Artemis slips inside Oracle, who die on the mark once again.
Rounding Mark 2, Groupama still leads, Team Japan second, BAR third, followed by ETNZ, Artemis, and Oracle.
BAR tacks right early. Groupama and Softbank go further up the left before tacking across and a drag race ensues to the right boundary.
BAR sailed through them, but gives most of it back with a slow tack, recovering just in time to cross in front of Softbank, forcing Groupama to tack. BAR rounds the windward mark in the lead, much to the delight of the local fans.
At Mark 3, Land Rover BAR is first, Groupama second, and Team Japan third, followed by ETNZ, Oracle, and Artemis.
BAR and Groupama choose to go right with Softbank going to the left. As they cross back BAR are in front. BAR gybes with Groupama astern and Team Japan further back.
Softbank tries going out to right, but when they have to gybe back they are on port and can't get position.
BAR gybes on the last mark and charges to a well-deserved win. Groupama is in front of Softbank, who try and fails to sail through them to leeward. Groupama Team France takes a well deserved second. SoftBank Team Japan is third, ETNZ is fourth, Artemis Racing is fifth, and Oracle Team USA is sixth.

--- Reporting by John Crisp for CupInfo/©2016 CupInfo.com
---
Additional Links:
See Portsmouth 2016 Regatta Standings
---