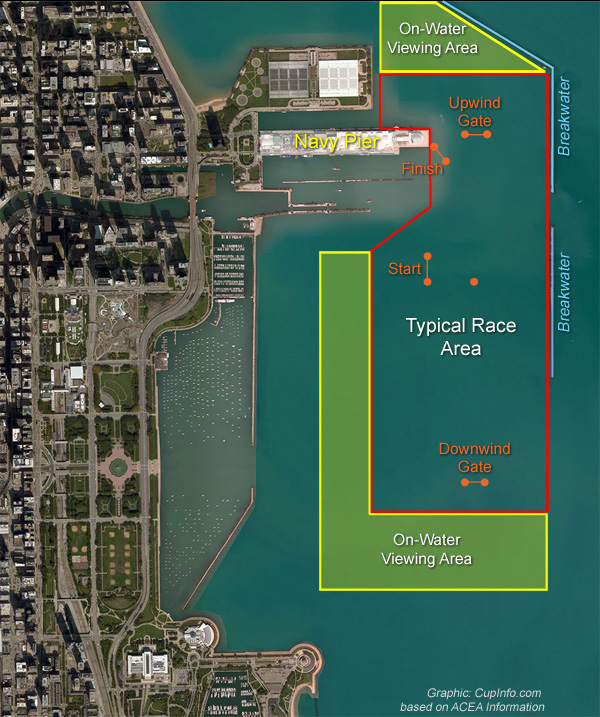 Diagram above shows a possible layout for the Louis Vuitton America's Cup World Series to be held in Chicago, IL. in June 2016. The race course, with marks shown in orange, is similar in configuration and scale to that sailed in the 2015 LVACWS regattas, and is expected to be similar for the 2016 events.
Paid and free spectator areas, including the America's Cup Village and VIP areas would be located on Navy Pier. Team bases are also planned to be located at the pier, inside a large exhibition hall. The pier is home to a fleet of excursion boats which are expected to take on spectators for on-the-water viewing.
The course depicted is laid out for a northerly wind, and probably would be similar for a southerly wind, except that Race Officers have the flexibility to finish after (what might become) a downwind gate, keeping the finish line near Navy Pier.
At the September 2015 Press Conference announcing the regatta, among the questions asked was how the race course would be laid out for east-west wind conditions. Organizers did not provide a specific answer, but indicated that the outer breakwaters, shown in light blue above, might be considered as obstructions under the Racing Rules, implying that the fleet could race out and back through the gap in the breakwaters, returning to round gates and ultimately finish close to Navy Pier.
The drawing shown above is based on a small preliminary diagram shown in ACEA press materials, and is provided here to help visualize how AC45 racing may be staged in the Chicago venue, but should not be considered an official or final arrangement for the regatta.

---