---
In 1995, Russell Coutts sailed up to the San Diego Yacht Club and claimed the America's Cup for New Zealand. Sunday, he brought it back.
In an afternoon of pomp and circumstance on the USS Midway and at the Cup's former California residence, BMW Oracle Racing thanked San Diego for its commitment and support of their quest to win the 33rd America's Cup.
"The people of San Diego made us welcome for the 33rd America's Cup, as our crew tuned up and trained for the 33rd America's Cup," team founder and afterguard member Larry Ellison said enthusiastically. "It's a beautiful place to sail. The people of San Diego were warm and welcoming to our entire team."
The America's Cup, Russell Coutts, and Larry Ellison.
Photo: ©2010 Gilles Martin-Raget/BMW Oracle Racing

Mayor Jerry Sanders of San Diego was quick to put in his city's bid for the 34th edition of the Cup. Ellison seemed willing to listen, but it was clear where his loyalties lie.
"The mayor asked us to consider San Diego as a venue for the next America's Cup, and I gave him my assurances that we would -- but we have to give San Francisco the opportunity to look for space for the bases first.
"But this is not a decision we're going to make on our own. We're consulting with Team New Zealand, Team Origin, Shosholoza, Prada and of course, our Challenger of Record [Mascalzone Latino]. We'll make our decision collectively. We want to choose the right place to hold this event. But San Diego is a fabulous candidate," Ellison said.
John Kostecki, BMW Oracle Tactician and a San Francisco native, makes no bones about his preference.
"San Francisco is the first choice for me, if they can pull it off. But we're very grateful to San Diego -- without our time here, we wouldn't have been able to put it all together."
The schooner America brings home the trophy.
Photo: ©2010 Gilles Martin-Raget/BMW Oracle Racing

Not to be outdone, Helmsman and Skipper James Spithill put in a vote for his adopted hometown. "My wife is from here, I have a little red-headed two-year-old and we have a home in Point Loma. So I'm quite keen to have that support nearby when we do the next Cup!"
But more than just thanking the city for its support during the team's long training schedule, Ellison appreciated the yacht club's continual stance of support.
"I want to thank the San Diego Yacht Club for supporting us in our quest for fair rules in this Cup," he said.
An appreciative audience waited to greet the team -- and the America's Cup -- at the SDYC, when the team sailed over from the USS Midway on a replica of the famous yacht that won the trophy in the first place, the schooner America. The scene was eerily reminiscence of 1995 as the boat pulled up to the dock in front of a crowd of hundreds on the yacht club's back deck. The big difference? This crowd was cheering mightily.
Ellison reiterated the theme of this tour and his mantra since winning Auld Mug -- and made a bold promise for a whole new future for the Cup.
"The next Cup will be governed by an independent body, not dominated by any one team, including the defender. The Royal New Zealand Yacht Squadron, the New York Yacht Club, the San Diego Yacht Club -- we want to get everyone involved and have a fair set of rules we can collectively agree on. We want to have an independent governing body, independent umpires and an independent jury. We want everybody to have a fair chance to win, with no politics involved."
The intent is for the next America's Cup to look more like the version San Diego saw in 1992 and 1995, including conducting true defender trials as was standard practice for every trustee up until 2000. Ellison not-so-gently nudged Dennis Conner, on hand for the evening's festivities, to join in the fun.
"We want a defender series -- and we want Dennis to get involved. And we think there could be as many as 16 teams."
That would be a sharp contrast to America's Cup 33, which saw two huge multihulls who, as it turned out, had very little actual race preparation. The competition could have been all on, or it could have been a snoozer, and even the teams didn't quite know what to expect. In the end, it was a little of both.
In a Q&A at the SDYC, "The Chairman" Tom Ehman led Kostecki into a discussion of the upwind layline call in Race Two, a move that led to the closest engagement of the series and had viewers on the edge of their seats. Kostecki made it sound easy.
"We were well prepared for the tack on the layline. Matteo was counting down boat lengths to the layline and when we first tacked, I thought we could cross. But we meant to overstand so we could dip them if we had to. I actually expected Alinghi to dial us down. But they were in a tough situation -- it worked out well for us."
Kostecki was also pretty matter-of-fact about the Race One pre-start dial-up, given that most observers expected there was no way the two monster boats would attempt the standard match racing maneuver for monohulls.
"I know a lot of people didn't think a dial up was possible in this America's Cup," Kostecki said, smiling. "But there was a wind shift and we got an extra press [coming into the starting box]. They didn't react in time. But I'm not surprised. We were prepared."
After living for two years in the X-Games version of the America's Cup, a return to the daily grind of two-boat testing will be tough for Spithill. And he has his own ideas of what the Cup should become.
"We really need to capture the attention of the average person," Spithill believes. "We need to make sailing one of the top sports in the world. To do that, the boat needs to be powered up and difficult to sail. It should be the fastest boat on the planet. We have to make people stop and take notice, make it exciting to watch."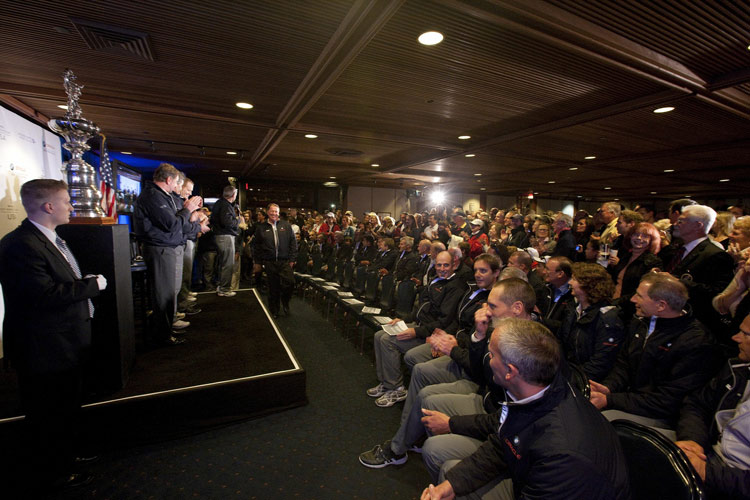 San Diego Yacht Club warmly welcomes the team. Photo: ©2010 Gilles Martin-Raget/BMW Oracle Racing


The evening was not without its quips, quotes and lighter moments, especially as the Q&A progressed.

When asked why the team stayed in San Diego 10 months past the original projections, Spithill deadpanned "I had renovations on my house that weren't finished."

Jimmy Spithill, on the top end of the trimaran's speed: "If we lighten the rig, we could go 50 (knots)." Pause. "Can we Larry?"

When a young sailor asked if the boat had come back with any "bruises" James Spithill replied: "I'd say there weren't many bruises on the boat, but (boat builder) Mark Turner would say there were a lot of bruises on the boat."

Asked how he got Russell Coutts and Larry Ellison to try the wing, Turner replied: "I was polite."

Before Turner could answer a question about the cost of transporting the boat and equipment from San Diego to Valencia, Ellison jumped in. "Don't answer that question – I don't want to know!!!"

Ellison in turn let Spithill off the hook when asked about the start of race one: "It's way more important to have a good finish than to have a good start."


--Diane Swintal for CupInfo/

©2010 CupInfo
---